Baby, you're a firework! We're lighting up the night and your Independence Day parties with the 4 things you need for the 4th of July.
The 4th of July is the official party of the summer. The buzz from Memorial Day weekend is gone, and we've still got a long way to go before we reach Labor Day.
Now that another long weekend has come our way, it's only right that we make sure our celebration of America's birthday goes off with a blast.
These are the 4 things to have that will set your 4th of July parties in the right direction.
Décor
American Flags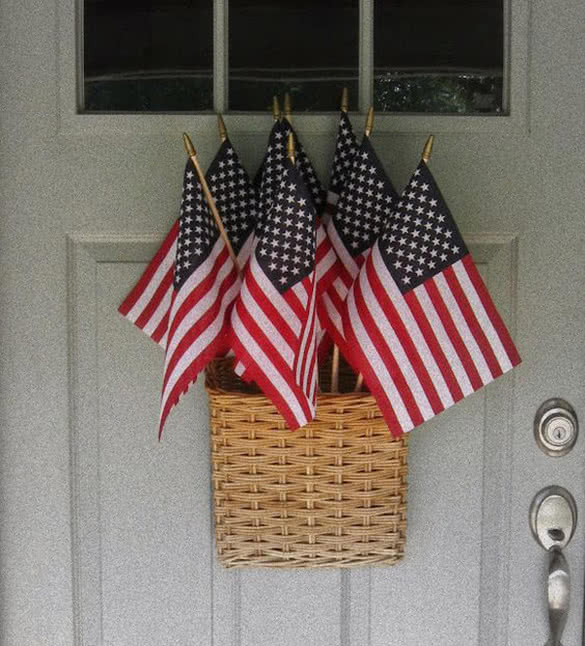 If there's one thing you can't forget at your 4th of July parties, it's the American flag! You'll probably see a lot of lawns and porches decorated with them, but they're the perfect decoration for your festivities.
If you want to opt out of getting streamers, balloons, or any other decoration, little American flags will work great as centerpieces and immediately give your 4th of July party a patriotic vibe.
Red Gingham Tablecloth
The key to throwing together a quick but festive 4th of July is with small accent pieces that will blend together the color scheme. Pairing a red gingham tablecloth with an American flag centerpiece will create a simple but sufficient festive atmosphere.
Sparklers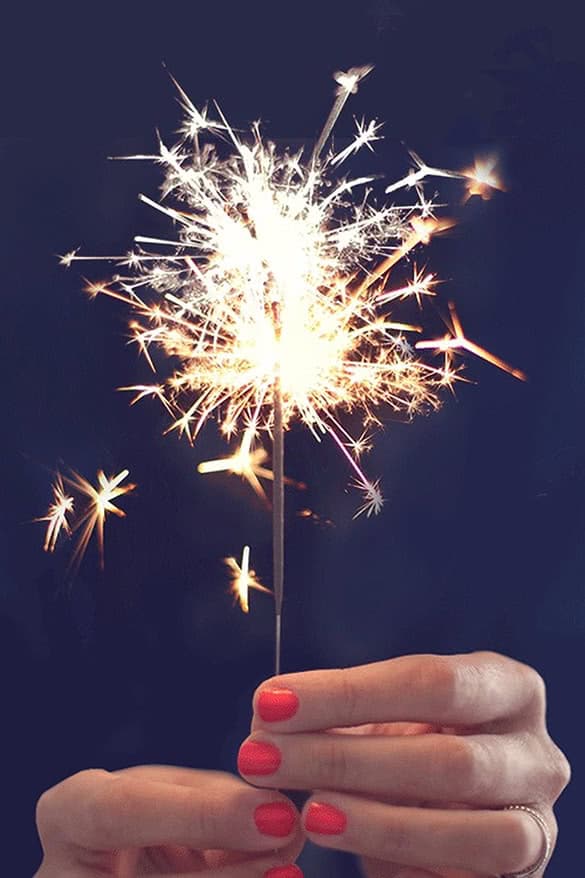 While you're patiently, or not so patiently, waiting for the fireworks display, a fun way to pass the time is with sparklers. Almost as if they're magic, it's hard not to get excited once we see a sparkler lit, and they're a great way to get your party goers interested and engaged.
Not to mention that sparklers also create a great photo opportunity, so make sure you capture the moment in your festive 4th of July outfit for Instagram!
Food/Drinks
A party is not a party unless you have some snacks to munch on and a few drinks to sip. These are the quick and easy festive snacks that we're munching on to get us in the party spirit.
Red, White, & Blue Rice Krispie Treats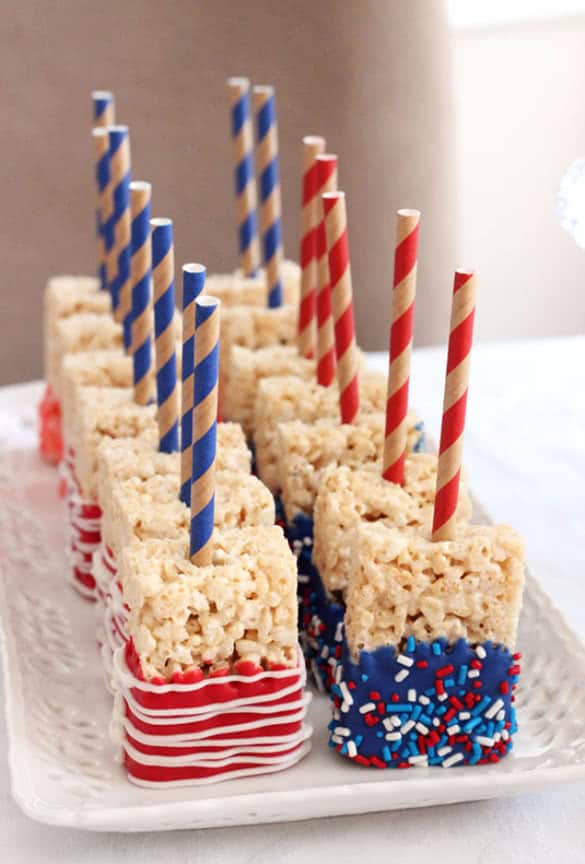 Rice Krispie pops are quick and delicious treats perfect for children or the kid at heart. If you have extra time on your hands, feel free to make the Rice Krispie treats from scratch, but store bought ones will work just as fine.
As per the recipe from Two Sisters Crafting, melt two separate bowls of white chocolate before adding red food coloring to one and blue food coloring to the other. Pierce the Rice Krispie treats with a paper straw and dip them into the chocolate before allowing them to dry on parchment paper.
If you're adding sprinkles to your treats, you can add them immediately after dipping them into the chocolate. If you plan on layering your treats with white chocolate, allow it to dry before adding your design.
Fruit Bowl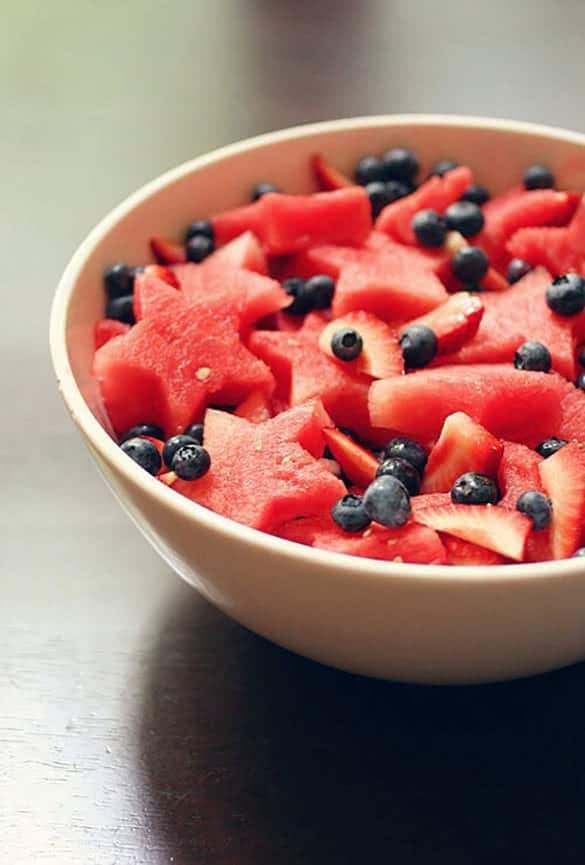 If you're trying a healthier lifestyle, you might want a snack with fewer calories without shirking on the taste. Fruit is always a delicious and healthy snack, and you can make it fit into your festivities without much effort.
For a simple and easy fruit bowl, cut up some watermelon, strawberries, and blueberries, and you've already got yourself patriotic munchies.
Flag Dessert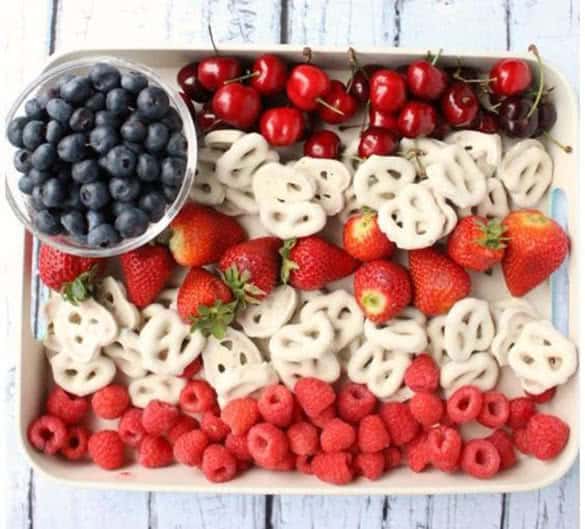 American flags are a staple at every 4th of July bash, and if you're committed to keeping the flag visible everywhere, why not try it with your snacks? A revamped take on the fruit bowl, this fruit and pretzel platter is displayed to recreate the flag.
All you need for this flag desert are blueberries, cherries, strawberries, raspberries, and white chocolate pretzels. All of these snacks are finger foods so they work extremely well for a party setting.
You can't have a 4th of July party without drinks, so here's what you should be sipping on as you watch the fireworks display.
All American Jello Shots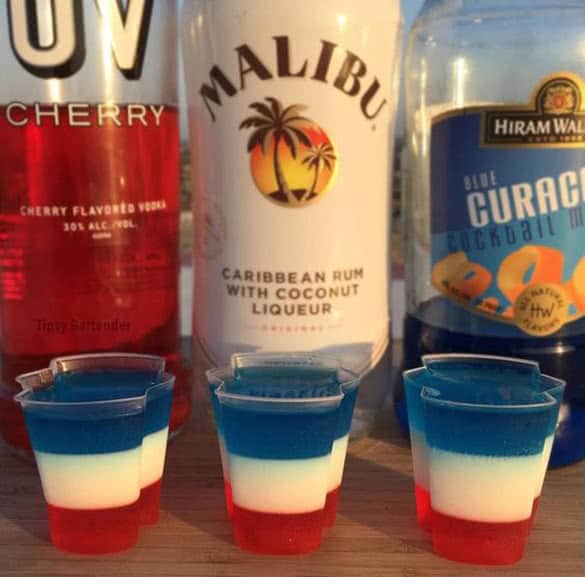 There's nothing wrong with having a little fun at your bash, and if you're feeling particularly festive, these All American Jello Shots will help get your party started. Making jello or jello shots is easier than we'd normally think, and the blog and Youtube channel, Tipsy Bartender, have an easy recipe for trying this out.
The red layer consists of:
1 Pack EZ-Jello Strawberry Daiquiri Mix
2 ½ Cups Hot Water
1 ½ Cups UV Cherry Vodka
The white layer consists of:
1 Pack EZ-Jello Pina Colada Mix
2 ½ Cups Hot Water
1 ½ Cups Coconut Rum
The blue layer consists of:
1 Pack EZ-Jello Blue Mai Tai
2 ½ Cups Hot Water
1 ½ Cups Blue Curacao
Make sure you mix the layers well before adding them to the cup and refrigerate each layer before adding the next one.
Sparkling Red, White, and Blue Sangria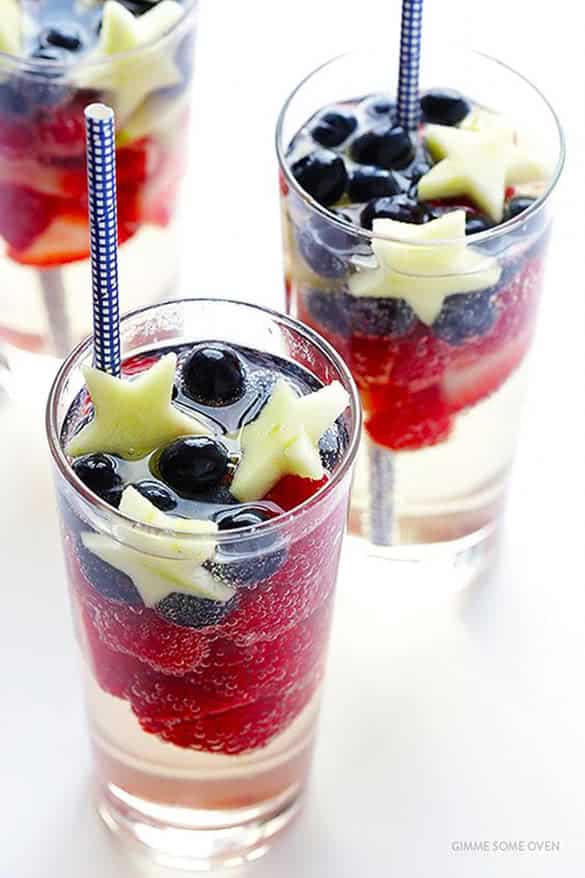 If you're a more "sophisticated" drinker, you might prefer to drink sangria for your 4th of July party. If you do, Gimme Some Oven's Sparkling Red, White, and Blue Sangria will be a delicious and refreshing treat.
The amazing thing about sangria is that essentially throw all the ingredients together, let them sit and chill, and then serve. For this sangria, all you'll need is:
1 Bottle of Dry Wine
2 Cups of Fresh Blueberries
1 Cup Fresh Raspberries
1 Cup of Apple Juice (or White Grape Juice)
1 Pound Fresh Strawberries (hulled and sliced)
1 Bottle of Champagne (or Sparkling White Wine)
3-4 Granny Smith Apples (or other "white" fruit such as pears or pineapples)
All of these ingredients will be stirred together before refrigerating, with the exception of the champagne and apples. Prior to serving, stir in the champagne, apples, and ice and you will then have sparkling and refreshing patriotic sangria.
Fruit Infused Water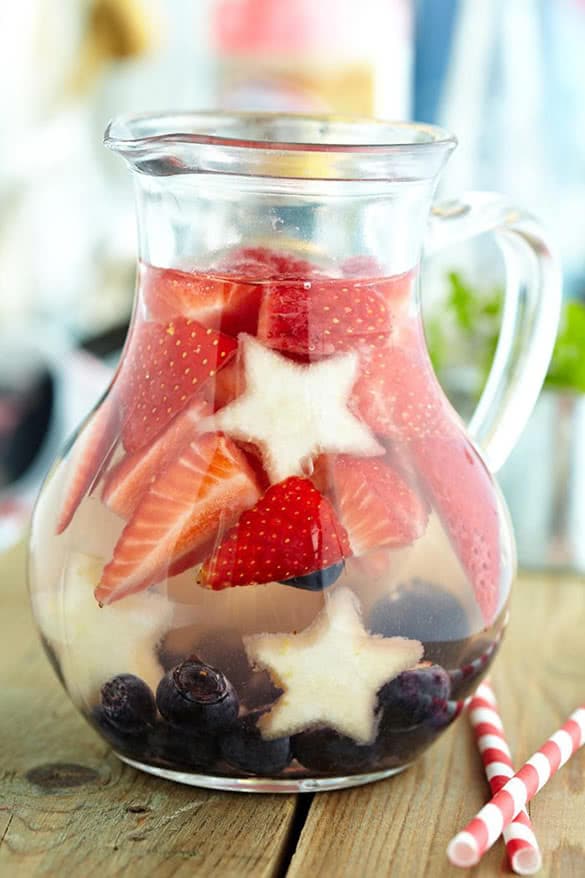 For an alcohol free drink, a great way to refresh yourself is with fruit infused water. Many people already infuse their water with fruit to give it a taste, but this is a great way to incorporate the red, white, and blue color scheme into your drink.
To create a quick and easy fruit infused water, add one cup of blueberries and one cup of slice strawberries to your water. For your "white" fruit, you can add one cup of apples, pears, pineapples or white peaches.
Outfit
You can't properly throw or attend a 4th of July party if you don't have the right patriotic outfit!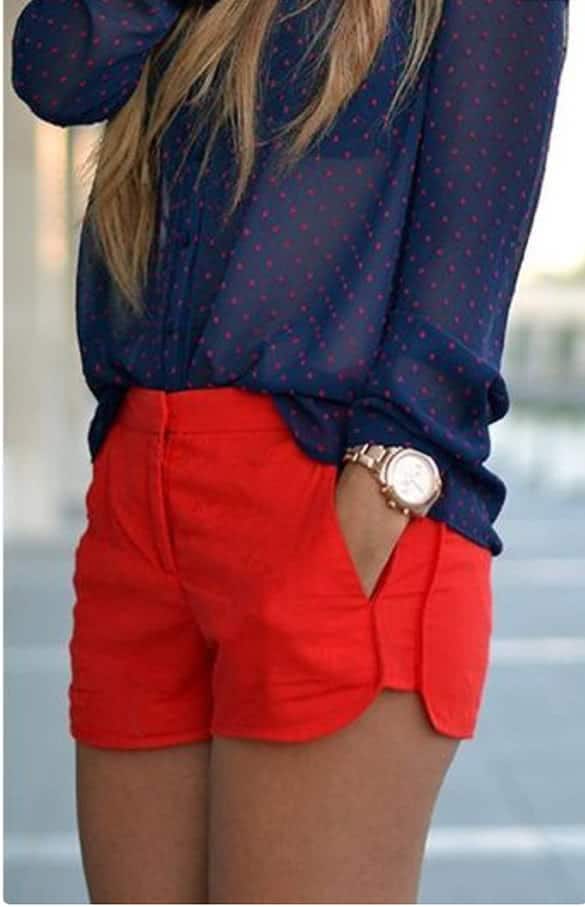 If you're looking to dress up a bit for your festivities, red shorts and a sheer blue top will give you a fun and comfortable look. In order to properly cap off this outfit, your name doesn't have to be Daniel to pair it with white slip on shoes like Vans, but if the blue and red are patriotic enough for you, nude shoes will help complete the ensemble.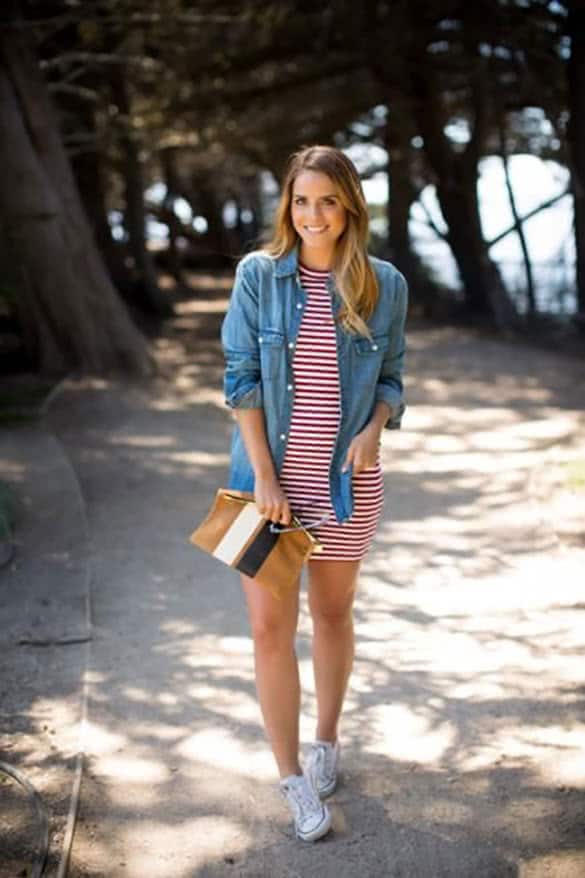 For a more casual and laid back look, a great style to try is a red and white striped dress. You can easily add the blue by wearing a denim jacket over your shoulders or wrapped around the waist. To finish off the look, white Converse sneakers work well with this outfit.
If your 4th of July plans call for even more outfits make sure you check out our 14 patriotic outfits perfect for your festivities.
Now that you have your décor, sparklers, food/drinks, and outfit, you'll be free to kick back and enjoy the fireworks. Let us know in the comments down below if you're planning on trying out any of the snacks and drinks, and if you take advantage of the photo op with the sparklers, tag us at the official YouQueen Instagram page so we can see how it turned out!