Ok, we all know that writing your own wedding vows is the best solution. But still, not all of us do so well with our words. You know the feeling when you know what you want to say, but you just don't know how to say it? Someone else might know.
I would like to give you 6 wedding vows ideas and examples. I still suggest that you try writing you own vows, and you can find some useful tips on how to do this in 7 Tips to Write a Wedding Vow. However, if it's really not working out for you that way, try one of these.
1. Traditional Wedding Vows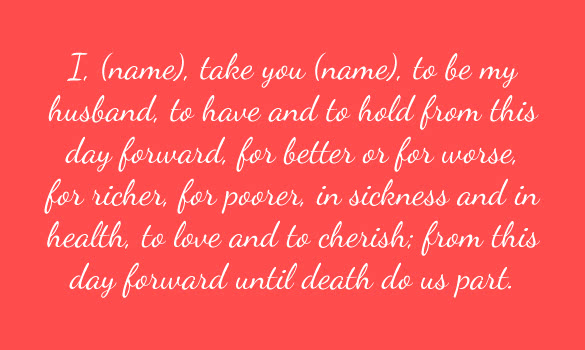 Traditional wedding vows are usually performed in church ceremonies and are closely related to religious wedding vows. If you're not a religious person, you can omit the religious part in your vows. Here's how it looks like:
"I, (name), take you (name), to be my husband, to have and to hold from this day forward, for better or for worse, for richer, for poorer, in sickness and in health, to love and to cherish; from this day forward until death do us part"
For more traditional wedding vows visit this link.
2. Romantic Wedding Vows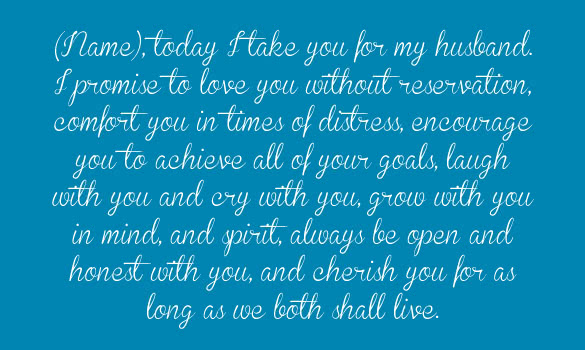 Romantic souls would probably like to say something romantic on the day of their wedding. Here's my favorite romantic wedding vow:
"(Name), today I take you for my husband. I promise to love you without reservation, comfort you in times of distress, encourage you to achieve all of your goals, laugh with you and cry with you, grow with you in mind, and spirit, always be open and honest with you, and cherish you for as long as we both shall live."
Find more romantic wedding vows on this page.
3. Poetic Wedding Vows
Well, poets do know their words, right? You may already have your best romantic poem that will be a perfect wedding vow – don't hesitate to use it. If you're still indecisive, here's what Elvis Presley has to say on the matter:
"Let's think of the future
Forget the past
You're not my first love
But you're my last
Take the love that I bring
Then I'll have everything
As long as I have you"
For something more traditional, go with We May Live Together by Anne Bradstreet:
"If ever two were one, then surely we.
If ever man were lov'd by wife, then thee.
If ever wife was happy in a man,
Compare with me, ye women, if you can.
I prize thy love more than whole Mines of gold
Or all the riches that the East doth hold.
My love is such that Rivers cannot quench,
Nor ought but love from thee give recompense.
Thy love is such I can no way repay.
The heavens reward thee manifold, I pray.
Then while we live, in love let's so persever
That when we live no more, we may live ever."
4. Funny Wedding Vows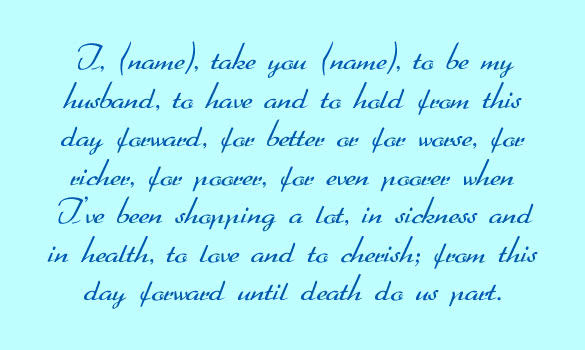 I don't know about you, but I would always go for a funny wedding vow. As long as you don't hurt your new husband's feelings, it will be great. Here's one very suitable for girls who like shopping:
"I, (name), take you (name), to be my husband, to have and to hold from this day forward, for better or for worse, for richer, for poorer, for even poorer when I've been shopping a lot, in sickness and in health, to love and to cherish; from this day forward until death do us part."
Funny wedding vows are pretty much something you need to work on yourself, but you can find a couple examples more on this link.
5. Contemporary Wedding Vows
This is something like "new traditional wedding vows". Most of them do rely on the traditional versions, but are being slightly modernized. Here's my favorite:
"From this moment, I, (name) take you, (name) as my best friend for life. I pledge to honor, encourage, and support you through our walk together. When our way becomes difficult, I promise to stand by you and uplift you, so that through our union we can accomplish more than we could alone. I promise to work at our love and always make you a priority in my life. With every beat of my heart, I will love you. This is my solemn vow."
6. Ring Ceremony Wedding Vows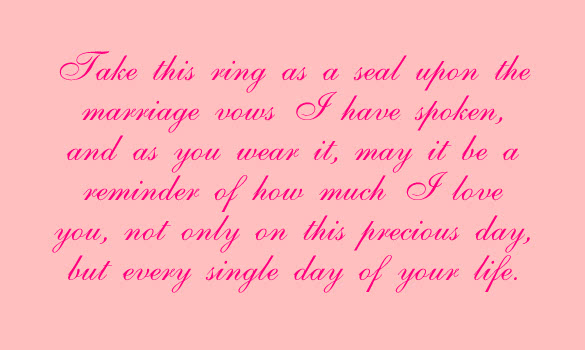 Most couples decide for traditional wedding vows, but throw in their own during the ring ceremony. This one is my favorite ring ceremony wedding vow:
"Take this ring as a seal upon the marriage vows I have spoken, and as you wear it, may it be a reminder of how much I love you, not only on this precious day, but every single day of your life."
For more ring ceremony wedding vows ideas and examples, check out this link.
Use these examples rather as a guide to write your own vows than as something you should remember and speak at your wedding. Your personal thoughts are worth much more, no one can say it better than you can. Throw in a couple of surprises for the groom at the wedding, and you'll both have the best day of your lives. Read about 3 Cool Wedding Surprises for Your New Husband.