Creating your own household cleaners has a number of benefits: Financial, avoiding harsh chemicals in store-bought cleaners, and protecting the environment. The best part? Every ingredient you need is most likely already in your cupboard!
You use various cleaners around your home every day. Some you use more often than others, such as a multipurpose cleaner for everyday messes in the kitchen or the dining area.
However, you also need cleaners for everything else in your home from deodorizers to bathroom cleaners, floors, windows and beyond. All of these products can become quite expensive, especially over a year.
Here are a few of the greatest money-saving DIY cleaners that are highly effective and chemical free.
1. DIY Multi-Purpose Cleaner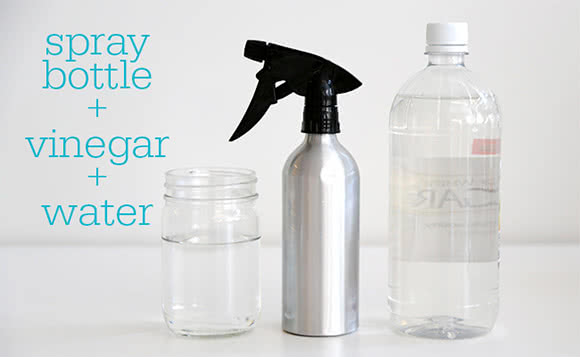 This is hands down the easiest, most effective and cost efficient cleaner on the planet. It works wonders on cutting through everyday grease and grime from kitchen counters and bathroom sinks to dining tables, coffee tables, inside your fridge and everywhere in between.
The best part is that it will only cost you about a dollar or two to make, and even then you'll still have enough to make multiple batches.
This wonderful cleaner requires only two ingredients: water and vinegar. However, a spray bottle is necessary for easy use. Vinegar is one of the best all natural cleaners that you can find.
It's able to kill germs, cut through grimy messes, deodorizes, it's safe to use on a variety of surfaces and it's cheap.
Another great thing about using a multi-purpose cleaner made from equal parts water and vinegar is that after you wipe down your kitchen counters, you can immediately make a sandwich on that same counter, feeling safe knowing that there isn't any bleach, sulphates, dyes or any other chemicals contaminating your food or harming your well-being.
What you'll need:
1 cup water
1 cup white vinegar
Spray bottle
Directions: Mix the two ingredients in the spray bottle, shake and go.
If you're just using a small spray bottle, don't worry about using 1 cup measurements, just make sure that the mixture is equal parts water and vinegar, and you'll be good to go.
2. DIY Tub, Tile and Grout Cleaner
This is a very simple and effective recipe that takes minutes to prepare.
Most bathroom cleaners contain heavy amounts of bleach, dyes and other harsh chemicals that can be very irritating for your eyes and skin. Breathing in these chemicals can also be quite dangerous, so many cleaning product companies add perfumes and scents to their products to make them more appealing, and seem less harmful when breathed in. However, it is still in fact the same product, just with the addition of a lemon or fresh air scent.
This wonderful, all natural cleaner contains baking soda, hydrogen peroxide and a liquid dish soap of your choice. Hydrogen peroxide is a natural cleaner and whitener while baking soda scrubs away stains, soap scum and grimy build up. The liquid dish soap is to add a pleasant scent without being overpowering as well as aid in the cleaning process.
What you'll need:
1/2 cup baking soda
1/4 cup hydrogen peroxide
1 teaspoon liquid dish soap
Squeeze top bottle (liquid dish soap bottle, old shampoo bottle, old ketchup bottle, anything)
Directions: Mix all three ingredients in the squeeze top bottle. Squeeze the mixture onto your grout or tile and let it sit for a few minutes before wiping away with water. For larger areas like the bathtub and shower tiles, spread the mixture with a sponge and let it soak for five minutes. Then, scrub the tub and tiles before wiping it away and rinsing with water, revealing a sparkling clean tub and tiles. Apply a second application if necessary.
3. DIY Carpet Spot Cleaner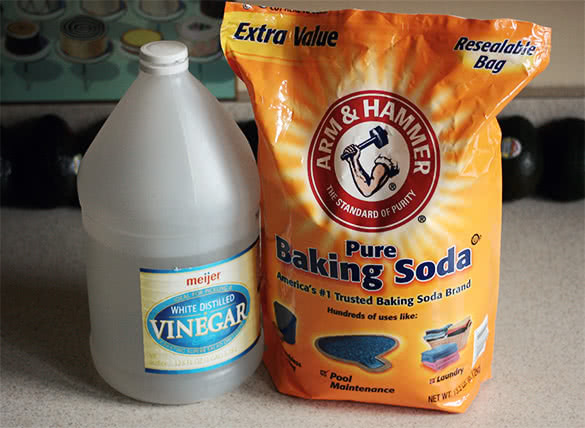 This is a great all natural cleaner if you have kids or pets, especially puppies, because during those first four to six months you go through a vast amount of carpet cleaner, which can quickly add up. When you have kids or pets, it's great to know that you have a safe, all natural spot cleaner that will effectively remove stains from your carpets, and it only costs a few dollars to make.
This carpet cleaner consists of only three ingredients: Water, vinegar and baking soda. Both baking soda and vinegar are effective deodorizers and remove dirt and stains naturally. However, baking soda really is a powerhouse cleaner because it does a great job of getting rid of stains as well as any pet odors.
What you'll need:
1 cup warm water
1 cup white vinegar
2 generous tablespoons baking soda
Spray bottle
Directions: In a spray bottle, pour in one cup of vinegar. In a large measuring cup, add two generous tablespoons of baking soda to one cup of warm water. Stir the baking soda and water together until the baking soda has dissolved, then slowly pour the warm mixture into the spray bottle containing the vinegar. Go slowly as vinegar and baking soda react quickly when mixed together—remember those volcano projects in school. Also, pour the baking soda and water mixture into the spray bottle over the sink as a precaution because a little baking soda can go a long way with vinegar very quickly.
Once you've successfully added all three ingredients together, shake the spray bottle and you're ready for action. However, before you apply this mixture to the stain, try and soak up as much of the stain as soon as possible. Using something like an old towel or cloth is often more effective then paper towels for soaking up tough messes. If the stain is really tough, try adding a little water to the towel or cloth and apply lots of pressure. Also, remember to dab not rub. The stain will be sure to come out in no time. It's super effective and was even able to get a rather large butter chicken sauce stain out of a white carpet.
4. DIY Toilet Bowl Cleaner
No one likes cleaning toilets. It can be gross and unpleasant, and it's often a breeding ground for some nasty germs. So, it's a very important area to keep clean. This all-natural toilet bowl cleaner will help you sanitize and deodorize with ease, leaving you with a sparkling bowl in no time. All you need is vinegar, baking soda and a little tea tree oil.
What you'll need:
1/2 cup baking soda
10 drops tea tree oil
1/4 cup white vinegar
Directions: It may seem a little odd, but it's a very quick and effective way to scrub your toilet bowl clean. Simply pour a half cup of baking soda into the toilet, followed by 10 drops of tea tree oil. The tea tree oil will add a pleasant scent and also has antibacterial and anti-fungal properties. Then, add the quarter cup of vinegar to the toilet and give the inside of the bowl a good scrub while the mixture fizzes away. Once you're finished scrubbing, just flush and you'll have a spotless toilet, the natural way.
5. DIY Febreeze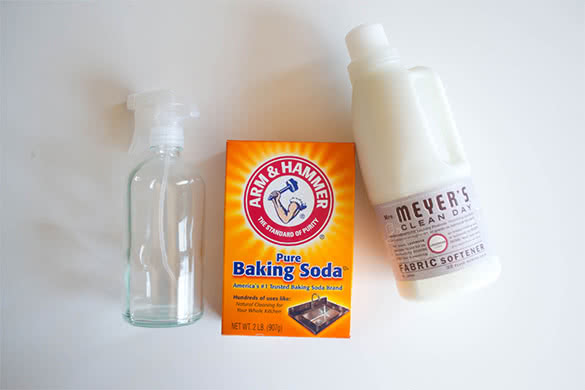 There are so many things that you can't just simply throw into the washing machine to freshen up, such as mattresses, couches, car seats or carpets. Sometimes a room or an entire home just needs a good pick-me-up, and everyone's favorite go-to is always a room spray like Febreeze. Febreeze is amazing, and it's an essential household item, but it can be pricey. This super-easy DIY requires only water, fabric softener and vinegar.
What you'll need:
1 cup water
1/4 cup fabric soften (liquid or even Downy Unstoppable Shaker Beads)
2 tablespoons white vinegar
Spray bottle
Directions: In a spray bottle, add one cup of water and the quarter cup of liquid fabric softener or Downy Unstoppable's Shaker Beads, and then add two tablespoons of vinegar. Close the lid and shake vigorously. Then spray all around your home, car, office, pet bed, and anywhere else that might need some freshening up. It's just that easy.
What's your favorite household DIY? Add to this list in the comment section below.
Cover: eartheasy.com