Standard Easter egg decorating ideas just aren't cutting it this year. Here are some new DIY ideas to add to your family's traditional egg decorating.
Do you hate the mess of egg coloring and are looking for an alternative to dyeing eggs or are you just tired of the standard one color egg? Just because it's a family tradition to dye eggs doesn't mean you can't add a little artsy flair in the process.
Here, you'll also find artistic Easter egg decorating ideas that skip food color dyeing altogether. Whether we decorate eggs to bond with the ones we love or decorate our tabletops, Easter time is the time for eggs and the time for eggs is Easter time.
Cute Easter egg decorating ideas
1. The minion egg
This cute egg is sure to be a family favorite and far easier to do than it looks. Dip half the egg in bright yellow coloring and half in vibrant dark blue. On the yellow half draw a thick black sharpie line around the egg and hot glue one or two googley eyes in the band, so they look like goggles.
Add a mouth and a few sparse hairs to its head in sharpie, and voila, minion eggs. Make each have a slightly varied expression or face for a diverse hoard of minion eggs.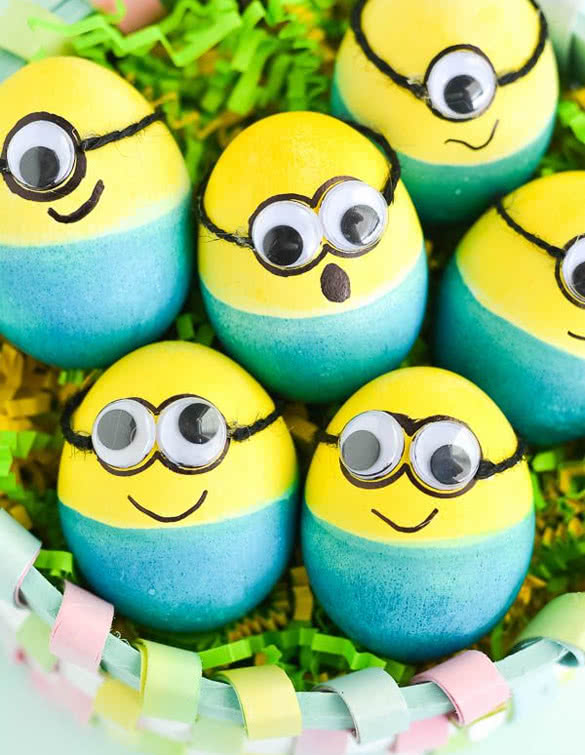 2. Pastel flower eggs
These are the perfect centerpieces for a couple who wants to continue the Easter egg tradition, but doesn't necessarily have children or wants a more sophisticated look. A few of these in a bowl on the kitchen table with a few sprigs of parsley, dill or baby's breath would make a soft homey centerpiece for any occasion.
Using a dropper, squeeze a few drops onto one side of the egg and hold still to avoid running. Mix colors by adding yellow or orange to a red watercolor splotch. Don't worry if they're not perfect drops, because the homemade look is what you are going for here.
Make leaves on one or both sides of the "flower" with an easy dab of green coloring. Now outline lazily over the colors to draw your flower, remembering to draw a center. Don't worry if you have to draw over or under the coloring to make a flower because the mistakes add to the artistic feel.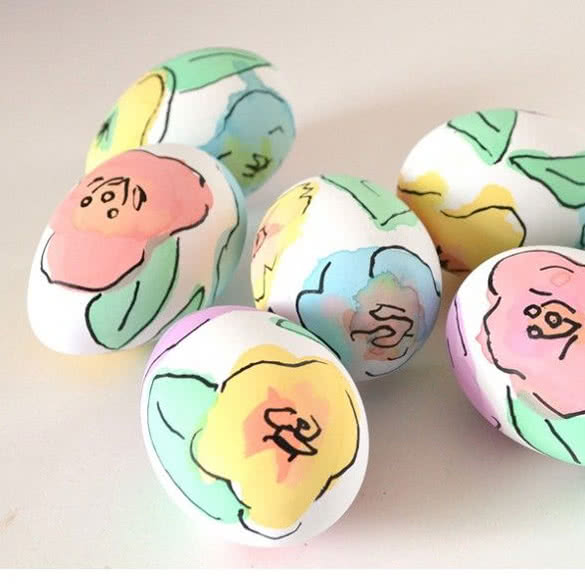 3. The bunny sticker egg
This egg decoration is exactly what it sounds like… you place a bunny shaped scrapbooking sticker on an egg and color around it. You can use pastel sharpies to draw dots around the sticker, making them less thick the farther they get away from the sticker.
Another option is short choppy sharpie lines of contrasting colors over the sticker. Either way, when you remove the sticker, there will be the perfect outline of a rabbit on your Easter egg that will look like you personally outlined it yourself. It's quick and easy for someone who wants decorated eggs but doesn't want the mess or effort of traditional egg dyeing.
4. Natural single color egg dyeing
If you want to avoid the negative effects of food coloring and attempt a more natural approach, there are ways to dye an egg without the processed dye. Using mixtures of heavy spices like turmeric easily dye an egg. Turmeric is also used to dye hair naturally, so it has no problem serving as a yellow dye for an egg.
My personal favorite in the below chart are the results from the egg soaking in red cabbage, which produces a nice blue hue or the chili powder coloring. Soak each egg for a little longer in these concoctions than you normally would, to allow the egg to absorb as much of the natural coloring as possible.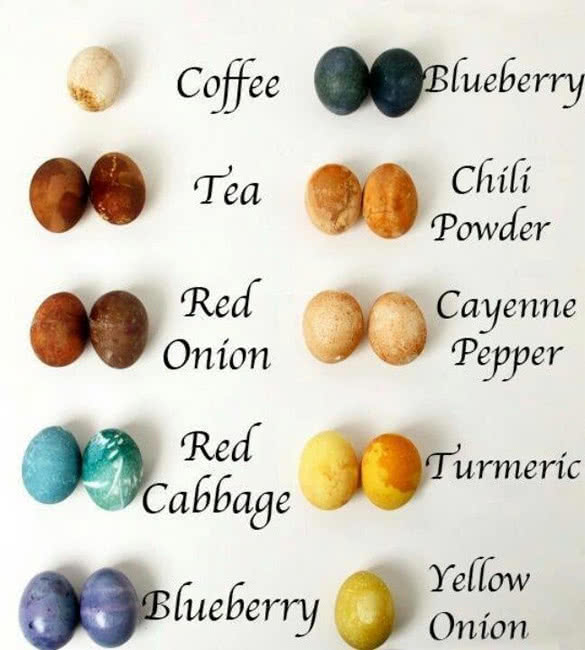 5. Bunny & chick eggs
Take a white egg and clean it out as if for dyeing, but instead, leave it blank. Place a small pink Pom-Pom at the center of the egg where the nose would be, and sharpie in two eyes and whiskers around the nose. Cut out identical Styrofoam ears and hot glue them onto the top point of the egg.
You can make chick eggs similarly by dyeing the egg a pale yellow color and using a dash of orange acrylic paint to make a little beak. Add in Sharpie eyes and even orange Styrofoam cut out feet to the bottom of the egg.
Set these adorable little creatures to be seen, guests will constantly be asking you where you got them. Just wait, you'll be asked in no time for a DIY tutorial for these cute Easter staples.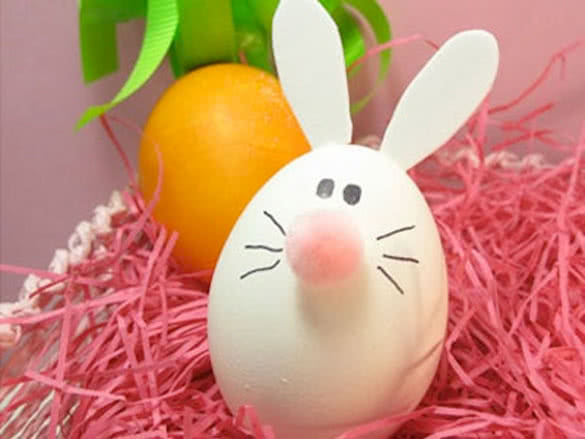 6. Mustache eggs
This is another "hipster" type egg that is incredibly simple to do and will give your home that artsy coffee shop feel. Get a brown hen's egg and empty it as you normally would for dyeing. Instead of changing the shell's color, however, leave it brown and draw a thin curly mustache on the egg. Give it a cut out bow tie and Sharpie face or monocle.
Set it in an individual egg holder and display, because these personable little eggs are sure to give your guests a laugh when they come to visit. Bonus idea would be to draw faces on them to look like members of your family if you can pull it off with your artistic abilities.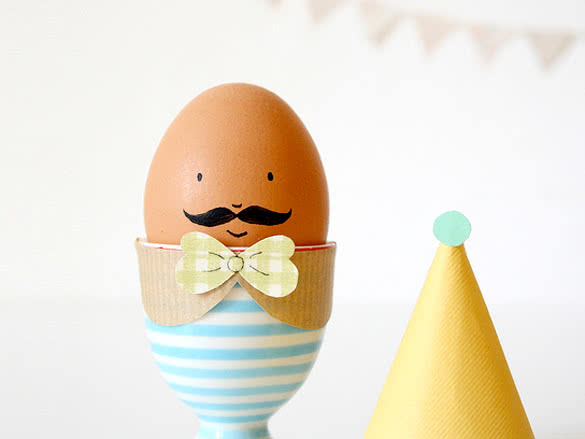 7. Ombre eggs
This is a simple egg dyeing technique that never goes out of style and is incredibly easy to do. Obtain a full carton of eggs and prepare them for dyeing. Start with a color and only put one drop of that food coloring into your egg dyeing mixture. Dye one fourth of the eggs in this lightest form, and every three eggs dyed, add another drop to the mixture, so they gradually appear to get darker.
How many eggs you dye one shade and how dramatic a color change, is completely up to you. Once you're satisfied with your ombre eggs, you can either leave them in the carton for a vintage feel or set them up in a fading rainbow of one single color arrangement.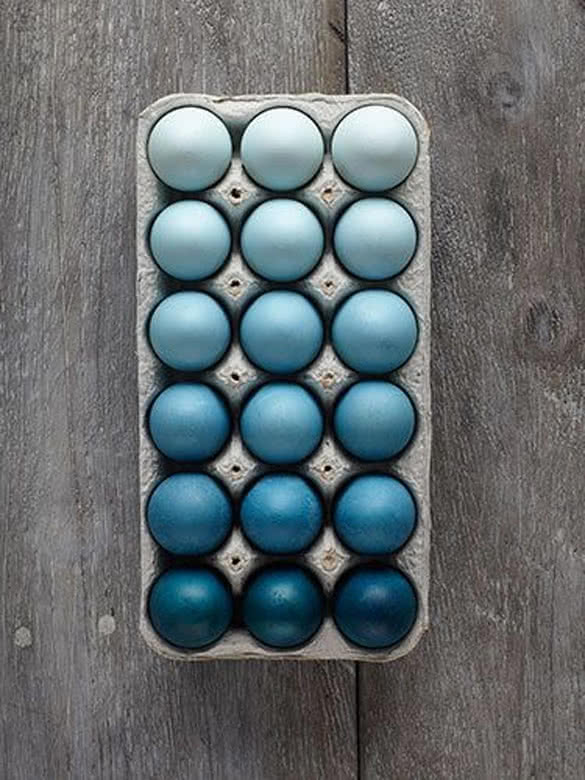 Ideas for plastic/wooden egg decorating
Sometimes you want something a little more mess free and permanent for your Easter decoration. Don't be ashamed to decorate plastic or Styrofoam eggs as if they were the real deal. They last longer, don't spoil, and can be kept from year to year if handled gently. Here are some egg decorating possibilities for the non egg…egg.
1. The vintage tin egg
All you need for this is a few wooden or plastic eggs, tinfoil and Modge Podge. Simply wrap your egg in shredded bits of tinfoil and Modge Podge for a glossy look. You can make them gold by using gold candy wrappers such as ROLOs.
This is a ridiculously easy DIY and looks like they came from a home decorating magazine. Set your new eggs on a bed of Spanish moss or even coarse tan string to complete the rustic feel and set them proudly on the mantle.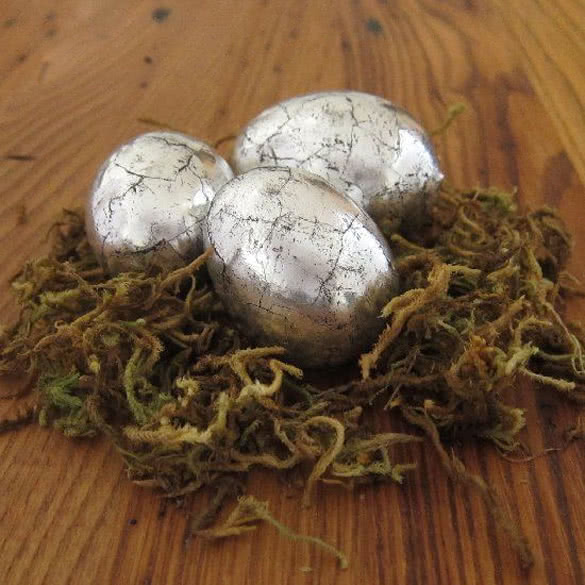 2. Glow paint eggs
Instead of using dye, use acrylic paint on a wooden or plastic egg. Simply paint it completely white and dip your paint brush into different colors and flick the brush head, splattering the paint. If you really want to get interesting, you can paint the egg in black light paint instead of white, and use neon colors for splatter paint. These modern style eggs…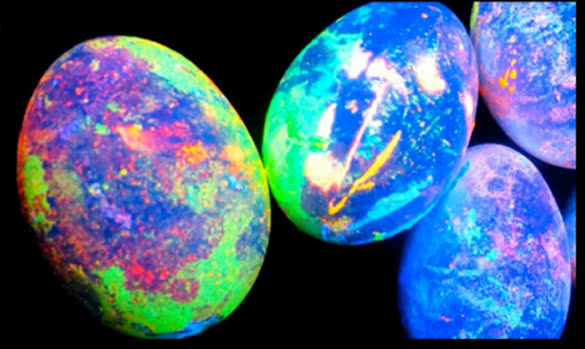 3. The hipster book egg
Yet another plastic egg recipe that uses Modge Podge is the hipster egg. Simply tear out a page of a favorite book or just a book whose font you like and stick it to the plastic egg with the glue. Then, if you are artistic, draw whatever symbol you wish to exhibit on the egg in charcoal pencil or sharpie pen.
It's a plastic egg, so you don't have to worry about damaging the egg with the pen tip underneath. Some ideas for what to pencil on the egg are all the "traditional" hipster symbols like an arrow, a mustache or a Luna moth.
If art isn't your forte, feel free to simply Modge Podge another image over the book pages of a similar background color. Images that are drawn as if through a stencil are best. Make sure to cut exactly around the image so your book pages aren't too hidden; use an exact-o knife if needed.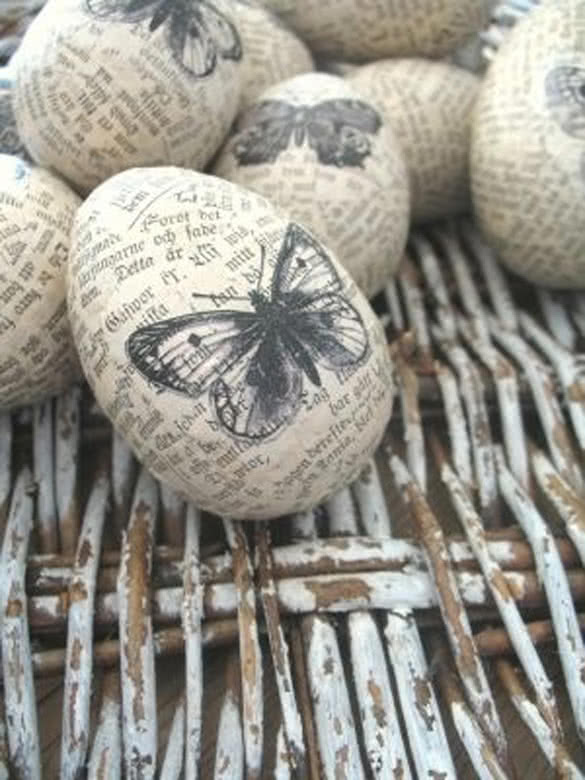 4. The royal etching egg
This is a great gimmick to make a plastic egg appear to be fancy and as if it were made of etched metal. First draw whatever etching pattern you wish to see on the plastic egg in a glue gun. Swirls and leaves work best, but be as creative with it as you can.
Best to use the lowest setting on a glue gun as to not melt the plastic, and if you can find a wooden egg, it is preferable. After this has dried, paint the entire egg in metallic silver, gold or copper paint, so that the whole thing appears to be metal. Allow to dry and set your royal looking egg as a centerpiece for all to see.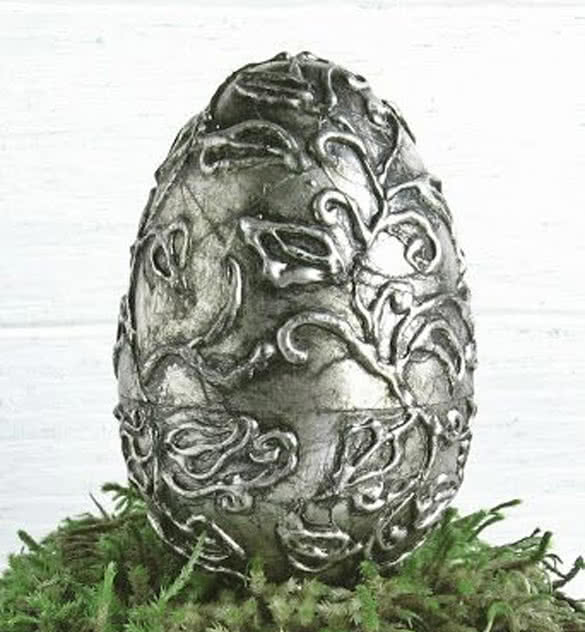 5. Cement gold leaf eggs
If you don't have wooden or plastic eggs on hand, you can always create an egg with a natural egg and a few tablespoons of concrete mix. Punch out a small dime or smaller sized hole at the top of the egg and drain its contents. Pour the concrete mixture in and allow it to harden before breaking off the egg's shell.
Use running water to help get the shell off the hardened concrete underneath. Once the concrete eggs are fully dry, simply dip them halfway or haphazardly on their side into a shallow dish of gold leaf paint. Allow to dry again and voila.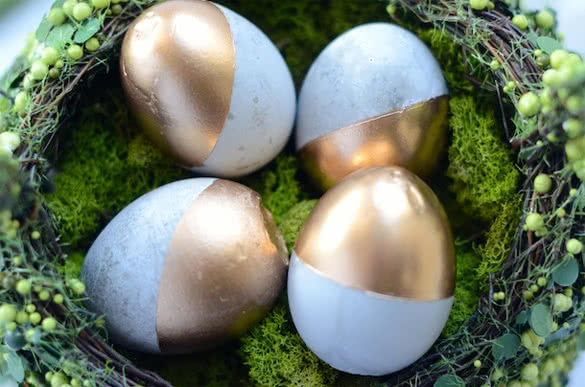 6. Eco garden in eggshells
This is a neat trick to making a mini planter that is both environmental and festive. Buy a dozen eggs and use them in whatever cooking way you can, but keep the bottom halves of their shells. Delicately clean them out to the best of your ability, and in each little half-shell, place a small amount of soil and a plant.
Flowering cacti, air plants, or grass are great options, because they are low maintenance. The eggshell will keep the little plants in place and once placed back in the egg carton as if they were eggs; they make a beautiful window display.
When the plants die or outgrow their cartons, simply throw them away into compost and recycle the carton. It's a perfect eco mini garden that doesn't leave residue or broken planters to dispose of.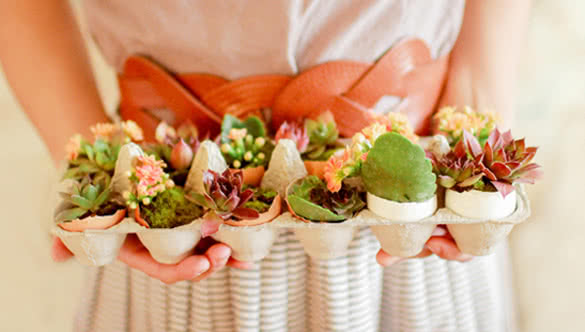 7. Chalkboard egg
Take a wooden or plastic egg and simply paint it in black chalkboard paint. After it's dried, set up the eggs in an arrangement, maybe on yarn scraps of neutral colors. Using neon chalk or white, draw designs or messages onto the eggs.
You can use these to write cute messages to your partner or sweet thoughts to children and friends. These are an easy Easter gift that compliments any Easter basket perfectly.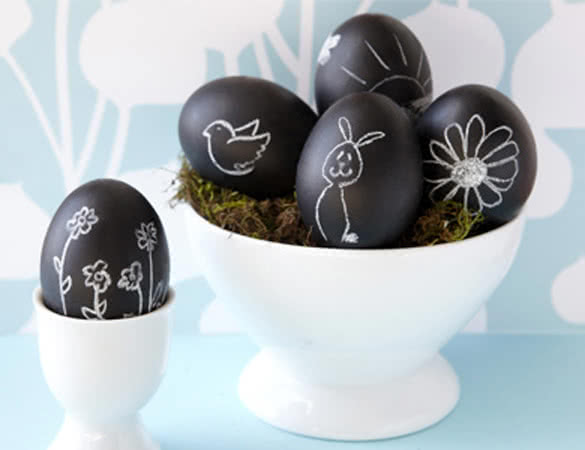 Share this article with your friends and family and I hope you'll have some of these interesting eggs on the table for Easter dinner. Let us know about the most interesting Easter eggs you've ever seen someone make and alternative easy DIYs for Easter.