Ever wondered why green makes you feel good? Well, green is the color of balance and piece. It is the color that lies exactly in the center of the spectrum and it is the combination of two primary colors – yellow and blue. Read on to discover more about the power of green and learn how to use this amazing color to improve your overall well-being.
t is the most predominant color on earth, and believe me, if you are in search of balance and harmony, green is the ideal color to wear!
Read on to discover more about the power of green and learn how to use this amazing color to improve your overall well-being. You'll be surprised at how many beneficial effects it can have on your life!
A few Basic Facts about the Color Green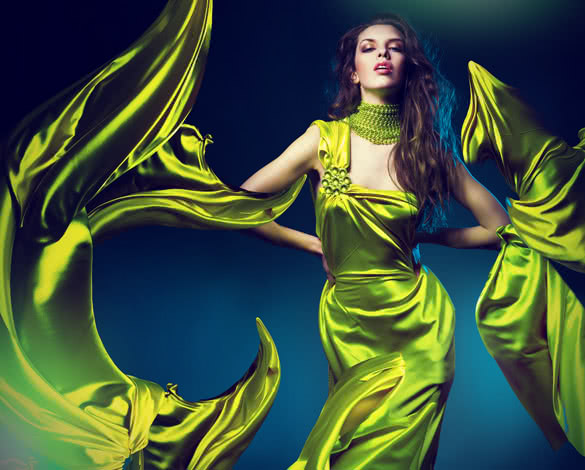 1. Green is the color of the heart chakra and it is associated with the heart and the breasts. Its endocrine gland is the thymus gland.
2. The color green and the heart chakra are related to love and self esteem. Green brings harmony and balances our energies. It promotes relaxation, hope, tolerance and understanding. It is the color of nature, energy, birth, growth, purity, and healing.
3. Positive aspects of the green color (i.e. when the color green or the heart chakra is balanced) include: generosity, sympathy, compassion, personal development, adaptability, practicality, friendliness, and love for people and animals.
Negative aspects related to this color (i.e. when heart chakra or the green color is unbalanced) are: jealousy, envy, stagnancy, unrealisticity, lack of consideration, indifference, shying away from people and the society, and hanging on to possessions.
Complementary Color
The complementary color of green is violet.
Physical Disorders Treated with Green
1. Green has an excellent soothing and calming effect, especially in conditions that are related to inflammations.
2. It is very useful for all cardiac problems and it lowers blood pressure.
3. It is a good muscle and tissue builder and it promotes growth.
4. It acts upon the sympathetic nervous system and it also works as an aphrodisiac and a sex tonic.
5. It is a good antiseptic and antibacterial agent and it helps with ulcers, while toning the liver and spleen.
6. It balances the metabolism and stabilizes the weight.
7. It relieves headaches.
8. Certain frequencies of green can bring recovery to tired eyes and improve the vision in people suffering from macular degeneration and glaucoma.
Psychological Problems where the Color Green can Be Helpful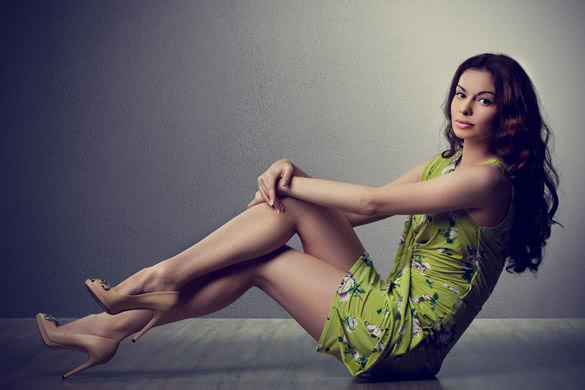 As you all know, there is nothing better to sooth jangled nerves than a nice walk in the green nature. You've certainly experienced numerous times that being surrounded by green vegetation can help you relax and refresh your mind more than anything else.
In fact, green is an emotionally soothing color, as it helps stabilize the nervous system, while relieving anxiety and hypertension. It is a natural sedative that gives a feeling of comfort, and reduces irritability and insomnia. It revitalizes tired minds and relieves mental and physical exhaustion and stress.
Do not wear green in the following cases:
1. If you are confused and you don't have enough strength to face the truth – in this case green can aggravate inactivity, indecision, low energy, and resentment.
2. Green should never be used in the treatment of tumors and cancerous conditions, as it encourages any kind of growth.
3. Green can also aggravate nausea and jealousy.
Use and wear green when:
4. You want to feel more protected, balanced and at ease with others.
5. When you want to restore calmness and harmony and see things from a different point of view.
An Overdose of Green
1. Excessive use of green may cause feelings of nausea.
2. Even though green relieves exhaustion, too much of this color can become tiring over time and drain us of energy.
Color Therapy and the Power of Green in Your Everyday Life
If used correctly and if balanced with violet, the color green can offer some incredible body and mind benefits. Read the tips below, apply them to your everyday life and you'll see great results! Trust me, I have experienced them personally.
1. First of all, let me remind you that the color green represents the perfect balance between the "cool and calming" colors (blue, indigo and violet) and the "warm and stimulating" colors (red, yellow and orange). In fact, whenever a color therapist comes to the end of a treatment, he uses the green color to restore the overall balance.
2. Being the color of balance and harmony, green is very useful to relieve stress and the consequences of a psychological trauma. Wearing a green necklace or a green colored silk scarf around the neck can have very beneficial effects in such situations.
3. Any space used for relaxation should include some green. It is a great color for bedrooms, as well as for stressful workplaces.
4. Adding green plants, bulbs and curtains, or other green accessories and furniture to rooms where you would like to feel soothed can greatly help in achieving calmness and harmony.
5. Including green colored clothing and green colored foods to your everyday life will also help you maintain inner balance and increase relaxation.
6. Excellent green gemstones to wear or keep inside your house in order to create a harmonies atmosphere are: aventurine, emerald, green tourmaline, green apatite, jade, malachite, moldavite, peridot, and variscite.
Green is a perfect choice for basically any business
It is absolutely a must for any type of environmental, organic, health and food business. Green stimulates appetite, so it is a great idea to have it, if you're running a restaurant, or a catering business.
Green is one of the 6 Feng shui colors for business. Use it to bring more success to your work.
Did you like reading this post? Are you also attracted to the power of green? Let us know in the comment section below!