You want to give your personal touch to the holiday decorations this year? Here you have everything you need to know about homemade Christmas decorations.
DIY Christmas decorations are a great craft for kids, holiday parties, or family gatherings. Here are a few great Christmas tree ornament ideas to try this holiday season!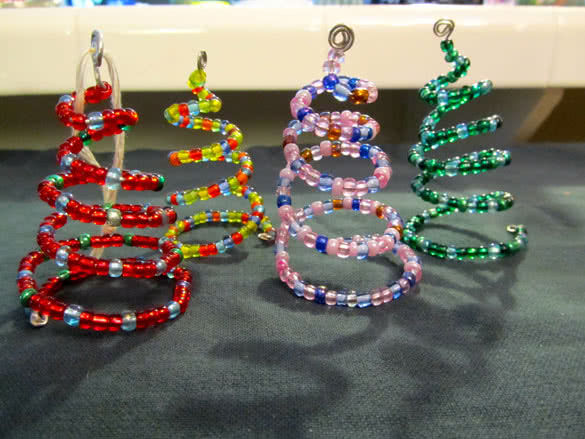 Fish tank ornament: show your originality
Add some summer feeling to your icy Christmas this year with these cute fish tank ornaments! Originally designed by OntheCouchCreations Etsy store.
You will need:
Clear ornaments with removable caps
Small fish toys
Small blue rocks or beads
(optional) Fake green "moss" or other fake greenery
(optional) Glitter paint for the outside of the ornament for a sparkly spin or some translucent blue paint!
How to make it:
 Take your clear ornament and fill it up as high as you would like with your small blue rocks. Using rocks that are different shades of blue looks great, and if you are going to hang them right away, you can layer the colors in fun ways. Although, the layers won't last until next year, if you are going to save them after that, as the rocks will most likely move around.
Next, add any fake greenery in the rocks.
 Use some wire or clear fish line to tie your fish to the cap. Inside the cap there are usually prongs to keep it in place. Simply wrap the wire or fishing line around the prongs!
Paint the outside of the clear ornament with translucent blue paint or glitter paint if you wish!
Hang your new fish tank ornament on your Christmas tree
DIY Glitter twine ball ornament for that rustic tree look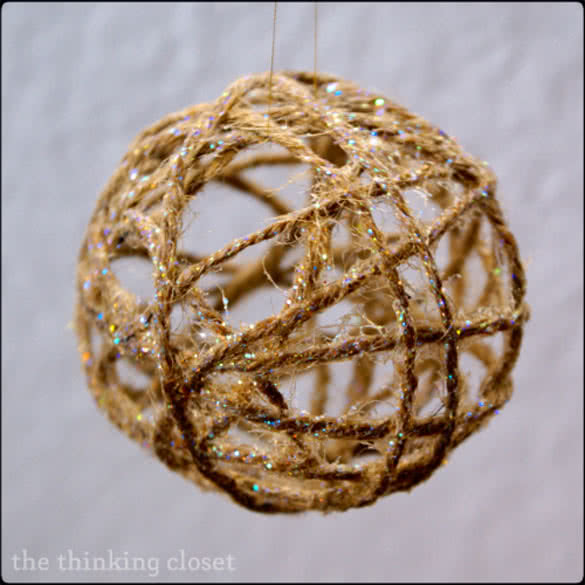 Have a more rustic Christmas with this great twine ball ornament!
You will need:
Glue Gun
Mod podge
Foam brush
Cling Wrap
Balloons
How to make it:
Blow up a balloon. Now, I found that if I went too small, my balloons were more ovular than circular. So, I ended up with balloons that had a circumference of between 11″ and 12″.
Wrap balloon in cling wrap. I figured cling wrap would be less likely to stick to the Mod Podge than the balloon… Don't skip this step!
Wrap jute twine around the balloon. To get started I just taped the jute to the base of the balloon. You'll want to keep the string pretty tight against the balloon as you wrap or it will easily unravel. When you feel like you've sufficiently wrapped your balloon, remove that piece of tape, and either tuck the ends under some other twine, or hot glue the two ends of your twine together.
Douse your twine-wrapped balloon in Glitter Mod Podge. Now, one lesson I learned last year with my Tree Topper was that saturating the twine in 100% pure Mod Podge is a bit overkill. We're not trying to fossilize it! So, this time around, I watered down my Glitter Mod Podge to a more soupy consistency, 1 part water to 2 parts Mod Podge. I mixed it up in a wide plastic cup and just dropped my twine-wrapped balloon right down in it – spun it around a few times until every section of the twine had been doused in the mixture.
Let it dry! I used the same drying method from my last go-around, which worked really well. I hooked a wire ornament hanger through one of the pieces of twine and suspended the balloons from the bottom of one of our IKEA baskets to dry overnight. However, this time, I was sure to lay down some plastic to catch the drips! Unless, of course, you want to Glitter Mod Podge your floor, which you might.
Pop the balloon. This is the fun part! (Unless of course your balloons deflate on their own overnight…which a few of mine did! And then, it's a bit anti-climactic.) Once the twine is completely dry, pop the balloon and carefully remove it along with the cling wrap through the widest opening. You may also have to pick out some bits of cling wrap that got extra…well…clingy. (As they are apt to do.)
 Hang. Attach a wire ornament hanger or tie on some gold thread and hang!
Melted crayon ornaments can bring some color to the holidays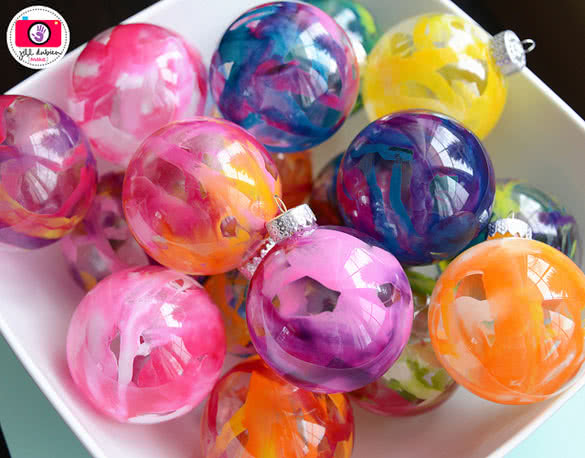 Have you got kids? Well, then you probably have crayons, and a lot of them. Put some of those broken, worn out crayons to good use this Christmas while doing a fun craft that the whole family can enjoy!
You will need:
1 package of Crayola crayons – don't cheap out here because the Crayola ones really do melt the best
 a sharp craft knife
 1 package of clear GLASS craft ornaments
 a hair dryer
 a pair of oven mitts or thick winter gloves
How to make it:
 Take your crayons out of the box and, using your craft knife, peel the wrappers from the crayons. Once your crayons are peeled, cut them into small pieces – about 6 pieces per crayon. (You can also shave the crayon into tinier pieces!)
Take the silver top off your ornament and place 3-4 crayon pieces into the ball. Experiment with color combinations and have fun!
Put the silver top back on the ornament and put on a thermal or winter mitt. Turn your hair dryer on high heat and hold your ornament in your gloved hand. Heat up the crayons until they start to melt and then swirl the ornament around in your hand so the colors swirl all over the inside of the ornament. Don't melt the crayons completely, it will be too much. Once you are satisfied with the coverage, turn off the blow dryer heat.
 Take the silver top back off the ornament, and turn the ornament upside down over a plate or bowl. Turn your hair dryer on once again and heat up the crayons until they fall out of the opening at the bottom, and on to your plate or bowl. Put the silver top back on your ornament, and you're done!
Now that we've covered the ornaments you could make to give your Christmas tree a special, personal look, we can go directly to some decorating ideas for your home. This Christmas, make your home a winter wonderland with these fun, easy DIY  decorations for your home.
Snowflakes for your windows
A Christmas classic! Kids will love learning how their cuts into paper can make cool snowflake designs.
You will need:
 Paper (Thin paper is best as it is easier to fold)
 Scissors
How to make it:
Cut a perfect square piece of paper
Fold the square in half, diagonally. (Will be a triangle)
 Fold the triangle in half. (Will be a smaller triangle)
 Fold this triangle into thirds, folding the left and the right side to the front, overlapping each other.
Flip the piece over so that the straight, horizontal line is facing forwards.
Cut along the horizontal line.
 Now you can cut into the sides of the paper keeping it folded.
Carefully unfold your new, unique snowflake!
 Attach a string or wire to your snowflake and hang above the window or tape directly to the window itself!
Sparkly branches make a great centerpiece
These cute, sparkly branches are a quick, cheap way to add some twinkle to your holidays. Use them as center pieces for your table, as an addition to a holiday bouquet, or use smaller branches and tie to a string for a unique ornament idea!
You will need:
Tree Branches (all different sizes!)
Silver Spray Paint (Or whatever color you want!)
Silver Glitter (Try blues and reds for a more colorful approach!)
Colorful Accents
White Glue
Spray glue
Paint brush
How to make it:
Find a tree branch the size you require. Use lopping shears to cut and shape.
 Spray it with silver spray paint to cover. Let dry.
 Spray the branch with spray glue/adhesive until it is covered.
 Lay a cookie sheet on the ground and sprinkle the glitter onto your branch, so that the excess glitter falls onto the cookie sheet and you can re-use it. Do this outside so glitter won't get all over the place.
 To create an icy look – spread some white glue on a few places along the branch.
 Clear off the cookie sheet and then sprinkle clear Colorful accents over the glue. These little cubes stick on easily. Collect the excess that falls onto the cookie sheet to re-use. You can also use Epsom salts to do this – they will give the branches a whiter look.
Wire Christmas tree, a classic you can easily make
You will need:
Wire (Try different gauges and colors to create different looks!)
 Foam Cones (Try all different sizes!)
How to make it:
Wrap the wire around the foam cone. You can space the wire as close together or as far apart as you like. If you are making a centerpiece, try different spacing's for a well-rounded look!
Put them on your fire place, coffee table or anywhere else, for a fun, simple and elegant Christmas look.
Wine bottle accent lights for that romantic feel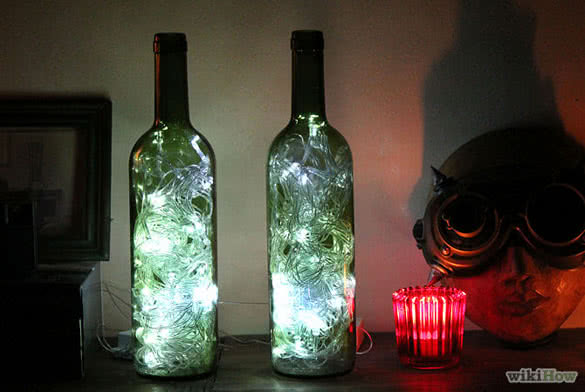 (For the expert crafters)
These wine bottle lights are such a fun addition to any holiday party! They look elegant and you know nobody else will have them around. Try different color lights and different color wine bottles for different effects. These would also be a fun holiday gift idea!
You will need:
Wine bottles (Green, pink, yellow, whatever color!)
String of lights, LED
Drill
Clay, for drilling
Water and bucket
Diamond core drill bit
150 grit sand paper
How to make it:
Remove the labels on the wine bottles
 Clean thoroughly to remove any sticky residue or leftover wine inside the bottle
 Mark the bottle where you want the lights to come out of
 Prepare a bucket of water for drilling
 Ready your power tool with the diamond core drill bit
Use clay to form a wall around the area you will be drilling.
 Drill the hole, pouring water on it as you drill
 Smooth the newly drilled hole with 150 grit sandpaper. Be careful!
 Clean the bottle again
Insert the LED Christmas lights into the bottle via the drilled hole.
Plug in, turn on, and enjoy!!
Stemware snow globes: wow your friends and family with these sophisticated ornaments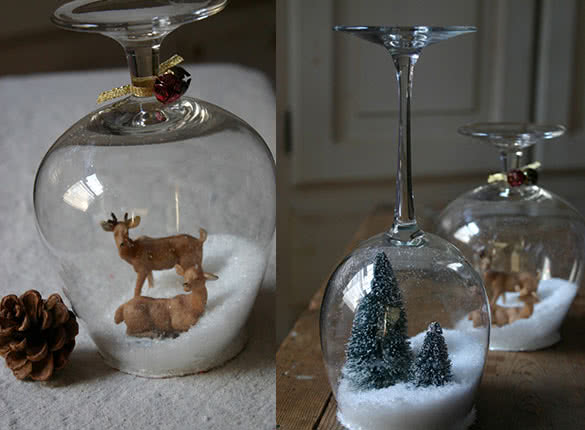 These super cute stemware snow globes will wow your friends and family this season by adding some sophisticated fun to your holiday decor. There are many different takes on DIY snow globes out there. You can also make them with mason jars and regular glasses, but these wine glass globes are our true favorite!
You will need:
 Wine classes (They come in all shapes and sizes so play around!)
 Artificial snow, large cut, or small cut glitter
 Plastic reindeer, plastic trees, etc. Whatever you want to end up inside your snow globe
How to make it:
 Place glass upside down onto cardboard and trace the circumference of the opening. I used cardboard from a cracker box – but you could also use a card.
 Using a hot glue gun, I attached my objects to the cardboard. I bought my trees and deer at Micheals, but you could use pinecones, old jewelry or even a photograph.
 Fill glass with a few tablespoons of artificial snow or glitter.
 Line rim of glass with hot glue and press on cardboard.
Voila! One of your globes is all done! You can set them on a mantel by themselves or you can place on a candle on top. How chic!
So, there you have it, some really great, homemade Christmas decorations. We hope you will try some out with your family and friends this holiday season, and let us know how they turned out! If you have any favorite DIY Christmas decorations you'd like to share with us, please leave them in the comments below. We would love to hear about them! There are so many great, inexpensive ways to fill your house with cheer!
Merry Christmas and Happy Holidays, Queens!