The season is upon us. So, how do we make the most of it? How do we fill our homes with pure Christmas romance?
You dream that your life will be like a romance novel where every page feels like it oozes comfort and warmth. The only problem is, of course, that you might have to put a tiny little bit of effort into creating that feeling. The Christmas scene you find on post cards and in movies won't just happen unless you create it.
This year, your circumstances might not be ideal for creating a wonderful Christmas. Maybe a relative is sick or has just died. Maybe you're facing financial problems. Maybe you're having a terrible time at work. Whatever it might be though, you will feel better if you come home to a place filled with Christmas warmth.
So, let's have a look at how you can create some romance in the home for the holidays.
Beautiful Scents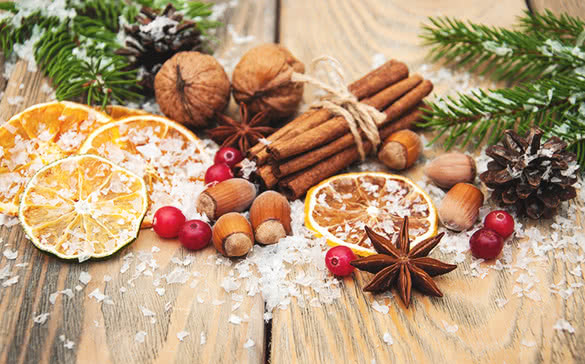 Memories are often tied to scents. They are, in fact, incredibly powerful when it comes to triggering memories. I've walked past people in the streets who've been wearing a certain perfume and suddenly been transported to another time and place.
Scents also make us feel comfortable or uncomfortable depending on whether we like them or not. It's, therefore, important that your home is filled with scents you love.
When it comes to the holidays, orange, cinnamon, nutmeg, ginger, allspice and cloves are the scents in season. The most obvious way to fill your home with these warm scents is to get busy in the kitchen making gingerbread cookies, pumpkin pie, mulled wine, spiced apple cider and other holiday treats.
Simply simmering something like spiced apple cider on the stove will fill the house with a beautiful scent. Just simmering some water with spices or a tea bag (such as a pumpkin spice one) in it will also make your home smell divine. Here are some ideas for such.
For Christmas, you can also make orange pomanders (oranges with cloves stuck in them to form patterns, often hung with a red ribbon) and decorate your home or the Christmas tree with them. These smell lovely.
Essential oil blends that you use in a diffuser (or simply put a few drops on a napkin), naturally scented candles and potpourri are other ways to add scents to the home. You can also buy a huge scented broom at Trader Joe's.
Romantic Holiday Décor
First things first: blankets and pillows. How can you have a cozy holiday feel without them? A nice knitted throw in your favorite armchair and a pile of soft pillows are a wintery picture. Anything fluffy and white goes. Plus, it's the perfect excuse to cuddle with someone or simply to sit down and feel cozy.
Natural décor such as pine cones, branches of pine, dried leaves, cinnamon sticks, dried oranges, nuts and wraths made of pine, mistletoe, or moss are also part of the season. And, pine trees—as we know—smell divine, so they will definitively add to the scent of the holidays. If you want a Christmas tree, it will add to the romantic feel of the home, but if you don't want the whole tree, a branch will suffice.
Christmas trees are often decorated with lights, which add romance. If you don't have a tree, or even if you do, try getting some fairy lights to have around the house. Note: avoid the neon and bright white ones—you want a soft glow for romance.
Candles. I cannot recommend them highly enough. What feels more wintery and holiday-like than candles? The only thing you have to make sure of if you are a ditz like me is to buy ones that won't set the house on fire. Lanterns are perfect for this and a great match for the holiday season.
Stars are very much in season and, growing up in Sweden, we had lamps shaped like stars or snowflakes every Christmas. Luckily, you can now get these all over the world thanks to Ikea. They add a nice, soft, romantic light. This is one example.
Of course, you can deck the halls with Santa Clauses, angels, glitter, candy canes and the likes, but I suggest sticking with a few that you find romantic. Clutter is not romantic. Place a red bow here, a candy cane there, a wintery flower arrangement on the table next to some candles—small things, big difference.
The Colors
The colors of the season are red, green, gold, silver and white (off white for a warmer touch), but you can use whatever color theme you like, so long as it matches.
An Advent Calendar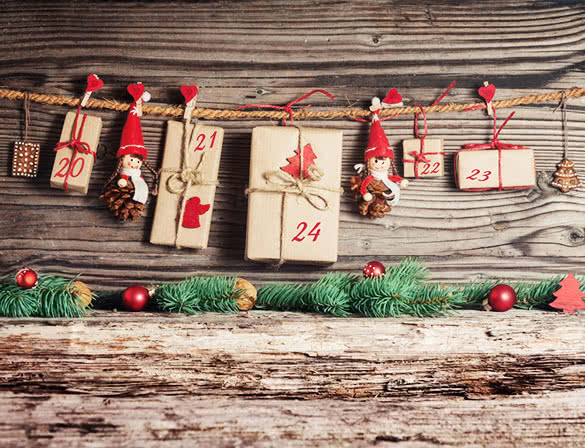 A beautiful advent calendar has a place in a cozy home for Christmas—all the better if you design one for a friend (with 25 gifts/treats in it, of course) and they one for you. That way, you get a gift every day! There are some beautiful ideas for signing amazing advent calendars around. This is one I found on Pinterest.
If you're feeling lazy, you can simply buy one—high end chocolate boutiques tend to have some really nice ones and Trader Joe's has a budget version at 99p!
Delicious Holiday Drinks
You may think to drink holiday drinks only at the dinner table when you are celebrating, but why not end a long day with a sip of a holiday-inspired drink at home? Variations of hot chocolate are definitively in season as are pumpkin spiced coffees and teas and spiced apple cider. Mulled wine on a dark night, or an egg toddy, is also in place during the holidays.
Drinks can be very soothing. To end your day with a cup of delicious tea, while a beautiful scent wafts through the house and you do some contemplation or reading, is a lot more romantic than downing a glass of water while channel hopping on the TV. Maybe drinks aren't part of the house decor, but what you eat and drink will flavor your household.
Of course, there are many more ways to create romance in the home during the holidays. These are just some ideas. You'll find many more on Pinterest and similar sites—or right here from our readers. Please share your ideas with us.