Would you like to revamp your bedroom without spending large amounts of money? Here are a couple of cool ways you can get it done!
Are you fed up with your bedroom? As we age, we change and so do our ideas and styles. Even small changes, such as the lighting, potted plants and a modification made to your headboard can make a huge difference. It has also been proven that a change every now and then is healthy, so jump in using these great DIY projects to enhance your bedroom.
You may feel an urge to jump in and re-do your entire home, but hold off for a bit and take things one step at a time. Taking on such big DIY projects all at once can be a bit intimidating, so start with the bedroom and move on to another room only once this room is done.
Why start with the bedroom? Well, it's quite simple, we all need a place that is uniquely us, and somewhere we feel comfortable and truly free. The bedroom is the perfect place for this; here, you do as you please. So, wrap yourself up and make it special!
Are you ready to roll over and be bold? Well, here is a round up of the latest great ideas!
The Headboard
The headboard is one of the things that catch the eye when entering a bedroom. Unless, of course, there is no headboard or it is remarkably small, which is usually not the case. Your bed and headboard speak volumes of your life and your bedroom design ought to include it.
What is your headboard saying right now? Leather says contemporary while wooden headboards say vintage and glass or steel accents say modern; does your headboard say what you truly want it to say?
Change your headboard slightly or drastically with easy DIY projects. The option is yours and the choices on offer are vast!
You can take a small thing and make a magnificent change. Add some string lights to your wooden headboard or just some cloth draped effectively and see the change. Remove the headboard you have and replace it with one of the following!
1. Easy Curtains DIY Project
Mount a curtain rail to the wall above your bed and hang a lovely frilled or lace curtain down so it goes in behind the bed. This is now your new headboard.
2. Easy Oars DIY Project
Behind your bed—not too close to the ground—mount a wooden oar rack. Stack the oars and arrange them so they are not all equal sizes. Some must be shorter and others longer. Now fix them to the mounted oar rack with wood screws and you have a brilliant looking headboard.
You can also mount some wooden doors or windows to your wall. Or, try some banners and ribbons on a wooden headboard. The options are limitless!
The Side Table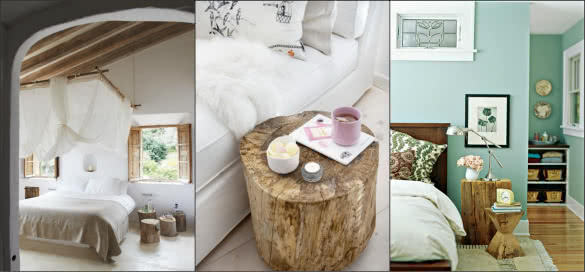 The bedside table is another great change to consider. There are many easy DIY projects that offer a variety of options. You want something unique, something that offers you the function but delivers that desired awe, right?
Ever considered using a tree stump? Yes, you heard right: a tree stump! This is something that makes a solid statement, delivers creativity and elegance and is super easy to do.
Step One: Get an evenly cut wooden stump. If it is not dry yet, let it stand for a couple of days.
Step Two: Remove the bark. The drier the stump, the easier the bark will come off.
Step Three: Sand the stump to remove any bark still left and to get it smooth. Using a hand sander is recommended.
Step Four: Apply wood filler if there are any noticeable cracks or even holes in your stump, and allow it to dry completely.
Step Five: You can now paint or varnish it. You can also add a tint to your varnish for a different look.
Now your DIY project is basically complete! Some people add wheels for easy moving, but it is not a must. If adding wheels, you can use washers to get the table standing equal if on an unequal surface.
The Chandelier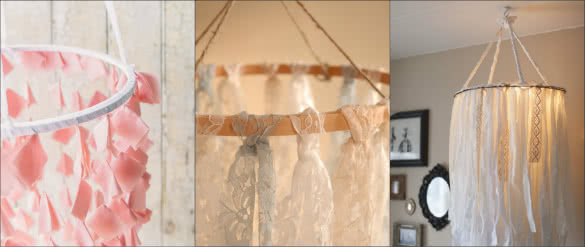 This DIY project is quick, easy and cost effective. It can be done in 5 easy steps. You will need two different sized hoops—something similar to an embroidery hoop. You will also need some paint, wire, glue and strips of fabric.
Step One: Paint the hoops the same color as the fabric.
Step Two: Attach the hoops to each other with three pieces of wire. Make sure they are about a hand's length apart and equal all around.
Step Three: Drape the strips of fabric over the bigger loop at the top. You can hang them all in equal lengths or make some a bit shorter on the outside and others shorter on the inside. It is up to you.
Step Four: Take one of the outer strips over a couple of others and stick them to the inner bottom ring. Do this with about four to eight of them but not all.
Step Five: Glue the strips to the top hoop so they can't fall off or move around.
There you have your chandelier! You can now attach it to your ceiling with rope and studs over your light bulb.
String Light Art

We all love string lights; that is just a fact of life! You often see people decorating their porches, BBQ areas and even their gardens with them. They seem to add a bit of panache to anything. So, why not add a romantic atmosphere to your bedroom with some string lights?
You can drape them over the headboard or add them to your window curtains. There are many ideas, so get creative and be unique.
Macramé Door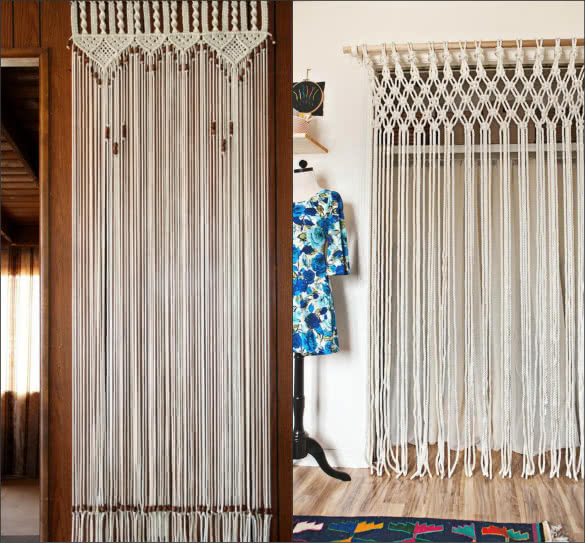 Are you missing a closet or bathroom door? Well, then this easy DIY project is just what you need.
You will need rope, tape, a wooden rod or dowel and a plain piece of linen in maybe a white or cream color. You will also need a measuring tape and ruler.
Fix the wooden rod or dowel to the wall just above the door. Now cut the rope so it hangs over the fixture and both ends reach the ground. You will need about 30 pieces of rope. Use tape to hold them in place while working with them.
Make a knot in the rope just below the wall fixture using two ropes at a time. This is the back part and the front together, so you will have four strands hanging from the knot. Now loop these over each other like a braid. Do this for about five rows and then make another knot to keep it in that position. Your macramé is now done; you can hang the plain cloth behind it for a completed look.
Share your easy DIY projects with us, or let us know what you think should be added to these!