Before, there were lists and scrapbooks; now, there's Pinterest. Here's how to use it best to plan your wedding in style.
Before we dive in, let's briefly chat about Pinterest. I tend to assume everyone's using Pinterest, but that's not the case, especially not when it comes to men. So, in short, Pinterest is a place where people pin photos from websites or upload their own photos—so-called pins. They are called pins as you 'pin' them to boards.
You can create boards for great wedding photography, wedding cakes, wedding themes, wedding dresses, wedding gifts, wedding favors… and so on. Then, when you find an image you like, whether on Pinterest or another site online, you click on the button that says 'pin' and pin it to the board of your choice.
If you haven't created the board yet, Pinterest will let you create it as you are pinning. You can invite others via email to join your boards and pin with you. You can also create secret boards that only you can see. The best way to get to know Pinterest is to start pinning. Really!
You will find a lot of wedding planners on Pinterest as well as people interested in weddings. I saw somewhere that 99% of couples in America use Pinterest to plan their wedding.
Now, onto the tips.…
1. The Color Theme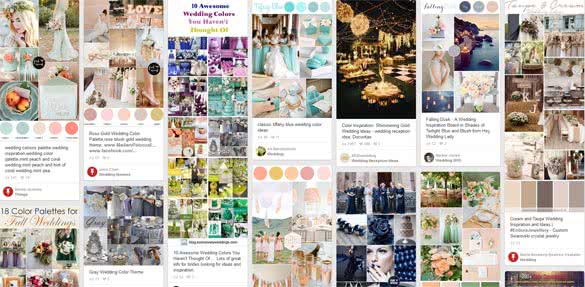 One of the first things you want to nail down for your wedding is the color theme.
If you are unsure of the exact nuances for your ideal color palette, let Pinterest help you. Have a look around for the colors you desire—all you have to do is type in "color palette wedding" in Pinterest's search bar and you'll be on your way.
The cool thing with Pinterest is that once you click on a pin, similar pins will appear below it. That means that once you've found your perfect palette you will find many more photos of that color theme to inspire you.
2. The Overall Theme
Next up, you need an overall theme. Maybe you don't have some outrageous theme like a big, fat country wedding or an Elvis inspired wedding, but you may have a spring wedding, a summer wedding and so on.
Even if you aren't going for a full-out seasonal theme, it will help you to establish what herbs, veggies, fruits, colors, etc. are in season.
3. Clothing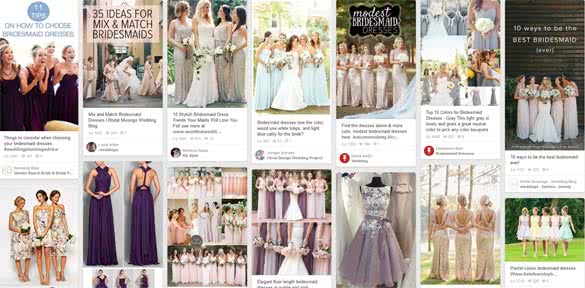 You can create separate boards for the bride, the groom and the bridesmaids. You can then invite your groom and bridesmaids to pin along with you if you wish. You can start it off yourself if you want to set the tone, and ask them to look for similar pieces (and any ingenious idea they may have that you haven't thought of).
The important thing is to alert them to the color theme and overall theme of the wedding before they start pinning. You don't want them to pin Great Gatsby style clothing in tones of light blue and gray if you are having a steampunk-inspired wedding in a red and burgundy palette.
4. Food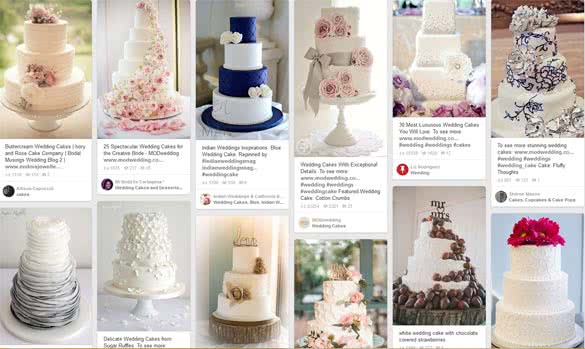 If you are, for example, having a woodland wedding theme, you can easily type it into Pinterest and you will find food to match the theme. Likewise, you can type in "wedding food," "wedding drinks," "wedding cake," "wedding appetizers" and so on.
Once you have an inkling of what kind of food you'd like to serve, Pinterest might even give you the recipes! Many excellent food bloggers and chefs pin their creations on Pinterest. Heck, you might even decide to have a Nigella Lawson-inspired wedding by the end of the day! A lot of cream…
If you hire a catering company, they may or may not be willing to work on a menu they are unfamiliar with. Some companies have standard menus while others let you choose.
When it comes to food, you can also type in "ways to save money on your wedding food," "tips for wedding catering" and similar terms for ideas for your menu. There will also be templates for you to print out menus that you find on Pinterest—just type "wedding menus" in the search field.
5. DIY
If you are doing most of the decor, flower arrangements, favors, etc. for your wedding, Pinterest is a treasure trove for you. You will find every DIY tip from here to eternity. You will also find templates to print from labels for your cookie jars (for that country wedding) to wedding invites. Just type in what you are looking for together with the word "templates" or "printables."
If you are sewing your own wedding dress, or hiring a seamstress, you will also find wedding dress patterns on there. Obviously, research how good a pattern is before you start sewing!
Also, remember to search for tips. There will be tips about everything from finding the perfect dress to creating the perfect menu.
6. Gifts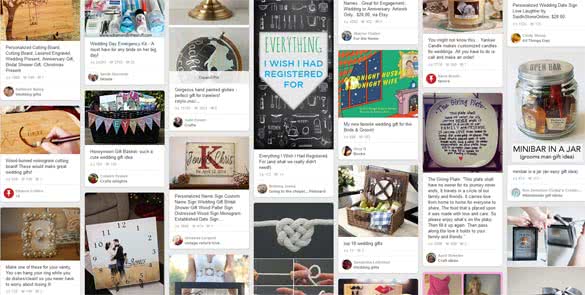 Create another board for your wedding gift list whether it's the actual items/services found in stores that you pin or general inspiration for it. You can install Pinterest on your web browser so that you can pin images from almost any page, which means that when friends see the image on your board, they can click the link.
For example, you might pin some images to show the style and color palette of what you are looking for for your kitchen/home. Or, you might simply look around for ideas for your wedding gift list and then create a 'proper' one.
One idea is to create this board on an account other than your regular one so that once you've created it you don't look at it again, but let friends and family comment underneath pins if they've decided to buy something.
Bonus Tips
Remember that companies pin to Pinterest. This means you might be able to source a wedding planner, caterer, wedding dress, florist, etc. through Pinterest.
You can also search for competitions from wedding planners, dressmakers and the likes. Make sure that they are relevant and that the company is real. If you're lucky, you might win something for your wedding!
And if you are planning your wedding together with your hubby-to-be, you can sit together and pin, discussing what inspires you and what doesn't. It can be date nights of pinning!
Don't stop there: invite friends to pin to a board for your playlist for the wedding night, create a board for your honeymoon, source unique items for your wedding decor through all the pins from Etsy and so on.
And remember: too many ideas will make it difficult to put the wedding together. When you first start pinning, pin what takes your fancy. Then create final boards, where you pin exactly what you want. Nothing more, nothing less. If you show the florist 50 bouquets to choose from, they will get confused.
If you are feeling ambitious you can take your favorite pins and put them together in a presentation, so you get an overall picture of your wedding. That way, you can have one page for the dress, one for the hairstyle, one for the groom, one for the florist, one for the cake, etc. By picking only three or so images per page it will be less overwhelming as well.