What is so unique and inviting in the Scandinavian sense of decorating, that instantly gives us the urge to copy it in our homes? You'll find out in this article.
When we think of Scandinavia, one thing instinctively comes to mind – The Design. It is functional, clean and minimalist but looks so warm and harmonized at the same time.
The "Scandinavian design" emerged in the 1950s in Denmark, Sweden, Norway, Finland and Iceland. The name comes from the design roadshow that toured Us and Canada from 1954 till 1957, and was promoting Scandinavian way of living. Unlike other European countries that looked up to opulence and nobleness, Scandinavians turned to their tradition and inherited craftsmanship instead.
They used their abundant natural resources and inherited craftsmanship in order to preserve their strong craft tradition. By creating simple everyday objects that would serve both aesthetically and functionally in a low-cost production, they started a movement that would represent modern Scandinavia.
Characterized by clean lines, minimalism and functionality, the idea was to bring beautiful everyday objects to everyone, not only to the rich.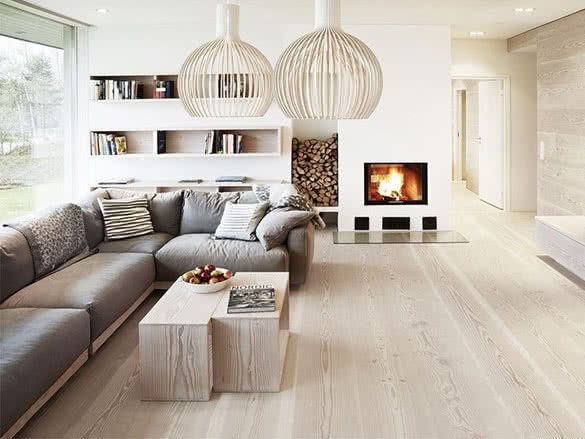 The London exhibition at Heal's department store "Scandinavian design for living" in 1951 made Scandinavia highly influential in the development of modernism. Their products became symbols of modernity and democratic design.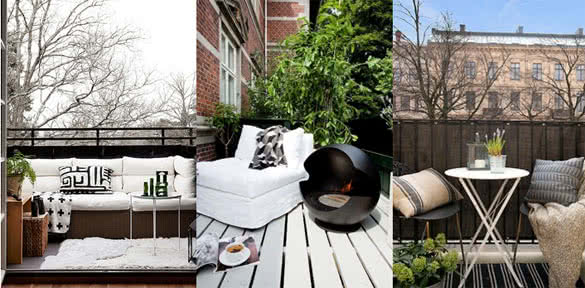 The Scandinavian unique sense of style comes from their harsh environmental conditions, and it is often adjusted to the local natural environment. Despite the simplicity and symmetry, Scandinavian interiors always emit warmth and coziness. The reason for that is in its humanistic side and natural resources.
Everything about Nordic design- clean lines from architecture to furniture, minimalistic forms, light and pale color palette- it's all inspired by nature. Scandinavians have a strong link with nature and love spending time outdoors. Their balconies and terraces are just as important as interiors and treated with same care.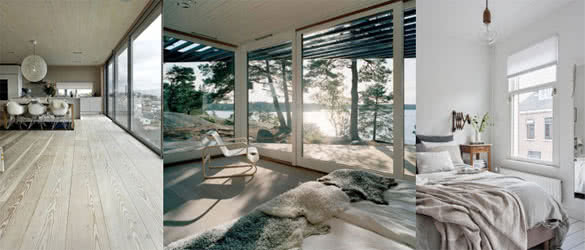 The importance of natural light
Daylight is imperative in the life of a Scandinavian. Because they have so little of it, they create their homes to receive the maximum of natural light. The windows are big and broad, and mainly not covered with curtains. Besides, large, clean glass is also witness to such glorious communication between interior and exterior.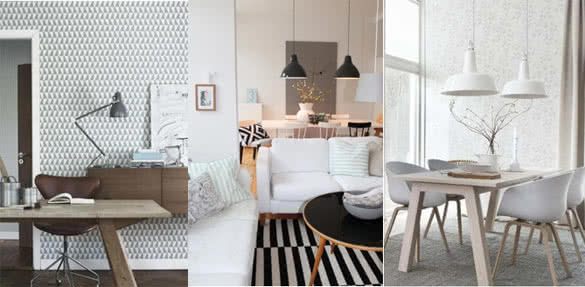 Whites and bright colors
Walls are mostly covered with white paint to enhance natural light and to feature minimalism. Other options are soft greys, varieties of light and pale natural or pastel shades. Wallcoverings can also come in the form of wood, wallpaper, stone, marble… Wallpaper is organic, minimalist, with geometric or relief patterns.
In the past few years a new trend has appeared where some walls are painted black, which adds drama to the peaceful Nordic atmosphere.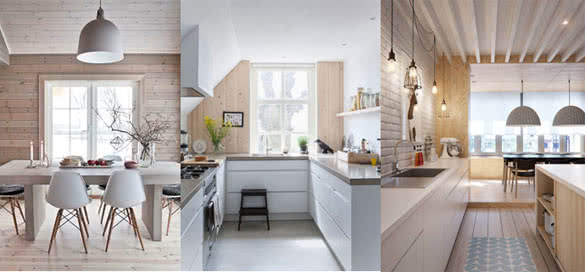 The warmth of Wood
Wood is the most important material in Scandinavian interiors, and as such, is unique and remarkable. It brings warmth, organic texture and a feeling of tradition to the space. Floors are mainly covered with Nordic pale wood.
In combination with white furniture and bright walls, it creates harmony and a calming atmosphere. Wood is an all present material that is welcomed everywhere, and it is often used in the form of panels on walls and ceilings.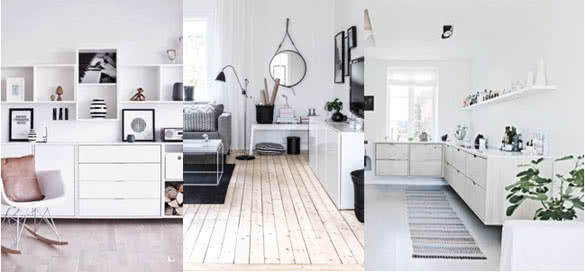 Incorporating storage space
To achieve the Nordic minimalistic form, storage space must be well planned and invisibly incorporated in the setting. Only the most beautiful and the most significant pieces should be exposed; everything else should be stored away. Scandinavian style is simply not tolerable to clutter.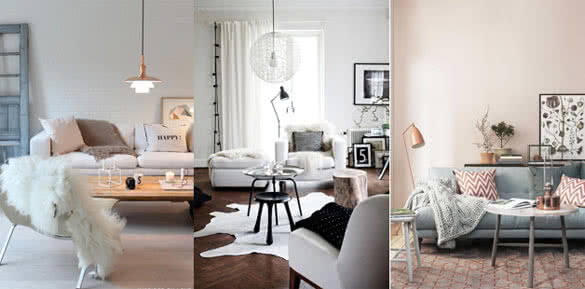 Textiles used with this design
With minimalist design, you can use soft and fluffy materials; cushions, plaids, blankets, soft rugs and faux fur, which give much-needed coziness and warmth to the space. Layering the textiles creates a sense of comfort.
The feeling of a soft and warm material after spending a day outdoors, watching television snuggled up in a soft blanket by the fireplace…All of these little pleasures can be explained by the Danish word "hygge"- that describes happiness and pleasure in small, but important things in life that are perceived and appreciated in Nordic countries.
Creating a cosy nook in unexpected places, where one can relax with a book, or placing a faux fur on the home office or dining room chairs… These are all parts of Scandinavian hygge.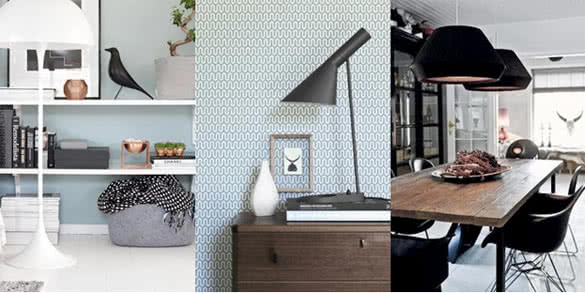 The details are not the details- the details make the design ~ Charles Eames
Details are less of the random accessories and more of the statement pieces in a Scandinavian home. Beginning with typography artworks, white candles, geometric shapes in all varieties, to Scandinavian design icons- nothing is placed there by accident. Often, a strong connection with nature can be found in details, it's visible in organic shapes and natural textures.
Scandinavian's distinguishing sense of style is best visible in lighting. Lamps are made of various materials; chrome, aluminum, glass, steel, wood, and they significantly contribute to creating a unique and remarkable look.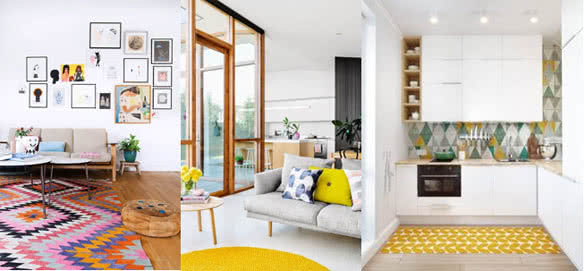 Accent colors
The basic color scheme in Nordic interiors is white and beige with addition of greys and blues- this scheme itself complements nature and creates a peaceful and calming atmosphere. One way to style it is to stick to the beautiful and elegant white, greys and black.
Another way is by bringing more life to the space, more joy, vibration and contrast. This can be achieved by adding accent colors such as red, royal blue, mint green, pine green, yellow or pink. And with some bold and unexpected patterns, the whole place gets less strict and more relaxed.
Natural light and bright colors reduce stress and build up on positive thinking. Hygge!

The fireplace is the focal point
The fireplace is the most beautiful and most important part of Scandinavian interiors. Whether it's set as a focal point or placed in the corner, it always dominates the room.
Scandinavians are also very creative when it comes to wood storage; so many unique and surprising solutions can be found in their interiors. Together, they make a beautiful and inspiring composition, and lately, fireplaces look more like pieces of art and they should be exposed like one.
Timeless features of the design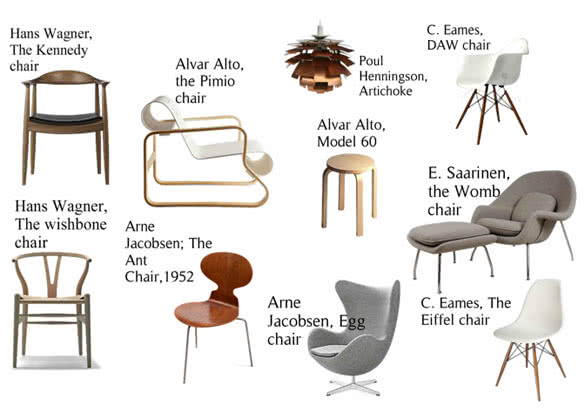 Here are some of the most famous representatives of Scandinavian design:
Arne Jacobsen; The Ant Chair – designed in 1952 by Arne Jacobsen, it was the first mass produced Danish chair. It is light, easy to stack up, and the original version was three-legged.
Poul Henningson; Artichoke lamp 1958 – First edition was made in copper, later came wet painted white and brush stained steel, and it comes in three sizes.
Alvar Alto; The Paimio Chair 1932- Designed by Finnish architect-designer Alvar Alto and his firm Artek, it was a product of an experiment on a new machine processed wood; bent plywood, bent laminated birch, and solid birch.
Werner Pantone; Pantone Chair 1960 – is a masterpiece of Danish design and the world's first molded plastic chair. It is stackable and can be used both in interiors and exteriors.
Charles and Ray Eames, The Eiffel /DSW chair- Molded Plastic chair was originally designed in metal, and entered as a prototype in MoMA's 1948 International Competition for Low-Cost Furniture Design. Then the material was changed to fiberglass in 1950, and today the Eiffel chair is made of recyclable polypropylene.
Hans Wegner; CH24/ The Wishbone Chair 1950- A light, comfortable and attractive dining chair with the Y-shaped back. The CH24 chair is a triumph of craftsmanship with a simple design and clean lines.
Arne Jacobsen; Egg chair- This chair was designed in typical Jacobsen style in 1958 for the Radisson SAS hotel in Copenhagen.
Eero Saarinen, The Womb Chair and ottoman- It was designed in 1946 and is unique for its organic, natural shape. Saarinen's Womb chair is comfortable in any position providing a sense of security- wherefore the name.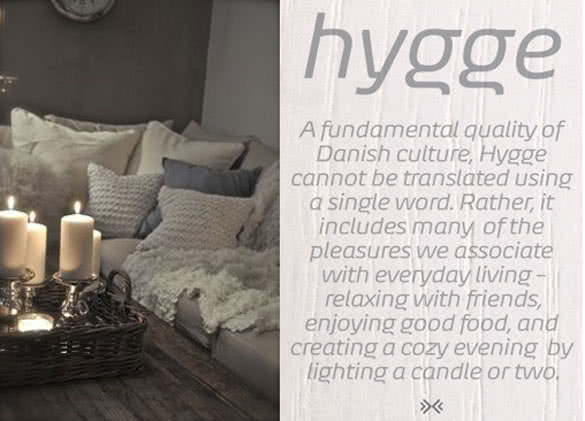 We should all take something from the Scandinavian philosophy; to notice the things around us in a better way, and enjoy the little things. Be more functional and eco- friendly. Appreciate the fresh air and connect to nature, celebrate every ray of sun, cherish every moment spent joyfully with friends and family.
Call it however you want to, but don't forget to hygge.