Are you planning a first date with that hot guy? Although it's cold outside, it doesn't mean you can't have fun. Check out these 13 winter first date ideas.
Ah, winter. The air is crisp, the streets are twinkling with lights and the ground is blanketed all in white. It's a joyous time where holiday spirit is king and where many new relationships take form.
Because of this, it's important to have some fun and romantic winter first date ideas in your back pocket. And no, hibernating inside with some Netflix & chill does not count.
Instead, get outside for some fun, winter festivities or, if you dislike the cold and prefer to cozy it up by the fire, surrounded by blankets and a cute guy beside you, keep it 'first date PG' with some Christmas movies. Whatever your style, we've got you covered with these 13 winter first date ideas.
Grab a cup of coffee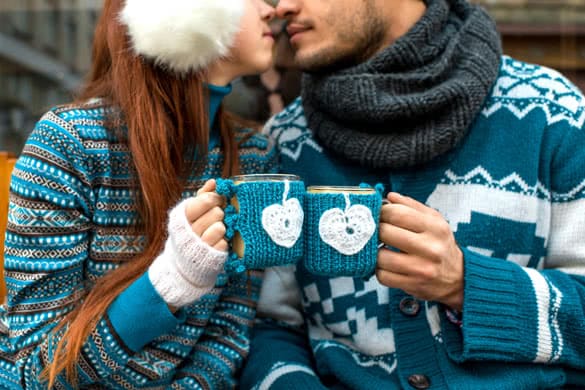 There's just something magical about sitting in a warm, cozy coffee shop while you watch the pretty snow blanket the streets outside. It's even better when you've got a window view a la Gilmore Girls and a cute guy sitting across from you.
This is what makes a coffee shop date a perfect first date. It's a popular choice for first dates already and provides you with a level of comfort as you work your way through that spit-fire 21 questions that give anyone the jitters. Feeling super nervous? Skip the coffee and stick to tea or hot chocolate instead.
Afterward, if the weather is nice, you can take a romantic stroll through the streets where a magical first kiss will hopefully happen.
Ice skating
There's no better way to break the ice on a first date than by ice skating (and hopefully not literally). Think about it: your all bundled up and can use your non-existent skating skills to your advantage by giving you the perfect excuse to grab onto his arm to prevent yourself from falling (and hopefully looking graceful and not like you're in the midst of dying), or getting to take part in the 'like-the-movies' cliché of having him hold your hand for the first time while you skate.
It's a good date idea if you're particularly shy as the music will be loud and the ice skating rink filled with the hustle and bustle of other skaters; you won't feel as pressured to have an intense conversation like you would if you were across from one another at a restaurant. Instead, you can just relax and have fun.
Sledding
It worked as the perfect first date for Catherine and Sean from The Bachelor, and it can work for you, too! Hitting the hills for some sledding is a fun, child-like date that will make you smile and just have a blast.
It's a great way to show off your fun side as you push each other down the hills or even cozy up in a sled together. Afterward, start up a snowball fight! Loser buys the drinks.
Go Christmas shopping
Seems like a weird first date idea, but how else can you measure his level of patience while you hit the mall? If you want to see how he will fair months down the road in the relationship as you enter yet another store despite having your hands full of bags already, then this is the date idea for you.
Don't even look at it as selfish because, chances are, he secretly has no idea what to get his older sister and that, my friend, is where you come in.
Bake together
The holiday weight isn't going to put on itself! You have to work for it, and work for it! That is why you can get your special someone to join you with some holiday baking.
Cupcakes, cheesecake, cookies, gingerbread houses—make it all, and even though baking can be rather boring, try to have fun with it, too. Experiment and try new things; it'll make things all the more interesting to taste.
Snuggle up and watch Christmas movies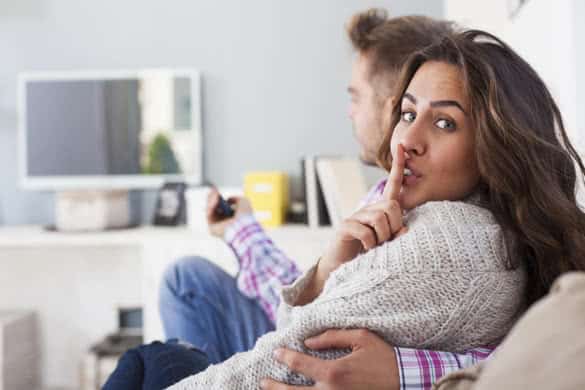 Elf. The Santa Claus. Jingle All The Way.
There is literally no shortage of amazing Christmas movies that you need to hunker down on the couch and watch this winter. And, it just so happens that it makes an amazing first date idea! Grab some blankets, maybe a bottle of wine or rum and egg nog, some of the cookies you baked and most definitely an assortment of other snacks and you're good to go. It's that easy.
Hit up a hockey game
If he's a sports guy, he'll love this idea. Winter is a time where lots of hockey games are going on, so throw on some jerseys, grab some beer and hit the arena. Bonus points if it's his favorite team and you score him tickets—what guy wouldn't want to date a girl like that?
Cozy up inside with some fondue
If you're looking for a low-key evening, cozy up inside with some fondue. Heat up some chocolate or cheese (or both!) and pair them with yummy fruits, delicious artisan bread and, of course, some complimenting wines. You can even turn up the romance by feeding each other.
Sing karaoke
Sure, you may need to actually know the person (or at least be drunk) before you embarrass yourself, but what better way to show off your fun, goofy side than by hitting up a karaoke bar and belting out some holiday tunes? "Baby it's cold outside" is a sure-fire hit that will break out the laughs and may even end with the two of you finishing off your duet with a kiss.
Go on a hike
You may be saying, "what?" but the wintertime actually is a good time to hit the trails. Hiking is an active activity that will have you feeling warm in no time. It's perfect for those who love adventure and who can bare the cold that will creep up in the beginning. Map out a good, safe route, bring along a thermos of hot chocolate (added fun if it's spiked with Baileys) and enjoy the beautiful views.
Hit the slopes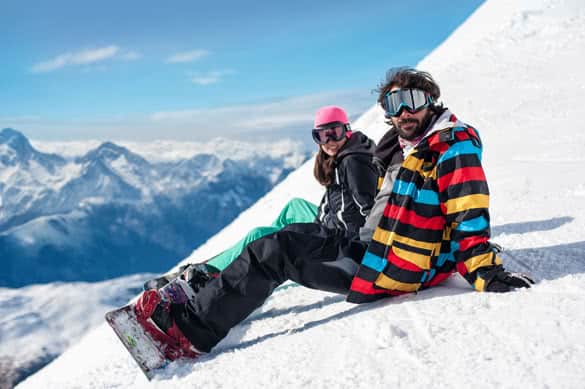 Nothing says winter like hitting the slopes for a fun day of skiing or snowboarding. It's the perfect first date idea, especially if both of you love being active and adventurous. Make sure you know what you're doing first, though, before hitting  more challenging hills. Or, you can use that to your advantage by having him show you the ropes. Make sure you end the day by visiting the lodge's indoor bar and café for a warm drink.
Roast marshmallows
Roasting marshmallows isn't just something you do while out camping in the middle of summer with fireflies buzzing around you. It works in the winter, too, and actually makes more sense. Feeling cold + fire = good idea. So, if you have access to a fire, grab some blankets, your new man and get ready for some delicious, sugary goodness.
Bring him to your family's holiday events
Granted, a first date usually isn't the best time to introduce your potential new man to the family—and if he runs away, we apologize—but, when it comes to the holidays, it seems a bit more appropriate. This is because there are a lot more parties and fun events going on.
Make sure he's comfortable with it ahead of time, though it's unlikely that he would turn down a night of free spiked egg nog and the chance to sneak you away for a kiss under the mistletoe. Plus, as an added bonus, it doesn't hurt to have a man to parade around and thus warding off the endless questions from Aunt Sue at Christmas about why you're still single. You're welcome!