Your hair`s been breaking off more and more into your brush, your ends are frayed, and one part of your hair is longer than the other… eek! You`ve searched for a MIRACLE: a product, a hairstylist, something or someone that will get your hair back to how it used to be before it got "messed up." All of your searching hasn`t been in vain – you found this article.
But you won't find your miracle shampoo. Everything is a process, including achieving healthier, stronger hair. If you want long, beautiful tresses, you have to be willing to work for them!
Why is This Happening?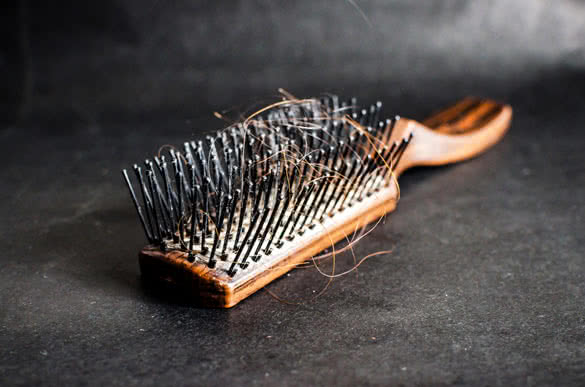 Why does breakage occur? Well, to understand why, you first have to know what it actually is. Hair shedding is a natural part of life; you lose anywhere from 50 to 100 hairs a day. When hair breaks however, it has become so weak from damaging techniques and poor care that it splits off before its life cycle is complete. Seeing your hair break is disheartening, but the most important thing is to get to the root (literally) of what's actually happening.
1. Lack of Moisture and Oils
Dry, frayed ends are, to say the least, embarrassing. If your hair is very dry, you might hear that popping/crackling noise when you go over your ends with a comb. Your scalp produces natural oils that keep a certain level of moisture in your hair. The speed that these oils travel down you hair shaft will vary depending on your hair type. The curlier and thicker your hair is, the slower the process. However, even if your scalp produces plenty of oil, you may be canceling it out by washing it every day, not conditioning, and continuously straightening. The weather and your daily activities also have an important effect on the level of moisture your hair has. For example, if you're a swimmer, the chlorine and winter weather will dry your hair out tremendously.
Here's a diagram of what your ends may look like:
2. Over Processing
A common result of over processing is heat damage. Heat damage from excessive heat styling is a major cause of breakage, and comes from over-employing your straightener, hair dryer, and other tools. It causes the ends to "fry" and change texture. Over processing can mean more than just using your flat iron too frequently, however. Over processing can also be the result of overlapping different chemical processes. Damaging chemicals that are found in hair color, perms, relaxers, texturizers, and other treatments are stripping, breaking, and changing the bonds that make your hair the texture it is. If you used all of these combined, imagine how broken and fragile your hair would be!
3. Poor Diet
We all have a weakness for sweet treats, but you have to remember: what you put in is what you're going to get out! If you haven't been eating as well as you should be, there are bound to be other consequences besides unhealthy hair, but this certainly adds to it. Foods that are high in sodium, like most snack foods, can cause hair to shed. Sugary foods, according to Jamaican blogger Brenda Barrett, "can interfere with the absorption of protein… protein is very important for the structure of bones, teeth and hair."
4. Stress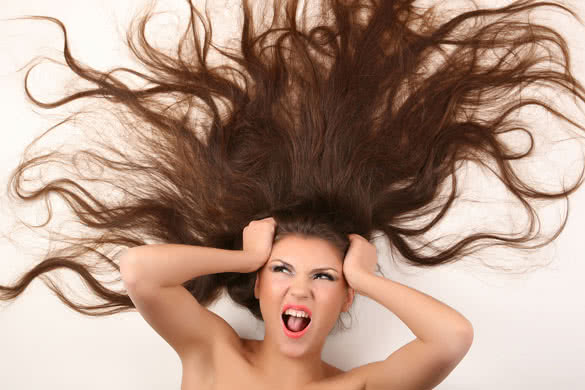 Whether you're struggling to get a project done, have trouble at home, or are just going through some tough times, the situation will start to represent itself in your hair. Stress can cause you to act roughly towards your hair and do rash things that may provoke an over-processing situation. It can also drive you to neglect your hair. The stress is not good for your hair or your body. Learn how to cope with it.
5. Illness
Breakage and excessive hair shedding can sometimes be a sign of something that is potentially more serious. This external loss may be an early warning that something is not functioning correctly internally, and you may need to see your doctor.
So, What Can I Do about Hair Breakage?
All of the above might just seem like bad news – but it's important to know why you're not getting the results you want to see. Now that you've managed to pinpoint the cause of your breakage, you can be open to solutions, and further prevention.
1. Everyday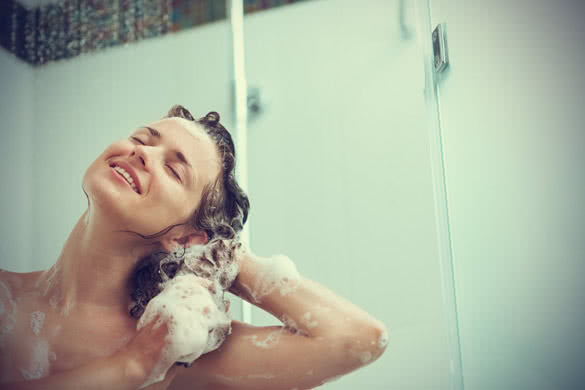 For starters, you should try to limit the manipulation of your hair. Try to avoid heat styling and blow-drying as much as possible, and excessive brushing or combing on an everyday basis. Washing your hair everyday for any hair type is never a good idea; however, if your hair is extremely oily and you feel the need to wash it everyday, use a cleansing agent that conditions, while eliminating build up.
As far as diet goes, eating healthier has several advantages, stronger hair being just one of them. Foods that work well for repairing your hair are ones that are rich in protein – red kidney beans, salmon, nuts, etc. Keep foods that are high in sugar and sodium in moderation. And if anything is a miracle in a bottle, it's water! By incorporating water into your daily life, you're not only saving your hair, but your whole body!
2. Don't Sweat the Small Stuff
If you have to live and work in a competitive environment, there's always the risk of stress and anxiety. There's nothing wrong with being deadline driven and goal-oriented, but when you're not sleeping enough, neglecting your body or in this case, your hair, there is a problem. Things may be tough at the moment, but you have to remember to relax every now and again. Make daily schedules in order to manage your time efficiently – you'll be surprised at how much you can get done!
3. Feed your Hair
As you feed yourself, you must feed your hair. There are tons of kitchen remedies and treatments out there for you to experience and attempt for yourself. Many feature egg, which has essential Omega 3s and protein, oils such as jojoba or grapeseed, which are both light oils (won't weigh your tresses down) that are great for moisturizing the scalp and relieving dandruff. Avocado does wonders for the hair, and is also very tasty!
For softer, more manageable hair, try this classic DIY Avocado Hair Mask from The Blush. You'll need:
An avocado
1 tbsp of olive oil
1 tbsp of honey
A shower cap
20-30 minutes of spare pampering time (I recommend a whole Sunday. Why not?)
1. Crush the avocado in a bowl (leaving the pit out, of course). Add the olive oil and the honey and mix together.
2. Massage the green paste into your damp hair from roots to tips.
3. Put the shower cap on and leave it there for 20-30 mins.
4. Wash the mask out, then use shampoo and conditioner as usual.
5. Enjoy your gorgeous mane!
4. Repair & Moisturize – Products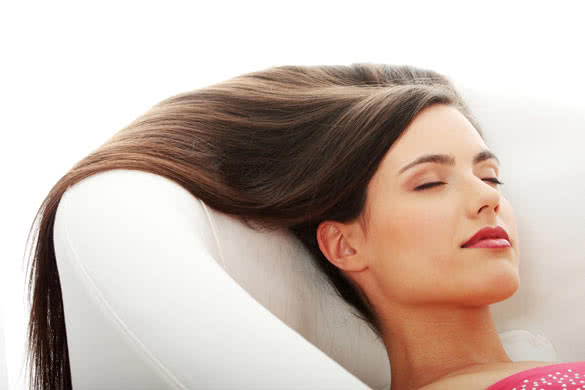 In addition to giving your hair, and body, the nutrition it needs to be healthy, you have to choose the right products that will repair your hair in its fragility. You want to find products with gentle, natural ingredients that are formulated for your hair texture. Avoid getting confused by products that contain mineral oil, which sounds natural, but is actually harsh and drying to hair. Most importantly, use products that were made for YOUR hair type. If you have finer hair, you should go for clear shampoos- try to abstain from using the creamy kind – they'll weigh your hair down with product, and won't lock in true moisture to prevent breakage. If you have curlier, fuller hair that tends to get drier, frequent conditioning should be a part of your regular hair regimen.
5. Regular Trims
It may be hard to let go of your ends. We all know the feeling of dreading those scissors; not to mention every stylist we go to seems to want to cut! But regular trims every 6-8 weeks will dramatically reduce your breakage. If your hair is especially damaged, it may seem at first like a lot of hair, but as you increase your trims, and follow the tips above, you will grow stronger, healthier hair.
Experiencing hair breakage and loss can be worrisome and saddening; if you take the right steps towards improving your condition however, you're well on your way to being an overall more healthy and happy individual. Take this mishap as a chance to learn more about yourself!
47 thoughts on Hair Breakage! 5 Causes & 5 Solutions
hmm thank you soo much…
actually dis one is very helpfull…
but what to do if avacado isnt available in india…??
I have found that eggs and olive oil whipped together and applied work well. Any oil will work really. I also tie a grocery bag or plastic wrap around my head to trap heat in and help the oil penetrate the hair shaft, the plus to this is that you can put a hat on and no one will hav any idea.
This article is very helpful. I've been struggling with breakage for years and don't know what to do with it. Definitely will try the hair mask :)
thanks alot! i hop this wll be th solution…..am gona do it now
This was very helpful:) I'm going to def try the hair mask!!! Thanks soooo much!
Nothing is working for me so I think I am just going to wear my hair in a loose bun for a week or two and moisturize as needed. My hair probably wants to be left alone. I have bentonite clay, eggs, honey, catnip, a heat cap, shampoo/conditioner for damaged hair, etc. I think that my hair is tired and just needs to be left alone and perhaps then it can start to heal. During my hair break I can focus on eating the foods that will help nourish my body. I think I am really stressed.
Hi, what I think you should do while you let it "rest" is use all natural products. Technically even though the shampoo and conditioner say they are good for moisturizing or dandruff the chemicals reverse everything you just did so natural products are the best way to go. Organix products are not 100% natural but inexpensive and mostly natural. I have very curly hair and am mixed so I use Organix Moroccan Argon Oil line for clarifying once a month and Shea Moisture brand (Coconut & Hibiscus line with occasional Yucca & Baobab line substitutes)products to wash and style. I seal it with 100% oils like Jojoba, Sweet Almond and the like. Try it to see what's best for you & use minimal heat.

I have done that in the past as well. My only issue was that my hair grew and was healthy for awhile from just leaving it alone but at some point I had to style it and the problems came back. You have to find a remedy that will work whether you style it or tie it back. Maybe you tried to many different things. Or maybe you didn't give it time. There is no quick miracle. She is right this is a process. We all have to wait it out. My major problem was overprocessing from perming and hair weaves. That was a nightmare. But I had to go through the process. I am going to try the mask just to keep the beautiful head of hair I now have.

Maybe your using to much protein in your hair try moisture based brands instead .. read about protein overload for hair. Hope this helps
my hair breaks alot especially the front side i ve used wheat missed wit olive oil nd honey yet no changes is like it's even worst pls what do i do am tired am thinking of keeping low hair
That's true i always tell my clients about taking care of their hair while they put on their weave n they can last atlist 2 months
Is using mixed olive and castor oil once in a week is fine .. or should i add some coconut oil too .. how about messaging the hair with vitamin E capsules .. when and how should I use this..
TI have struggled a lot with my hair it brakes off on the sides and its giving me a low selfesteem I will defernitily try this steps thank u
Pls i need advice. My hair breaks a lot and i have tiny hair on my scalp which makes it difficult for me to weave it. pls what do i do.
Thanks for ur advice. Pls onething is still bothering me. I have small hairs at my scalp which make it difficult for me to weave my hair neatly. Pls what do i do to improve my hair?
She just gave you a remedy to use. Have you tried it yet? You thank her for the advise and then ask for help in the same statement. Try her suggestion first and let us know it turns out.

The first thing is to maybe stop weaving your hair. I used to glue, sew, and braid hair in and it damaged my hair. I stopped, shaved my head and let it grow back naturally. Now 3 years later my hair is down my back. Every one can't and shouldn't wear weaves. Use the suggestions that were given, strengthen and grow your hair and you may find that your natural hair is much better than weaves.
pls I have problem with my hair ,inachying,breaking,cuting from the root.especialy my front hair.i need a solution to it.
I'm 50 and my hair is dry and breaking. I've been trying to let it grow out but in 6 weeks the beautician says she needs to cut a little more of the ends off to get the splits end off. There goes my lengths again. Help
my hair was beautiful thick and long. sadly when I left sixth grade I got this fungal infection and I had to cut off some of my tangled hair and a lot dropped off. it was a good length but it was not as long :(. Now my hair is starting to come (and still thick) back but I need help I have breakage and split ends. can u give me some ideas on how to do my hair so it can reclaim its long healthy body?? home remedies anything people I need this. even a schedule on what to do to my hair each day for how many weeks wud be great plzzz. reply
I just read this article. I'm going to try it out but thing is I have all 5 the issues stated. I lighten the front of my hair two weeks ago, then rinsed my hair a aquamarine so the front looks blond dip dyed green. About 3 days after I noticed extreme breakage , dryness and nothing was the same. I have a Mohawk it's very soft but thick and I use a flat iron to curl it frequently. That's my usual style. I had braids about 6 weeks ago which left my scalp sore. I'm 16 and I have no idea what to do to just stop seeing my hair everywhere in the sink.
My hair is a inch long, but i can se hair smaller than that falling everyday when i comb, what is the reason???
my hair has hbeen bleached so many times.. if i had to guess maybe 11 or 12.. and i would always dye it black when i got tired of it.. so going from black to blonde that many times is just now effecting me.. everytime i wash my hair, stands go inbetween my fingers and when i pet it, my fingers get stuck on the ends.. /: i mean my hair isnt everything to me, but im only 14 and i want it back.. even my friends are noticing its getting thinner :'c ive tried most of these things and nothing seems to work.. and im scared to cut it off because it so short already, like 3 or 4 inches past my shoulders
I enjoyed this article. I am African American and this is the first time I've ever have horrible breakage. I use to perm my hair but stopped years ago. I have since washed and styled my own hair. I don't blame heat because the only time I use heat is when I blow dry and flat iron my hair and I don't have to worry about flat ironing again until the next wash. I believe the mid length to the ends that had the perm was use to the chemicals in it so now that I no longer do that it's breaking off bad. I've done bleached my hair permed it rinsed it everythig harsh and it never had such damage until now. My right side of my head is ok but the back from my neck a little up has broken off and my left side starting from my temple area is starting to break off. I was never one to cut my hair short but I have come to the decision to start over. Monday the 9th I will get and short cut/style because the roots to a certain length is healthy and before the unhealthy hair goes to far up I want to get rid of it. I feel like This is a big step for me like huge but I'm excited and scared lol. I will definitely use the avocado treatment. FYI I have always have thick long hair but the breakage has really made it noticeable to me that my hair will not be the same unless I take this step.
I hav breakage at my front hair & it makes me fel bad wat wil i do
Wat i mean is dat my front hair breaks alot leaving me wit smal hair at d front pls i ned solution
How does hair trimming it will help for breakage?
Thank you this helped bunch! My hair used to be healty, wavy thick and full. Now its flat dry but oily and breaking. I use baby shampoo now. Its the only thing that doesnt totally wreck my hair. Now, Im gonna make sure I condition and stop blow drying.
I need help plz I don't know what to do or to use for my hair my hair doesn't grow on my left side and is breaking and split ends
My hair is very thin, but is very curly, I straighten and put it in ponytails a lot, it gets greasy very fast so I try to wash it everyday, would the mask still work? Or would it make it even greasier? But overall I loved the article! Thanks!
I wanted a very long hair, am a Nigerian. I have very full hair, dark bt at a time it was breaking much. Am suspecting d weather, Cox its very dry. With d help of the avocado theraphy can I have a very long hair? What shampoo and conditioner would you prefer I use? Ur article is cul
sometimes i feel like crying my eyes out to see what my quality hair has become……… i dont know what to use to stop this its driving me crazy!!!!!!!!!!!!! i think am gonna try the egg and olive oil. i hope it works *keeping ma fingers crossed*
Trying the avocado treatment now. How many times a month should we do this? Twice? Indaba week? Also, my biggest problem is that much pray hair is different lengths, like the front is shorter than the back. What can I do so that I won't have to cut it extremely short but get the length in check?
I have a problem with my hair its breaking off when I wash especially if I use relaxed
HI, MY HAIR WAS BLEACHED A WHILE BACK BUT I BOUGHT JOICO SHAMPOOS AND SEEMS TO WORK BUT ITS LONG PROCESS MY HAIR IS STILL VERY DRY AND AND BREAKS ALSO ITS NOT GROWING IVE TRIED ALL KINDS OF PRODUCTS IS THERE ANYTHING ELSE I CAN BUY OTHER THAN JOICO ITS VERY EXPENSIVE I WILL TRY MAYO NOW AND MASK TREATMENTS WILL SEE HOW IT WORKS GUESS ILL NEED TO CUT MY HAIR :( IM SAD KUZ I DONT HAVE LONG HAIR ANYMORE MY HAIR IS SUPER SHORT ALL I DO IS LOOK AT OLD PICZ W MY LONG HAIR HOPE IT GROWS SOON
I will try the solution thanks
I noticed that my hair seemed very dry, then it started falling out all over the place i have to swifter the floor every day and there is a huge wad of hair,also if i just touch it put my fingers through it very gently my hands are full of hair. i can't comb or brush it as so much comes out also in the shower the drain clogs up with hair. The texture has changed I had curly thick hair now it is extremely fine straight and very dry. I have used baby shampoo and mayo conditioner. I also had blood tests from endrocolonist all normal. bought wig I am almost bald all over. No bald spots etclike alopiachia help help i use minixol 2x day 2%
Margie, same happening to me. I had lots of curly hair and it's been 5 months that it started to breacking a lot. It is short now. My scalp is full but the hair is breacking. And it's changing the texture! What did you do? My scalp is itching a lot but nothing can be seen in the scalp. No dandruff, nothing! I need help! Tks
I am a Nigerian and our weather here is really hot and harsh especially on our hair so its really very difficult to maintain a healthy hair without having issues on dryness and breakage. But this article has really been helpful. We have lots of avocado here and i have had no idea it works for hair breakage, i'm gonna try this to see how far it will go for me.
I have a problem with my hair it keeps breaking and i think maybe i have some sort of illness. Please help me
I was driving home from work looking in the mirror at what a mess my hair have become dry short long pieces and split ends everywhere just a mess…. I pulled over on side of road and google hair breakages and your article came up…. u gave me so much hope I can't wait to get to the grocery store !!!!thank you
It s troublesome really, my hair has been breaking like mad however my ends are healthy. This is probably due to the improper use of a razor to texture my hair and bad diet. Plus I a tried white vinegar rinse which dried out my locks. So many factors.
Really helpful article, i am trying to get my hair long since a year, but due to breakage since last two weeks, i was sad and didn't know the reason. but now i m gonna try the suggestions and will post again after the results.
I sincerely hope this works for me, I went as far as cutting my hair, thinking when it grows back my front hair will also bounce back. But no way. Been battling with this front hair breakage 4 years. Will try this since am already on natural hair.
Thanks guyz this solution
Thank you so much!! Really needed to know!