Megan Fox! It's almost impossible to find a person with a more fitting last name (and yes, she was born with it) than this foxy lady and new mom.
Megan has been very open about her non-DNA related beauty, exercise and style secrets, making it slightly more possible to reach her unearthly level of hotness.
And here it goes…
The Face
A healthy dose of sleep, plenty of water and a 'less is more' approach are some of the top elements that contribute to Fox's perma-glow appearance. She makes sure she doesn't go more than 12 hours without washing her face and then moisturizes meticulously.
Her makeup staples include Giorgio Armani Luminous Silk Foundation, Shu Uemura Eyelash Curler and her staple red lipstick, which helps her create that signature pale-skin-hot-red-lips-dark-hair look. Giorgio Armani Rouge d'Armani Lipstick in 400 contrasts is her lipstick of choice, which she sometimes also uses as a cheek stain.
While she can't do much about it while working, Megan prefers to go as bare faced as possible during her off-days.
The Body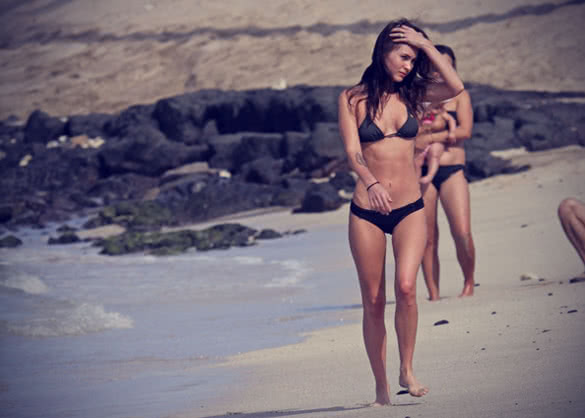 Surely, she's got an amazing DNA advantage on her side, but Megan's incredible body is also a product of a strict and focused exercise regimen.
A daily workout with her trainer Harley Pasternak is what fills Fox up with a positive boost of energy she channels into her private and professional life.
Her exercise routine has been developed to cater to her body's needs, so she skips cardio and focuses on long range power walks and weight lifting.
Megan is also a devout Pilates fan, which explains her strong yet lean physique, ready to tackle the most challenging physical roles without losing an ounce of femininity and swoonworthyness in the process.
Fox fuels her incredible body with smaller meals, five times a day, making sure she never skips out on breakfast. Contrary to some reports, she does not diet or suffer from any eating disorders but rather swears by a raw and vegan food diet, skipping on dairy. She uses supplements and immune system boosters such as silica and fish oil, especially while on set during grueling shooting schedules.
Not a big bath fan, Fox enjoys taking showers and follows them up with Grapeseed Oil as her fave moisturizer.
Her perfume of choice is Armani Code, which she carries with her all the time, making sure to stock up on hand sanitizer as well, especially during travel.
The Style
Daytime – Alluringly Casual
Effortless and cool, yet somehow always put together. That's how Fox rolls during the day.
She relies on jeans, leggings, maxi dresses and funky print tees, pairing them with flip-flops, wedges and some standout accessories.
She's also known for wearing outrageously high heels with seemingly unmatchable pieces, somehow pulling off a look that most of us can't decide if we would not be caught dead in or wish we could wear again and again.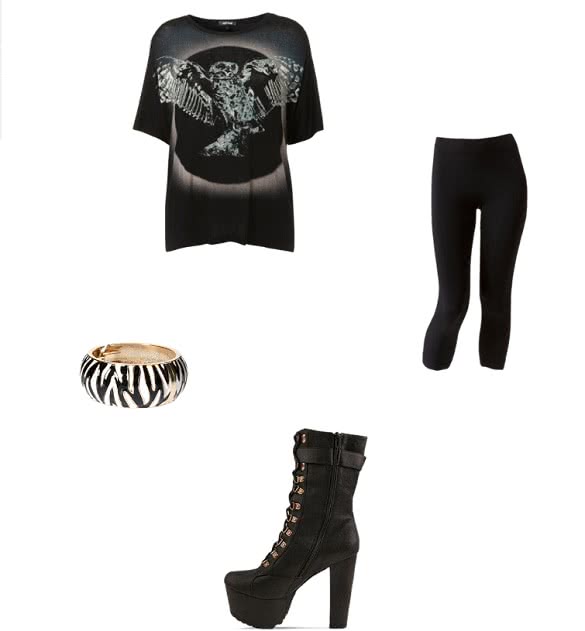 Midnight Owl Tee By Workshop (topshop.com)
Superfit Curves Seamless Shaping Capri Leggings (kohls.com)
Pieces Zullu Zebra Print Bangle (asos.com)
Wildfox X Jeffrey Campbell (solestruck.com)
Nighttime – Breathtakingly Glamorous
When attending a premiere, award show or any other red carpet event, Fox leans on her outrageously seductive powers, packaged in a glam gown that showcases her many attributes.
We often see her in high-slit, silky gowns in vibrant colors that accentuate her neckline as well as her lean and toned legs.
Sky high heels are an absolute must, as they provide for some needed height – she's just about 5'4" in flats.
To complete a picture perfect look, Fox lets her long brunette tresses fall in some perfectly positioned waves and opts for simple yet effective accessories, such as teardrop earrings that complement her gown and eye color.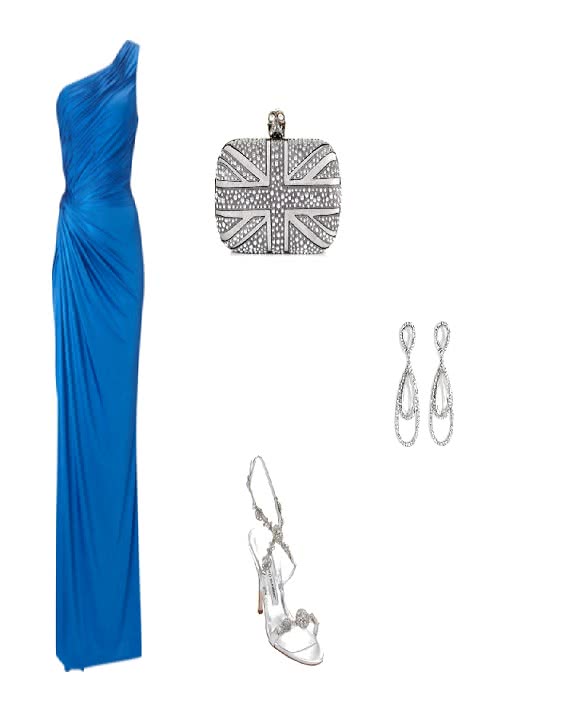 Biba Asymmetric one shoulder maxi dress (houseoffraser.co.uk)
Alexander McQueen Studded Union Jack clutch (matchesfashion.com)
Kenneth Jay Lane Tear Drop Earrings (my-wardrobe.com)
Manolo Blahnik Cuttabolo (barneys.com)
Cover photo: www.fanpop.com