Among many celebrities who are trying to make the world a better place, these are the most inspiring women, and today, we are celebrating them!
Not everyone in Hollywood suffers from a super-sized ego. Some superstars are actually working hard, not only to do great performances on screen, or on the stage but also to make the world a better place. And whilst some of them might still suffer from an ego problem, they're doing a lot more than most to ensure others wake up to a better tomorrow.
Among many celebrities who are trying to make the world a better place, here are the most inspiring women today.
Shakira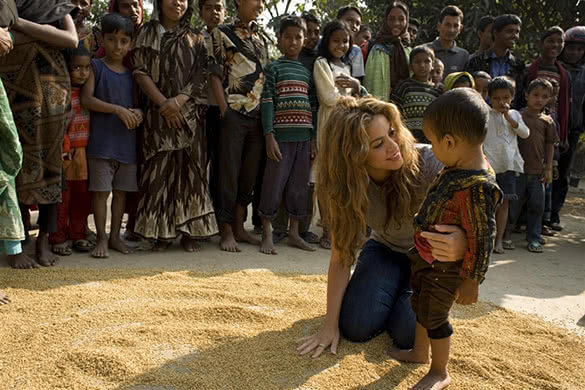 You probably couldn't miss her hit songs, but something you might have missed is her charity work, though she's won several awards for it, including the MTV Free Your Mind award. She's also been given a medal for it by the UN International Labor Organization.
Part of the reason for her humanitarian work? When she was a little girl her father took her to a local park in Barranquilla, Colombia, to see some orphans who lived there. He wanted her to have gratitude for her life. However, it ended up being more than gratitude – Shakira decided then and there that when she would one day become a famous artist, she'd help those kids. And so she did.
In 1997, when she was only around 20 years old, Shakira set up the Pies Descalzos Foundation, in collaboration with several other groups and individuals. The foundation runs special schools for poor children in Colombia.
Shakira is also a UNICEF Goodwill Ambassador, working on giving children access to education. In 2011 President Obama also appointed Shakira to the President Advisory Commission on Educational Excellence for Hispanics.
That's just a few of the ventures Shakira is involved with – she's made it her mission to help children and youth on a global scale.
Angelina Jolie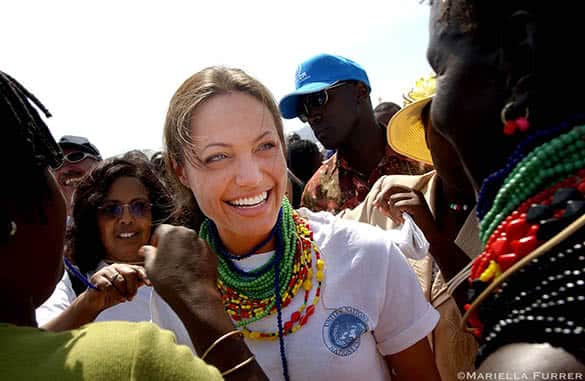 This lady is hard to miss. With her legendary beauty and six kids running around her heels, three of which are adopted by her and her soon-to-be ex-husband Brad Pitt, she's somewhat easy to recognize.
Back in 2001 when Jolie was filming Tomb Raider in Cambodia, she started paying attention to how refugees lived. She made some calls to the UN and soon became a Goodwill Ambassador. She started going on field mission with The Office of the United Nations High Commissioner for Refugees (UNHCR), staying together with the staff in various refugee camps around the world. So far she's been to over 20 countries. She also got a pilot license, as she wanted to be able to fly a helicopter into various areas. She has described her experiences in a book, she often speaks about humanitarian work in the media and her movies (the ones she's directed) have touched upon some interesting topics relating to humanitarian causes as well.
These days Jolie also co-chairs the Education Partnership for Children of Conflict and she and Pitt donate a lot of money to various charitable causes, Pitt being engaged in charities of his own.
Jolie, at times, found her work incredibly hard as she couldn't handle that she had money when she saw starvation, but with the years, at least on the outside, it looks like she's found her feet.
Ellen DeGeneres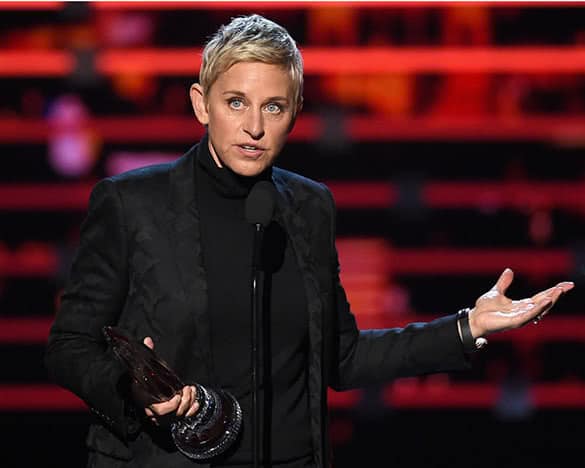 According to LookToTheStars, DeGeneres supports 48 charities and 30 causes – no small feat! On her TV show she regularly donates money to worthy causes as well – causes sometimes found through videos going viral.
DeGeneres founded the Small Change Campaign together with Ben Affleck, to help support Feeding America – an organization that, well, feeds the hungry in America and raises awareness for the fact that there are many hungry people in America. She also won People's Choice Humanitarian Award.
And hey, my sister told me Justin Bieber went to stay with DeGeneres when he was cleaning up his act – not all charity is about money. Sometimes it's just about caring.
Oprah Winfrey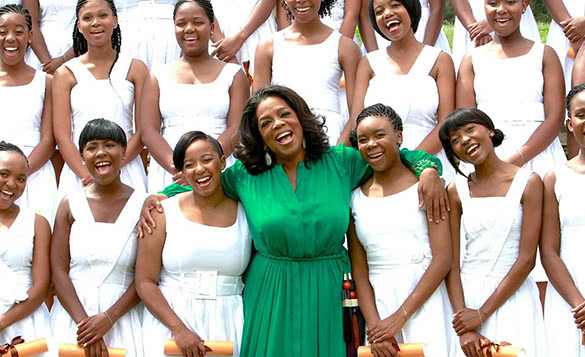 How could this list be complete without Oprah Winfrey? Winfrey has helped launch three foundations: The Angel Network, The Oprah Winfrey Foundation and The Oprah Winfrey Operating Foundation. She has various projects running like The Oprah Winfrey Leadership Academy for Girls in South Africa.
In addition to this Winfrey has supported several other charities, like the Clinton Foundation and Free the Children.
In her will, Winfrey has stated that she will give away $1 billion. No small sum for one woman!
The truth is that many, many more celebrities spend a lot of their time and money on worthy causes. The images you see of them in the press, walking down red carpets, or the gossip columns outlining their partying, is only a very small fraction of their lives. And whilst it's easy to think that charitable acts are all about Africa, or war zones, there's usually a lot to do in your very own neighborhood. As my all time favorite quest from Angelina Jolie says: "That's the reason we kind of exist. It's like our Job. To give to each other. And learn from each other. To capture moments of people. So it's really strange to have somebody ignore the obvious human being right in front of them."