What to Wear With Ballet Flats
Ballet flats are not related to any fashion trend, they are simply a fashion must have. These shoes give you comfort and you can wear them anywhere, for the bigger part of the year. Here are 5 different styles of ballet flats and what to wear them with.
Even though it looks like ballet flats are a recent trend, they became popular in the 50's, after Audrey Hepburn wore them in "Roman Holiday." Today, we wear them to work, to school, at parties, and they are among shoes, what a little black dress is among dresses.
Whether you like animal print, bright colors or simple black ones, check out the following outfits for inspiration, and look fabulous while your feet are taking a break from sky high heels.
Ballet Flats with Animal Print
Animal print is a fashion statement, so neutrals and black or brown, are always the safest choice. However, add some twist with your animal printed ballerinas, by adding some color to your outfit. Wear neon red or orange on your lips and match it with a same colored clutch. This outfit is great for summer evenings, and the biggest plus is that it makes you look slimmer.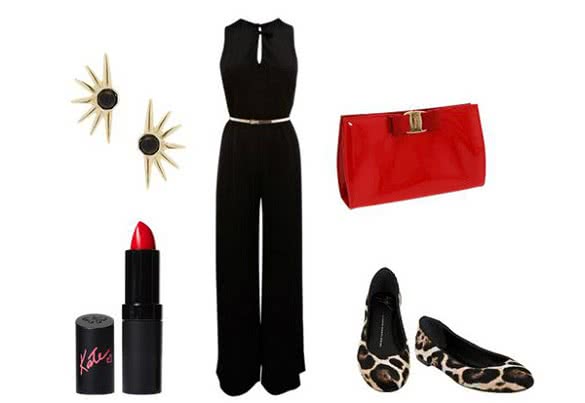 Salvatore Ferragamo Vara Clutch (couture.zappos.com)
Twist Front Jumpsuit (oasis-stores.com)
Giuseppe Zanotti Leopard Flat (barneys.com)
Rimmel London Kate Lipstick (asos.com)
Half Sun Studs (topshop.com)
Multicolored Ballet Flats
Many women think that when you wear multicolored shoes, you must wear a one-colored outfit. While that choice is not wrong, try to spice it up by paying attention to details. While this outfit is not a bold choice, it is rather elegant, and you can wear it everywhere. The key is to create gentle color-blocking, in this case that would be lovely light olive, with purple, and a bit of turquoise.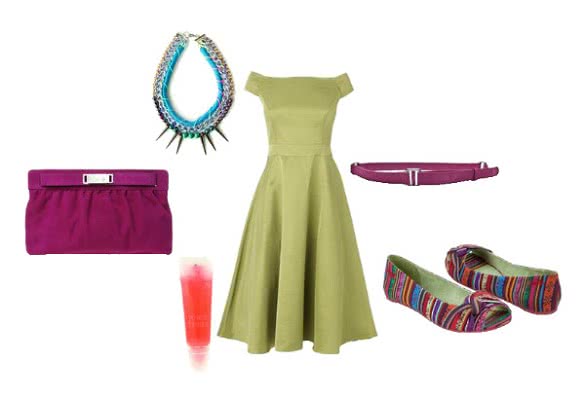 TheMyth, blue rainbow rope necklace (etsy.com)
Large leather bag (giuseppezanottidesign.com)
MALENE BIRGER Diars belt (farfetch.com)
Lancome Juicy Tubes Raspberry Ice (fragrancex.com)
Sweet Heart Fit and Flare Dress (phase-eight.co.uk)
Blowfish Sima Womens Shoes (tillys.com)
Nude Ballet Flats
Romantic, with a touch of rock chick, this outfit is perfect for shopping, having lunch, or going to a concert. Wear nude flats with pastels and black, but do spice it up with classic Ray Bans and accessories. This is a fantastic outfit if you are not a big fan of current trends and you prefer casual looks.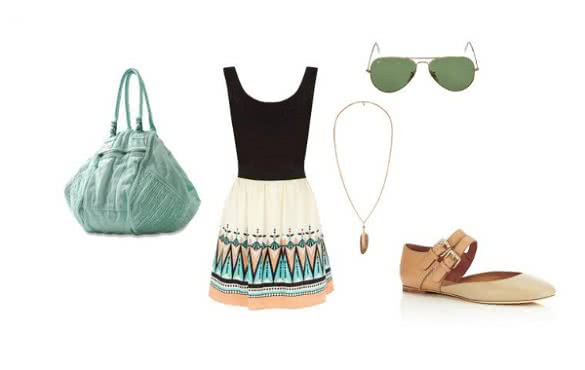 DIESEL Divina (diesel.com)
Ray-Ban 3025 Aviator (zappos.com)
Deco Tribal Dress (oasis-stores.com)
Ela Stone Long Feather Necklace (julesb.co.uk)
Chloé Vulcan Ballet Flat (harrods.com)
Ballerinas that Pop
Even the simplest outfits, such as white top and jeans, will look super stylish and chick, if you add some color to your ballet flats. Wear neons with this classic outfit, to make it look trendy, and go crazy with statement jewelry. Red and blue are a great combination, so let accessories speak for themselves.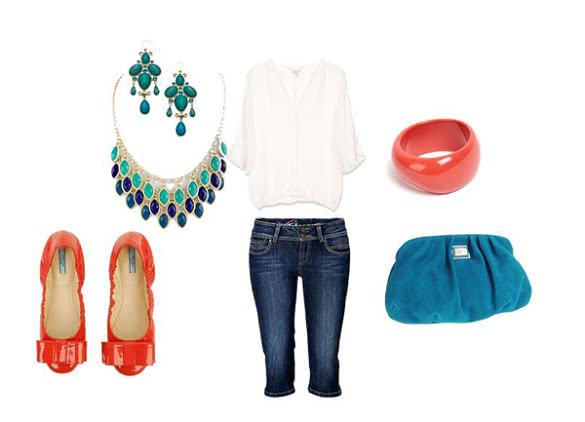 Prada Patent (flannelsfashion.com)
Joie Marru Blouse joie.com
Capri jeans (esprit.com)
Clutch (giuseppezanottidesign.com)
Moulded Bracelet (nicolefarhi.com)
Roberta Chiarella Gold and Turquoise Jelly Bean Earrings (maxandchloe.com)
Calypso Necklace (preebrulee.com)
Classics – Black Ballerinas
With a black pair of ballet flats, you can wear pretty much anything. However, if you want to look trendy, or simply refresh your everyday style, add some graphic printed clutch, feather earrings and some interesting color, like this shade of green on the shorts.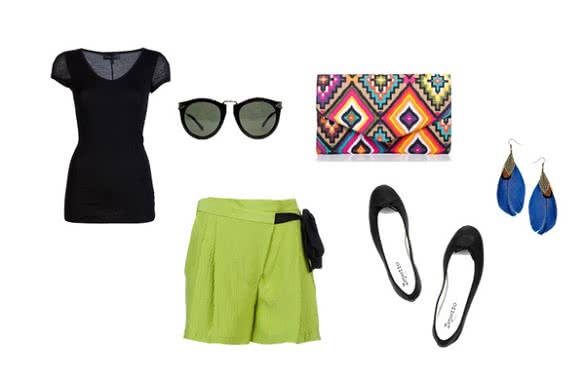 Diesel Black Gold Caviar t-shirt (farfetch.com)
MATTHEW WILLIAMSON Belt tie shorts (farfetch.com)
Karen Walker Harvest Sunglasses (shoplesnouvelles.com)
Repetto BB leather ballet flats (net-a-porter.com)
Vidalia (shoedazzle.com)
Let us know what you think in the comment section below!