It's the time to start preparing for the upcoming winter season with gorgeous Christmas party hairstyles. We collected all the beautiful braided hairstyles just for you.
A braided updo is the ultimate versatile hairstyle: while one braiding technique can be perfect for the family dinner, another braided hairstyle is ideal for the university Christmas party. To make sure you are ready for any occasion, whether you would like to look sweet and cute or sultry and elegant.
With 12 different braided techniques from braided headbands to messy, loose ponytails, you can be sure to find the one that matches your personal style. Here are some of the best Christmas party hairstyles that we gathered just for you!
Braid headbands
Two-strand braided headband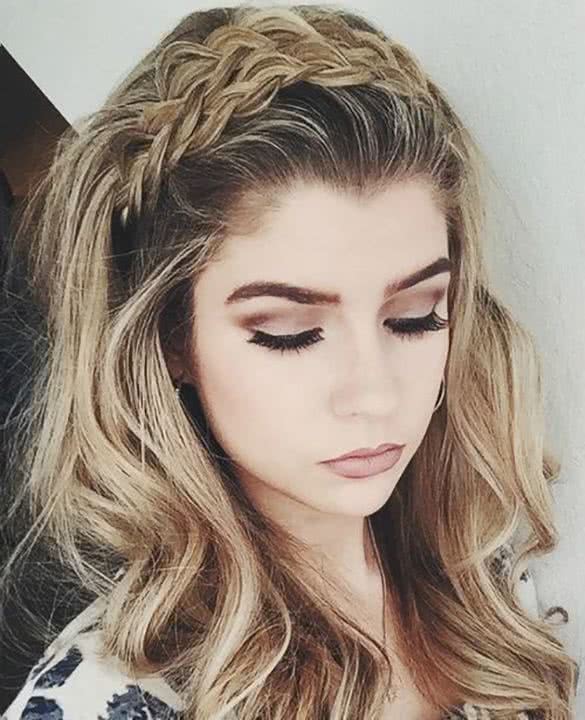 The trick: For this beautiful updo, comb back your hair and tease it up before creating the unique, two strand braids. Teasing the hair and lifting the roots will give your hair enough volume, so it won't look flat behind your braided headband.
Wear it with: A nude or pastel pink A-line dress with patent leather heels and magenta lipstick for the family dinner and for more elegant occasions, rock it with an LBD and glitter heels
Sleek headband with ponytail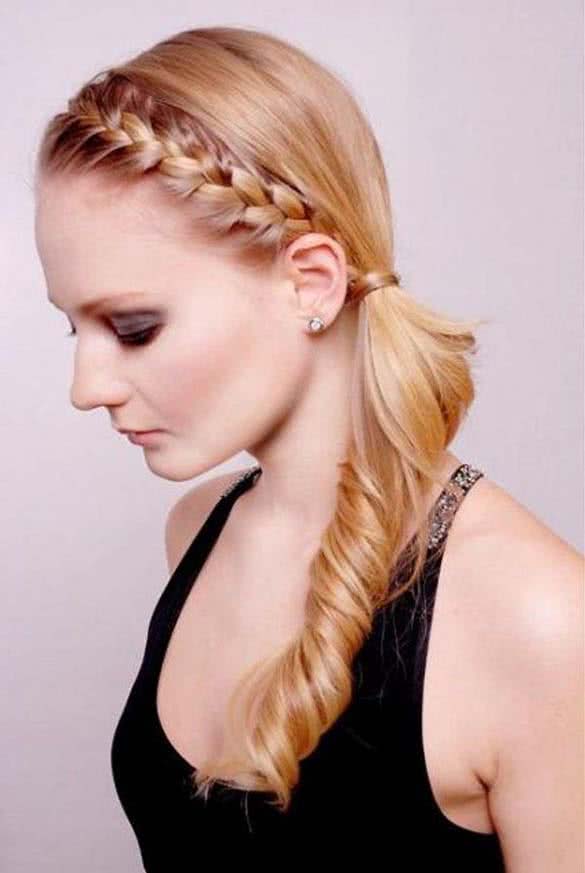 The trick: Create loose curls in your hair, select a section in the front and create the headband braid (if you don't like the style on the image, you can do a loose braid as well). Once your braid is ready, create a sleek side ponytail and wrap around a small section of your hair around to conceal the hairband.
Wear it with: A high-neck pencil dress and burgundy lipstick or a leather skirt and a silk blouse with a box clutch
Crystal headband detail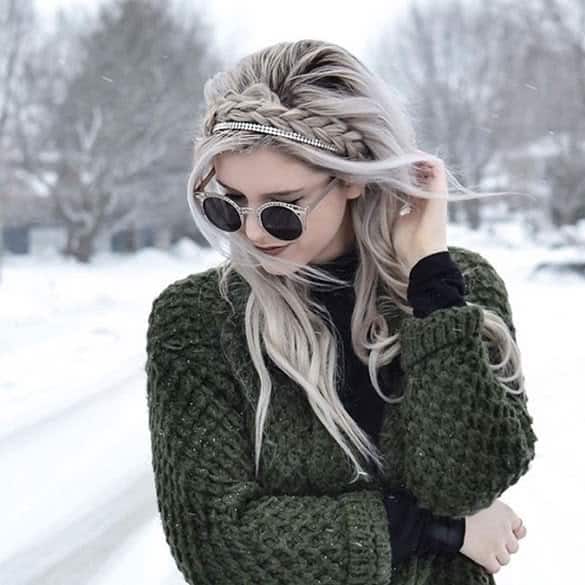 The trick: Similarly to the two strand braided style, tease up your hair and create a braided headband by using a small, front section of your hair. For this hairstyle, you will need an elastic, crystal, flower or glitter headband to make your natural braid pop.
Wear it with: A dark lipstick and cashmere sweater for casual parties, and for long nights out, match it with a boho chic maxi dress or a low back red dress.
Ponytails
Under braid ponytail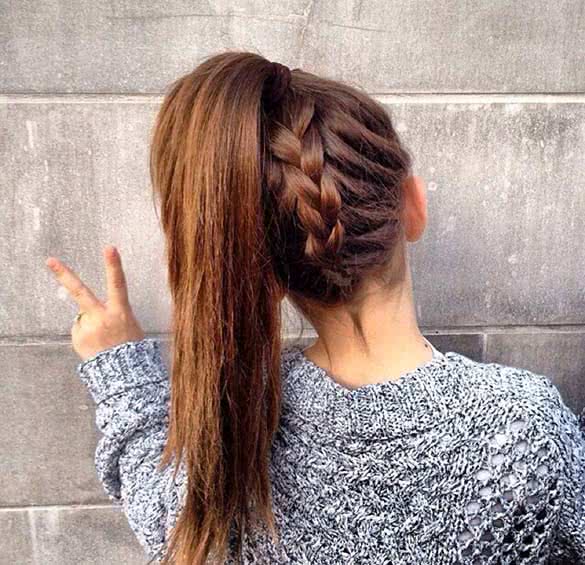 The trick: Comb out your hair and use a texturizing spray on your locks before creating this under braided look. Try to place the ponytail as high as possible so the braided section will be visible. (If you want the braids to pop even more, create a bun instead of the ponytail.)
Wear it with: Anything that has a lower back as it will accentuate your under braid or a minimalistic pastel coat with leather pants
Messy with loose braids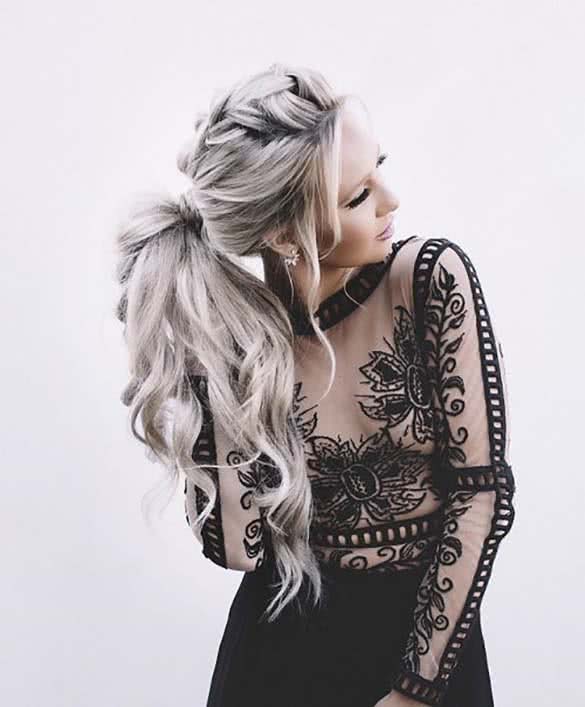 The trick: For this hairstyle, tease your hair and curl your locks before creating the ponytail. Start braiding the top middle section of your hair and tie it with a hairband with the rest of your hair. You can also use extensions for a fuller effect, but make sure to conceal the clip in parts well with your natural hair.
Wear it with: See-through mesh top with a pleated, metallic skirt or a lace midi dress with killer heels.
Side braided rhinestone ponytail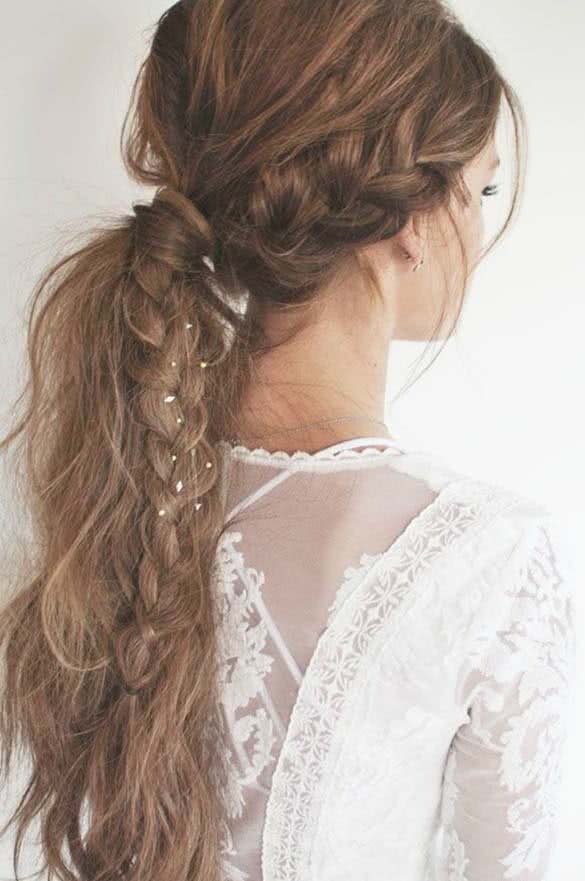 The trick: Crystal Accessories are always great options to draw more attention to your hair, so why not give it a try? While braiding a side part of your messy ponytail, add a few crystal bobby pins or accessories and secure everything with a strong hold hairspray.
Wear it with: A lace and mesh blouse with high waisted jeans and heels or a dark velvet midi dress
Half up-half down
Double fishtail braided hairstyle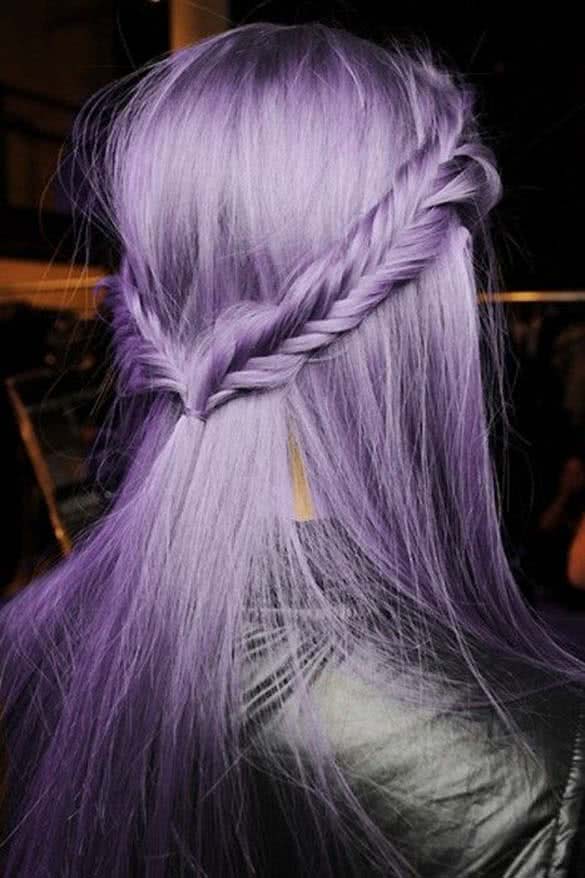 The trick: If you have already mastered the fishtail braids, you will love this hairstyle! Start braiding the two front sections of your hair, and bring them together in the back of your head, just like you normally would with any half up half down hairstyle. Once the two sections are together, tie them with one hairband and leave the rest of your hair straight.
Wear it with: Anything flowy or lace to emphasize its romantic vibes, or if you want your outfit to be a bit edgier, pair it with a leather jacket and jean skirt.
Braided faux hawk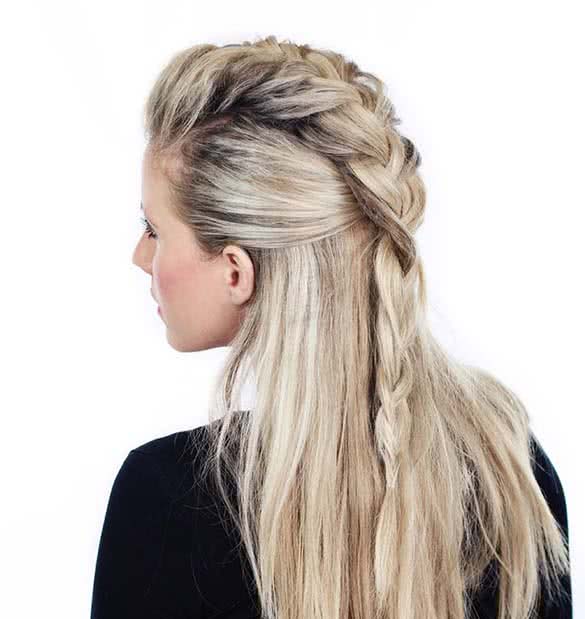 The trick: This edgy hairstyle will look amazing for a long night out! For the faux hawk part, start braiding the top middle section of your hair and as you go down, grab sections from the side and incorporate them in your braid to create a chunkier, fuller effect.
Wear it with: Basically anything from silk bomber jackets to ripped denim dungarees. Make your outfit more feminine with a bold lipstick and heels and you are good to go!
Dutch crown braid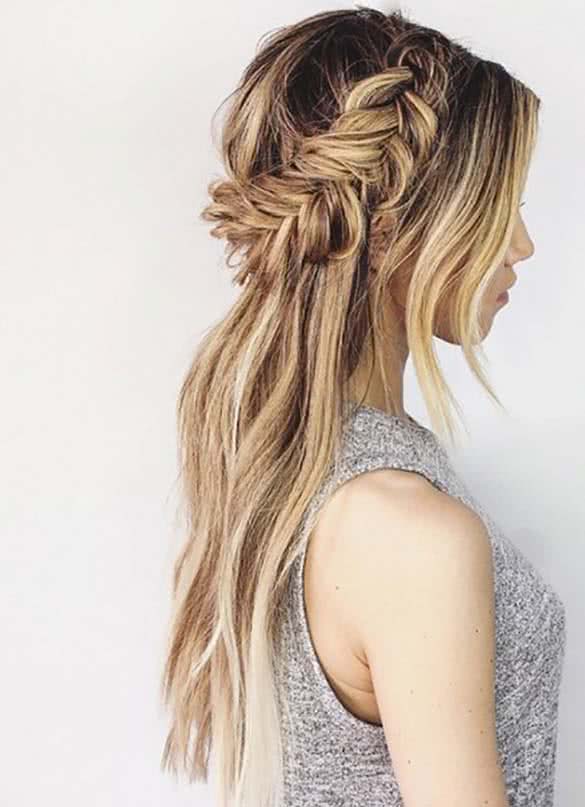 The trick: If the traditional milkmaid braided hairstyle is not for you, try out this half up half down Duch braid look! For this look, grab a chunky, long section of your hair from the front side and start braiding it. Once the braid is done, form a "crown" with your hair and clip it into place. Don't be afraid to use a super strong hold hairspray with this style to lock everything in place. You can leave the rest of your hair wavy or straight, depending on your personal preference.
Wear it with: A long, sleeves silk dress for night outs or with a soft turtleneck and high waisted skirts
Buns
Cat-ear buns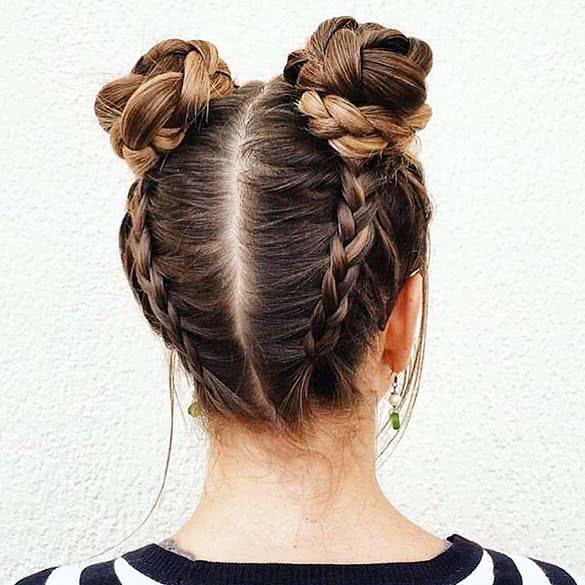 The trick: Another beautiful hairstyle with under braids (besides the high ponytail) is cat ear buns, which have been one of the biggest celebrity hairstyle trends as well this season. If you fell in love with this look but would love to do something easier, you can do simple buns instead of braided ones and make them more fun with the under braids.
Wear it with: A turtleneck with embroidery or a mesh overlay dress with knee high boots
Flower appliqué bun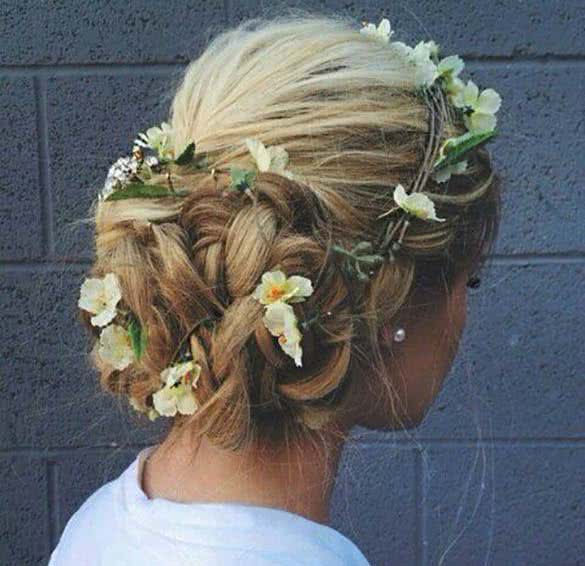 The trick: I know, some people say flower crowns and flower hair accessories should be forgotten and buried under the ground, but taking a twist on the regular festival flower crown can result in a gorgeous Christmas party hairstyle. If you don't have a flower crown, you can also achieve this look with simple, floral bobby pins. After creating the chunky braid bun, simply make it more fun with a few flowers.
Wear it with: A long sleeve mini dress or a boho chic romper with heels
Braid cross bun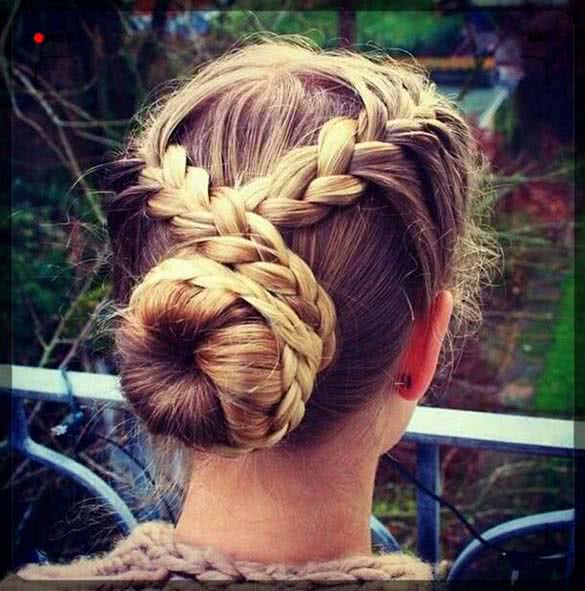 The trick: Start braiding the top section of your hair in two sections, but instead of leaving it in the popular, two braid hairstyles, create a bun from the remaining part of your hear and wrap it up with your braids. It might sound difficult, but if you try it out at home, you will see it won't take longer than 15 minutes.
Wear it with: A sheer, pastel dress or a glitter detailed jacket with high waisted shorts