Sharing intimacy with your significant other naturally evolves into being comfortable with getting naked together. However, there are some tips on how to look better naked that can boost your confidence and give you some extra pleasure in those special moments without any hard work.
Whether you're annoyed by those little skin flaws, or those five pounds too much, there is no need to despair. Here are a few tricks to help you look better naked without ever having to hit the gym. And remember, you can actually enjoy being in the nude, even if your body isn't perfect. We all tend to be forgiving when it comes to our partners' bodies, but too critical of our own. Read these tips and start appreciating yourself more, right now!
Tip no. 1 – Get a Tan
Curves are beautiful and natural, but if you are self-conscious about them, getting a tan is a great way to look thinner without actually having to be on a diet. A bit of sun on your cheeks will give you that healthy glow and boost your confidence while you undress.
Natural is beautiful, but if you don't have time to bask in the sun before tonight's date, use a bronzer. Apply it across the apples of your cheeks, but also on your legs: it will give you that supermodel look while you walk across the room.
You can also use the most effective sunless tanning: lotions and sprays that contain dihydroxyacetone (DHA). But beware of that yellowish color, so make sure you choose a quality product over a cheaper one. Bronzers, on the other hand, are a temporary sunless bronzing option. Once applied, they create a tan that can easily be removed with soap and water.
Warning: like make-up, these products will stain your sheets!
Tip no. 2 – Get a Mani/pedi
There is magic in your nails and don't underestimate it. Even if a manicure and pedicure is not something that you normally treat yourself to now and then, this is the right time to do it. If you are planing a lovely, intimate evening with your sweetheart, you will benefit from the self-confidence boost that your perfect hands and feet will provide.
When all the little details are perfect, being naked will feel like a treat – an opportunity to show off. Splurge on a manicure and pedicure, and don't be afraid to try out a little color. Removing the calluses will make your feet soft and pink and, who knows, he just might want to treat you to a foot massage.
Tip no. 3 – Groom Down There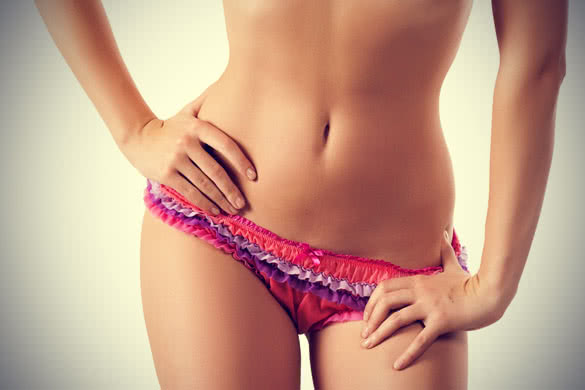 Pubic hair styles are becoming just as important as a means of expressing yourself as you would by wearing certain clothes or having different hair styles on your head. Have your bikini line waxed into a playful shape. Don't hesitate to go full-Brazilian, if it will make you feel sexier and more confident.
For those who prefer a natural look, just a quick trim with scissors can make all the difference. The modification of pubic hair can also be considered a statement about one's style or personal lifestyle. Although leaving it unmodified can do that as well, gone are the days when you would be happy with an uncared for haven, sporting nothing but chaos. Fashion designer Mary Quant was notably proud that her husband trimmed hers into a heart shape.
Tip no. 4 – Wear a Seductive Fragrance
Looking good isn't good enough. You have to smell right. A recent large survey study found that 90% of women (from teenagers to seniors) feel more confident when wearing fragrance than without. Therefore, wearing a fragrance you like will make you feel better about yourself, which will consequently make you more attractive to others.
Draw attention to your décolletage and wrists by dabbing on a seductive, fresh floral perfume with a young scent, like Chanel's Chance Eau Fraiche.
Tip no. 5 – Accessorize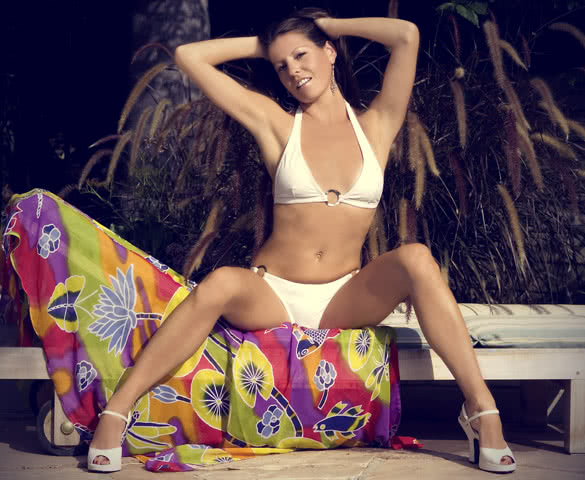 Being naked does not have to mean you wear nothing at all. A rocking piece of dangly jewelry will give you a touch of mistery, and you can also use it to tickle and tease him. For this purpose, a feather boa might be handy as well, and it will give you a bit of retro chic. The best thing to wear naked, however, are sexy pumps. High heels can make your legs look especially lean, and your butt ever-so-attractive.
Bonus Tips for the Long Run
Best tip for looking good, naked or fully dressed, is to build your confidence. In the long run, you will feel more confident in the nude if you exercise. The important thing for being comfortable with yourself while undressed, and thus attractive to others, is to get used to being naked. Sleep in the nude, enjoy your baths – it's only natural.