While most acne scars fade on their own with time, others stay and cause further frustration. Here's how to get rid of acne scars for good!
Having acne can be a difficult time for those who suffer with it. It's bad enough having the puss-filled pimples, blackheads and clusters of lumps under your skin, but when you are left with scars from it, this can make it all so much worse, and it can be very difficult to feel beautiful.
Although it may all seem like a losing battle, rest assured that there is light at the end of the tunnel. There are a number of things you can do to get rid of the scars, keep them at bay and prevent new ones from forming.
In this guide you will find a fountain of knowledge that will provide you with information and ideas on how to get rid of acne scars – the best products, remedies, treatments and skincare.
1. Types of acne scars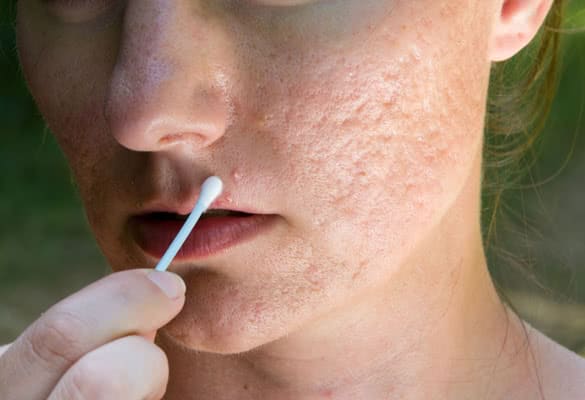 Knowing the type of scars you have can assist you in finding the right type of treatment to treat and remove the acne scars. The majority of scars take the form of dark or pink/red (depending on your skin tone) hyper-pigmented marks on the skin.
These tend to appear after the pimple heals. These are actually classed as marks, but are considered to be scars because of the length of time they can take to fade, which can be anything from a few months to several years.
The more serious scars occur when the pimples cause damage to the surrounding areas of the skin's surface. These consist of the following:
Ice-pick Scars: These present as tiny but deep holes in the skin's surface and are roughly 2mm across. These scars make the skin look like it has been punctured by an ice pick, hence the name.
Rolling Scars: These are caused by damage underneath the skin's surface. The effect is such that scar tissue gathers under the skin, giving it an uneven, wave-like appearance. Rolling scars tend to look wide and shallow.
Boxcar Scars: These look like circular, craters or hollows in the skin's surface. They have a similar appearance as the type of scars you get after a bout of chicken pox. They are most commonly found on the cheeks and temples.
Hypertrophic Scars: These scars are raised and lumpy. They are more likely to appear on your back and chest, but for some people can also appear on the neck and face. They tend to result from severe acne where you have cysts or nodules.
These four types of scars tend to require more intense treatment. They are dealt with in more detail in the treatments section of this guide.
2. Best products to remove acne scars
The following are some of the most popular products that people have reported to work in removing and preventing acne scars.
Kiehl's Overnight Biological Peel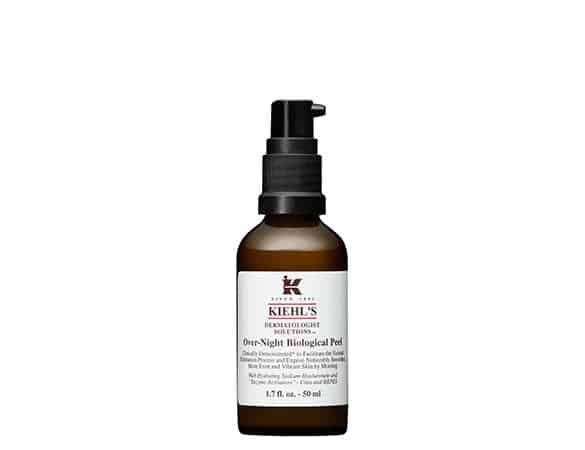 This is a powerful peel you can use at night to even out the skin for a smoother, brighter and more radiant complexion. This magical peel helps to renew and rejuvenate the skin. It also works to reduce the size of enlarged pores and improve photo-damage and hyperpigmentation.
Not only is it non-comedogenic, so it won't irritate the skin, but it is oil free, dermatologist-tested and suitable for all skin types. The active ingredients consist of:
• HEPES (Hydroxyethylpiperazine Ethane Sulfonic Acid): this is a chemical used to improve the skin's texture and feel.
• Sodium Hyaluronate: this moisturizes the skin by forming a film over it in order to soothe and soften.
• Urea: this is an enzyme that effectively speeds up the cell renewal process by clearing away dead skin cells.
DNA Regeneration Serum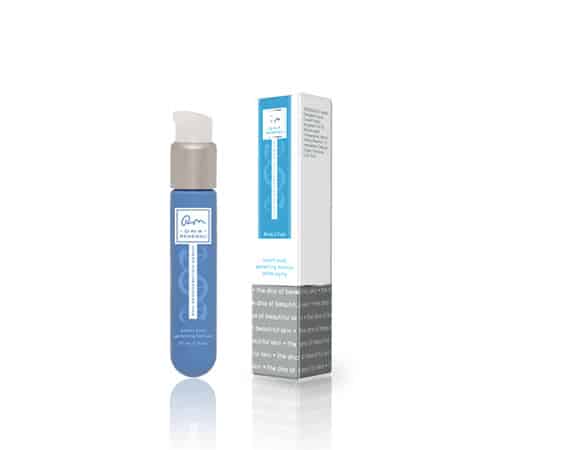 This serum helps to calm the inflammation right at the onset—basically, the minute the pimple pops. It contains an innovative blend of ingredients that stimulate collagen production to prevent the scar from setting in. As if that weren't good enough, it has also been clinically proven to accelerate the growth of healthy skin cells.
Peter Thomas Roth Camu Camu Power C x 3 Vitamin C Brightening Sleeping Mask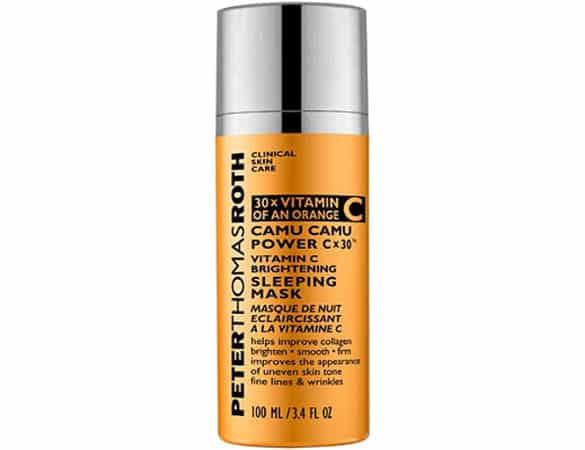 Vitamin C is one ingredient that you can always rely on to do its job in brightening the skin and assisting in skin repair. This amazing mask is one that you use overnight. It is ultra-hydrating and filled with vitamin C-enriched camu camu berry.
SkinCeuticals Advanced Pigment Corrector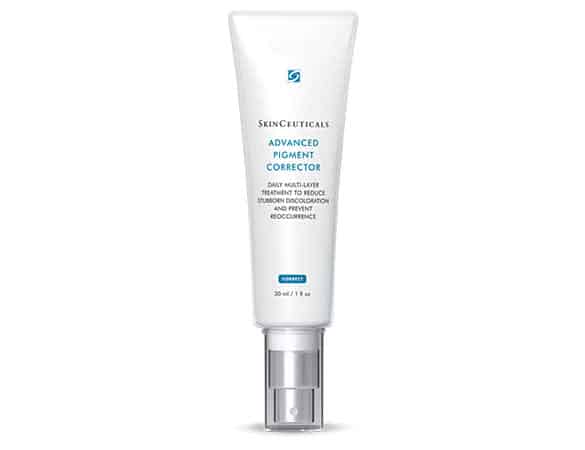 For the stubborn marks that decide to linger on your face, this pigment corrector should do the trick and give those marks a kick. This super formula consists of salicylic acid, which exfoliates and fades dark spots; hydroxyphenoxy propionic acid, which slows melanin production to prevent hyperpigmentation; and ellagic acid, which minimizes discoloration.
Proactiv Advanced Dark Spot Correcting Serum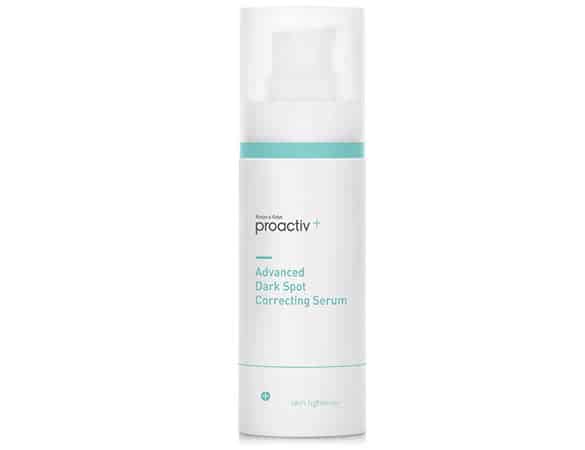 If you've seen the infomercials for Proactiv, then you know it's a hit among A-listers like Nicole Scherzinger, Alyssa Milano, Jessica Simpson, Adam Levine, Julianne Hough and more. This correcting serum is formulated with two percent of hydroquinone to take down post-acne marks. Hydroquinone is a scar-lightening ingredient that prevents melanin production, so it gets rid of skin discoloration.
Dr. Brandt Microdermabrasion Skin Exfoliant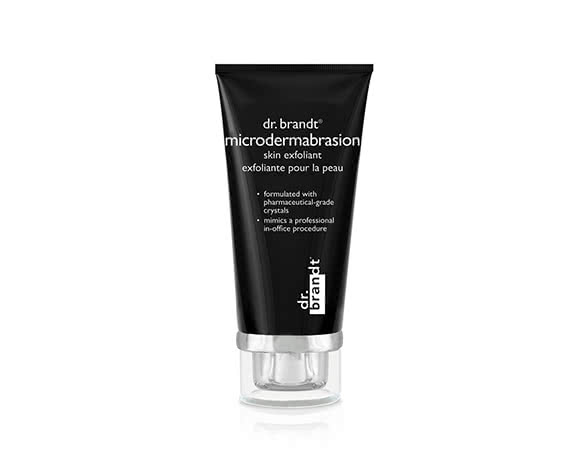 This is a another hit for removing stubborn marks. Exfoliation is vital in treating acne scars because it lifts dead skin and encourages new skin to grow. This microdermabrasion scrub is very effective but gentle at the same time. It contains chamomile, which reduces any irritation; aloe vera, which soothes and prevents extra scarring; jojoba, which works into the skin and softens it; and lactic acid, which rids the skin of dead skin cells.
Kate Somerville's D-Scar Scar Diminishing Serum
Say goodbye to scars with this serum. This serum was designed with love to reduce the appearance of scars and uneven texture. It is a potent and interesting combination that allows you to use the serum and rollerball applicator, which flattens and reduces the presentation of old and new scars.
The active ingredient, DS-7, is a peptide that is vital for skin renewal. DS-7 is particularly designed to penetrate the layers of the skin to reach into the deep epidermal layers.
Clinique Even Better Clinical Dark Spot Corrector
This award-winning formula is suitable for all skin types and is dedicated to reducing dark spots, blemish pigmentation and age spots. Its focus is on evening out the skin tone to make it smooth and beautiful.
Paula's Choice Resist Skin Transforming Multi-Correction Treatment with Azelaic Acid and BHA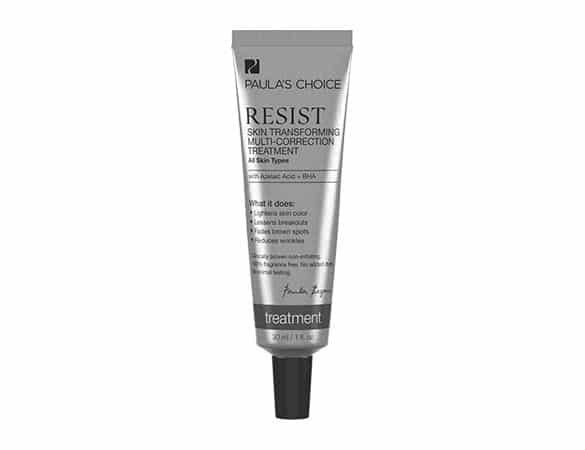 The aim of this treatment is to perfect imperfections. The powerful blend of ingredients, salicylic acid and azelaic acid, focuses on getting rid of brown spots and blemish pigmentation. Its multi-action fades discolorations/ scars and brightens the skin, leaving it radiant.
SkinMedica Retinol Complex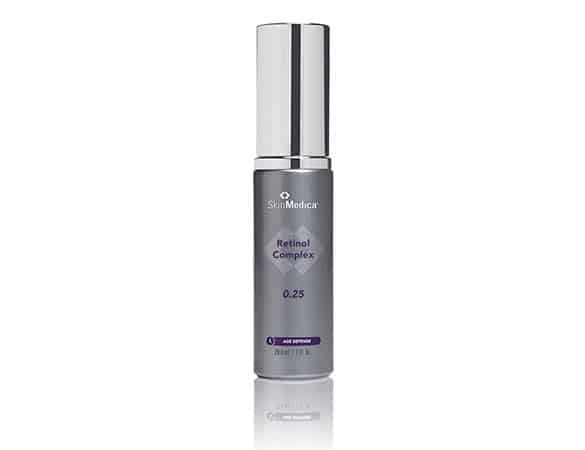 Retinol is one ingredient that helps to minimize and avoid scarring. This product is effective in encouraging new collagen formation. The production of collagen can soften acne scars, which will be removed with continued use.
Derma E Overnight Peel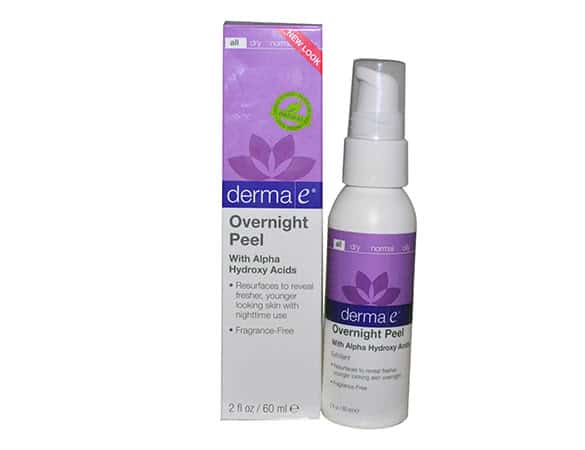 Products with alpha hydroxy acids increase turnover of skin. This overnight peel offers 5% alpha hydroxy acids, which work to effectively remove dead skin cells and even out skin tone.
REN Glycol Lactic Radiance Renewal Mask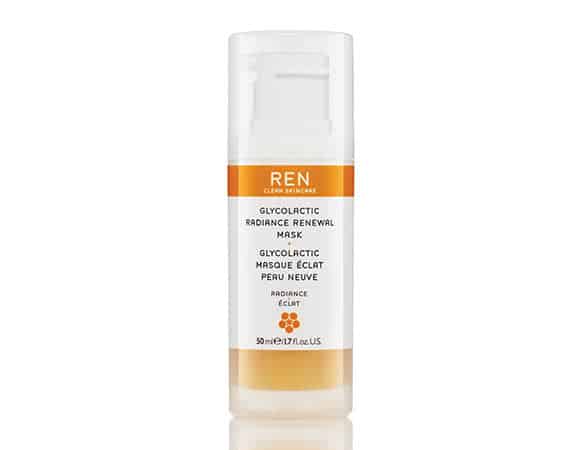 Think of this as a platter of tropical fruit, but for your face. This fruity blend consists of four acids extracted from pineapple, passion fruit, lemon and grape. You leave this mask on for 10 minutes to allow it to minimize your pores and firm your skin.
Murad Post Acne Spot Lightening Gel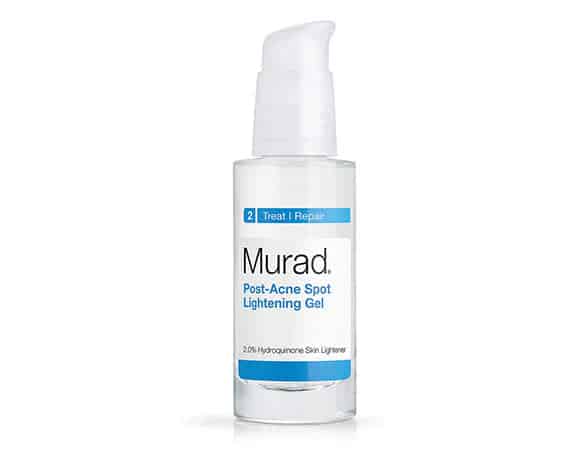 This gel creates a barrier on the skin to prevent future breakouts. It contains hydroquinone that is powerful in lightening skin discolorations and reducing acne scars.
Caudalie Vinoperfect Radiance Serum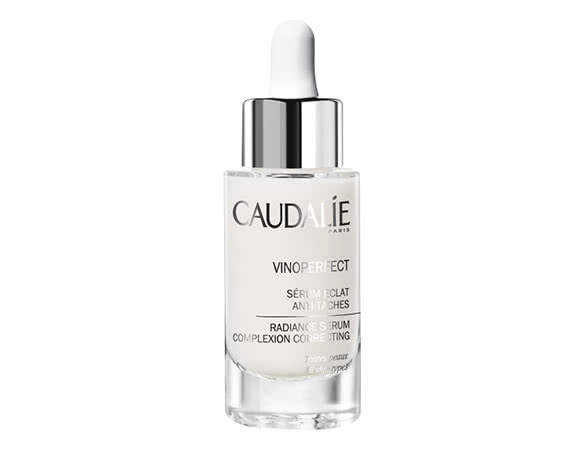 This serum is great for all skin types. Filled with viniferine, which is a molecule that is derived from grapevine sap, this solution reduces dark spots, makes scars smoother and will give you a glowing complexion.
Revitol Scar Removal Cream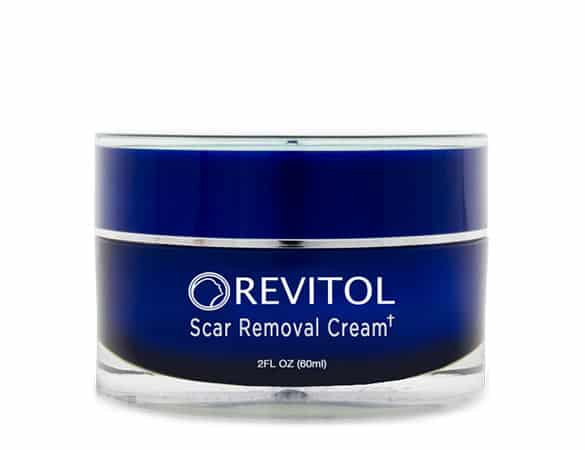 This cream is made with proteins and vitamins that work to get rid of dark marks and unclog your pores.
Bio Oil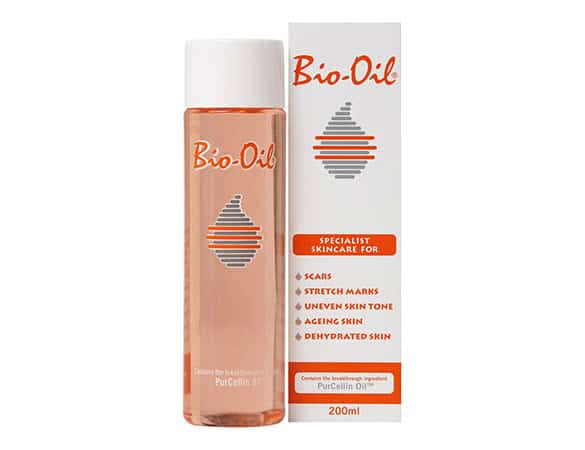 Bio Oil is magical and many people have used it with positive results. Its breakthrough ingredient, PurCellin Oil, makes it highly effective in getting rid of acne scars. It also contains vitamins A and E, Calendula Oil, Lavender Oil, Rosemary Oil and Chamomile Oil. It is non-comedogenic and hypoallergenic, so it's suitable for all skin types.
3. The best natural remedies for acne scars
These natural remedies are some of the most loved potions and brews that have been handed down for decades for their significant effectiveness in a variety of things. Here, you'll see why they are can help remove acne scars. They also have the added bonus of being natural, making them a hundred times better for your skin's health and beauty.
Lemon/Lime Juice
This boasts natural bleaching properties and can lighten the skin when applied to the affected area. Here's what you need:
– 1 Lemon
– 1 Cup Distilled Water
Squeeze the lemon to get the juice out, and mix with the water. Apply to scars with cotton wool by dabbing it on so you avoid contact with the surrounding skin. Leave for about 15-25 minutes, then rinse. Apply moisturizer after the juice is rinsed off as the citric acid from the lemon can cause drying and tightness.
Baking Soda
This is great for exfoliation and fading scars. The PH levels in the soda is what helps treat the scar. Here's what you mix:
– 1 ts Baking Soda
– 2 ts Water
Mix to form a paste. Apply to the skin, focusing on the scarred areas. Do this for about two minutes, then rinse with lukewarm water.
Honey and Pearl Powder
Honey is amazing for a lot of things and reducing marks is one of them. It contains antibacterial properties and reduces inflammation. When choosing honey, buy raw or manuka honey as these have higher contents of their natural properties. Honey is great for all skin types, so it will be kind and gentle to sensitive skin.
Pearl powder is made from freshwater or saltwater pearls. It is good for improving the appearance of the skin and treating acne. It is also supposed to reduce inflammation and fade acne scars. Here's what to mix:
– 2 TS Honey
– 1 TS Pearl Powder
This will look like a thick paste. Apply to the scarred area with a cotton bud, and leave for 20-30 minutes. Rinse with lukewarm water.
Aloe Vera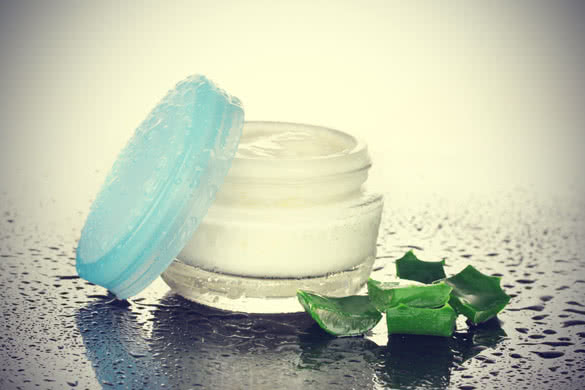 The aloe vera plant can be used to revitalize the skin and encourage acne scars to fade. The best way to use this is in its natural plant form. You would need to buy the plant and scrape out the sap into a little pot or jar. You can apply it daily and leave it on the skin as it is gentle and has soothing properties.
Sandalwood Paste
Sandalwood has healing properties. You'll need to mix:
– 1 TS Sandalwood Powder
– 1 TS Rose Water
– 1 TS Milk
Mix into a paste and apply to the affected scar areas of the skin. Leave it on for at least 30 minutes, then rinse. Repeat daily until your scars go away.
Apple Cider Vinegar
This is great for managing the pH levels of your skin. It will improve the skin's appearance over time, and reduce the appearance of scars. Mix:
– ½ Cup Cider Vinegar
– ½ Cup Water
Apply to scars with cotton wool every day until they fade.
Coconut Oil
This wonder oil has healing properties. Apply a quarter teaspoon of virgin coconut oil to the scarred area. This can be left to soak into the skin because coconut oil not only heals, but is nutrient-enriched with vitamins and fatty acids that are great for the skin's general health.
Cucumber
Cucumbers are a magical source of super hydration, containing vitamins A and C and magnesium, which all great to help heal acne scars. You'll need to cut up one organic cucumber into a few thin slices, and apply them over the scarred area for about 30 minutes to an hour. Rinse with cool water, and repeat daily.
Potato Juice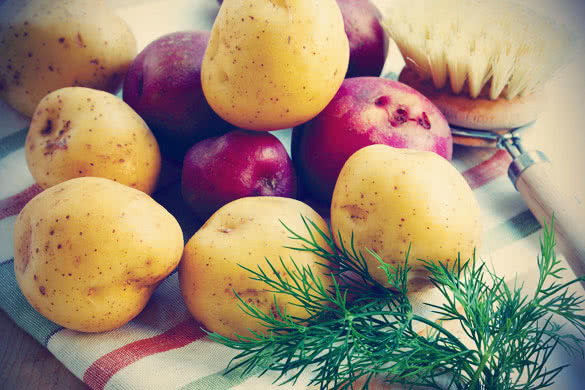 The potato is an underrated vegetable that is actually rich in vitamins and minerals that is amazing for your skins' health and healing. To get the juice from the potato, it would be best to use a juicer and apply the juice to your scars with cotton wool.
You can also cut the potato into slices and either leave it on your skin for about 15-30 minutes and rinse, or you can massage it into the skin. Whichever method you choose, rinse off with warm water and repeat daily until scars fade.
Rose Hip Oil
This amazing oil is fabulous for promoting the skin's natural health and rejuvenating the skin. You can apply a few drops to the scarred area once or twice a day. Use the organic cold-pressed version for maximum benefits and to help the scars heal faster.
Brown Sugar
For a more therapeutic way to heal acne scars, make yourself a homemade sugar scrub. Sugar cane contains glycolic acid, another AHA that removes dead skin and promotes cell regeneration.
Simply mix raw, organic sugar cane with virgin olive oil at a two-to-one ratio, then add several drops of organic lemon juice until your scrub is workable but not too watery. Apply the sugar scrub to scars once every two or three days. Leave on for about 15 minutes, and remember to follow up with a good natural moisturizer.
Vitamin E
You can either puncture the end of a vitamin E gel capsule or buy the oil. Apply directly to scarred skin or mix it into your daily moisturizer to help heal acne and pimple scars faster.
4. The best treatments and procedures for scar removal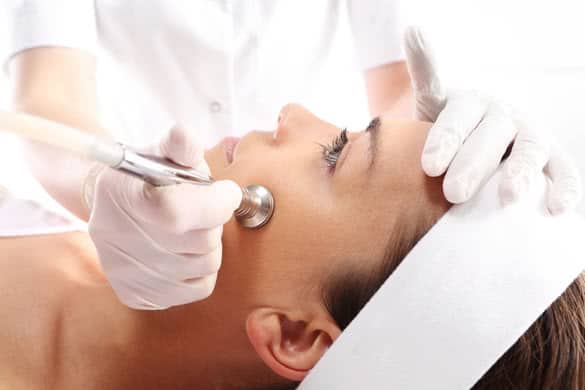 Skin Peels
These work by removing the top layer of skin to uncover new, smoother skin. Once the top layer of skin is gone, from the effects of the peel, you'll have new scar and blemish-free skin. There are three different types of skin peels:
• Light: Light chemical peels are good for hyper-pigmented scars where there are red or dark marks on the skin's surface. With a light peel, alpha hydroxy acid (AHA) or beta hydroxy acid (BHA) solutions are applied. This exfoliates the skin to remove the surface layer.
• Medium: These are good for boxcar, ice pick and rolling scars. Tricolor Acetic Acid (TCA) is the solution most commonly used in a medium chemical peel to remove the top layers of skin.
• Deep: Deep peels are suitable for boxcar, ice pick and rolling scars. An extremely acidic solution that may contain solutions like phenol or TCA is applied to the skin to remove surface and deeper layers of skin.
Edermastamp and Dermaroller
These are skin needling treatments, which are specifically designed to give you smoother, younger, brighter and scar-free skin. The process creates a controlled injury in order to stimulate the skin's natural ability to heal, tighten and even generate a little volume. The collagen production is the key here to assist in creating newer skin.
Laser Scar Removal
Laser treatments are becoming increasingly popular and have been successful at smoothing and reducing scarring. The majority of clinics use the fractional laser, which is considered to be the best at treating scars. It can be used on the face and body.
Laser scar removal treatment works by penetrating below the skin's surface to speed up collagen production, the body's natural way of healing itself. As it does this, it helps to create healthy tissue, eliminating the signs of scarring. The results are noticeable within about 10 days following the treatment, and the improvement will continue over six to eight weeks.
Dermabrasion
Dermabrasion is carried out by a high-speed diamond, wire wheel brush or sandpaper that removes the skin surface. The effect removes superficial scars on the skin's surface and reduces deeper scars. This sort of treatment is good for boxcar, ice pick and rolling scars.
Microdermabrasion
Unlike Dermabrasion, this is an exfoliating treatment that is great for fine scarring. The treatment is very gentle and provides instant results.
Microdermabrasion works by using micro-fine crystals to buff the skin's surface to remove the top layer of dead skin. Once the dead skin cells are removed, healthier skin is revealed. The procedure also unclogs pores and improves absorption of skincare products. This improves the overall appearance of the skin. A-listers like Cameron Diaz swear by this technique and treatment.
Augmentation/Fillers
This procedure is carried out by using a needle to inject filling into the scar. The filling material can consist of things like bovine collagen, fat, silicone, hyaluronic acid and poly-l-lactic acid. There are other substances that can be used, but these are the most common. This sort of treatment is good for boxcar and rolling scars.
Punch Techniques
These are for treating the ice pick and boxcar scars mentioned earlier. There are three main techniques:
• Punch Exercise: Mainly used for boxcar scars. Here, the base of the scar is removed surgically. The sides are left intact. When the wound heals, it will look smoother and the skin's surface will look more even.
• Punch Elevation: This is also good for boxcar scars. Again, the base of the scar is removed and the sides left intact. The base is reattached, but lifted to the skin's surface so that the scar is less noticeable.
• Punch Grafting: This is great for deep ice pick scars. The scar is removed and the area is filled out with skin taken from another part of the body.
Subcision
This is a surgical treatment used to treat rolling scars. The upper layer of the skin is removed, separating it from the underlying scar tissue. The process allows blood to pool under the affected area and to clot. As it does, connective tissue forms and pushes the skin in line with the rest of the skin.
Blue Light Treatment
Blue Light Treatment is effective at treating mild to moderate acne. It is reported to reduce the number and severity of acne blemishes and lesions dramatically with improvements after only two or three sessions.
It works by destroying acne-causing bacteria within the skin. The high intensity blue-violet light activates special bacteria-fighting agents in your body. These are called porphyrins, which are responsible for starting a chemical reaction that produces peroxide. This, in turn, destroys the root cause of inflamed blemishes. Celebs like Kate Moss are fans of this kind of treatment.
Steroid Injection
Steroid injections are good for hypertrophic scars. The raised scar is injected with the steroids, which helps to stop the inflammation and reduce the scar.
5. How to get rid of acne scars and prevent new scars from forming
In this section, you will find some useful ideas and tips that will help you to improve your skincare routine. I will provide you with ideas on some of the best products and some homemade remedies you can try.
Dermalogica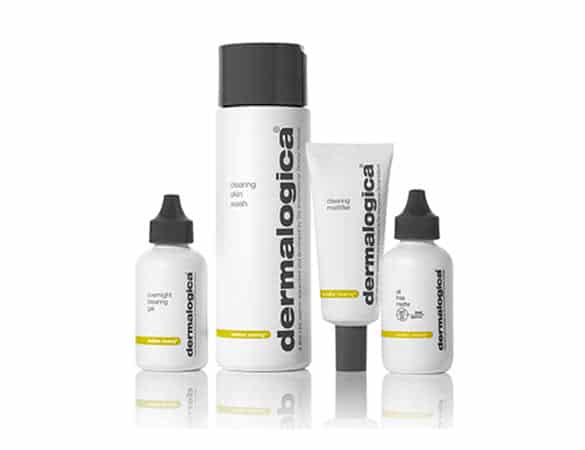 Dermalogica has their Medibac range specifically designed for treating and managing skin that is prone to acne and breakouts. All products are formulated without artificial fragrances and colours. Here are the items in the range:
1. Skin Clearing Wash: This is a foaming cleanser that helps to clear oils and bacteria that contribute to acne. The key ingredient, Salicylic Acid, is combined with antiseptic extracts for natural exfoliation, clearing clogged follicles, cooling the skin and preventing future breakout activity.
2. Oil Control Lotion: This lotion is a light, oil-free mixture that serves a dual function by hydrating and reducing shine at the same time. It also calms and soothes irritated skin while eliminating congestion to prevent future breakouts.
3. Sebum Clearing Masque: This wonderful product has a cooling effect and will make you feel like you're in a spa. It has oil absorbing clay that helps to clear and prevent future breakouts while also detoxifying the skin. Salicylic Acid and cooling botanicals help purify, refine and eliminate excess oils.
4. Clearing Mattifier: This is a medicated topical treatment that helps to clear breakouts, reduce congestion and control shine. It contains vitamin A, which helps to increase elasticity, andcinnamon bark blend to help eliminate bacteria. The botanicals included regulate the oil secretions in skin to maintain an all-day matte finish.
Other Products
5. Concealing Spot Treatment: This is a naturally tinted intense treatment designed to cover up your daytime breakouts. It contains sulfur and zinc oxide that sets out to target and clear breakouts quickly.
6. Gentle Cream Exfoliant: This two-in-one masque/exfoliation treatment is claimed to improve skin texture dramatically from the first use. It is a non-abrasive formula that contains Lactic Acid and Hydroxy Acid to remove dead skin cells and to increase the production of cell renewal. You can expect to see very smooth skin after using this little number.
Proactiv +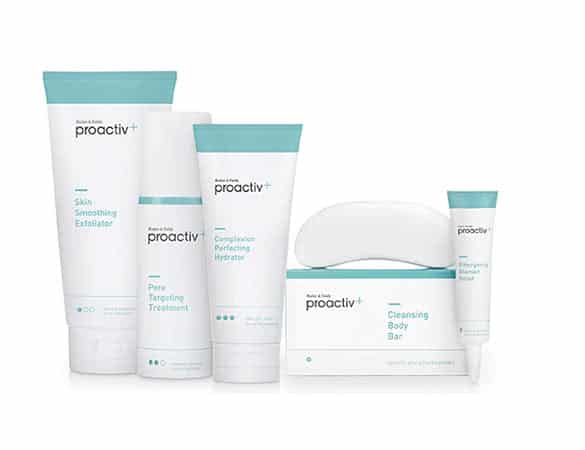 We've heard wonders about Proactiv from our celeb friends and it definitely can do some amazing things for your skin. Proactiv have 30-day packs that are suitable for all skin types. All products are paraben-free, oil free, non-comedogenic and dermatologist-tested. The main pack includes the following:
1. Skin Smoothing Exfoliator: This contains Salicylic Acid and gentle exfoliating beads that help to remove dead skin cells, dirt, oil, grime, makeup and anything else that can clog the pores. This product helps to reveal fresh and smooth skin while calming irritated skin. It also moisturizes, leaving the skin feeling soft.
2. Pore Targeting Treatment: This focuses on targeting bacteria and eliminating excess oil and debris. It works deep within the pores to break down dead skin cells and clear blockage. The result is smoother and brighter skin that has been toned and tightened.
3. Complexion Perfecting Hydrator: Not only does this product hydrate, but it focuses on correcting blemishes and leaves the skin smooth, even-toned, bright and supple. The Salicylic Acid helps to keep pores clear. It also contains antioxidants, nourishing prebiotics and botanical extracts
4. Retexturing Toner: This toner has a good mix of active ingredients. It has Glycolic Acid to exfoliate dead skin cells and makes your skin feel and look smoother. It has a light astringent to wipe away surface skin oils and impurities, and has Salicylic Acid.
5. Mark Fading Pads: These easy to use pads help to remove oil and other impurities. They get bonus points for reducing the appearance of dark marks, fine lines and wrinkles while soothing and protecting the skin.
6. Skin Purifying Mask: This is a great mask that you leave on overnight. While you sleep, it clears up blemishes, prevents breakouts, calms irritation, reduces redness and deep-cleans pores—all in a night's work.
Clinique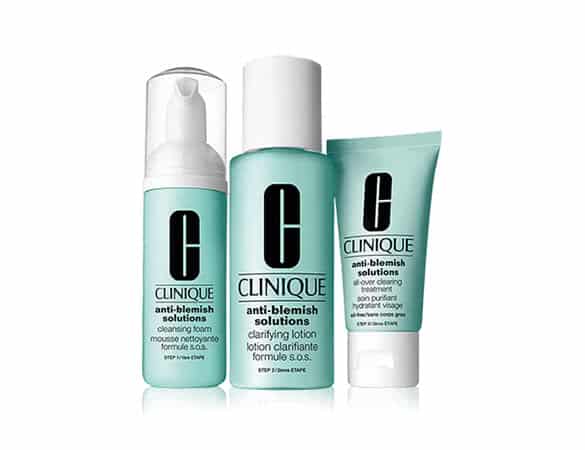 Clinique's Clear Skin System is renowned. As with their other products, they have a 3-step system to make life easier for you. This is the Anti-Blemish Solutions 3-Step System.
1. Anti-Blemish Solutions Cleansing Foam: This is good for all skin types. It is Step 1 of the system. It is mild and helps to clear and prevent blemishes. It deep cleans to remove dirt and excess oil, unclogs pores, calms, soothes and reduces the look of redness. Your skin will be left feeling soft, smooth, comfortable and healthy.
2. Anti-Blemish Solutions Clinical Clearing Gel: This is a gel that starts clearing blemishes upon application. It also helps to prevent new blemishes from forming.
3. Anti-Blemish Solutions Clarifying Lotion: This is Step 2 of the Anti-Blemish Solutions 3-Step System. This gentle, effective formula exfoliates to clear dead surface cells and reduce excess oil. It also unclogs pores and absorbs oil to eliminate shine.
4. Anti-Blemish Solutions All-Over Clearing Treatment: This is Step 3 of Anti-Blemish Solutions 3-Step System. This lightweight, soothing formula helps to treat existing blemishes, prevent future breakouts and control excess oil. A barrier is created against anything that will cause a blemish. It will also lightly hydrate to prevent over-drying and peeling.
Origins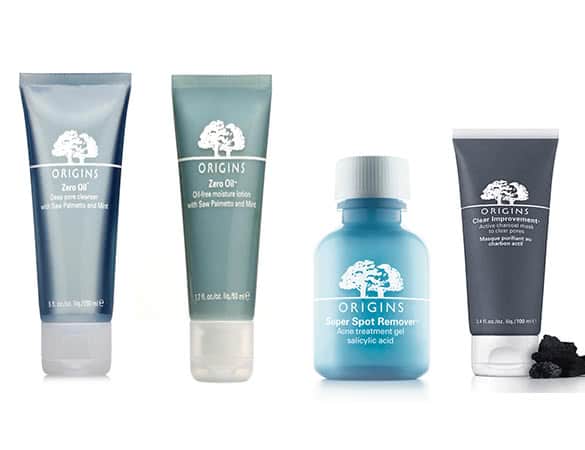 1. Zero Oil Deep Pore Cleanser with Saw Palmetto and Mint: The active ingredients in this wonderful cleanser include: Saw Palmetto to clear the skin, mint to cool and Salicylic Acid to minimize pores, eliminate excess oil and reduce shine. You will be thankful for the refreshing feeling this will leave on your skin.
2. Zero Oil Oil Free Moisture Lotion with Saw Palmetto and Mint: This lightweight, oil free, hydrating lotion with skin-clearing Saw Palmetto, refreshing mint and pore-minimizing Salicylic Acid instantly reduces shine, refines skin texture and creates a smooth, matte finish. Non-comedogenic. Non-acnegenic.
3. Super Spot Remover Acne Treatment Gel: This super spot remover is exactly that—super. With just a dab, it battles your breakouts and gets into action to clear away blemishes. It contains the wonder ingredient Salicylic Acid, which helps to accelerate healing, and anti-spot technology to correct discoloration, Red Algae to calm the skin and soothe redness. The powerful blend helps to make sure your skin stays spotless.
4. Clear Improvement Pore Clearing Mask: This mask works to draw out the impurities in your skin and gives a deep cleanse. Its key ingredients are: charcoal, which unclogs pores; white china clay to absorb l pollutants; and lecithin to dissolve impurities.
Home remedies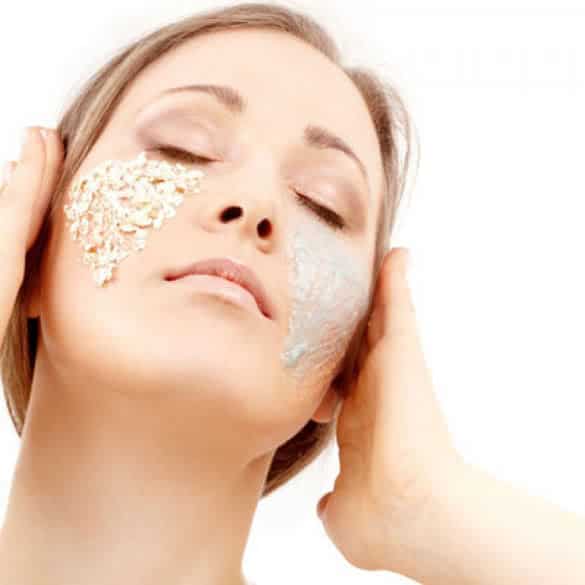 These are some great natural remedies that have been found to be quite successful. They are great for times when you want to use something natural and chemical free on your skin. You can also combine them with the remedies listed in 'The Best Natural Remedies for Acne Scars' section of this guide.
Oatmeal Mix
Oatmeal is useful in reducing acne because it deep cleans your skin, unclogs pores and absorbs excess oil. It's also good for exfoliating your skin. Here what to mix:
– 1 ts Honey
– Juice from 1 Lemon
– 1 Cup Oatmeal (cooked)
Apply and massage into the skin. Leave on for 30 minutes, then rinse with lukewarm water. Repeat this procedure once or twice a week.
Fuller's Earth
Fuller's Earth is also known as Multani Mitti. It is good for greasy and acne-prone skin because it can absorb excess oil on the skin and unclog pores. It can also improve your complexion. Mix together:
– 1 Cup Fuller's Earth (Multani Mitti)
– ½ Cup Rose Water
– ¼ Cup Sandalwood Powder
If the consistency is too lumpy, you can add a little bit more rose water until your satisfied with how the consistency looks. Apply and leave to dry completely. Rinse with lukewarm water and repeat once a week.
Tea Tree Oil
Tea tree oil is exceptional for treating acne. It acts as an antiseptic and disinfects the pores to kill the bacteria that causes acne. It is just as effective as Benzoyl Peroxide and comes without the unpleasant side effects like skin peeling, over-drying and soreness. You can use it in a number of ways, including diluting it with water or mixing it with aloe vera gel or witch hazel.
Green Tea
Green tea has antimicrobial and antioxidant properties that are great for managing and fighting acne. All you have to do is use one cup of the tea water as a face wash. Even better, lay the bag over the affected area and leave it for a few minutes before washing off with lukewarm water.
Mint
Mint is generally known for being soothing and calming, but it can also do wonders to unclog pores. Here's a good mix:
– 2 TS Fresh Mint (finely chopped)
– 2 TS Plain Yogurt
– 2 TS Oatmeal
Blend these ingredients together, apply to the face and leave for about 10 minutes before rinsing with lukewarm water.
Echinacea
This is traditionally used for colds and flu, so you'll be surprised to hear that its antibacterial and anti-inflammatory properties can help with acne as well. You can use the water from echinacea tea as a daily face wash, or apply a few drops of tincture on a cotton ball and dab on to your face.
Chamomile
The calming, soothing properties in chamomile help to decrease inflammation from acne. You can get chamomile flowers from a good health shop. Use about a cup of the flowers and pour boiling water over them. Leave them to soak then strain them and use the cool water as a face wash. This should be good to keep in the fridge and use within a week of preparation.
Witch Hazel
This can be used as an astringent, and is great if you have sensitive skin. Its calming and soothing, but is successful drying and shrinking blemishes.
Check out some videos on how to mix some of these magical blends on Home Remedies for Acne's YouTube channel.
5. How to get rid of acne scars – tips to remember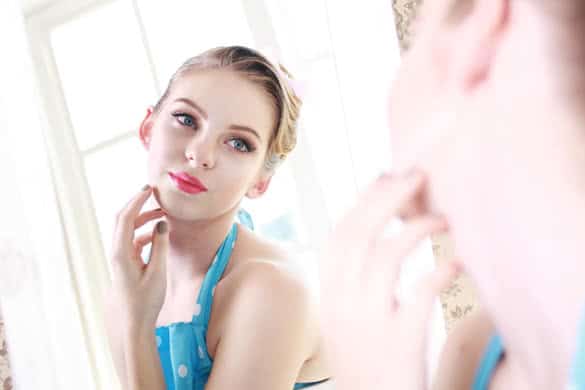 Here are some general tips that I have found useful. Practicing them will make your life a lot easier if you suffer from acne.
1. Take care of your skin. Acne is a condition that requires care and attention. Oftentimes, scars can be prevented by sticking to a good skin regime that is right for your skin type.
2. Try to keep your face clean. The first step in achieving beautiful skin is cleanliness. So, wash your face twice daily to clear away impurities, and remove makeup and dead skin. Use a clean towel for your face and body. Dirty towels are exactly that, dirty, and will harbor things like germs and bacteria. You don't want to put anything dirty anywhere on your body.
3. Use the right products for your skin. Don't use anything that will irritate your skin or contribute to more acne. Look at the ingredients in the products you use or are thinking of purchasing. Products that are labeled 'non-comedogenic' should not cause acne and would be suitable for your skin if you are acne prone.
4. Don't clog the pores and cover your skin with makeup, especially during a breakout. Try to use makeup sparingly or avoid it if possible, and in general use makeup that is labeled as 'non-comedogenic.'
5. Eat right and exercise. These two things go hand-in-hand for a lot of things, including skin care. Eating healthy food will provide your body with the essential nutrients it requires to maintain your skin.
Dealing with acne can be stressful, but it's not impossible to get the clear skin that you so desperately desire. With these home remedies and products, you're guaranteed to see an improvement in your skin. Let us know how these tips work out for you, and share any others that you may have.