The perfect gift always comes from the heart, and a bracelet has always been a popular gift. What if you knew how to make a bracelet, that would be uniquely handmade just for that special someone, who will cherish it forever. You can learn by following these easy steps.
Whether you're looking for a great Christmas gift or just a little something to show somebody you care, handmade items are the perfect present. Especially bracelets. They are the best friends staple item and can be made for men or women. Not to mention, they don't break the bank. Check out these ideas and add a personal touch to make an item just for them! First, let's start of with the ones which are easier to make:
Braided suede bracelet (unisex)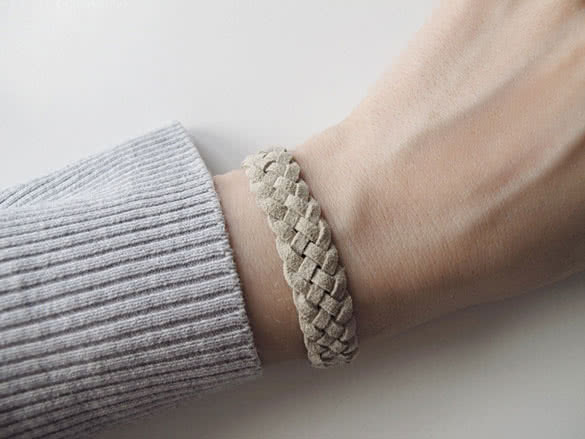 This is a 5 strand braided bracelet using suede. It's much like a traditional braid but looks more put together. You can also add beads or use thicker and thinner pieces of suede to add a cool effect.
You will need:
Instructions:
Cut 5 equal lengths of suede string.
Tape one end of each string to a table in a row.
Separate the strings: 3 on the left, 2 on the right.
Start with the left side: Take the string furthest to the left and place it over the let-middle string.
(Left side) Take the rightmost string on the left side and place it over the now middle string.
(Left to right) Take the now rightmost string on the left side and place it over the leftmost string on the right side.
(Right side) Take the rightmost string and place it over the leftmost string.
 (Left to right) Move the rightmost string on the left to the group of strings on the right. Now there will be 2 on the left and 3 on the right. There is no crossing over in this step. Just move the strings.
 Now you just start over with the left side and repeat until you have the desired length of bracelet!
Sliding knot bracelet (to fit any wrist)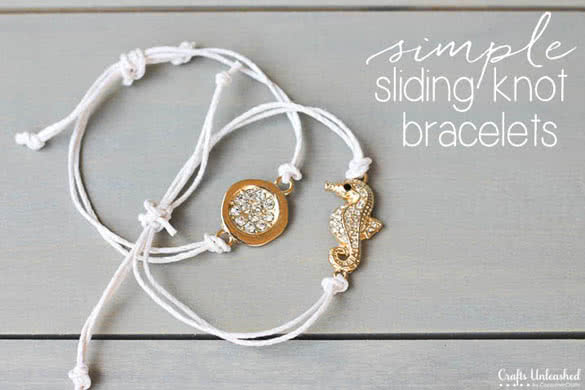 This super quick and easy sliding knot bracelet can easily be personalized with any cool bead or charm for that special someone!
You will need:
Leather, suede, or hemp cord
Bezel Pace connectors (Gold or silver)
Circle connectors (Gold or silver)
Charm links (Will have a hole on each side)
Scissors
Knowledge of how to tie a knot
Instructions:
Cut 2 pieces of cord about a foot long (You may need more or less depending on your wrist size but this is a sliding knot bracelet so size is a little less important).
Take the charm, slide to the middle of one cord and tie a knot. Repeat on the other side of the charm with the other piece of cord.
Tie a knot at the ends of both of the cords. (For a simple, non-sliding knot bracelet, you can stop here!)
For the sliding knot part, cut a piece of cord 7 inches long.
Make a loop using one side of the cord, about 3 inches long.
Line up the ends of the bracelet with the charm on it and hold them together.
Place the 3 inch loop on the top of the bracelet, wrap the long tail (there should be a 1" long tail) around the bracelet 4 times. Then pull the long tail through the loop and pull tight.
Knot the cord ends and trim off any excess pieces.
Your bracelet is done! Check out that sliding knot action.
Studded bracelets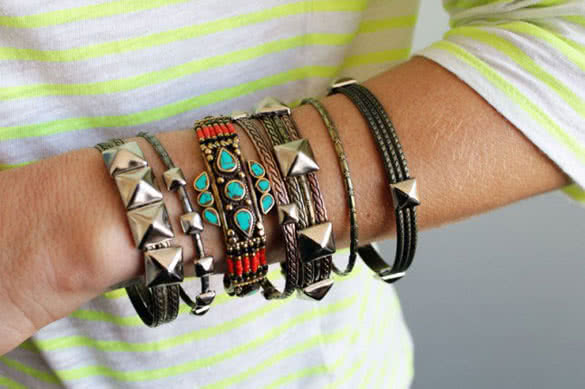 These studded bracelets are a great way to get some use out of all those bangles you have sitting somewhere collecting dust in your room. I know you have them somewhere. Break them out, dust them off, and get studding!
You will need:
Bangles
Studs of different sizes
Needle nose pliers
Instructions:
For 1 bangle, use a small stud and attach with pliers in any way you want.
For 2 bangles, use a larger stud and attach in any pattern you would like.
And so on and so forth, depending on how many bangles you want to place together, and what size stud you have. Try different color studs with different colored bangles for a cool contrast!
All done!
Vintage earring bracelet (recycle your old jewelry)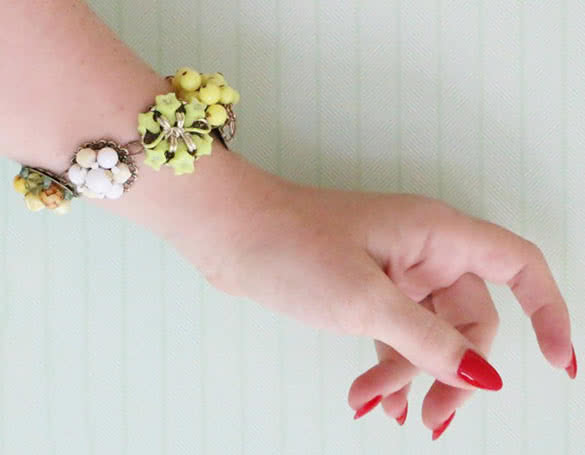 Have friend who loves vintage jewelry? This beautiful bracelet repurposes vintage earrings!
You will need:
Vintage earrings
Flat metal connectors
Metal jump rings
Needle nose pliers
Industrial strength glue
Jewelry closure (Lobster closure works)
Scissors
Instructions:
Cut off the backs of the earrings to make them as flat as possible.
Glue the flat backs of the earrings to the flat metal connectors. It is a good idea to let the glue dry overnight.
Use the pliers to connect the flat metal connectors together.
Once you've connected enough earrings together to fit around your wrist, attach a jewelry closure to one end of the bracelet and a jump ring to the other.
Voila! You're finished. Dazzle your vintage lover with this cute bracelet!
Now that we have covered some easy ways on how to make a bracelet, let's try and see if we can put in some more effort, and make something that will wow the recipients of this amazing jewelry.
'Words to Live by' metal stamped bracelet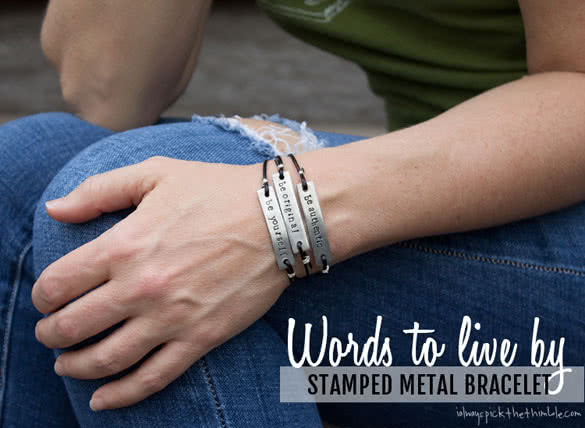 This metal stamped bracelet is easily personalized and good for men or women. It is a moderately difficult design because metal stamping can be surprisingly difficult and you need quite a bit of supplies! Here's a tip: Buy a few extra pieces of metal to practice on before you do the real thing.
You will need:
30" of 1.5 mm leather
26 gauge wire
4-10 mm heavy jump rings
Lobster clasp and jump ring
Wire cutters
Pliers
Scissors
3 1 ½ " x 5/16" metal stamping blanks
Metal stamping set
Hammer
Optional:
Gliders paste (To make letters darker)
Q-tips (For gliders paste)
Paper towels (For gliders paste)
2 hole punch (Optional, if your metal stamping blanks don't come with holes)
Instructions:
Stamp the pendants (Remember to practice first!).
(Optional) Drill holes into the ends of the pendant without pre-punched holes. Skip this step altogether by buying blanks with the holes already punched!
(Optional) Darken the stamped letters using a Q-tip and gliders paste over the entire surface of the pendant. Then, clean off the excess glider paste with a paper towel.
Cut a piece of leather about 4"-5" long.
Insert about an inch of leather into the left end of each pendant and make a loop.
Wrap wire around the loop.
Figure out how you want the pendants to lay. Either perfectly in a row or staggered… whatever you want! Then cut the string 1 ½ – 2" from the pendants.
Fold all 3 ends into one 10mm jump ring and wrap the ends of the string with wire exactly how you did before.
Repeat for the right side of the pendants. (Cut the string, attach with the wire, etc) except this time, cut the length of the leather so it perfectly fits your wrist. If you are making this as a gift, then you may just have to guess!
Attach an extra jump ring to each end.
On one end, attach a lobster claw.
All Done!
Metal bracelet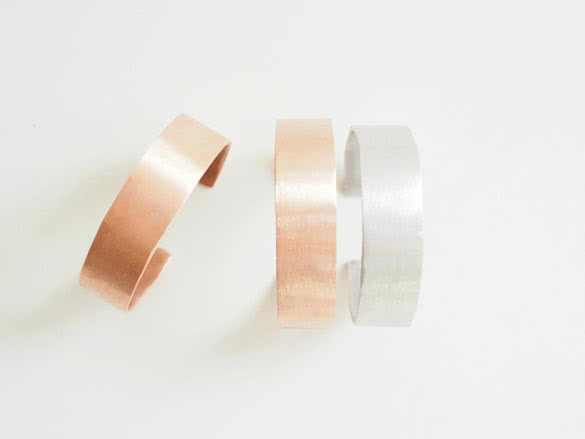 Aren't these metal cuff bracelets perfect? They are a great gift for the minimalist type of girl and relatively easy to make… if you've got the supplies and the patience.
You will need:
Copper tubing (They use 10mm tube. Try different sizes!)
Saw
Rolling pin (Circular thing that you can bang with a hammer to get the right shape for the bracelet)
Sledge hammer (You want a hammer that will be wider than the bracelet so you don't get dents… unless you want dents)
Safety Goggles
Vise or any steel plate
Sandpaper (Very coarse)
Steel wool
Decoupage Lacquer (to stop copper from turning green)
Instructions:
Measure your wrist and cut the copper tubing to the correct length.
Wearing your goggles, bang the tubing with your hammer until it's flat.
Sand the tube with the sandpaper to take out any marks or just leave it if you like it.
Using your rolling pin, start hammering the tube to make the 'C' shape. This part is a little tricky so take your time. If it's easier, just make the bracelet a circle.
Take your steel wool and smooth the corners and ends of the bracelet.
Apply a layer of decoupage lacquer.
Side Note: Copper will start to turn green over time, unless you cover it with a lacquer. If you are giving this bracelet as a gift, leave this bit of information and a little bit of sandpaper and lacquer as part of the gift so that they can care for their bracelet and keep it looking shiny!
Hex nut bracelet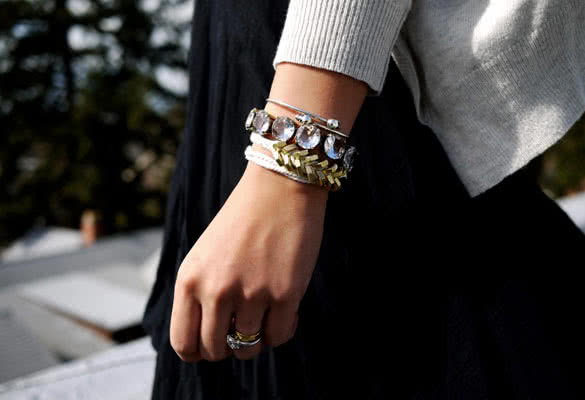 Looking for a bracelet design that doesn't take many supplies? This hex nut bracelet is the answer. You only need 2 things and you may already have them lying around your house!
You will need:
3 strands of cotton butcher's twine or just regular yarn
Brass or silver hex nuts. As many as you'd like to place on the bracelet
Instructions:
Cut twine into 1 yard pieces x 3.
Gather all 3 strands and tie a knot at the top, leaving 2 or so inches at the top.
Start braiding from the knot. We will be using a regular braid. Stop braiding when you've got about an inch.
Now you can start braiding in the hex nuts. Before you braid the leftmost strand over the middle, thread on a nut, pushing all the way to the base of the last braid and then cross the strand over. Remember to keep your thumb at the base of the braid to hold the nut in place.
Do the same with the rightmost strand. (Thread on the hex nut before you cross the strand over the middle)
Repeat until you have as many hex nuts on the bracelet as you would like.
Once you've got all the hex nuts on, braid another inch or so below and then knot. Leave a couple inches of thread at the bottom.
All done! When your loved one receives the bracelet, you can tie it to their wrist to fit them perfectly.
I hope these instructions were helpful, and you were able to make a beautiful bracelet for someone special. Having said that, the next one I will suggest is only for the ones willing to put in some serious time and patience into making:
Slave bracelet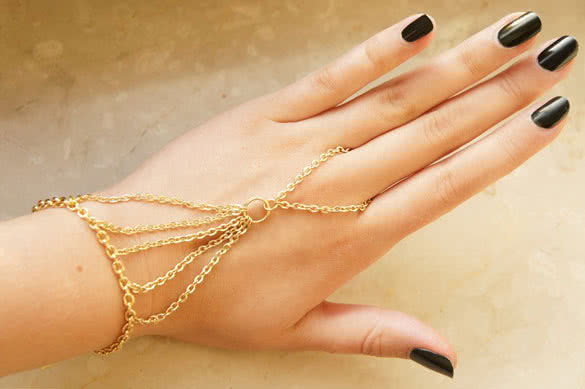 If you are a particularly crafty person, give this beautiful slave bracelet a try. They are surprisingly difficult to make, but this easy how-to will make completing it a breeze. We're sure your loved ones wont be able to wait to put it on.
You will need:
Thick chain
Approximately 29cm of thinner chain
Pliers
Wire cutter
6 small jump rings
Larger jump ring
Clasp
Instructions:
Cut the thick chain to size.
Cut the thinner chains to 8cm, 2 x 5cm, 2x 4cm, 3cm (Adjust to fit hand).
Use your pliers to attach the clasp to one end of the thick chain.
Connect the thinner chains to the thick chain using the jump rings. The pattern of the thinner chains will be 5cm, 4cm, 3cm, 4cm, 5cm. Make sure they are spaced evenly.
Connect both ends of the 8cm chain to the larger jump ring and then connect that large jump ring to the ends of the other 5 thinner chains.
All done!
Bracelet sizing guide
When making bracelets for other people, it can be really difficult to know what size it should be, and let's face it… you can't just ask! You'll give away the whole surprise! So, here is a great bracelet sizing guide to help you make the right decision.
Children:
Newborn: 3.5 – 4"
3-6 Months: 4 – 4.5"
6-12 Months: 4.75"
12-24 Months: 5"
2-3 Years: 5 – 5.5"
4-5 Years: 5.75"
6-7 Years: 6"
8-9 Years: 6.25"
10-13 Years: 6-7"
Women:
Small: 6.5"
Average: 7"
Large: 7.5-8"
X-Large: 8.5" +
We hope you found the perfect bracelet to make for your loved one. If so, let us know in the comments below and share a picture on our Facebook of how yours turned out. We'd love to see it!