You love the idea of the blanket scarf trend, but you're unsure of where to start? Our quick guide on how to wear a blanket scarf will help you rock the look.
Blame it on the polar vortex, or perhaps just the desire for something cozy during those long, dark winter months currently looming over our heads.
Whatever the reason is that inspired scores of designers to thrust a bevy of over-sized blanket scarves our way for fall and winter, we're loving the trend. Really, if you had to pinpoint a moment during the Fall 2014 shows that set the tone, you would have to point the finger at Burberry.
Burberry's over-sized, Southwestern-inspired and monogrammed heritage blanket scarves virtually exploded onto the scene, and were an instant hit with models, celebrities, and the fashion cognoscenti (in a big part because many of these people were sent a monogrammed blanket scarf as a gift).
The look is one that took over the fashion week street style blogs, and is still going strong as this goes to press; skinny jeans, a blanket scarf, and a felt fedora.
However, as with so many other things in the fashion world that look effortless, the reality is that blanket scarves are not always as easy to wear as it looks.
They're big, and therefore can add bulk to a look if you aren't careful with your styling, and something as simple as a stiff breeze or a crowded pavement can cause your carefully put-together look to come undone.
However, there are some pretty easy styling tips you can use with blanket scarves to ensure that you not only avoid wardrobe malfunctions, but look as effortless and amazing as the street style fashionistas you've been eyeing online.
Balance the silhouette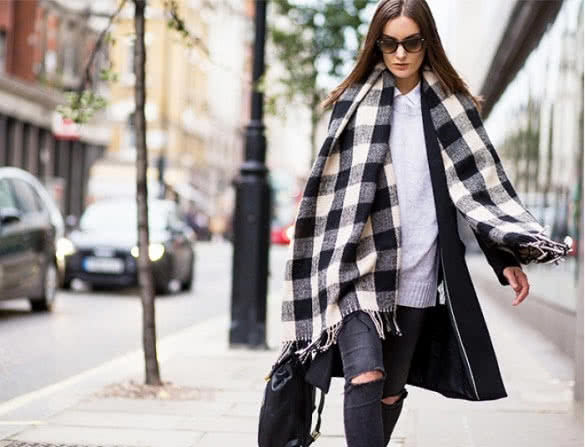 There's an unspoken "rule" in fashion that encourages you to pair bulky, voluminous pieces with slim, fitted ones. As far as blanket scarves are concerned, this advice is sound.
Shorts with tights, skinny jeans tucked into a pair of boots, or a pair of fitted and cropped cigarette pants all look wonderful when paired with a blanket scarf, and help to keep the feminine lines of the body from being obliterated by the heft of the scarf.
Cinch it in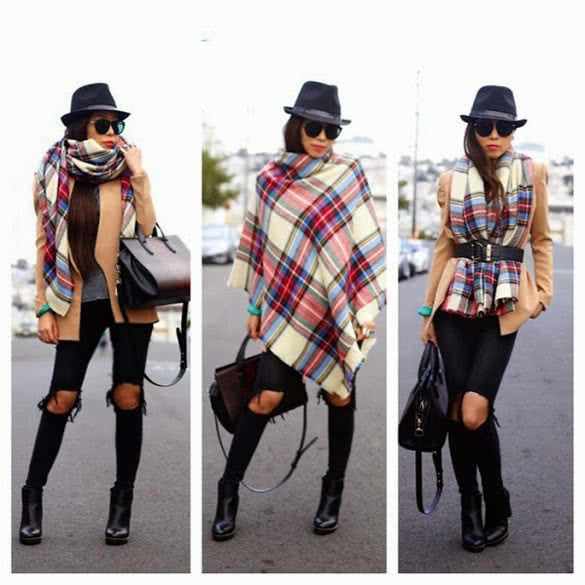 That loosely-draped, nonchalant wrapped look that seems to work so well with blanket scarves has one archenemy, the wind. A single blast of crisp winter air can cause you to come positively undone, and the loose hanging ends of your blanket scarf are just begging to get caught in the door of a taxi or to dangle inadvertently into your morning latte.
Getting around these daily annoyances is as easy as adding a belt. Not only are the ends of your blanket scarf safe from the waiting jaws of the revolving door at your office building,but the waistline definition you get from such a simple and chic accessory gives the overall look a bit of feminine polish.
Try something different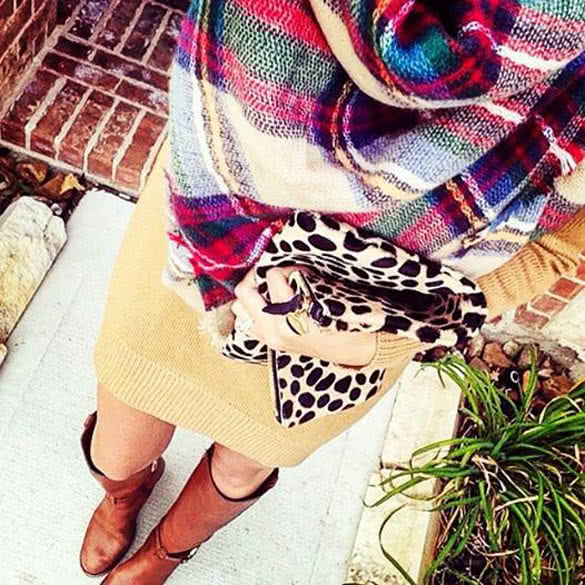 While everyone who's anyone is racing to get their hands on their own monogrammed Burberry Heritage Blanket Scarf, why not exercise your creative side and try something different?
With the trend currently in full swing, we are really and truly spoiled for choice. There are beautiful blanket scarves all over the place right now, and at every price point, so it seems a disservice to fashion itself to insist on coveting the only one that has appeared in just about every fashion editorial, on every celebrity gossip blog, and in every street style post since they burst on the scene at Fashion Week.
Just about every mass market retailer has one or two variations on the blanket scarf theme; why not give some of them a try?
Whether you're a lifelong aficionado of oversized wrap scarves pining for the days of the pashmina, or new to the accessories game altogether, a blanket scarf is a cold weather accessory that is as beautiful as it is pragmatic.
Due to the popularity of the trend, it is virtually impossible to enter a main street retailer these days and not see some permutation of the blanket scarf.
Luckily, you do not need to spend the rather eye-wateringly steep $1,395 on Burberry's version, there are many good quality versions available at a more attainable price point.
A quick search of e-retail giant ASOS's site will instantly turn-up seventeen options all under $50. Even the legendary luxury department store Saks Fifth Avenue in New York has six on their website that come in at under $200.
The take-away message? Try it. There are enough options for everyone, and unlike some trends that have come and gone over the years, this is a trend that will fit and flatter virtually everybody.