The mermaid trend has found its legs and is making its home on a dry land! Here's a look at some different mermaid inspired outfits.
In 1989, when Disney released The Little Mermaid, Ariel not only became one of most popular princess but also a style inspiration. Her purple seashell top, emerald tail and bright red hair is now iconic and has many trying to achieve the ultimate mermaid look.
For those of you who don't want to go full Ariel, here are five fun mermaid inspired outfits to give the mermaid trend a new spin.
Classic
Dress: Fact or Satisfaction from Modcloth
Cardigan: Crochet Maxi Cardigan from Forever 21
Shoes: Rhinestone T-Strap Sandals from Forever 21
Jewelry: Faux Stone Rings, two sets, from Forever 21
Headband: Knobby Starfish Headband from Etsy shop PoppyCoast
A mix of blues and white makes you look one with the tide, and is perfect for a day at beach. The ocean blue embroidered dress and layered rings give this a chill bohemian vibe that is casual but versatile.
You can easily dress it up with some cute wedges and a statement necklace or dress it down with some flip-flops and shades. Finish the look with some soft beach waves paired with a natural makeup and you're ready to walk out of the ocean into the arms of your Prince Eric.
Retro
Dress: The Jenny Dress from Pinup Girl Clothing
Cardigan: Emerald Green Cardigan from Sincerely Sweet Boutique
Shoes: Lick Me Platform from Iron Fist Clothing
Jewelry: Art Deco Shell Crystal Earrings From Pinup Girl Clothing
Hair Clip: Seashell Clip from Etsy shop TheMuseCreations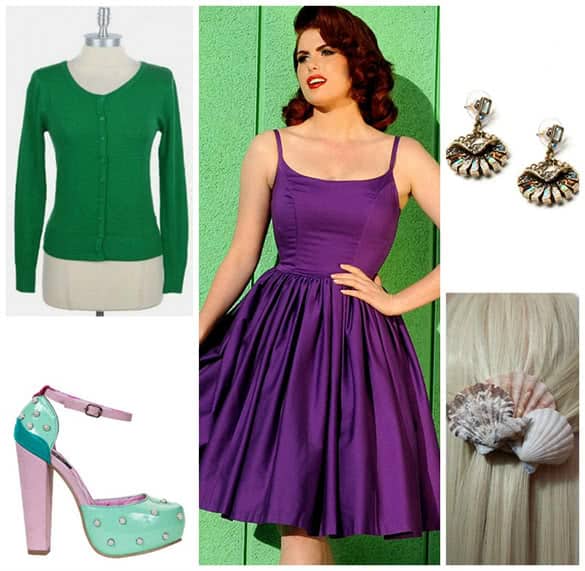 Switch out the soft blues and beach waves for jewel tones and a Marilyn Monroe-inspired do, held back by shell clip, and you have yourself a retro mermaid look. A swing dress is always a good pick for any retro look; it's a classic silhouette and is flattering on any body type.
A simple emerald cardigan and gold flats can make this a cute and casual look. Remove the cardy and throw on pastel heels with pearl details, though, and you'll be ready for a night out on the town. A dramatic cat eye and taupe lip would be a beautiful way to complete this throwback look.
Edgy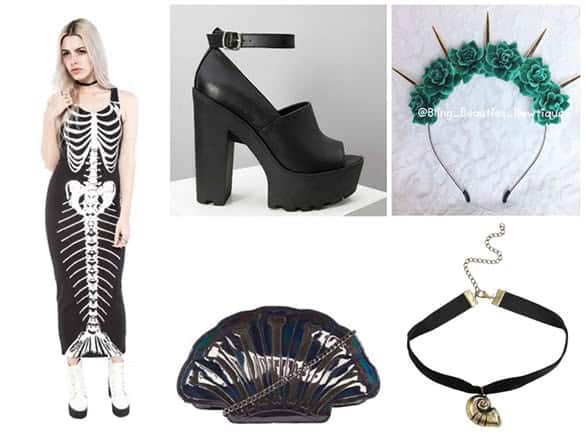 Dress: Bone Deep Maxi Dress from Iron Fist Clothing
Shoes: Faux Leather Platform from Forever 21
Purse: S'hell Handbag from Iron Fist Clothing
Jewelry: Little Mermaid Shell Choker from Hot Topic
Headband: Rose Spike Headband from Etsy Shop BlingBeautyBowtique
A dark twist on this usually colorful look gives this trend a nu Goth vibe befitting our favorite sea witch. It's an outfit that screams '90s with those platforms and Ursula's shell choker, but this body-con mermaid skeleton dress is a bold showstopper. A green floral spiked headband and oil slick purse add subtle touch of color to the all-black ensemble.
Switch out the heels with converse, throw on a studded moto jacket and lose the headband and you have a completely different look that would be perfect for a laid-back dinner or concert. A black lip, winged eye and that amazing rainbow highlighter from Bitter Lace Beauty would be a killer way to finish this look off.
Cutesy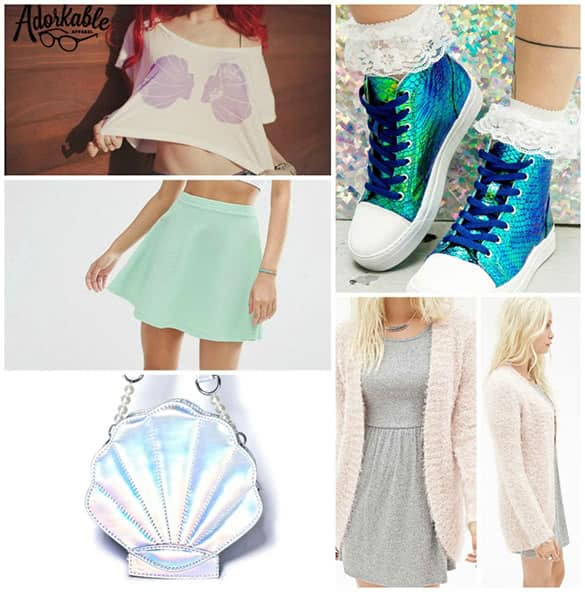 Top: Urban Mermaid Crop Top from Adorkable Apparel
Bottom: Textured Skater Skirt from ASOS
Cardigan: Fuzzy Eyelash-Knit Cardigan from Forever 21
Shoes: Mermaid Scale High Top Sneakers from Dolls Kill
Purse: Sea Treasure Bag from Dolls Kill
Cutesy fashion plays on more child-like styles, pastel colors and cute prints. A mint colored skater skirt, shell print crop top and fuzzy pink cardigan give us the soft pastels regularly used in this style. The hologram pieces of this outfit are the focal points; brightly colored mermaid high tops and shell purse with pearl accents really pull it all together.
Lace trim socks and an over-sized hair bow (a la kiss the girl) would be an adorable addition. Throw on a bright pink lip and baby doll makeup to complete your look.
Refined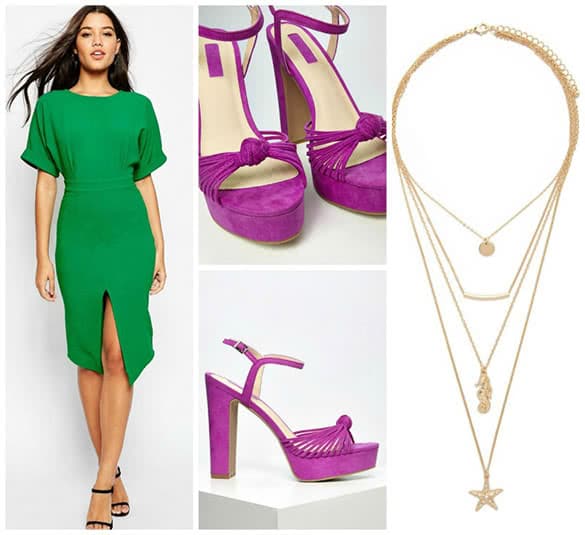 Dress: Wiggle Dress from ASOS
Shoes: Strappy Faux Suede Platform from Forever 21
Jewelry: Layered Seahorse Charm Necklace from Forever 21
Simple and sophisticated with colors taken directly from Ariel herself, this beautiful pepper green dress, strappy purple heels and gold layered necklace with sea creature charms make you a mermaid ready for business. A black blazer and a braided up-do make an ideal office look, but ditch the blazer and let your hair down and you're ready for after-work drinks.
Other ways to get you one step closer to being a mermaid:
Hair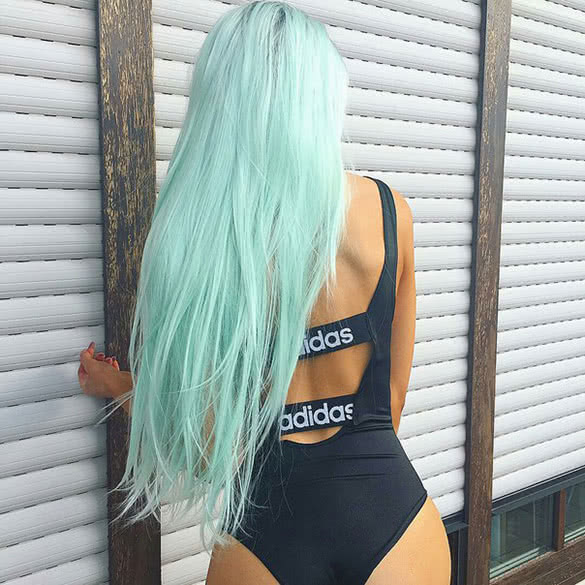 Mermaid hair has become one of the most popular trends over the past couple of years—not just beach waves and fish tail braids but color. From bright red to deep green to mother of pearl—the possibilities are endless when it comes to this beauty trend.
Makeup and nails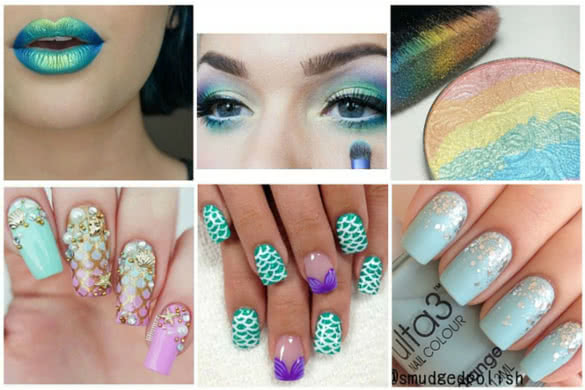 Beautiful colors ranging from purple to green can help you create a look worthy of this favorite mythical creature. Whether it's a multi-color iridescent eye look or a blue and turquoise lip accented with green, you'll turn heads these bold makeup looks.
If you want a subtler way to express your inner mermaid, a sweet manicure is the way to go! From a simple solid color to recreating Ariel's fin and shell bikini top or going big with ombré and gold starfish charms, nails are a fun easy to way bring this trend to the tips of your fingers.
Fashions trends are a great way for everyone to try new things, and maybe it's something you'd never think of doing until it hits the streets. Take some risks, and have fun with your personal style! Let us know in the comments what you think of these five different styles and the mermaid trend.