Seems like the Kardashian buzz is here to stay and no one gets more headlines than Kim. Over the years we were able to see Kim transform from a typical heiress to a real business woman, who is making a fortune just by being herself.
Of course, there is something that Kim has that makes her very unique in the entertainment business. Believe it or not, I am talking about her perfect curves, which made her a unique fashion icon. Most women cannot relate to today's models and size zero celebrities, so Kim is a great inspiration for many women of all age all over the world.
Kim Kardashian is always dressed up, proudly showing off her famous curves, but keeping up with all latest trends. Kim likes designer clothes and bodycon dresses, but she also has a nice taste when it comes to daily outfits, which include jeans, shorts and skirts. If you like her style, here are several suggestions and ideas how to look hot and classy. For more on Kim's make up routine, check out our guide here.
Outfit No 1
Kim simply adores high heels, whether she is going shopping or working the red carpet. This outfit shows that a simple pair of jeans and t-shirt can turn into stylish look with the right choice of sandals and animal printed bag. Let's not forget this excellent choice of jacket and some chucky jewelry. This is a great outfit for every day, whether you are having a launch with your friends or going to the movies with your date.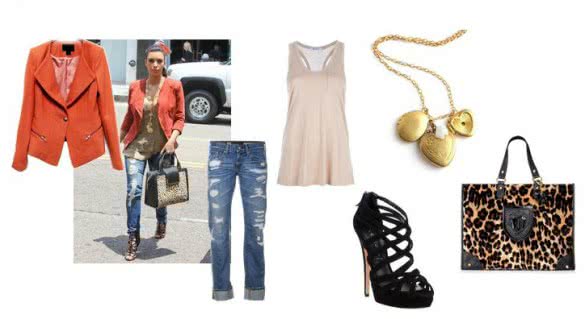 BonBon Boutique Necklace (zenggi.com)
Leopard Tote (juicycouture.com)
Casadei Sandals (farfetch.com)
Adriano Goldschmied Jeans (jades24.com)
Alexander Wang Top (farfetch.com)
Jacket (modekungen.se)
Outfit No 2
If you like neon colored pants, but you think you are not slim enough to pull them off, Kim has a solution. Wear these trendy trousers with draped cardigan or jacket and an oversized top in light beige or white. If you are pear shaped, this way you will create an optical illusion that your upper body is just as strong as your bottom, making your figure look proportional and desirable.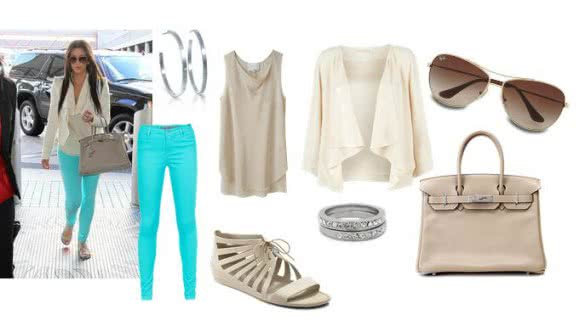 Ray-Ban Aviator Sunglasses (piperlime.gap.com)
Ghost Sydney Jacket (johnlewis.com)
3.1 Phillip Lim Draped Top (lagarconne.com)
Alex Woo Hoop Earrings (endless.com)
Vero Moda Pants (welikefashion.com)
Hermes Birkin (buyhermeshandbags.net)
Givenchy Sandals (missylovely.com)
Double Pave Ring (debenhams.com)
Outfit No 3
It is well known fact that Kim Kardashian is a trendsetter. This outfit shows us how to rock some of fall's favorite trends, like leather and collars, with a bright and refreshing yellow jacket. The whole look is clean and appropriate for formal occasions, but it can look great during the day, too. Whether you go for real or faux leather, a simple white shirt is a great choice to wear under the dress. It looks preppy, trendy and stylish, but on top of all that, it is another way to rock you little black dress.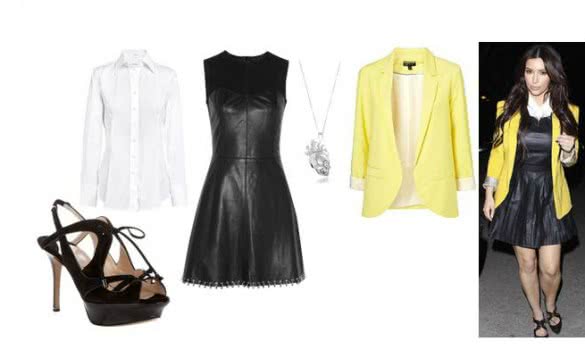 Nicholas Kirkwood Sandals (farfetch.com)
Robert Friedman Blouse (zenggi.com)
McQ Alexander McQueen Dress (net-a-porter.com)
Alexander Mcqueen Necklace (luisaviaroma.com)
Blazer (sheinside.com)
Outfit No 4
Kim simply cannot get enough of leather. She showed us how to get business look, with a pair of leather leggings, which most women wear during night. You can use the same white shirt from previous outfit and wear it with a nude blazer, one of every season's favorite pieces of clothing. The whole outfit looks clear and neat, so keep it simple with a pair of classy pumps and a little black bag.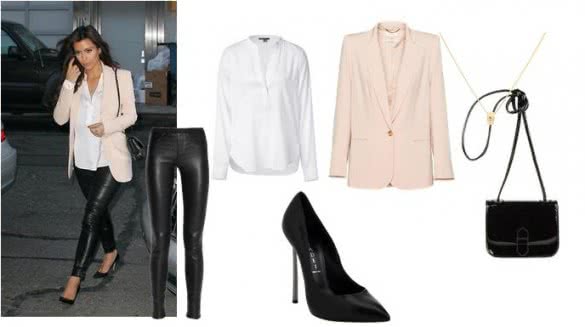 Casadei Shoes (barneys.com)
Helmut Lang Leather Leggings (net-a-porter.com)
Daniele Ancarani Bag (yoox.com)
Marc by Marc Jacobs Pendant (couture.zappos.com)
T.Babaton Blazer (aritzia.com)
Vince Silk Top (stylebop.com)
Outfit No 5
Hide you belly with a high waist skirt in dark green. In order to make an interesting look, wear bright yellow top with a frill and you will get a perfect color-blocking inspired outfit for late summer days. With a pair of nude and high pumps and a gold clutch, you can wear this outfit to the night club or to some fancy dinner party. When it comes to jewelry, keep it to the minimum, wearing stud earrings and a cocktail ring.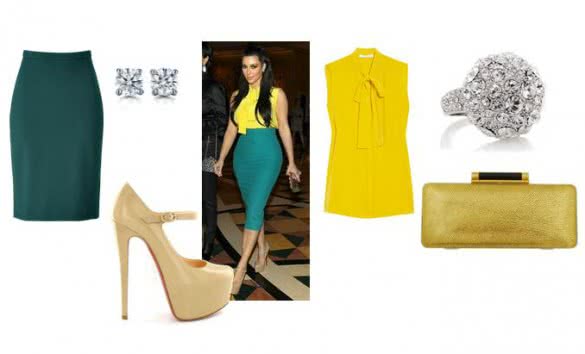 Diane Von Furstenberg Clutch (flannelsfashion.com)
Christian Louboutin Pump Footwear (footcandyshoes.com)
Joan Boyce Ring (hsn.com)
Tiffany and Co. Diamond Stud Earrings (starstyleinc.com)
Schumacher Skirt (stylebop.com)
Blouse Chloe (net-a-porter.com)
Outfit No 6
If you are not too keen on high heels, but you still want to look few inches taller, wedges are the right choice for you. Wear them with posh short pants and show some cleavage in a casual yet daring white top. To add some elegance, pick up an animal printed clutch and a short blazer is a hot red. This outfit is cozy and tasteful, while you can still show off some skin.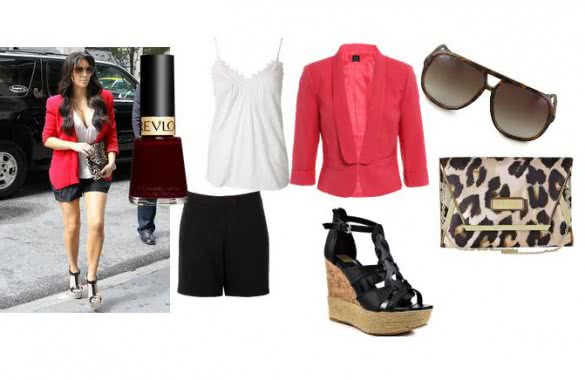 Gucci Sunglasses (shopbop.com)
Shorts (my-wardrobe.com)
Ralph Lauren Top (nelly.com)
Blazer (bardot.com.au)
DV by Dolce Vita Heels (heels.com)
Envelope Clutch (riverisland.com)
Outfit No 7
Dress up your maxi skirt and white tank top with a little help from Mrs. Kardashian. All you need is an extraordinary belt in metallic and some statement jewelry. With a pair of wedges in nude, you can wear this outfit pretty much anywhere, but my choice would be a party near or on the beach.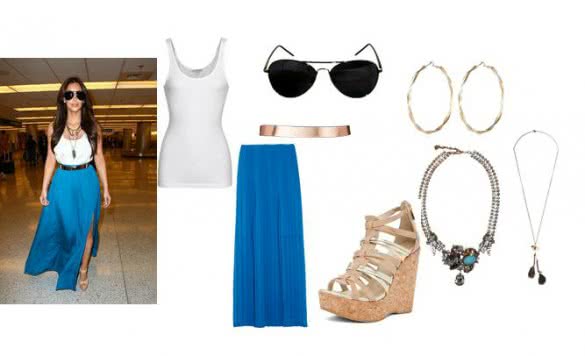 Hoop Earrings (riverisland.com)
Multi Stone Turquoise Necklace (consignofthetimes.com)
Feathers And Tigers-Eye Necklace (mango.com)
Paul Smith Belt (asos.com)
Sunglasses (gogglesandglasses.com)
Catherine Malandrino Maxi Skirt (theoutnet.com)
Tank Top (jades24.com)
Outfit No 8
For a special event, you can spice things up with minimalistic but interesting balloon shaped dress. In order to keep it minimalistic, wear black accessories and powerful cuff bracelets. This outfit may not require that much imagination, but it looks very futuristic and anything but boring. The whole look just proves once again that less is more.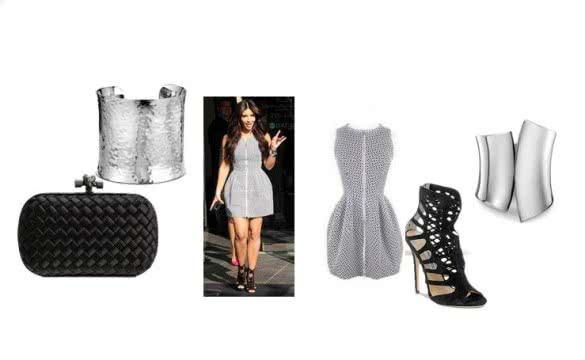 Azzedine Alaia Dress (matchesfashion.com)
Asymmetric Cuff Bracelet (okajewelry.com)
Jimmy Choo Imogen Sandals (net-a-porter.com)
Blue Nile Hammered Cuff Bracelet (bluenile.com)
Bottega Veneta Clutch (barneys.com)
Outfit No 9
An absolute classic look among Kim Kardashian's outfits is this Herve Leger little black skater dress, worn with a pair of nude heels and pearl bracelets. This outfit is both girly and very hot, and not only that you will look slimmer, but you will keep a timeless look, while showing to the world how great your legs really are. Make sure to get a flattering push up bra and nicely toned down reddish lipstick for an extra touch of glamour.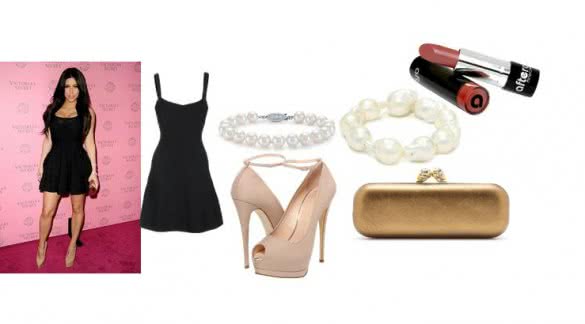 Alexander McQueen Leather Box Clutch (mytheresa.com)
Jordan Alex Bracelet (endless.com)
Herve Leger Melina Dress (jades24.com)
Giuseppe Zanotti Pumps (couture.zappos.com)
Lipsticks (ecouterre.com)
Pearl Bracelet (bluenile.com)
Outfit No 10
Every woman should find her perfect shade of yellow. This warm color will brighten up the room, especially if you choose to wear it with hot red lipstick. Kim Kardashian chose maxi cut out dress and paired it up elegant pair of shoes. Silver jewelry created a magnificent contrast, while the whole outfit seems extremely classy and romantic, without looking over done. A little detail, like a tiny belt will visually make your waist slimmer and you will get hourglass figure, which one is the most desirable body shape.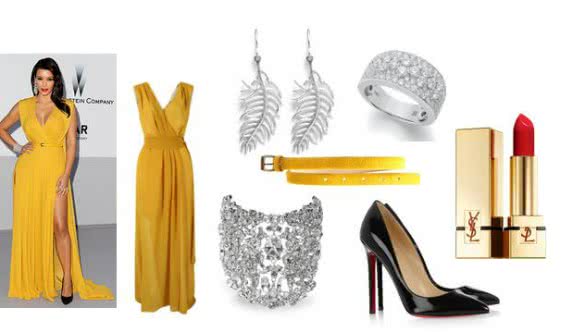 Matthew Williamson Dress (coggles.com)
Feather Earrings (shoplastyle.com)
Diamond Ring (macys.com)
Belt (calypsostbarth.com)
Yves Saint Laurent Lipstick (yslbeautyus.com)
Christian Louboutin Pumps (net-a-porter.com)
Bracelet (giuseppezanottidesign.com)
Cover photo: celebs101.com