When it comes to dressing for the holidays, you'll want to look like an effortless fashionista. But with all the food you'll be consuming you'll want to be comfortable too.
Thanksgiving is quickly approaching and with all the holiday parties you're going to have to attend, you'll to want to make sure you have all the greatest Thanksgiving outfits to show up in.
There's nothing worse than struggling with finding what to wear to all those events so we did the work for you!
These next 9 Thanksgiving outfit ideas will take any questions you have about what you're going to wear because not only are they all chic and fabulous, they'll also serve a purpose whether or not you're going to be at the lazy family Thanksgiving or at your work party dinner.
1. Add a little fur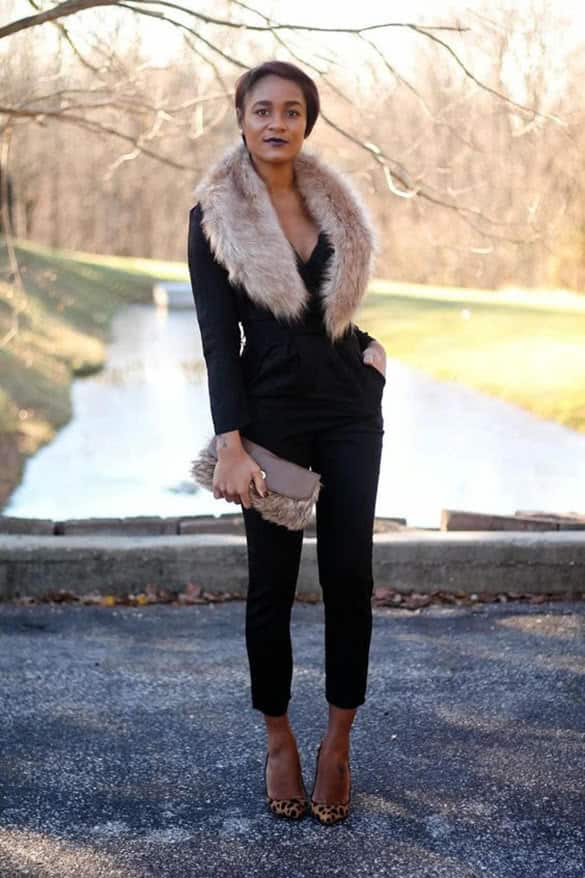 If you don't want to go all out on the outfit or the dinner you are going to is semi-relaxed in nature, you won't dress to the nines and show up the only one who did so. A great way to make sure that you still look chic and casual though is to add a wicked accent to that otherwise plain jane outfit.
In this case, a little faux fur will do the trick. The hue you choose could be whatever you fancy but there's nothing wrong with a little faux fur scarf in a bright blue hue to offset all those other fall colours you're wearing.
Pair your skinny jean and cardigan look with the faux fur scarf to add dimension and style to an otherwise low-key outfit. And don't underestimate the power of a nice pair of flats while you're at it.
Understated is the new sexy, so make sure to keep the rest of the outfit minimalist.
2. Embrace the Grandma look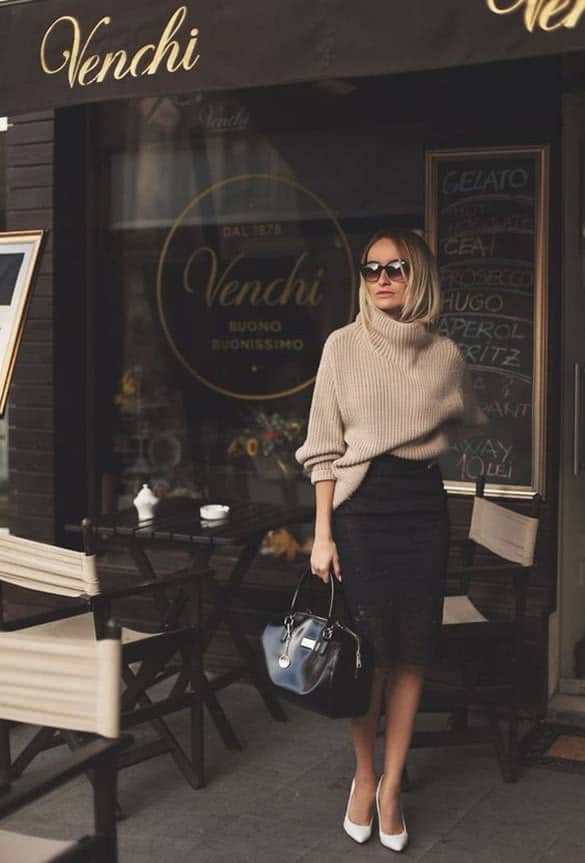 The grandma sweater isn't just for grandmas anymore! The simple, yet cozy, cardigan is everyone's favorite and can be dressed up for your Thanksgiving dinner to impress without trying too hard.
A minimalist embellishment over a knit sweater can sometimes look tacky so it's important to choose the embellishments wisely.
You'll want to get the embroidered sweater but with a modern take. Pair the sweater with a pencil skirt and some mary-janes to dress the look up without going too over the top.
This Thanksgiving outfit will not impress your dinner friends, but it will also allow you to be stunning and comfortable while relaxing after that huge meal.
3. Never underestimate the power of patterns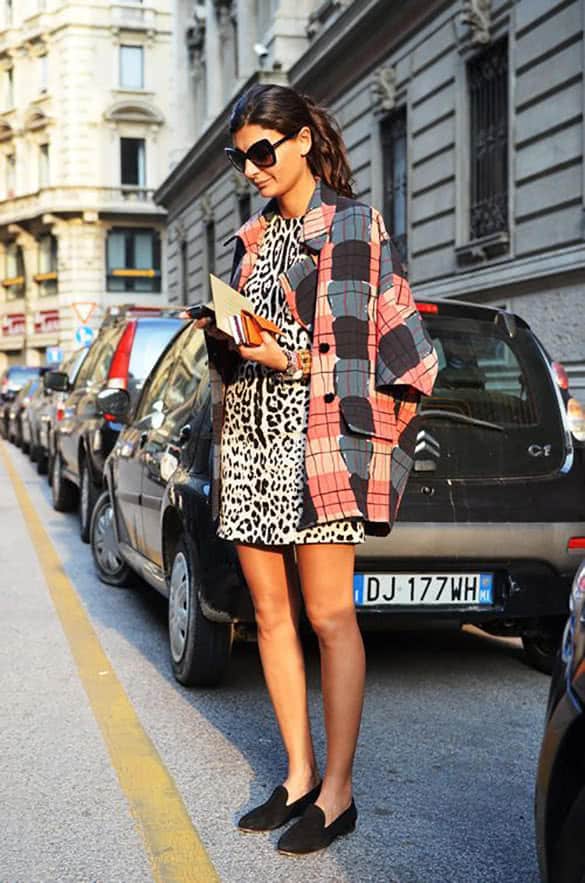 Patterns are huge right now with the likes of trendsetters and celebrities so it's all too important to get your hand in the pattern bucket. When it comes to your thanksgiving outfit, you'll want to pair a couple offset patterns in the form of a comfy pair of patterned skinny jeans and a crewneck knit.
There's nothing wrong with mixing patterns (think Aria in Pretty Little Liars) but you'll want to make sure you don't go too far off the reservation. A plaid or checkerboard skinny will pair well with an understated polka dot as long as the belong to the same colour family.
Mix in a solid colour overcoat or cardigan to make sure you don't mess up the pattern mixing and keep the shoes simple and comfortable.
4. Black is always in fashion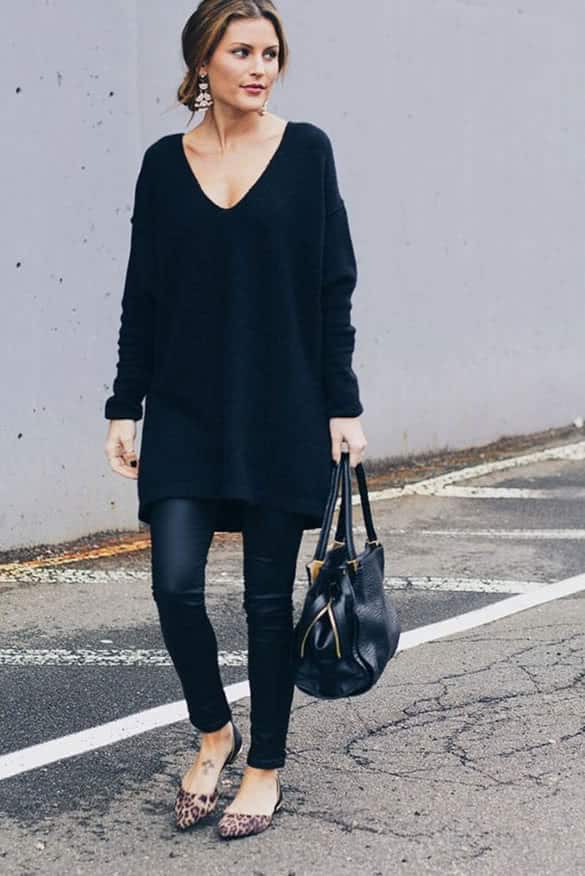 You can never go wrong with a basic black and as long as you accent or embellish it correctly, your Thanksgiving outfit will be a hit at any dinner party. You'll always look polished in black so it's best to keep it classy with a knee-length black skirt, embellished in a minimalist style.
As for the top, black on black is classy, understated and a good way to pull off a fashionable look without having to go above and beyond. Choose a black crewneck with a slit coloured embellishment and bam! You're good to go.
This outfit screams for some pumps so choose basic black with a low heel and highlight with low-key jewellery. You'll be fashionably on time to any dinner you need to attend.
5. Comfort is key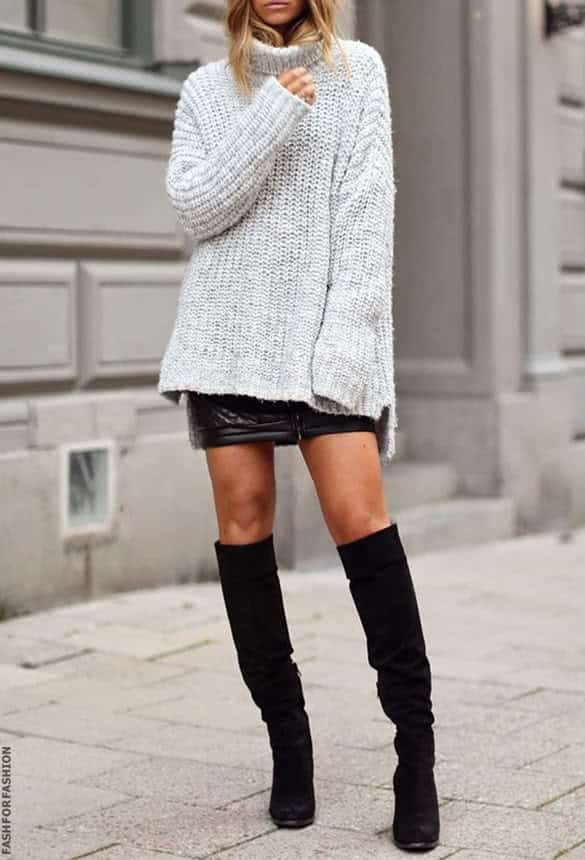 For your Thanksgiving outfit with the family, a comfortable look is the best way to go. After all, you'll be stuffing your face with all the trimmings and you'll want to feel great before and after you eat.
Grab an oversized sweater and pair with a not-too-tight miniskirt and voila! Chic meet comfort in the simplest way. Embrace the fall hues with the skirt in a metallic gold and the sweater in a beige hue so that you'll look done up without all the muss and fuss.
The best way to add a little glam to this look is through your makeup. Pair your look with an autumn colour lip, like burgundy or burnt orange and walk into that family dinner like a star on vacation.
6. A dress for dinner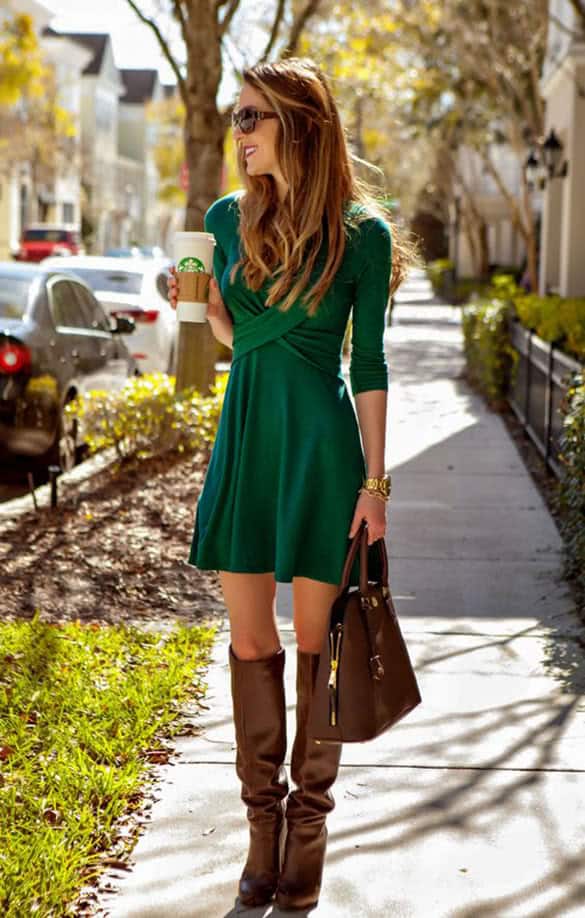 For the dress lover in all of us, the perfect way to look glam without having to really pull much together is by showing up in a perfect slowly dress.
This look is so easy because all you need is an autumn colour dress( I prefer a deep green) with an elastic belt for extra movement while you're overindulging in all the amazing food offerings.
Pair the look with black satin pumps, a black belt and black tights and you're ready to go. This effortless look will have you looking stylish yet comfortable throughout the entire dinner party.
The best accessories to add are a metal gold necklace that emphasised the look as glam and put together as opposed to just thrown on. It's one of the cutest outfits on the list, and will never steer you wrong when it comes to that perfect Thanksgiving outfit.
7. The lazy family dinner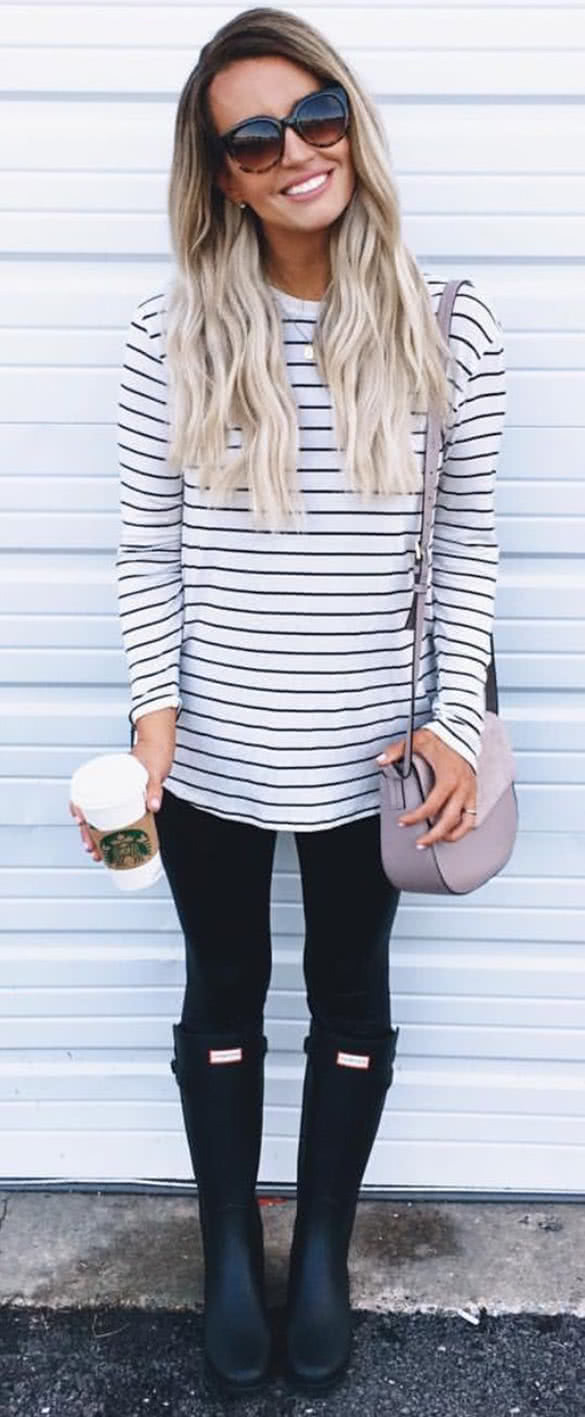 Last but not least, and perhaps the most important on the list, is the perfect outfit to watch football or couch surf with your family in. This is the least effort of all the outfits because after all, you won't need much to impress your family except showing up to dinner.
A pair of fitted lounge track pants will do just the trick. Pair the track pants with a simple sweatshirt (autumn florals would be perfect) and some heavenly slippers and you're ready to spend time with the family, looking casual, chic and ready for the plate of food and family conversation.
If this look is a little too effortless for you, exchange the lounge pants for a pair of chic black tights and you'll instantly look as if you put more effort into the mix.
8. The girl next door look

If the Thanksgiving outfit you're looking for is the one you're going to meet his parents in, you'll want to go for the girl next door look. This outfit pairs sophistication with easy going while looking fabulous enough to pull off the "I am definitely put together and good enough for your son" look.
An oversized cardigan paired with a denim or solid colour shirt is the perfect choice to make you look respectable. Pair with pleated capri pants or even solid black skinnies and a western-inspired ankle boot for effortless sophistication.
When it comes to accessories you don't want to overdo it, so it's important to slap on one piece, possibly a simple watch, and then carry your most precious items in a small cross body.
You also don't want to show up looking too glam, because it is a family dinner after all, and this outfit will be perfect for the look you're trying to achieve.
9. The out on the town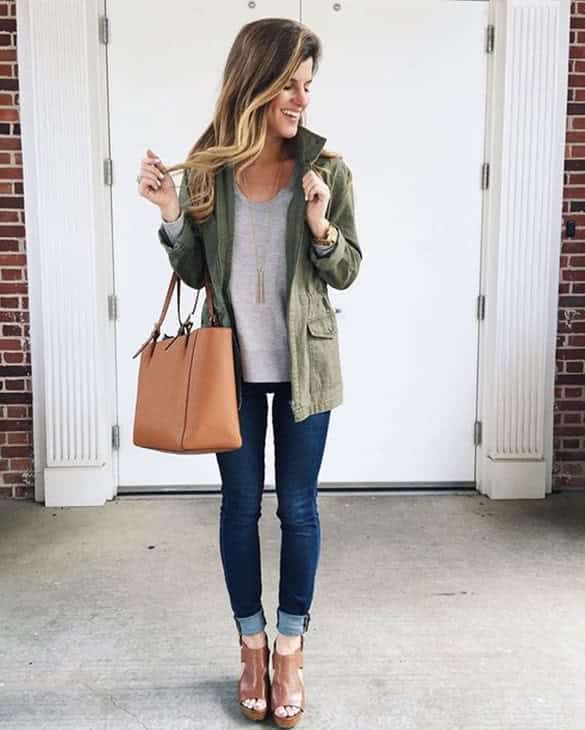 If your Thanksgiving consists of going out for drinks with your crew, you'll want to be in your ordinary realm of fashion. Keep things simple by pairing some chic fall corduroy pants with your favourite pair of runners.
Add a military style jacket over a plain white T and your canvas bag and you're good to go. There's no point in going overboard for drinks with friends. Keep it light, casual and fashionable with this chic outfit.
Each and everyone one of these outfits on the list has the perfect mix of glam and comfort because, after all that food, you'll want to feel good in your Thanksgiving outfit to finish the rest of the night with the ones you care about the most.
Try them out, mix and match or use each one for every Thanksgiving event you have to attend. What are you planning on wearing out this holiday season?