Though you can wear them during most of the year, denim shorts are every summer's favorites. They come in various lengths and styles, and you can wear them almost anywhere.
While they are not the right choice for the office, they are great for everywhere else. From sunny beaches, picnics with your family or wild parties with your friends, it is all about denim shorts and appropriate accessories. Here are 8 ideas on what to wear with denim shorts, and how to look like style is your middle name.
Denim shorts are probably the hottest clothing item for every summer. They are comfortable and versatile, so you can wear them wherever you go for a simple, casual look or an elegant night out. You can make them from a pair of old jeans, or add some studs on the shorts you already have.
Denim shorts are also playful, so enjoy the rest of the summer, while wearing your favorite denim shorts. Here are 8 ideas on how to wear denim shorts, while dressing appropriately for an occasion.
1. Beach Glamour
Seems like retro never looked better. For a perfect beach look, wear gladiator sandals and kaftans with your denim shorts. This outfit is cool and amusing, and you can easily continue to have fun in it after you are done with the beach, and you are in need of refreshment in the nearest café.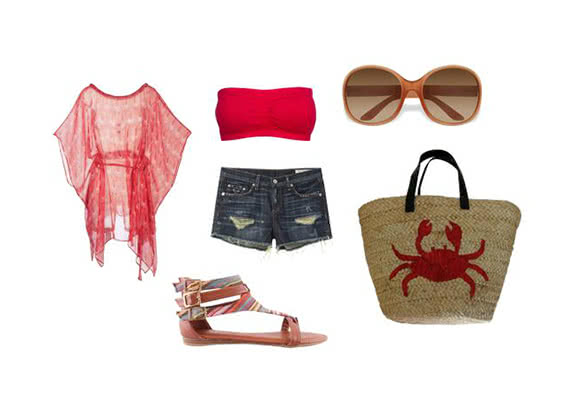 Prada Sunglasses (forzieri.com)
Kaftan (johnlewis.com)
Felix Rey Tote (austique.co.uk)
Rag & Bone Denim Short (lagarconne.com)
Tribal Print Gladiator Sandals (pacificplex.com)
2. Sporty & Flirty
This outfit is really youthful and simple. Wear your everyday t-shirt with your denim shorts and Converse sneakers. Add some color to your bag, to create a more dramatic look, and make sure not to forget a collar necklace. Yes, it is that simple, and you can wear this outfit when you are going to the movies, for a walk, or while shopping with your best friends.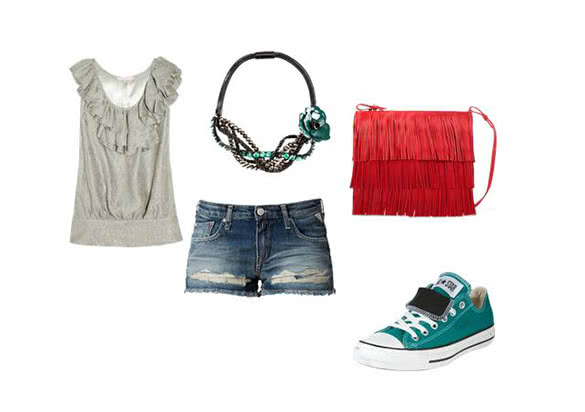 Matthew Williamson Top (theoutnet.com)
Necklace (hm.com)
Replay Denim Shorts (nelly.com)
Bag with Fringes (zara.com)
Sneakers (converse.com)
3. Go for Timeless
This is an excellent example of how to turn your daily look into edgy and distinctive night look. While the top is pretty basic, just like denim shorts, high heels and a matching bag are all you need to look stylish and extra sexy. Choose colors that are timeless and that are similar to the denim. Blue never goes out of style, and don't forget to add some peachy color to your lips. Just for fun!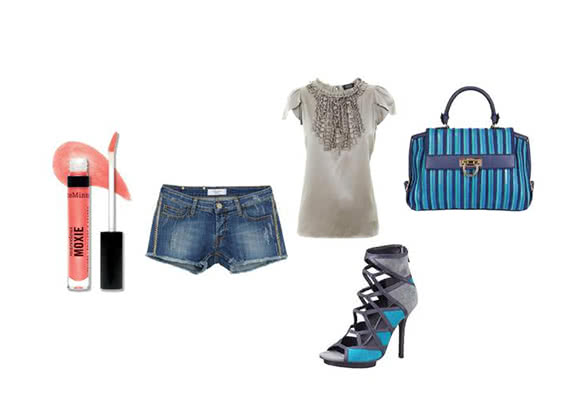 Salvatore Ferragamo Bag (luisaviaroma.com)
Steffen Schraut Silver Top (veryeickhoff.com)
Blumarine Denim shorts (thecorner.com)
Moxie Lip-gloss (bareescentuals.com)
Tory Burch Sandals (shopbop.com)
4. Embrace the Trends
Bright, neon asymmetric tops and white blazers are a must-have of this summer. Wear this outfit to a rock concert or on a date. It is not too reveling, high heels will make your legs look longer and slimmer and in order to complete this look, make sure to wear some interesting rings and statement necklaces. This is a great way to wear all current trends, but still look like you are not trying too hard.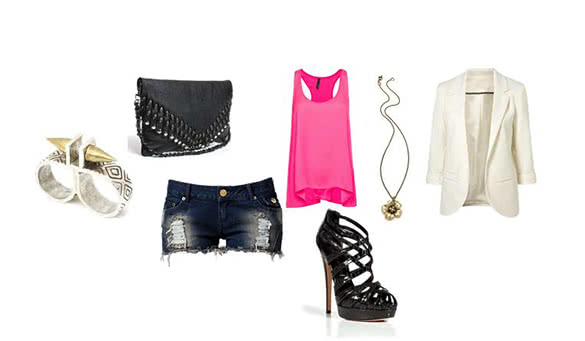 Paramount Double Finger Ring (modaoperandi.com)
Sasha Clutch (boohoo.com)
Top (mango.com)
Marc by Marc Jacobs Necklace (shopbop.com)
Boyfriend Blazer (sheinside.com)
Casadei Platform Sandals (stylebop.com)
Club L Serena Denim Shorts (nelly.com)
5. Animal Instinct
Wake up your inner animal with a leopard print tunic, or kaftan and hot red details. This outfit is a great choice for cocktail parties on the beach, because it is sexy and attractive, while it looks expensive, but not trashy. Gold jewelry goes great with animal print and we all know that red is the hottest color, so it is perfect for summer nights.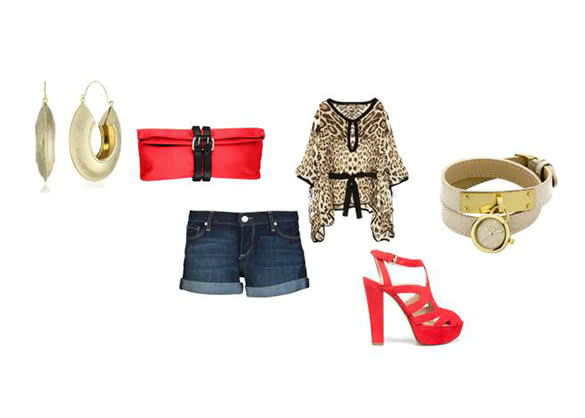 Sandals (zara.com)
Bracelet (oasis-stores.com)
Roberto Cavalli Tunic (theoutnet.com)
Large Lola Clutch (amandawakeley.com)
Chunky Hoop Earrings (endless.com)
Paige Jimmy Shorts (farfetch.com)
6. Smart & Fun
If you are going sightseeing or planning to spend a day and night on a music festival, this outfit is the perfect choice. Shades of green go great with black and denim, making you look effortlessly cool. Wear chunky bracelets, just because they are amusing, and feel like you look: joyful.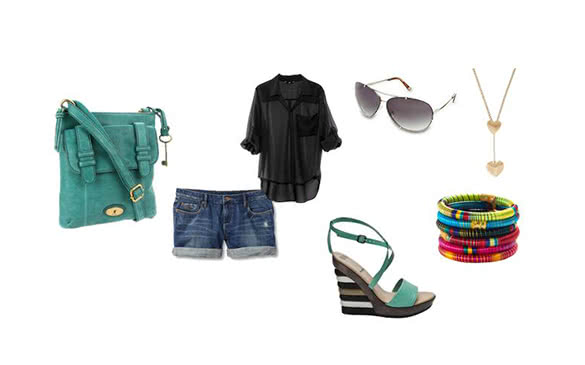 Fossil Cross Body Bag (endless.com)
Blouse (hm.com)
Michael Kors Sunglasses (piperlime.gap.com)
Shorts (quiksilver.com)
Necklace (modcloth.com)
Vena Cava Wedges (farfetch.com)
Striped Bangle (madewell.com)
7. Tender Boho
Gentle loose fit blouse in beige and ballet flats will work just fine with a pair of denim shorts. This outfit has a bit of 60's and 70's in it, with a touch of this summer's trends, like oversized bracelets and mint color. Wear this outfit anytime you find yourself asking "What to wear today?" It is simplistic and pure and cozy. What more could a girl want?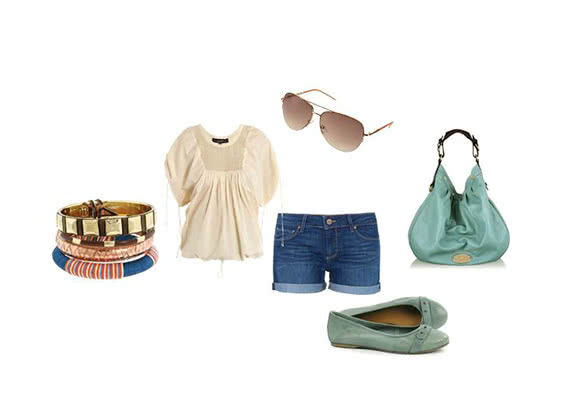 Diesel Ballerinas (diesel.com)
Paige Denim Shorts (harveynichols.com)
Mulberry Hobo (bagbliss.com)
Isabel Marant Top (matchesfashion.com)
Obey Soul Bracelet (zappos.com)
Sunglasses (topshop.com)
8. I Love R'n'R
While sandals and ballet flats are obvious choice for the summer, the latest big trend is summer boots. They are inspired by biker boots, but they are made of softer and lighter fabrics. Overall, this outfit is great for women who like to look a bit rebellious, while remaining chic, like a true fashionista. Printed top and denim shorts are a winning combination, with the right accessories, of course.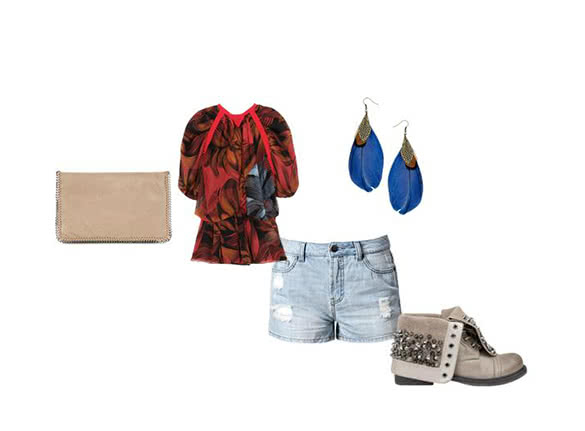 Vionnet Printed Top (theoutnet.com)
Stella McCartney Clutch (harveynichols.com)
Highwaisted Shorts (nelly.com)
Feather Drop Earrings (missselfridge.com)
Ash Studded Short Boots (neimanmarcus.com)
Cover photo: http://www.pinterest.com