If you're trying to heat up your wardrobe, you've come to the right place! In this lesson, we're giving our tips on how to wear a faux fur vest.
There are so many growing trends, it is often hard to keep up with all of them. One trend that's definitely on the rise is faux fur vests.
You might've initially noticed them in stores like Macy's and Nordstrom, but now you can even find them at "younger" stores like H&M and Forever 21.
If you're ready to jump into this fashion trend, check out these nine tips that will help you master how to wear a faux fur vest.
How to Wear a Faux Fur Vest… Monochromatically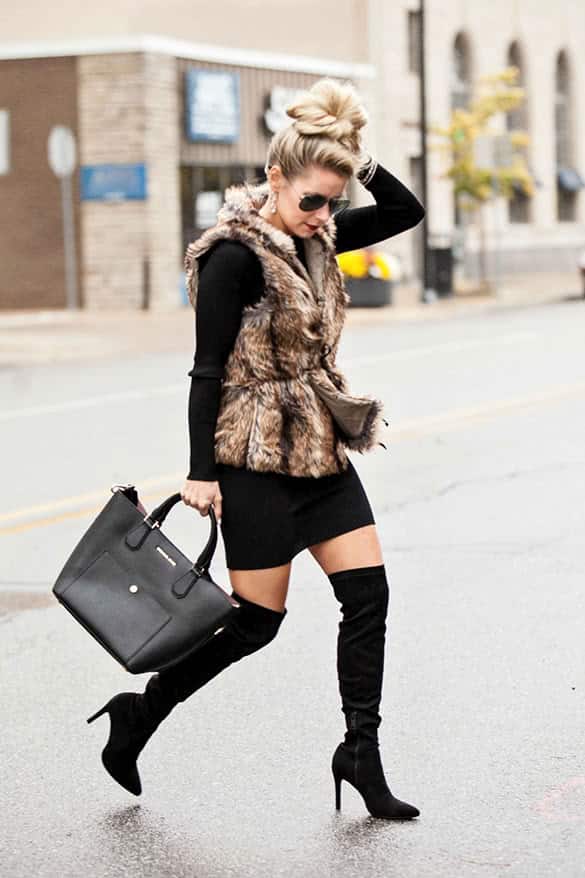 One thing about faux fur vests is that they're definitely eye-catching. Ranging from the texture to the color palette, they can sometimes overpower an outfit, but there's a way to combat this.
If you're opting to wear a colorful outfit, you'll need to ditch the faux fur vest. Not only could it potentially clash with the colors of the vest, but it could also lead to your outfit looking gaudy.
If you're not sure what colors would work with your faux fur vest, a monochromatic look will always save the day. This outfit is the perfect example of how to make this work.
The faux fur vest has a color scheme of black, tan, and white. By taking the black details from a vest and expanding it into an all-black look, this outfit is chic, stylish, and well put-together.
How to Wear a Faux Fur Vest… With a Black & White Outfit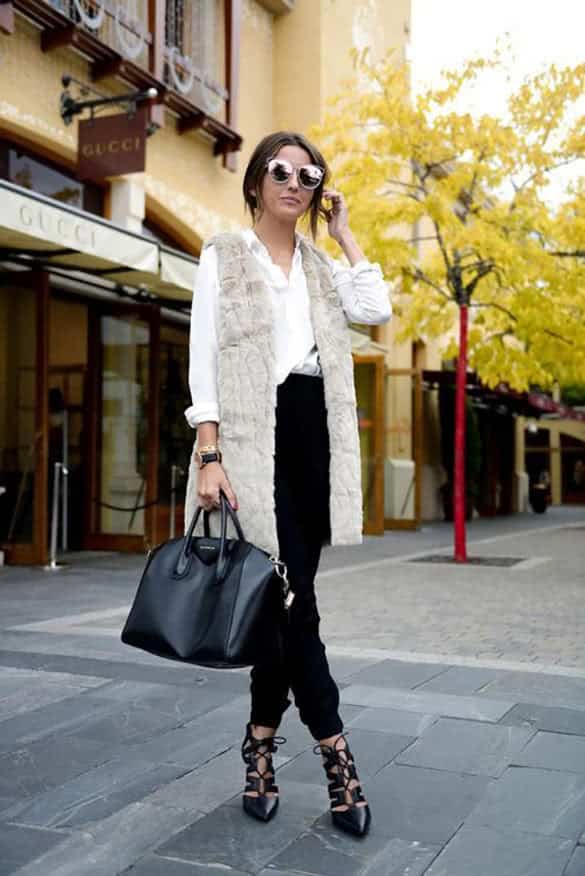 We've all been in the fashion dilemma where we pair a white top and black pants and the outfit turns out looking blah.
You can definitely fix this with a faux fur vest! If you're only going for style, you can choose a vest with a similar style to the previous picture.
If you're going for a more business casual look, your best bet would be a solid-colored faux fur vest.
This eggshell colored vest definitely helps enhance the dullness of a simple black and white outfit and helps give it a bit more character.
How to Wear a Faux Fur Vest… With a Similar Length Dress/Skirt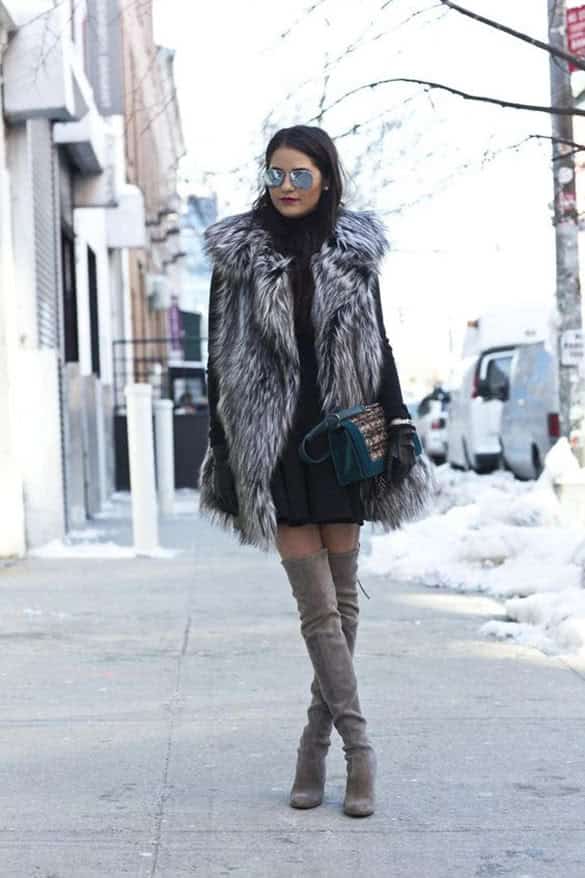 If you've been enrolled in this Fashion 101 class for a while, you might remember that from our lesson on "How to Style Long Blazers," we mentioned that they work well with pieces of the same length.
This rule also applies for wearing faux fur vests. When it comes to length, faux fur vests work well when you're pairing them with a dress or skirt of equal length.
Often times when the dress is significantly longer than the vest, it can leave your body looking cut off and unproportioned.
This outfit shows the perfect balance and is a perfect option for the colder months.
This chic look features a black turtleneck paired with a black pleated mini skirt.
The relatively monochromatic look of the clothing suddenly becomes duo-chromatic with the addition of the tan thigh high boots that work well with the tan colors in the vest.
How to Wear a Faux Fur Vest… To Dress Up Jeans

We all know the struggle of wanting to look put together without the effort of putting ourselves together. You can accomplish this with your favorite pair of jeans and a faux fur vest.
In this outfit, we have an effortless look that gives off the appearance of a stylish and put-together outfit. This style is relatively simple with the gray crew neck sweater and distressed jeans.
When you think about it, if you tossed on a pair of sneakers, this would be a regular casual outfit.
Although the pumps are something you can replace with flats or booties, the faux fur vest helps to make this outfit look carefully planned instead of thrown together at the last minute.
How to Wear a Faux Fur Vest… With Plaid

Another struggle when it comes to wearing faux fur vests is knowing what to pair them with.
If you would rather ditch the all black look seen in the first outfit, you can try your hand at wearing plaid or a gingham print like in this picture. In order to wear your faux fur vest with plaid, your first step is choosing a neutral colored vest.
The reason vest works so well with this outfit is because it is a neutral color. In order to make the most out of your own, you should choose colors like black, tans, and grays to help them work with your outfits.
The neutral tone of this gray faux fur vest works well with the blue gingham shirt and light-wash jeans. Since all the pieces of the outfit are relatively neutral, this is what helps it match with the tan booties.
How to Wear a Faux Fur Vest… With ONE Statement Piece

A faux fur vest is already considered a statement piece, so you'd do well to remember not to overcrowd your outfit.
As mentioned in the first tip, too many show-stopping pieces can cause your outfit to appear gaudy and excessive, but you can still choose one statement piece to pair with a vest.
This outfit is a great example of matching your faux fur vest with another dramatic piece. This outfit features a stylish and trendy pair of gray wide leg trousers.
These trousers are kept in the spotlight by being paired with a black blouse and platform pumps. Although the pants are a statement piece themselves, it helps balance and enhances the already bold look of the gray vest.
How to Wear a Faux Fur Vest…With Thigh High Boots

As you've seen in two of the other outfits on this list, pairing your faux fur vest with thigh high boots is a definite fashion win. Thigh high boots are perfect for balancing the flare coming from the vest.
Since the texture of the vest is what usually catches the attention of most, sleek thigh high boots made of leather or suede help tie the outfit together.
This outfit is another example of how a faux fur vest can help enhance a plain black and white outfit. This outfit is completed a pair of black jeans, a white blouse, and black leather thigh high boots.
How to Wear a Faux Fur Vest… Over a Jacket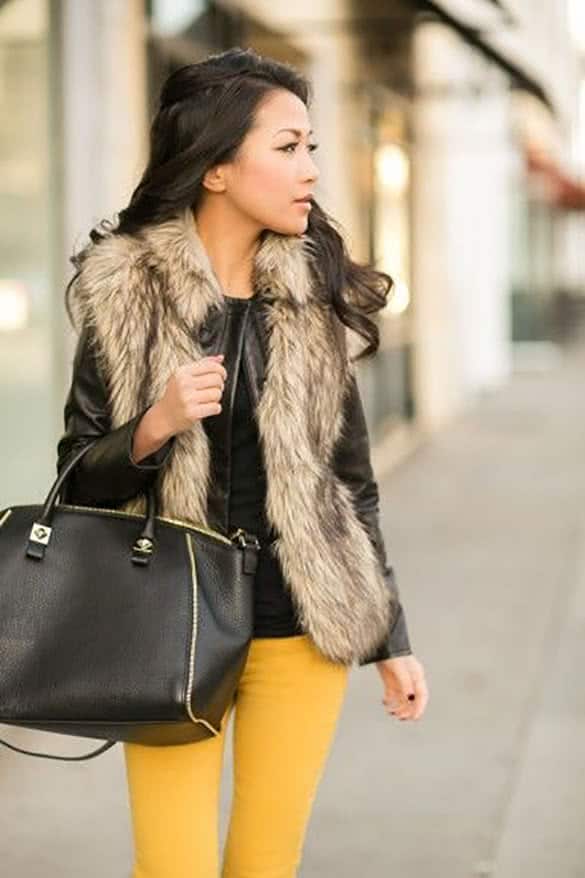 If you're going for style and warmth, you might choose to layer your faux fur vest over a jacket. Although this might seem like much, this outfit is a perfect example of how to get it done.
Unlike pairing your faux fur vest over a plaid or gingham shirt, choosing a jacket is different. Your best bet is to pair it with a leather jacket.
By following the rule of picking on one color palette in the vest, you're keeping the color palette uniform while also creating the perfect street style.
How to Wear a Faux Fur Vest… In the Spring

We're skipping right to the spring because any of these previous outfits are perfect for the fall or winter weather. If you're still trying to get your use of a faux fur vest in the spring, this is the way to go.
For those who love these vests as a transitional piece into the spring, you can ditch the neutrals and go for a light color like this pink.
You might think that this outfit is breaking the equal lengths rule, but the lengths of both pieces are close to each other, so the styles still work together.
The long sleeves of the dress and the faux fur vest are a plus for the transitioning weather, but the light color of the vest, the floral pattern of the dress, and its length are perfect for a spring look.
Class dismissed! Do you think you'd pass the test on this fashion trend? I'm sure you'd ace "How to Wear a Faux Fur Vest," but what about the other popular styles?
If you're wondering what other Fashion 101 lessons you can take, check out "What to Wear with Leggings," "How to Style Long Blazers," or "How to Wear Thigh High Boots."
In the comments below, let us know what other trends you're trying to master!