While trends change almost on daily basis, some pieces are beyond seasons and trends. These basic pieces haven't changed in the past three decades, so make sure to look at them as something you simply have to have. They are survival kit in fashion terms. Check them out and use season's sale to renew the basics in your clothes.
I am sure that every woman knows what fashion classics are, but when we go shopping we often forget to get them, because all those trendy pieces are much more appealing. But they are just an icing on the cake, while the real deal are these timeless pieces of clothes and accessories. Let's take a look at them, and after you are finished reading this article make a list on what essentials are missing from your closet.
Outwear
Leather jacket, in black or light, camel brown is a necessity for every casual outfit. We all know that these jackets can be pricey, but you can wear them for many years. Another must have is an elegant, but neutral coat. The following fall is all about long, and military styled coats but if you already have the one you like, just accessorize it properly.
When it comes both to special and casual outfits, blazers are always a must. Choose neutral colors, but make sure that the colors get along with your skin tone. Also, if you like the ones with prints, leopard and geometric prints are a safe choice. Trenches are simple and instant chic, for every working woman, and the beige ones are the absolute classics.
Dresses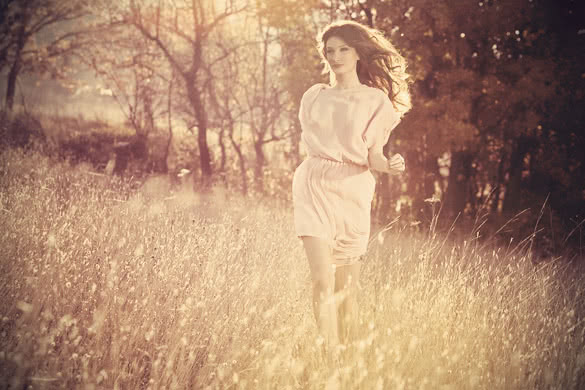 We all know the power of a little black dress. Choose length that is age appropriate, and collar that goes with different necklaces. Same applies for the little red dress. When you find your perfect shade of red, stick to it, because it is bold, sexy and powerful.
What you need to have in your closet is a long evening dress, reserved for special occasions. Color and shape of that dress depend on your style, and personal preferences. These gowns can be expensive, so in order to find a perfect one, you might want to spend a bit more time, and maybe even wait for final sales.
Tops
You can never have enough basic tanks, and cozy and comfy sweaters. You need to have at least one in grey and in beige, though red and blue look great with jeans. Simple white shirt is another necessity, but when you are choosing between blouses, feel free to use your imagination, and pick the ones with interesting collars, and in interesting colors.
A Pair of Jeans and a Skirt
Super sexy pencil skirts are the fashion life savers during colder days. Pick a black one with lots of elastine, to make sure your curves look at their best. Same rules apply to jeans. Darker colors are better choice for many reasons, but at the end of the day it is all about the cut. Make sure that you look and feel comfortable in them, because they are your best friends. Don't think that skinny jeans are the only choice, try with boots cut, or wide legs. You will be surprised.
Footwear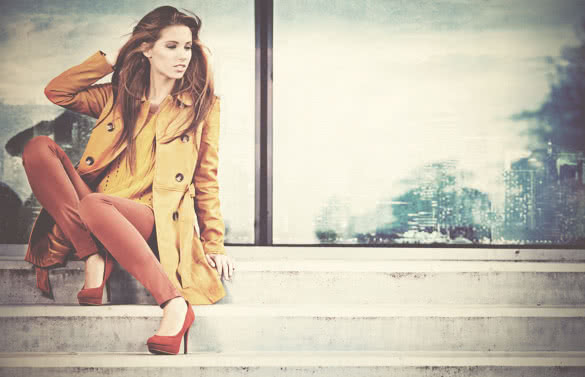 Rain boots may look a bit silly, but trust me, once the weather changes and everything seems wet and cold, they will look much more attractive. Ankle boots, and classic elegant pumps are great for everyday occasions, but you need a pair to match your dress and clutch for special occasions. Apart from rainy boots, or willies, all footwear should be made of leather. It may seem expensive, but your feet will be grateful that you chose quality, over current trends.
Bags and Accessories
While we already wrote about five must have bags, here is a little reminder. You obviously need an elegant clutch, another oversized for the day, and a large, leather one that you will carry when you go to work, or to the university. Other accessories include a good watch in gold or silver, a pair of classic aviators and a scarf, one you can wear around your neck, or as an accessory, on your tote bad. Pair of hoop earrings, and a red lipstick are essential, just like a belt that will match your shoes or boots.
Outfit 1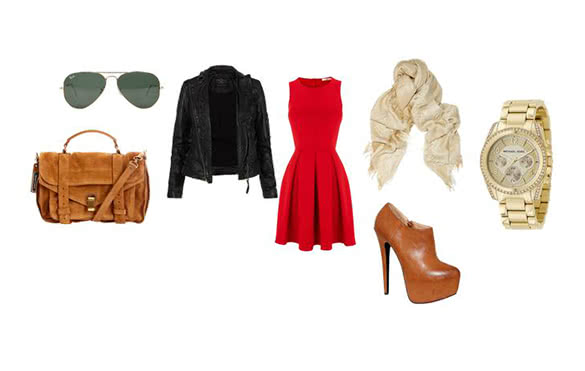 Michael Kors Watch (jomashop.com)
High Heel Ankle Boot (pilotfashion.com)
Stella McCartney Scarf (net-a-porter.com)
Oasis Dress (oasis-stores.com)
Marsden Leather Jacket (allsaints.com)
Proenza Schouler Tan PS1 Medium Suede Satchel (net-a-porter.com)
Ray-Ban Aviator Gold Sunglasses (net-a-porter.com)
Outfit 2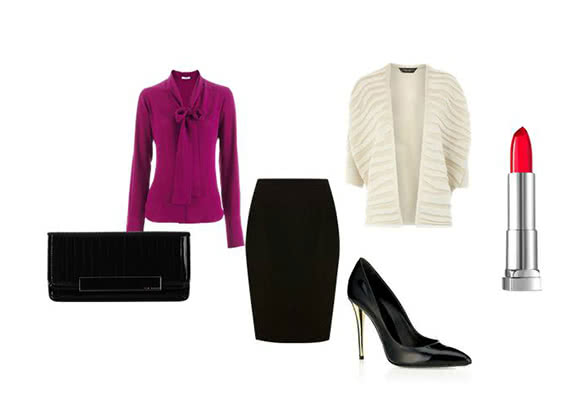 Silk Blouse (veryeickhoff.com)
Cardigan (dorothyperkins.com)
Lip – Stick (maybelline.com)
Ted Baker Inga Enamel Clutch (johnlewis.com)
Yves Saint Laurent Clara Patent-Leather Pump (harrods.com)
Pencil Skirt (johnlewis.com)
Outfit 3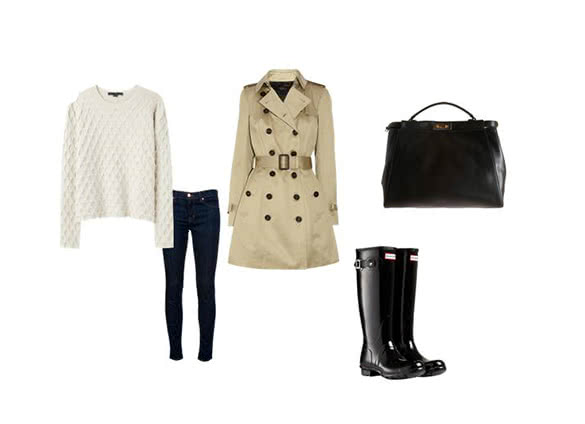 Hunter Rubber Wellington Boots (johnlewis.com)
Fendi Bag (barneys.com)
Burberry Prorsum Trench Coat (net-a-porter.com)
J BRAND Jeans (farfetch.com)
Alexander Wang Sweater (lagarconne.com)
Outfit 4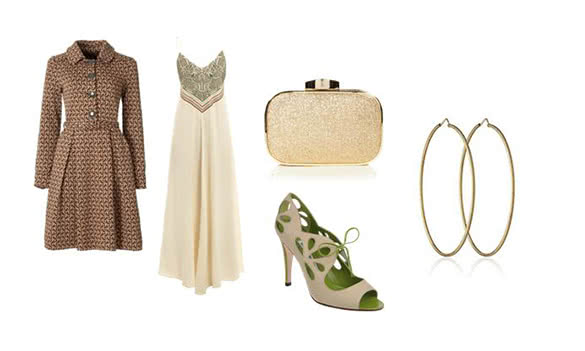 Orla Kiely Coat (orlakiely.com)
Mara Hoffman Full-Length Dress (matchesfashion.com)
Batida Clutch (coast-stores.com)
Carolina Bucci Hoop Earrings (harrods.com)
Manolo Blahnik (barneys.com)