Flashback to the trends from the '90s that we could never quite shake and that now translate into today's fashion. These are 10 nostalgic trends you need to check out.
The 1990s were a time of bubblegum pop, Friends and blockbuster video; they also brought us some of the most amazing and memorable fashion trends in recent history.
While these trends have never fully gone away, we're seeing them pop up more and more in everyday street fashion. There's nothing like taking a stroll down memory lane with your tamagotchi and lip smackers.
1. Platforms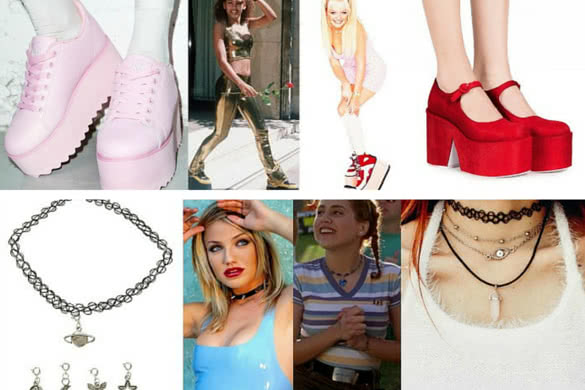 Platform shoes were around long before the '90s, but during this time, an amazing phenomenon occurred: The Spice Girls! Platforms, like Girl Power, became synonymous with the girl group, and put them on the list as fashion icons.
Now, everyone from Lady Gaga to Janelle Monae is rocking this incredible, ever changing trend. From chunky tennis shoes to sleeker loafers, platforms have grown up a bit, but you can still find those that give you that fun '90s throwback look.
2. Chokers
One of my favorite accessories as a 9-year-old girl was this Buffy the Vampire Slayer choker I got for Christmas; it was my prize possession! Studded with spikes or adorned with charms or simple little straps, we saw chokers everywhere, but it was those black tattoo ones that everyone latched onto.
Cute and cheap—we were able to get them out of 25 cent gumball machines—just about every girl at school was wearing them and how could we not with two of our favorite TV witches, Willow and Sabrina, wearing them. In recent years, they've made a huge come back, showing up at most retail stores and on the necks of stars like Rihanna and Miley Cyrus.
3. Goth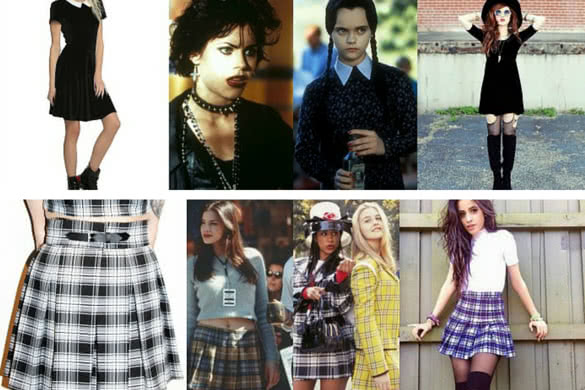 When it comes to '90s Goth fashion, we tend to go for the version most commonly seen in movies or on TV, more stylized and mainstream but still keeping most of the main elements: heavy boots, dark lips and spiked chokers.
Wednesday Addams, with her black Peter Pan-collared dress, and Nancy Downs from The Craft, with her maroon lips and cross earrings, gave us fashion goals when it came to this trend.
Nu Goth is what it's all about today. Traditional elements mix with a contemporary vibe; it's probably the closest thing you'll get to bringing out the Nancy Downs in you—style-wise at least.
4. Plaid skirts
One of the most iconic '90s outfits is Cher Horowitz's yellow plaid skirt and blazer; it was preppy and super stylish—we wanted to be her. Plaid skirts were no longer school uniforms; they were a fashion piece that everyone wanted in their wardrobe.
They kind of disappeared for a while, though. I remember only being able to find them in Hot Topic, and I snatched as many as possible, but now they're back! Fifth Harmony's Camila Cabello and Ariana Grande have both rocked this schoolgirl look, but we can't forget Iggy Azalea's spot-on Cher look in her music video for "Fancy."
5. Brightly colored/faded hair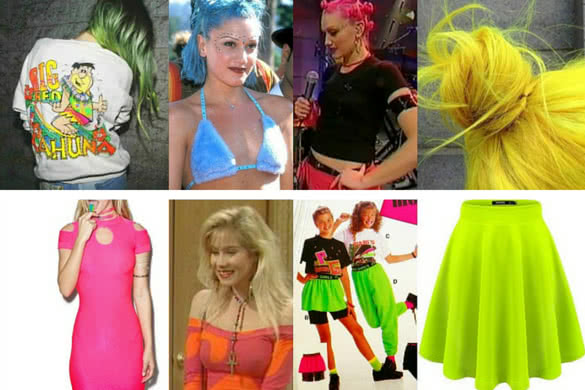 When I think of the ultimate '90s hair, I think of Gwen Stefani at the 1998 MTV VMAs with her bright blue hair styled in two little buns. Now, those little buns are all the rage and bright colors/faded hair are right there with it.
From slight tints to soft pastels to as bright as you can get, non-natural hair colors are in right now. With a bright color, you get that fun pop punk feel, which 90s queen Gwen put on the map. Plus, the faded style definitely gives you more of a grunge vibe that is reminiscent of Kurt Cobain.
6. Neon
From windbreaks to Lisa Frank school accessories and everything in between, neon was huge, and we saw many of our favorite '90s stars wearing bright neon.
The cast of Saved by the Bell and The Fresh Prince himself loved sporting this trend. For a while, the neon trend was pushed aside for plastic accessories and jelly bracelets, but it has made a comeback as a statement piece and is a huge favorite among fashion bloggers and celebrities like Katy Perry.
7. Mini dresses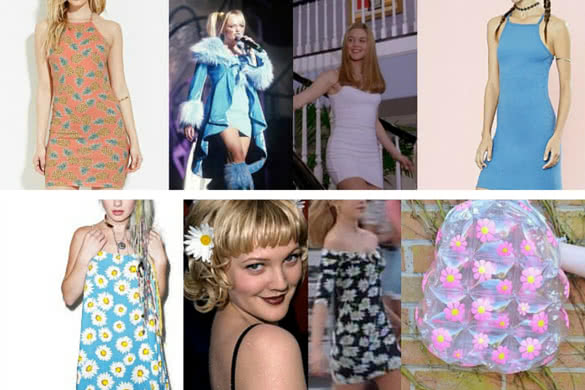 Baby Spice and Cher Horowitz were just a few fashion icons who wore this trend, and while it was around long before this, the '90s grabbed a hold of it and made it its own.
From bright colors and patterns to simple white and black velvet, the mini dress was a staple in teen and young adult wardrobes. It covered the bases for just about every fashion style. Gigi Hadid and Selena Gomez are taking a contemporary twist on this trend, while Jennifer Lopez and Courtney Love are still wearing mini dresses reminiscent of styles from back in the day.
8. Daisies
Flower crowns, chokers and prints—daisies are definitely in season and the trend is growing wild! Floral prints in the '90s were huge, and daisies were at the top of the list from those comfy, oversized dresses to the cute Blossom-inspired hats; we loved this cute spring time trend.
While Drew Barrymore wore them as hair accessories, Donna Martin wore tons of daisy print outfits during the original 90210. Dolce and Gabbana are using lots of daisies in their 2016 spring/summer collection, and it's extremely beautiful. If you're wanting a more typical '90s daisy look, Forever 21 is the place for you!
9. Jelly sandals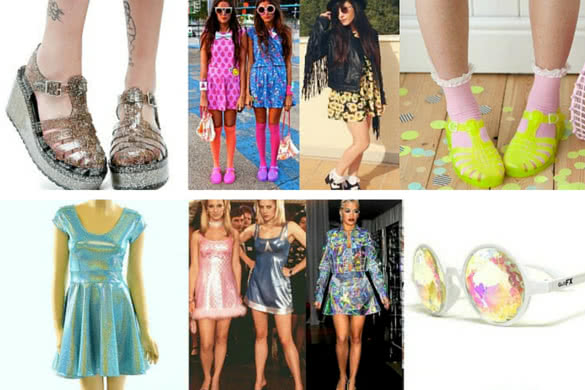 This was the shoe coveted by every girl in the '90s. I remember begging my mom for a pair because everyone had them! They've made their return and in a variety of colors.
From the classic silver sparkles to solid black and pastels, these are an amazing way to incorporate a pop of your childhood without looking childish. I do suggest wearing socks, though! Brie Larson traded her heels for some jellies after the Oscars, and Kylie Jenner went for a casual look, pairing hers with shorts and a tank.
10. Holograph clothing
Holograph clothing was everywhere in the '90s, and I don't think we noticed half the time that we were wearing reflective everything. Platform sneakers, purses, shorts and those weird sunglasses with pictures on them—it was so common that we kind of just went with it.
Romy and Michelle and Zenon partied in this futuristic style trend. Fun, flashy and a bit daring, you can find amazing holographic clothing and accessories just about everywhere. Rita Ora is a fan of this trend from a matching holograph skirt and jacket get-up to an all-white outfit accessorized with a holograph clutch, taking this funky look and giving it a grown up twist.
Even though the '90s have come and gone, the style will forever be in our hearts and stay as a fashion favorite. Ranging from the minimalist styles of Calvin Klein to the beautiful bright colors of Gianni Versace, The Spice Girls to TLC to the women of Friends, the list of fashion icons goes on and on.
From the red carpet to everyday street style, it's safe to say that the
'90s style isn't going anywhere. In the comments below, tell us some of your favorite trends from the 1990s.