No tricks, just treats! Instead of spending $60+ on a once in a lifetime Halloween costume, save a few treats with these DIY Halloween costumes that you can start creating from your own closet!
When it comes time for Halloween, we all run into the same dilemma: how much money should we spend on a costume. Unless you work with costumes for a living, you might not be completely ready to dish out a couple of bills on a costume you'll wear once in your lifetime.
There are two rules to follow when it comes to Halloween costumes: use what you own and buy what you'll wear again.
If you're looking to save money, your best bet is to create a costume with something that you already own in your closet. If you're missing a key piece to your costume, make sure it's an item you'll actually wear again.
It's inevitable that some of the money on your costume won't be "wasted," but it's significantly easier to think about when you're comparing $20 and $80.
For quick and easy DIY Halloween Costumes, check out our list below!
DIY Halloween Costumes #1: Britney Spears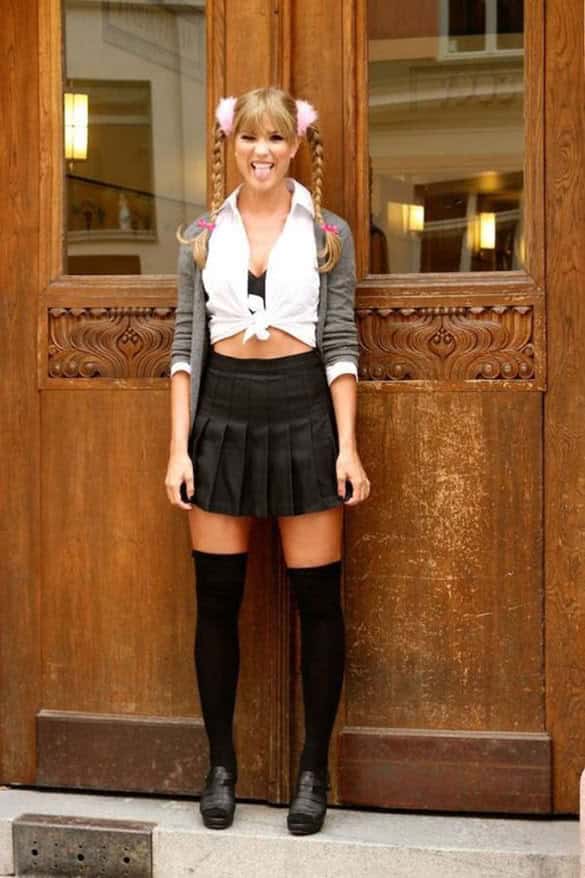 How else would you bring back the 90s if not with Britney Spears circa her "…Baby One More Time" days? The costume for this is simpler than you think and you might own most of the pieces in your closet, and if you don't, you can definitely make them work for you long after Halloween is over with.
A few of the key pieces you'll need are a short black skirt (schoolgirl style), white blouse, gray cardigan, over the knee socks, and black shoes. Although Britney wore gray socks, you could get away with black as well.
Depending on your style and possibly with the exception of the skirt, you could make these items fit into your wardrobe. Cardigans are a staple for the fall and any over the knee socks can be worn with taller boots or scrunched down to peek over top knee boots.
The only other items you'll need are the pink scrunchies and hair ties. This was also a signature look from the music video so be sure to keep your hair braided as well!
DIY Halloween Costumes #2: Catwoman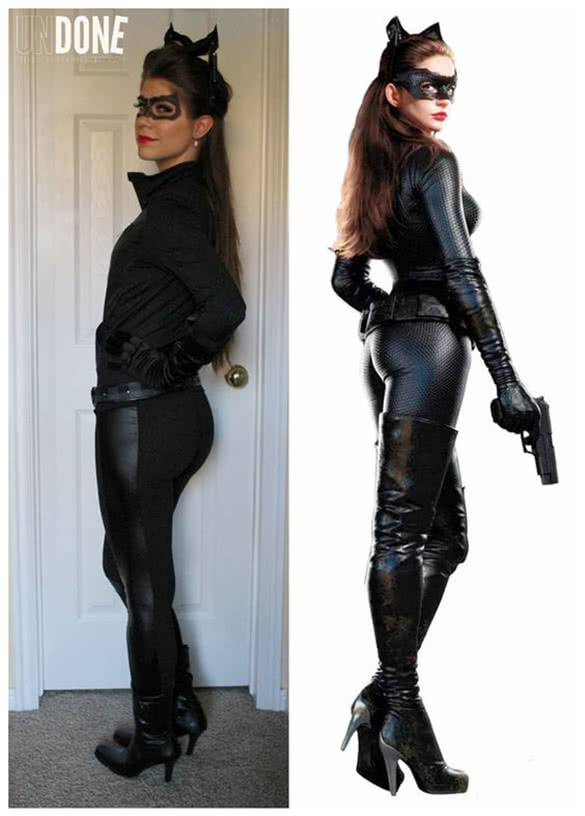 If you're a fan of leather materials or black clothing, chances are you could pull off the perfect Catwoman costume. While all of this would look amazing in leather, you can still make the look work without it.
If you have black jeans or leggings sitting in your drawer, you can pair them with black heeled boots and a zip-up jacket with a popped collar.
For the Midas touch, a leathered look would give you the full Selina Kyle appearance, but only go with that choice if you're planning on wearing those items again!
To finish the look, you can use makeup to create your own mask or by purchasing a small sheet of fabric to construct it yourself!
DIY Halloween Costumes #3: Gumball Machine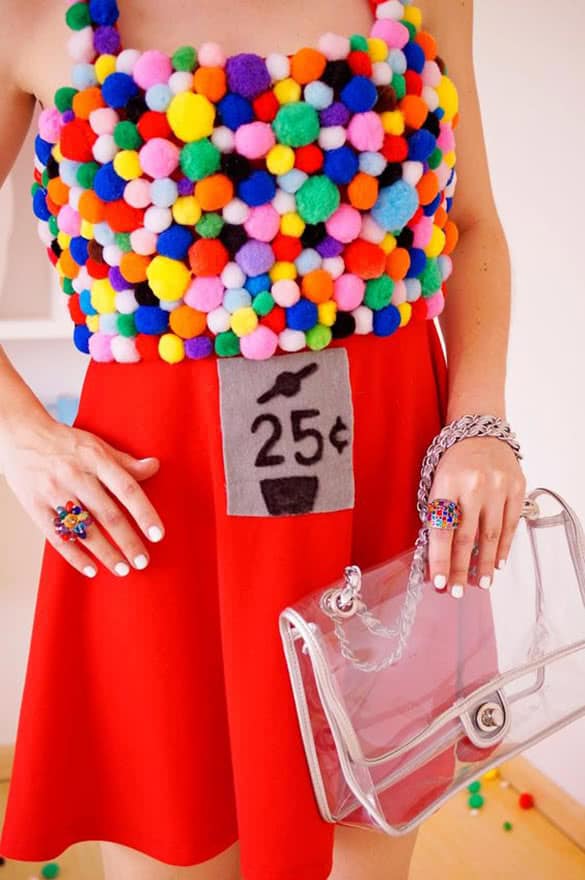 You might be giving out sweet treats this Halloween, like gumballs! If you have a red short A-line skirt and a hot glue machine, you've already got half of what you need to create the costume!
You can purchase an inexpensive crop top for less than $5 from a retailer like Forever 21 and make a quick trip to the fabric store for these cotton balls.
All you have left to do is hot glue the balls to the shirt in whatever fashion you want. Make sure you cover the straps as well! You can either use an old gray t-shirt or buy some fabric to create the slot with permanent black marker et voila! You're now a gumball machine!
DIY Halloween Costumes #4: Little Red Riding Hood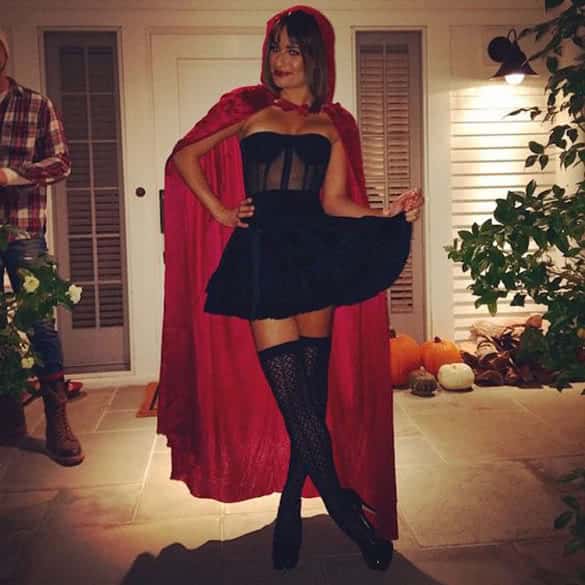 "Hey there, Little Red Riding Hood. You sure are looking good. You're everything the Big Bad Wolf could want!" If you're taking a page out of Lea Michelle's book and are planning on being Little Red Riding Hood, the costume is easier than you'd think!
The former "Glee" star took the sexy approach to Halloween and created her costume with a black bustier, A-line skirt, over the knee socks, and pumps.
You can also create this outfit with a few other clothing items that are probably in your closet like a white shirt or blouse, red skirt, white socks, and black shoes, and if you don't already own any of these, they are also items that you can quickly integrate into your wardrobe.
The biggest key to this costume is the cape! Although you might be tempted to buy your own, Youtube star, Bethany Mota, has a tutorial where she shows you exactly how you can make a cape right at home!
DIY Halloween Costumes #5: Mary Poppins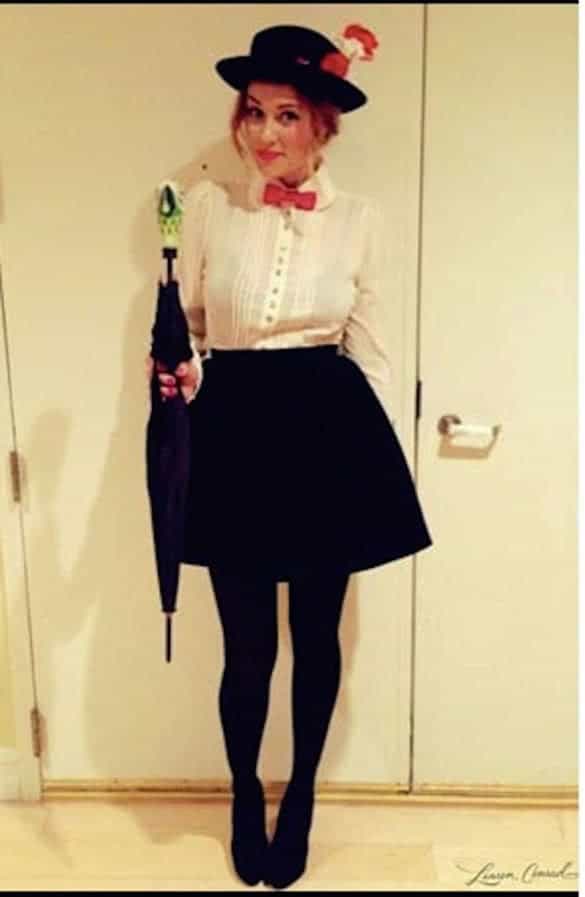 If a spoonful of a sugar makes the medicine go down, what will an entire bag of candy do? Looking at Lauren Conrad dressed up as Mary Poppins shows how simple and easy it is to bring the character to life with the clothes you already own!
With a simple black tea skirt, tights, and shoes, your Mary Poppins outfit is 50% done! You'll need a crisp white button up but you can't forget about the red bowtie that stood perfectly horizontal.
Another staple to her outfit was her black hat with the daisy at the front, but you could get away without it! Just be sure you don't forget the umbrella – it's the most important part!
DIY Halloween Costumes #6: Rosie the Riveter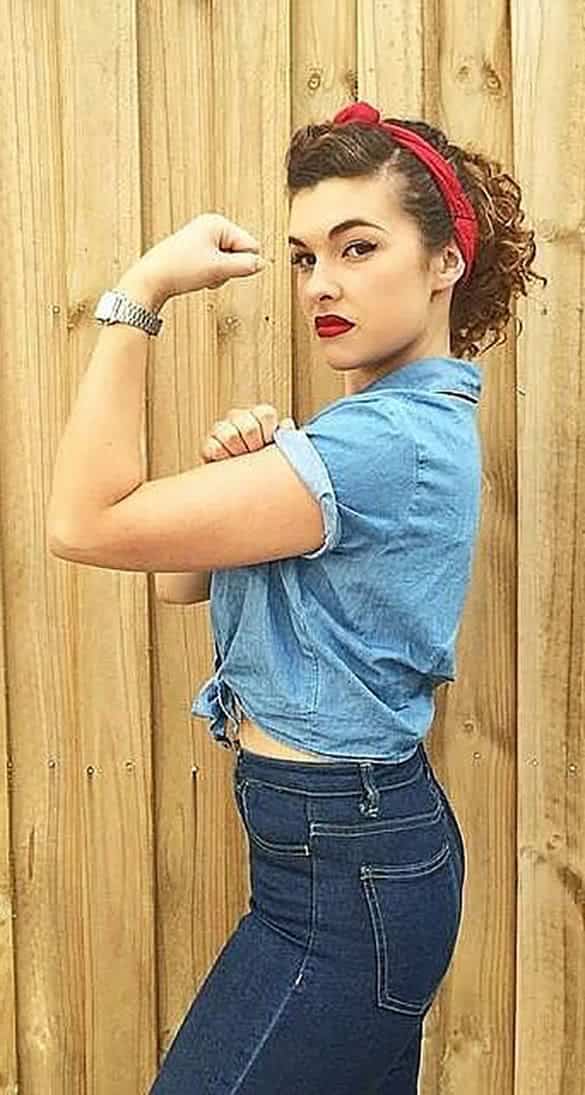 Rosie the Riveter is the classic Halloween go-to when you have no idea what you should be. There are only a few key items that you'll need and it starts with a denim or chambray top.
Denim might be harder to manipulate, so chambray will be easier to tie and bunch around the arm. You can easily pair this with jeans and the signature red headband. For an added touch, throw on some dark red lipstick and flex those arms for the camera!
DIY Halloween Costumes #7: Snow White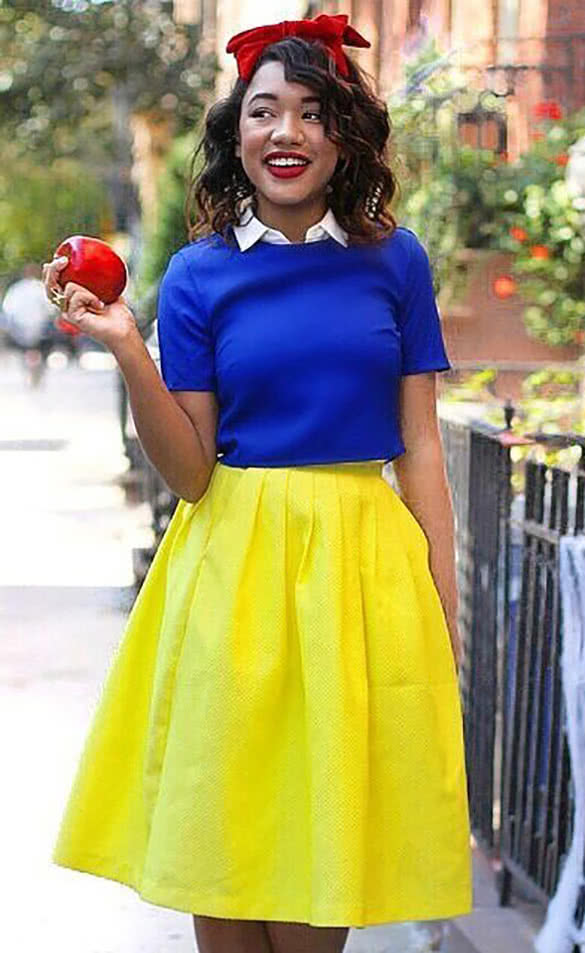 What's Halloween if you can't dress up as a Disney princess? For this costume, you might not own the pieces needed to create it, but if you went out and bought them, you wouldn't feel so guilty, especially since you can work them into a chic and stylish wardrobe.
You can accomplish a Snow White outfit with a yellow tea skirt and blue cropped shirt. For an extra touch, you can have a white collar peek through above the shirt and pair the outfit with a red headband.
To spice up the outfit a little more, pair some red lipstick with a bright red apple, but be sure you don't take a bite!
DIY Halloween Costumes #8: Wednesday Addams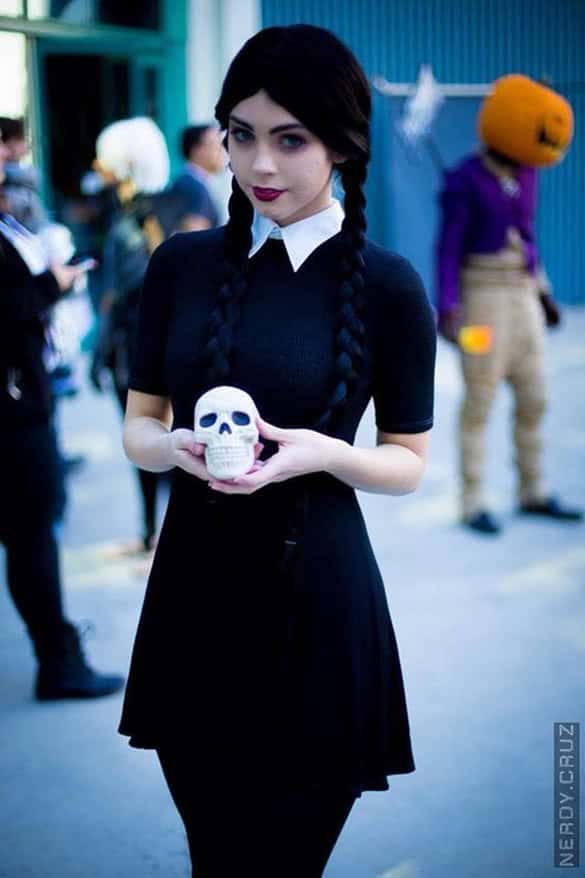 Dark and creepy are two words that are commonly associated with Halloween, and if you're going for that theme, play your hand at dressing up as Wednesday Addams!
If you've got a wardrobe filled with black, you can make this work to your advantage. You'll need a black dress, tights, and shoes. In order to complete this look, you'll need a white buttoned collar peeking out above the neck of the dress.
The final touches to this costume are the black hair! If your hair isn't already dark, you might have issues pulling this off, but just make sure it's braided into two plaits down your shoulders.
Halloween is a few short weeks away, so make sure you plan your costume now instead of the day of your festivities! With the exception of Wednesday Addams, all of these costumes will make sure you're serving treats rather than tricks!
In the comments below, let us know what you plan on being for Halloween! Happy Haunting!