For every business woman preparing for a business travel there are certain things she needs to know and certain rules she needs to follow. She needs to think about her appearance as well as her manners and presentation. Are you a business woman? Make sure you read about these 5 useful business travel tips.
For every business woman preparing for a business travel there are certain things she needs to know and certain rules she needs to follow. She needs to think about her appearance as well as her manners and presentation. Are you a business woman? Read these 5 useful business travel tips.
1. Don't be Late
When going on a business trip, maybe the most important thing is not to be late. You need to show that you are a punctual and a reliable person and being late is not giving that image about you.
If it is going to be a long travel, book a day earlier flight. You will be exhausted from a long travel and you will need some time to freshen up. Give yourself at least a couple of hours between arriving and your business meeting. Get familiar with the place you are going to, so that you don't lose time in looking for the building you are supposed to get to.
Ask the people you will be meeting with if they are in a tricky location and about the easiest way to find them. Remember, it's always better to be 10 minutes early than 10 minutes late. Plan your time wisely.
Being late is not a desirable trait in a businesswoman. After all, time is money. Learn how to always be on time by following these 5 simple steps.
This is one of the most important useful business travel tips.
2. Clothes
You probably already have a certain type of clothes you wear to work and they will do well for your business trip as well. Nevertheless, make sure to find out about the dress code of the company you will be visiting. Furthermore, if you will be running straight to the meeting, you need to be prepared.
It's important to pick clothes that don't wrinkle easily, so that you don't look like you've been traveling for days. Forget about linen pants and silk shirts. Choose your shoes so that your feet don't suffer through the trip, as well as so that they look good and professional. Having this in mind, it's best to forget about 3" heels, but you can do perfect in 1". Choose darker colors for both your clothes and your shoes rather than bright and cheery colors, because dark colors leave a more professional impression.
Every businesswoman understands that business travel can be a nightmare. Not only must you be on time and be prepared for the business meeting, but you must also look your best. Find out how to do that. Here are some business travel outfits you haven't tried yet.
3. Hair and Make Up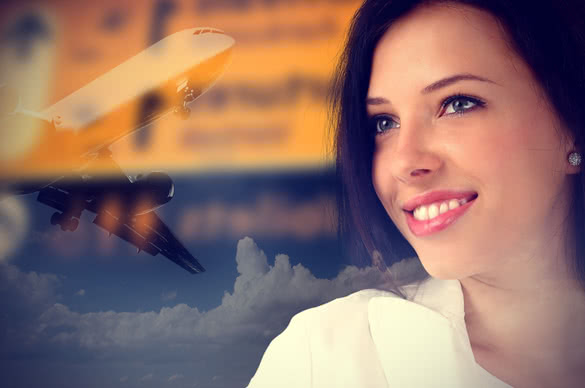 You need to look your best for a business meeting, so of course you need to think about your hair and makeup. Don't forget that you will be traveling, so you need a hairdo that can survive a travel. Forget about anything too complicated and anything that can easily go down.
Loose hair will probably be the best choice, especially if you can make it look good with some hair spray or hair gel. You could also try a bun, but remember that you won't be able to lean to the back of a seat with it. It's good for a shorter trip though, because the very fact that you can't lean back will keep you from messing your hairdo. In any case, try to fix your hair and your makeup before the meeting.
4. Business Cards
Make sure you bring your business cards when going on a business travel. Even if the people you are meeting with already have them and know you, you never know when and where you could meet someone who should have your business card. Moreover, you look more professional when having business cards.
Your business cards should be simple and containing only your business information, not your personal too. It is also a good idea to hand your business cards holding them with both of your hands. This is not a very common practice, but it is actually more polite to do it this way. Handing over business cards with both hands is common in China and many Asian countries, so doing it this way is especially useful in case you have Chinese business partners.
You want people to know who you are, what you do, and how they can contact you to meet their needs at a look.
If you follow these rules, you'll be able to make a card that accomplishes everything and more.
5. Business Etiquette
Now that you've settled all the things, you need to pay attention to business etiquette and your behavior. Try to leave the best impression possible and you will do this exactly by following the previous tips from this article. Think about your appearance and your behavior alike.
In case you need to present a project, make sure that you know all the details and that you can answer every question. Prepare yourself the best you can and bring all the material you might need with you.
Greet all the people with a polite smile and pay attention to the hand shake. Whether you choose one or two hands hand shake, make sure that you deliver a grip firm enough, because people usually tend not to trust people with a weak handshake. Don't forget to thank the people for coming at the beginning of the meeting and for their time at the end.
Being a successful business woman is not only about having a great job and a big salary check. You need to maintain a certain style and business etiquette even when you travel. So, make sure you remember the business travel tips we gave you and to use them whenever you're going on a business trip.
If you have any comment about useful business travel tips share them!