Weddings no longer have to cost a fortune because there are tons of resources at our fingertips for DIY wedding ideas and here are some we found to get you started.
Bride-to-be's are finding it easier to plan their own weddings with the help of websites like eWedding and Pinterest, which have so many unique ways to personalize your special day. You can save so much money and enjoy your wedding just as much by including some of these fun ideas.
Don't let people (especially family members or opinionated besties) pressure you into spending a ton on the big day, because it's your day, not theirs. If your parents are contributing funds, they will be grateful you're not wasting their money as well.
Did you know the wedding industry contributes a lot to global climate change because of all the resources usually consumed? Well, you can be a part of the solution and lead a good example for other couples as well. Here are some DIY wedding ideas that will save money and the environment.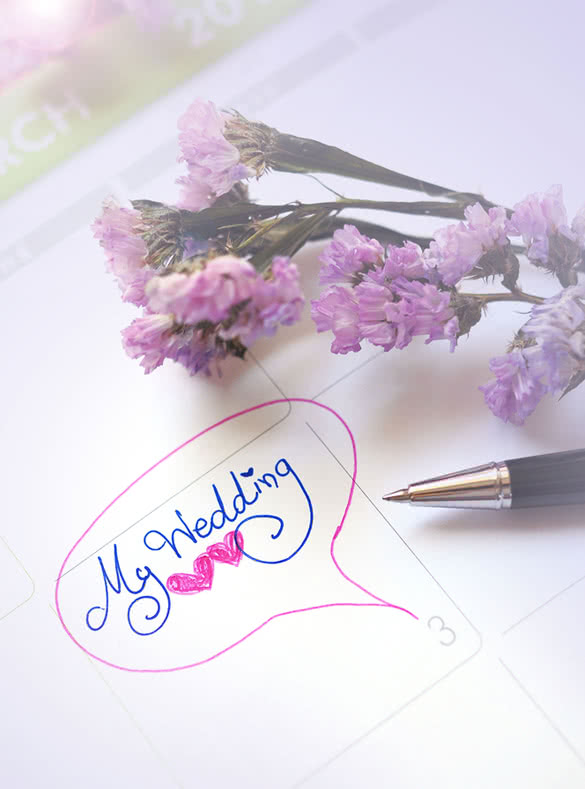 A FREE website for all the wedding details
Believe it or not, you can create a free wedding website on eWedding.com easily for all your big day needs! The website is both desktop and mobile friendly, and you can even receive real-time notifications of RSVPs via text! Don't worry if you don't have all the details nailed down, you can update your site 24/7, making sure everyone knows about the changes in your wedding plans.
The website puts your face with the wedding invite for people who want to show other people who you are when they are inviting their date. Not just that you can add photos of your travels as a couple, you can also create a timeline so people will know your story, complete with a cute synopsis of how you met.
The website really brings your wedding to life and gets people excited about the activities you have planned.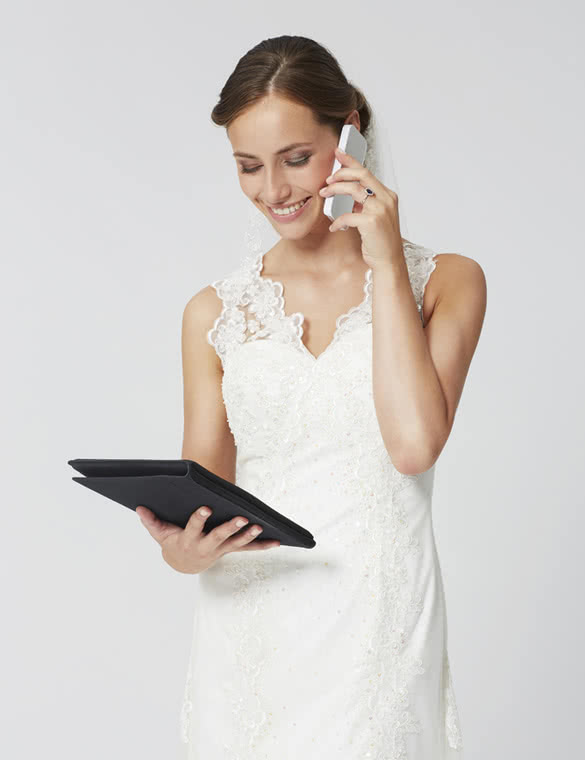 Save money with video invitations
I love this great idea for replacing paper invitations with Video Invitations. There are so many fun apps you can use with your iPhone for video editing, it won't have to cost you a thing.
You can add text to the video and you can combine multiple videos together so you don't have to get it all in one take. You can even add photos and music and make it more sentimental than a boring card in the mail.
If you don't want to make a video, eWedding offers emailed invites that are still stylish and fun. This can help to reduce the risk of losing invitations or things getting lost in the mail.
The last thing you need is someone showing up with a date without a place to sit at your wedding. It's one less thing to keep track of and worry about. It also will allow you to see your headcount easily so you can plan on how much food you will need.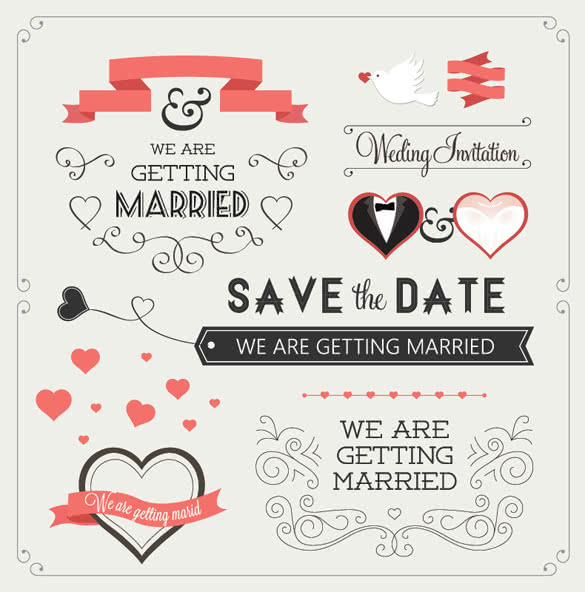 DIY Decor
Here are some unique natural wedding decor ideas that can give your wedding either a beachy theme, a rustic theme or even rather whimsical. They show many interesting uses for seashells as decorations as well as many fun uses for mason jars and flower stands. Why spend a fortune on gaudy wedding flowers when you could make your own simple and natural design?
I love their other cute ideas using household items in a new way, like hanging umbrellas upside down or creating a burlap sign for the flower girl to hold that says 'here comes the bride.' Their message in a bottle idea could go with many themes, and your choice of paper, color and the style of bottle could add a perfect romantic touch.
When it comes to center pieces, feel free to think outside the box and think of items that represent you and your fiancé. Maybe you are both into boating, so you could get puzzles of a boat for the guests to complete. Maybe you could incorporate boat rope, cut up an old sail or take pictures by a ship's steering wheel.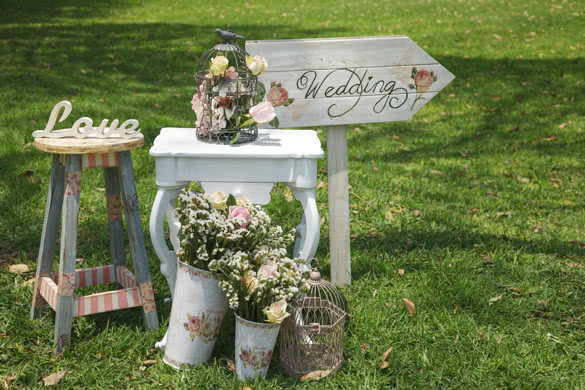 Many people are hiring companies to have a photo booth at weddings, but you could make your own and have one of your friends take polaroid pictures. Your guests will love having a tangible memory to take home and remind them of how fun your wedding was. Who knows, maybe it will inspire them to plan one of their own.
There are so many fun ways to incorporate burlap into your wedding decor if you like the country theme. You can wrap poles with Christmas lights and then wrap them in burlap. You can also string lights above the dance floor or dinner table for an added ambiance.
Another really adorable idea are the wooden wedding signs. It's better to use reclaimed wood so it looks vintage instead of like a construction zone. Or you can distress the wood yourself! Check out all the cool tips they offer in this article. These signs can guide your guests or just have cute romantic sayings such as 'happily ever after.'
Save money by refurbishing a dress
One of the biggest things people often drop a lot of cash for in a wedding is the dress, right? Why not repurpose a dress from your family and have it modernized slightly by a tailor.
The dress your mom wore may have hideous puffy sleeves and an obscenely long train, but you could ditch the sleeves and shorten the train, and suddenly, save all that money for something you'll use more than once!
Imagine saving all this money on your wedding and being able to buy a home with it. Think you can't buy a home with 20-50k? Think again. One of my favorite websites enabling couples to live debt free is tinyhouselistings.
There are some fun ideas online for making your own wedding veil. Have you seen how expensive the veils are? If you go into a bridal store and just look at the clips and headband options that women are using to replace the veils, they are obscenely expensive.
Anthropology has some beautiful vintage looking headbands for way less money and you can find some unique ones on etsy. Many wedding DIY enthusiasts suggest avoiding any store that has the name 'bridal' because the prices will be through the roof!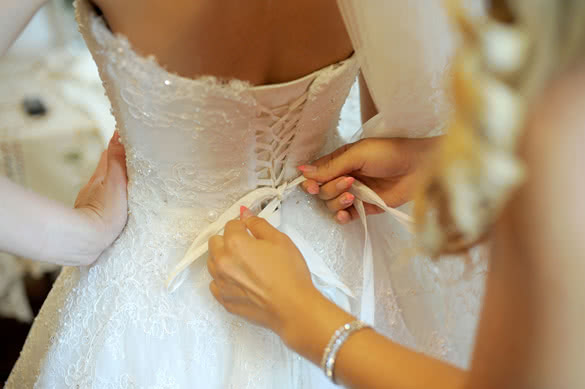 Create your own music playlist and skip the DJ
Yet another great way to DIY in your wedding is to save on the cheesy DJ who doesn't know you guys anyway and make your own playlist. You can always turn down the music or switch to a special song for the couple's dance. You can put a wedding party member or a pregnant woman who won't be drinking in charge of it.
You can ask guests which song they'd get onto the dance floor for at your wedding in your invitation, and that way you're creating a playlist that will keep your crowd happy and dancing.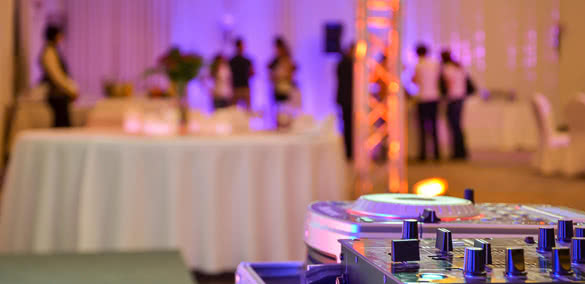 Make your own wedding favors
Another great way to personalize your wedding and save money without being tacky is to make your own sentimental wedding favors for guests. While not every wedding has favors for guests, it can be fun to make something and include the recipe, as long as it's relatively easy to store and transport. You really don't have to spend the extra money to have your name embroidered on a napkin, let's be honest.
There are so many fun ways to get crafty and make your own place settings and name card plaques. You can buy name tag cards and make them yourself and save on embroidery costs. You can also put little flags on toothpicks with each person's name for a fun touch.
It's always nice to offer to let your guests take home the centerpiece if they'd like, so the fresh flowers don't go to waste. Many people like to use twigs as center pieces in glass jars for the rustic look. There are many types of sticks you could choose from that won't make a mess on the table, and many of them can be found at your local craft store.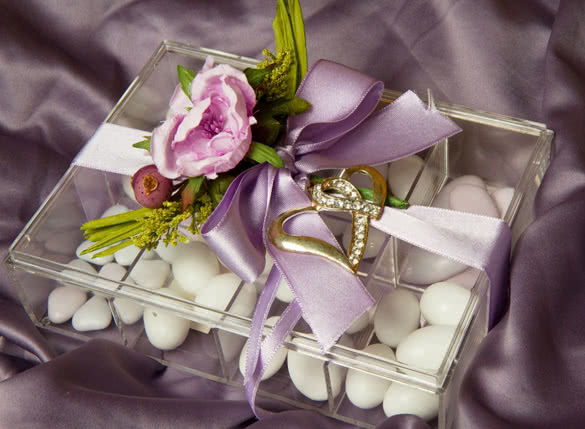 Another great look is painting the inside of mason jars with your wedding colors. This creates a fun accent that pulls in your color palette and creates a party atmosphere.
Create a realistic budget
Before you start planning, you'll want to create a realistic budget. You don't want to overextend yourself on your wedding and create any unneeded stress. Weddings should be fun and low-cost; a low-stress wedding will keep your relationship healthy.
It doesn't make sense to over spend on a wedding just because the wedding industry pressures you to buy so many extra things. What is a wedding about anyway; Love, not jewelry, flowers, matching shoes, up do's or wardrobe changes. Don't overthink it and just enjoy the process of planning. Keep it simple and keep it sweet.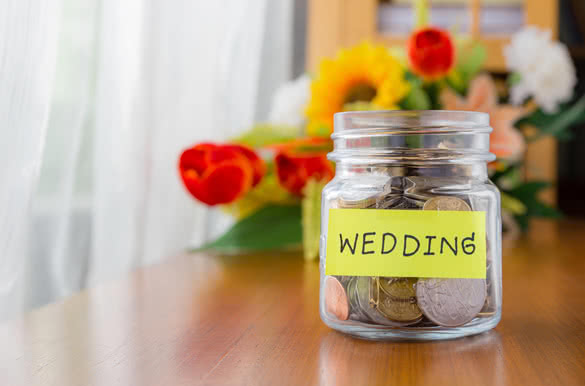 Save money on the venue
If you know someone that has a pretty yard, that might be all you need for your wedding and reception. You will be able to cut down on expensive rental costs and avoid the headache of being on a strict time schedule. If most of your guests are local, they will also really appreciate if you skip the destination wedding because that can get really expensive.
Fun getaway vehicles
Another expensive money pit in the planning process is the getaway vehicle. If your ceremony and reception are in two different locations, don't feel like you need to rent a fancy limo. See if a friend has a classic car they will be willing to drive or a two way bicycle is always a romantic option.
Of course, you'd have to have some shorts on under the dress, but for unconventional couples or couples who are planning a theme wedding with costumes; this getaway can make for a great photo opportunity!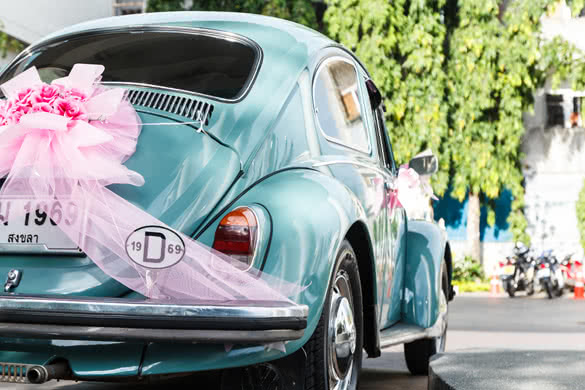 Alternative ring options
Another way to save money in your wedding is by thinking outside the box for your rings. You can see if a family member has an heirloom ring they'd like to give you or you can look at vintage gems besides diamonds. You can even find wooden rings now that are becoming quite popular.
Remember, an expensive ring won't make your relationship any better, but saving that money sure will help keep the stress low!
Try not to feel like you need to follow what most couples do on their wedding day, because the more unique yours is, the more people will remember it. You don't even have to rent expensive chairs and table clothes. You can get hay bales and have a barefoot wedding.
Things like this can make it really fun for people, and having a laid back wedding will allow everyone to relax and unwind from their busy lives.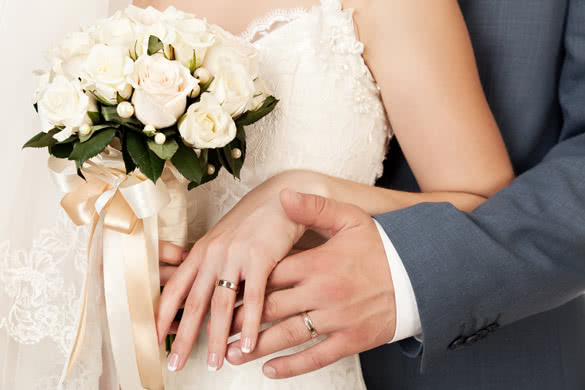 Save money on the officiant
You can also have a friend become ordained; it's a relatively easy process online. That friend should be someone that you both like and trust, of course, and that you have known for a long time. This is a nice way to show a friend how much they mean to you as well. There's nothing like being asked to marry a couple and they will probably be honored to do it.
Finally, you can also have a smaller wedding party than most couples. That not only saves money on outfits for you, it also saves your friends' money. Many people choose to do this because they don't want any of their friend's feelings to get hurt when they aren't chosen to be in the wedding party.
If you just have siblings in it for instance, it keeps the drama at bay, and you can let them pick their own dress or suit that matches your theme.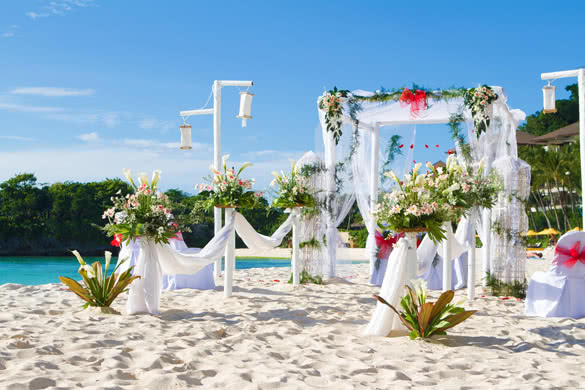 Hopefully, you now have some great ideas on how you can DIY and save money for your big day. Don't forget to share this with friends and check out other fun ideas on YouQueen.