If you're plagued with head pain more often than you'd like, check out these common headache causes – and the remedies for them – so that you can become pain-free!
Life is no fun when your head is throbbing all the time. You aren't able to fully concentrate on the tasks at hand, and all you want to do is lie down and sleep so you don't have to deal with the discomfort anymore. It's like you're a prisoner to your head as the pain controls everything about you, from your activities to your attitude to your drive.
If you're ready to regain your own personal power and free yourself from your head pain once and for all, here is a list of the most common causes behind chronic headaches as well as ways that you can stop them so that you can start to live again.
#1 Stress
One of the most notable reasons behind having to endure a lot of headaches is unrelieved stress. It is the tension that builds from work projects that are soon due, the pressure of bills that need to be paid, and raising a family that requires constant energy and attention. Keeping up with all of these obligations can take its toll on you and cause you a tremendous amount of head pain in the process.
Of course, the best way to remedy this particular type of headache is to lower the levels of stress that you have in your life. Easier said than done though, right? After all, it's not like you can just up and quit your job or abandon your family because they need a lot of effort. So what can you do to make living life more pleasurable without dramatically affecting your world?
Simple. Find things you love to do that bring you peace and joy, and do them often. Does horseback riding leave you feeling calm and collected? Schedule weekly rides to ease your mind. Are evening walks soothing to your soul? Make them a priority and get out every night right after dinner.
The key is to keep doing these things to relieve the pressures in your world. Make stress relief a priority as not only does it have the ability to cause headache pain, but it can also lead to other, more life threatening issues like heart attacks, high blood pressure, and strokes. So, take the time to resolve it before you wind up in a worse condition than you feel right now. Here are some more tips on how to reduce stress.
#2 Sinus Issues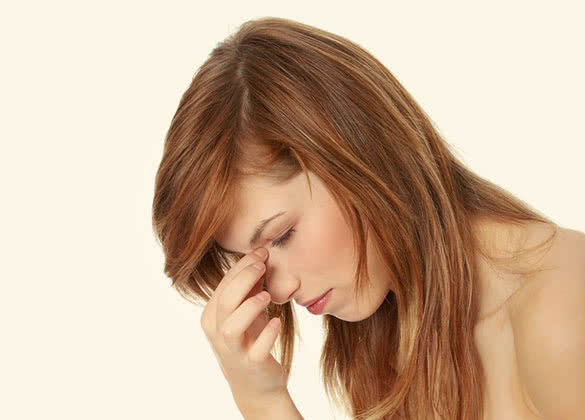 Your sinuses have the ability to give you headaches that appear before you even get out of bed in the morning. It can feel as if your temples are ready to explode, leaving you to dread the whole day and you haven't even opened your eyes yet.
Sometimes changes in the weather are enough to trigger a sinus headache, but it may also be a sign of infection. So, if you're prone to issues like these, you may want to schedule an appointment with your doctor at the first sign of head pain to catch it before it gets out of control.
There are several over-the-counter medications that you can take if it is nothing more than pressure that is causing you pain (and not an infection), so just choose the one that works best for you. You may have to try a few out to find the one that is most effective, so don't give up if you aren't getting results right away.
It also helps to put a warm compress on your sinus area as it helps to loosen the mucus and get it to flow. Spicy hot dishes and vinegar have the same effect, giving you some relief without putting any unnatural substances in your body to get it.
#3 You Have Allergies
Even if you've never had allergies before, it is possible to develop them as you get older (thank you aging process for providing one more reason to not want another birthday). So, don't count this issue out if you were tested when you were a child and could find no allergies because that may not still be the case for you today.
If your headaches come about at specific times of the year (spring and fall seem to be the worst), or when you are in certain environments (like ones that are dusty or moldy), then allergies are likely the culprit. Also, if you experience sneezing or itchy, watery eyes too, it's highly likely that allergies are to blame.
You can buy an antihistamine from your local pharmacy or chemist for relief, or your doctor may even prescribe you one if it is a chronic problem. Some women have also experienced a tremendous amount of relief using a saline flush to clear the allergens from their nasal cavity, so you may want to try it to see if this particular remedy works for you.
Some additional things you can do to lower the allergens in your surroundings are to use an air purifier, dust often, and stay away from the things that seem to bother you most. You can't stop all of the allergens from making their way into your body, but you can definitely slow them down which will hopefully decrease the amount of headache pain you feel.
#4 Your Spine Is Out Of Alignment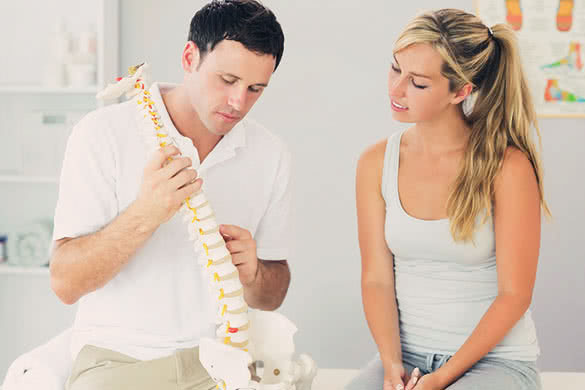 When the vertebrae or discs in the cervical (neck) area of your spine are misaligned, headaches can be a result. The pain can radiate upward, leaving you with a throbbing head, but it can also gravitate lower, making your back sore as well.
This can happen as a result of being involved in an auto injury or personal injury accident, or by simply twisting your body the wrong way while participating in a sport or when moving something heavy. Even if you don't feel pain in your neck, it is possible that something is amiss with your vertebrae or discs, causing you to have horrible headaches as a result.
Luckily, a quick trip to your local chiropractor can help you ascertain whether or not this common head pain cause applies to you. It may take an adjustment or two to get you back in place, but the relief can be almost immediate, making you wonder why it took you so long to go in the first place.
If you're not sure who is the best chiropractor to go to, ask around to family and friends to see who they recommend. You can also go online and research doctors in your area and read the reviews to see what other people have thought of them. Educate yourself and then select the one that feels most suitable for you and your circumstances (as well as your wallet).
We all get headaches from time to time, but if yours happen with any sort of regularity, it is time to find a cause and a cure and stop your headaches or at least experience them less often. Hopefully this article gives you a place to start, so you can begin to get some much needed – and, quite frankly, much deserved – relief.