One of the hottest wedding seasons is well under way and odds are, you've been invited to at least one. Fun, fun, fun! All you need is that picture perfect, gasp-inspiring outfit to wow the crowd and turn that wedding party into an event to remember.
Yes, it should mostly be about the bride. It's her big day, after all.
Then again, she did put your name on the guest list and, being the style maven that you are, you are surely not going to waste a wonderful opportunity to flaunt your fabulousness.
Here are three outfit suggestions to choose from, depending on what kind of affair you're expected at.
Evening or Formal Wedding – Your Wowness!
Think gala. Think red carpet. Think glitz, glamor and sophistication.
Opt for a floor length gown that accentuates your silhouette, preferably with a tastefully plunging neckline which you will set off with a pair of dazzling earrings.
A flowy gown with plenty of movability will ensure that you're comfortable and noticed on the dance floor. Adorn your finger with a sparkly cocktail ring, which is sure to garner attention as you raise that champaign glass to toast the happy couple.
Complete the outfit with Chrystal embellished to-die-for stilettos and don't forget to pack an extra dose of confidence for the evening, as you're sure to be the most coveted attendee. We're not counting the bride, of course.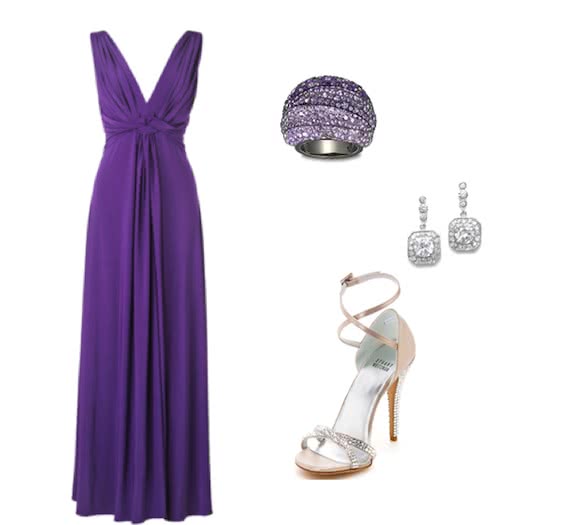 Square Deco Event Earring (fletcherandgrace.com.au)
Appolon Amethyst Ring (swarovski.com)
Phase Eight Arabella twist front maxi dress (houseoffraser.co.uk)
Stuart Weitzman Striptease (stuartweitzman.com)
Party Wedding – Sexy Standout
If you get a chance to attend a clubby, relaxed wedding party, you'll get that wonderful opportunity to pull out all the stops and showcase your most sexy self. Subtly and classy, of course, since you'll need to be respectful of the fact that you're there to celebrate the ultimate expression of love.
Pack a punch in a body-hugging mini in a vibrant color, paired with some daring strappy platforms. Accessorize with a chunky bracelet and some disco earrings and you'll be ready to set the dance floor and the atmosphere on fire.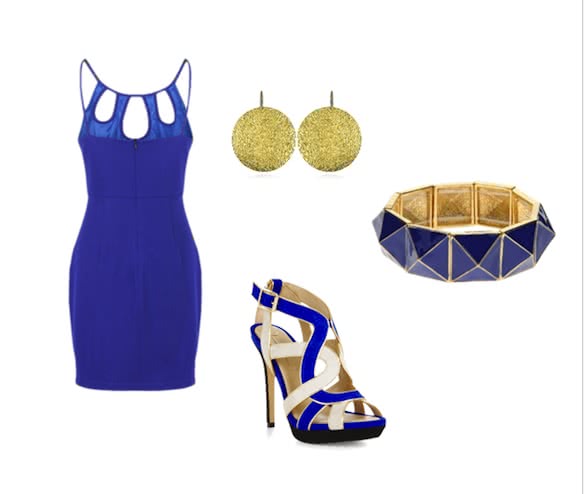 Cut Out Neck Royal Blue Dress (romwe.com)
Kaycee Two-Tone Strappy Sandal (bcbg.com)
Blue on Blue Spiked Stretch Bracelet (diva.net.au)
Gorjana Somerset Disc Earrings, Gold (charmandchain.com)
Daytime Wedding – Blossom Beauty
This one's all about the romance and the magical, rosy aspects of love.
What better time to "love-up" your outfit than to a daytime summer wedding party? Your dress should project that romantic essence, but opt for an asymmetrical hemline for that all-important touch of sultriness.
Accessorize the look with some punchy accessories and throw on a pair of complementing wedges to complete this effortlessly spectacular combination.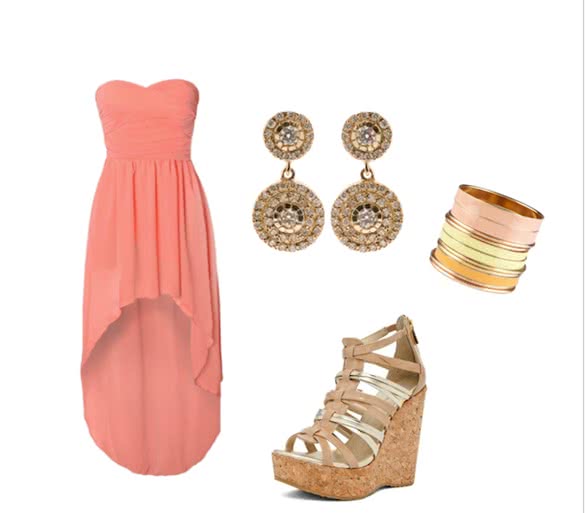 ALDO Huot bracelet (aldoshoes.com)
ILEANA MAKRI 'Double Solitaire' 18k gold and diamond earrings (brownsfashion.com)
Jimmy Choo Pekabo Cork Wedge Sandal in Nude (forwardforward.com)
Rare Dip Hem Bandeau Dress (bankfashion.co.uk)