Planning a wedding? The most important thing is to choose the theme, cause every woman wants it to be special! Here are 12 cool wedding themes to choose from.
Really cool themes for your wedding aren't that hard to find. Truly. It's more a matter of finding the ones that suit both you and your soon to be husband.
Then, you have to decide on a budget and see how much you want to do yourself (and thanks to places like Etsy and bespoke little online wedding boutiques you can now do a lot more for a lot less…) and how much you're willing to pay someone else to do things for you. Then you're ready to create the wedding of your dreams!
Here are some pretty unique and cool wedding themes for you! You'll for sure find one that perfectly suits your style!
1) Greenery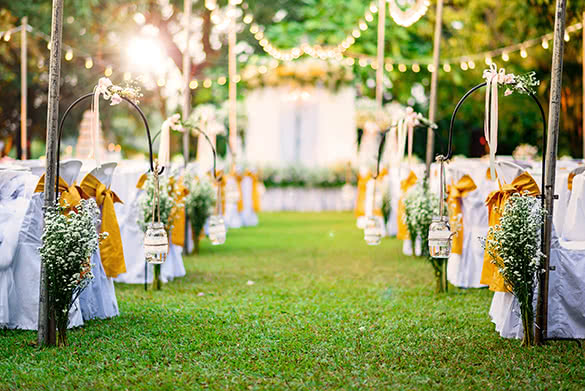 Design geeks know that Pantone's color of the year is a big thing and this year it's 'greenery'. In other words, expect to find a lot of wedding themes inspired by this.
So what themes correspond well to this? Well, here are some ideas:
– a wedding in the conservatory
– herbalism (medical plants) / herb garden
– botany
– rose garden
– gardening
– a spring wedding filled with buds, blossoms and spring greens like asparagus on the menu
You can do a minimalist wedding centered around botany, or a full-blown mad scientist 1890's affair. You can throw your wedding in a rose garden complete with an outdoor ballroom, or have a simple gathering in your garden with a kooky gardening theme complete with Wellington boots and watering cans.
There are so many different ways to roll with this. Using foods and drinks infused with herbs, having seeds as favors, decorating using old botany prints, getting recipes from The Drunken Gardener by Amy Stewart, and so forth.
2) The old-fashioned perfumery
Back in the day perfume was created using essential oils (the distilled essence from plants) and the labs where they were created perfume looked like labs belonging to scientists. You can still create that kind of vibe today and focus on scents for your wedding.
It can tie nicely into the theme of greenery as well, using flowers and herbs in your "lab" (i.e. your wedding location). Nice favors could be essential oils, solid perfume, or test tubes filled with something of your choosing. Guests could even participate in blending their own scents or using pre-blended scents to create their own cosmetics.
You can choose a signature scent for the entire wedding as well and use matching flowers and color schemes.
3) The wedding dream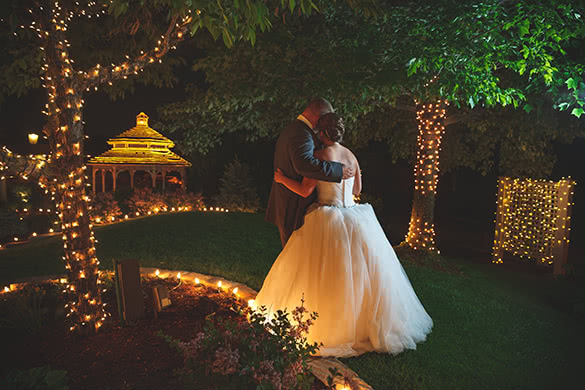 How about an evening wedding centered around dreams? Say I do in the sunset or in the moonlight and party into the wee hours.
Use quotes about dreams, decorate with dream catchers and clouds, make whimsical desserts and go wild with the symbolism of dreams.
Natural color choices would be shades of blue, purple and black with silver for the moon and gold for the stars. Of course, you can also include white and gray for the clouds. If you aren't great with colors, get someone who is to help you create your color scheme.
I think dreams is a really cool theme for your wedding because it's unique – it's not something everyone will do!
4) An old fashioned games room
Oakwood, old drinks cabinets, heavy curtains, darts, chess, silverware and crystal glasses, why not create a wedding inspired by an old fashioned games room?
Dark colors and old style galore. You can even ask the guests to dress in clothes from the era!
8) Hippie galore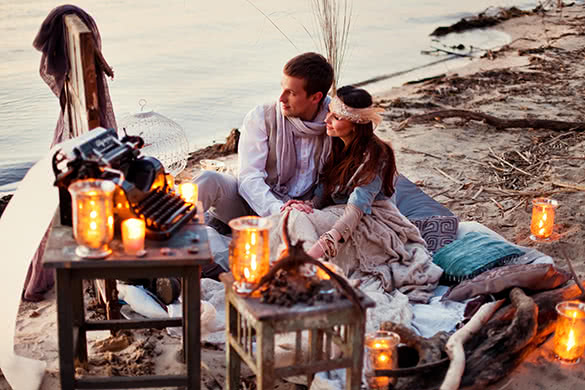 On your list of really cool themes for your wedding, you have got to jolt down some flower power inspiration! Flower garlands in your hair, a beat up WV, music suitable for Woodstock and a vibe of peace, love, and rock'n'roll. Go full out with flower power! Sunflowers mixed with deep reds and purples will look magnificent.
You can make this fun by using mismatched everything, picking up your china at second-hand stores, or why not dine alfresco? Have a picnic, sit on blankets in the sun and sing along to Janis Joplin.
A good thing with a theme like this is that can make this as stylish, or as simple as you like.
9) Chocolate madness
Chocolate fountains, chocolate dipped strawberries to go with the champagne, chocolate favors, chocolate wedding cake, hot chocolate midnight drinks… There's so much you can do with chocolate! And whether you choose to go with decorations for a cute bakery, draw inspiration for a French chocolaterie (like in the movie Chocolat), or go wild Willie Wonka style, there are so many possibilities for what you can do!
As for colors, you probably don't want a brown wedding dress (spare us all), but you can use elements of brown in your color scheme, particularly if it's a fall wedding. However, it's not necessary to include brown.
A French chocolaterie tends to come with silverware, deep reds, and checkered floors. So silver, red, black and white in other words. Willie Wonka is a color explosion and cute little bakeries can be either pastel or fanciful colored.
10) Surfer's paradise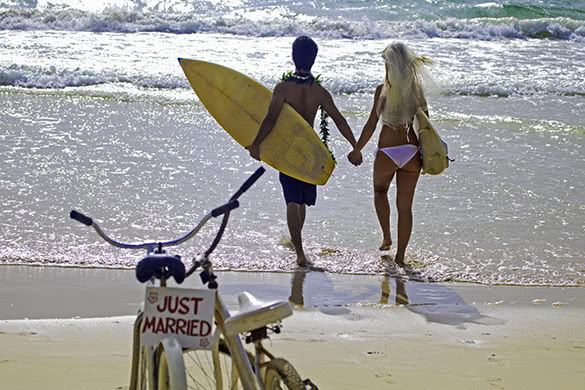 If you're having a beach wedding, you can do anything from turning it into a Hawaiian luau to an old fashioned voyage of exploration, intact with old binoculars, globes and maritime prints from ca. 1850.
You can also just go with the California vibe and turn it into a beach party with surfing, mini dresses, beer, Malibu themed cocktails, the Beach Boys, and parasols.
You can go OTT with waiters (un)dressed as bodyguards and party till morning in a beach shack, or style it to perfection turning it into a more sophisticated affair. It leaves a lot of room to play.
11) Rumi and yoga wedding vibes
The world is suffering from an epidemic of yogis. You can use this as the perfect excuse to throw a spiritual party in the name of Rumi, who every yogi quotes at least once on Facebook.
Have an Eastern-inspired wedding filled with magic lanterns (and flying carpets?), the beautiful colors of the East and spicy foods. Use the concepts of yoga and deck the halls with Rumi quotes.
Let your favors be ones that inspire guests to become more enlightened. Just make sure no one stands in the tree pose the whole night…
12) An Italian country wedding or a Venetian affair
When it comes to really cool themes for your wedding you might not think of Italian themes immediately. It's been done before and all that. But what beats a night in your favorite Italian taverna? Checkered tablecloths, red wine, delicious pasta, and tiramisu?
Throwing your wedding in a taverna like that makes it a lot easier for you to plan as well. The issue lies in finding a place that still cooks the kind of food that makes you swoon and truly looks like an Italian dream and not a tourist destination.
You can, of course, create your own Italian taverna style wedding as well, especially if done outdoors – fairy lights, long tables covered with the aforementioned checker's tablecloths, candles sticking out of old green wine bottles and an Italian band playing whilst the Italian wine is flowing.
If you prefer another side of Italy, try creating a naughty Venetian ball. People used to hide behind masks so they could have the anonymity to mingle with whoever they pleased.
Just imagine the exquisite food and seeing all the guests dressed in ball gowns and masks! It will be a night to remember. Besides, it's the perfect excuse for going to Venice to look for inspiration…