Cool wedding locations can be the starting point when looking for inspiration for your wedding. Here are 11 top wedding destinations to celebrate your love!
Cool wedding locations exist in all over the world. It's a matter of finding what part of the world you wish to get married in and then find a suitable place. If you haven't yet decided, this article will show you top wedding destinations around the globe, but mainly in the US, famous for their romantic allure.
Paris – From the artistic to the opulent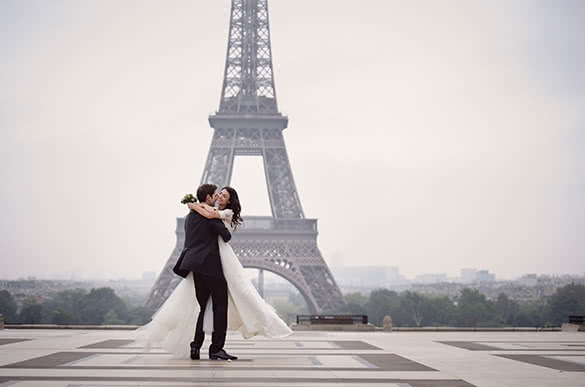 How about getting hitched in a museum? You can. At the Musée Rodin. Get married amongst famous sculptures, why not?
If art isn't your thing, how about yachts? On the Seine? Yachts de Paris offer truly unique wedding experiences.
If you prefer a hotel to get married in, then Hôtel Particulier in Montmartre is quite the thing, as is Le Meurice if you like opulence and old fashioned elegance.
Like cabarets? Have your wedding dinner at one! Paradis Latin offers a Moulin Rouge for the 21st century.
Flying high – Hot air balloon ceremony in New Mexico
Speaking of cool, top wedding locations, how about one in the sky? If you always loved heights, then getting hitched in a hot air balloon at the Albuquerque International Balloon Fiesta could be just the thing for you! All you need to do is rent a balloon and hire a priest (who isn't scared of heights). The Balloon Museum is also available for weddings.
California – from A to Z for weddings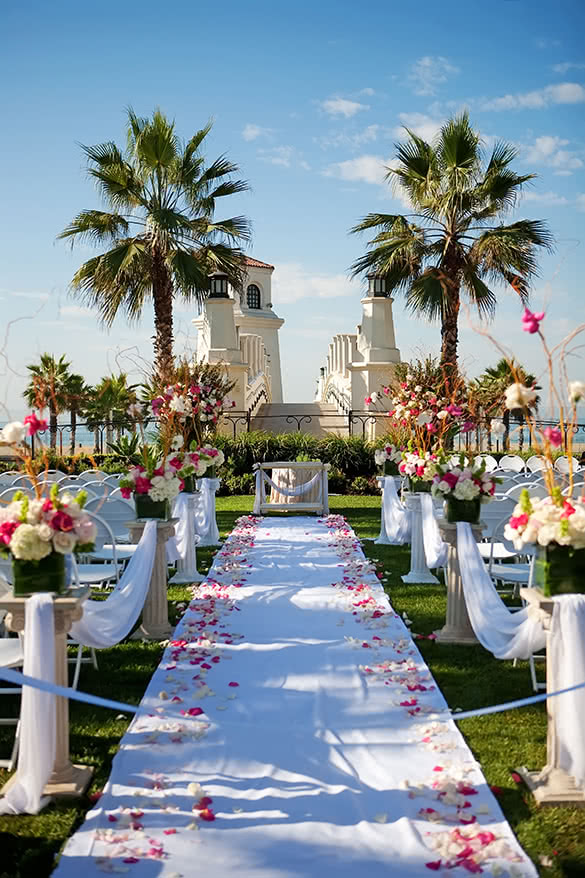 Get hitched in California and drive off in an old cabriolet on the Pacific Coast Highway to the future of your dreams!
If you always fancied a big rustic farm wedding, then you need to have a look at Bear Flag Farm in Winters. People have caught onto this incredible place, though, so if you want the venue, you have got to book it well in advance and cough up a minimum of $80,000 for a full-service event. And they really go full out – like renting a Ferris Wheel!
If you are looking for more intriguing spots to get hitched in in California, consider Dunfillan Ruins at Kunde Estate in Kenwood where you can get married in the ruins of an old wine estate. If that's not to your liking, you can, at the same estate, get married in the wine aging caves!
For something truly hip try Huron Substation in Los Angeles or Big Daddy's Antiques in Los Angels or San Francisco. Or why not an old hang out for Western actors of times gone by in Joshua Tree? The Rimrock Ranch was built as a weekend retreat for western actors like Gene Autry and Roy Rogers and offers "4 rustic Cabins, retrofitted Airstream trailers, a lodge and the internationally famous architectural masterpiece known as the Hatch House." Quirky and kooky is this ranch's middle name.
For something truly romantic, turn your eyes toward Malibu instead and get married atop a hill on a little plateau at Rocky Oaks.
Of course, I can't resist mentioning the Post Ranch Inn in California as the perfect place for your first night of wedded bliss – doesn't get much more romantic than that. Heck, you could even host your wedding there!
Thunder Mountain Bridal Cave in Missouri
A legend tells the story of a Native American Osage wedding taking place in the Bridal Cave in the 1800s. Since then thousands of wedding has taken place here and it's no wonder – the cave is filled with a mysterious beauty.
A Mayan wedding ceremony in Belize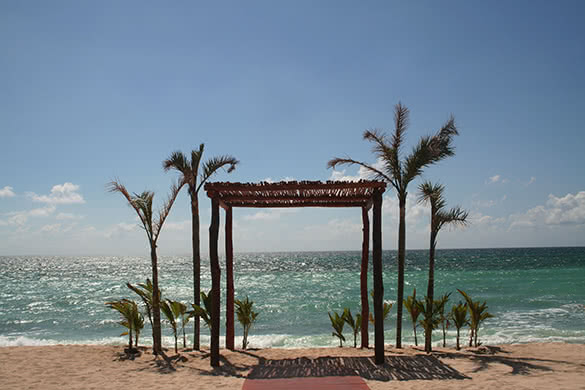 If you want to get married by a Mayan shaman, then head to Belize and Cahal Pech and get married by the ruins of a Mayan temple. Can't get much more exotic than that, can it?
Colorado – Rustic chic wedding in nature
If you like a rustic wedding in nature, then on top of the cool wedding locations list you find the Dunton Hot Springs in Colorado. Whether you want a majestic winter wedding or a summer wedding outdoors, this is the place to go for that rustic feel.
They offer tents by the river as well, so if you want to try camping in opulent luxury (also known as glamping) then that's also possible here.
Venice – Old fashioned glamor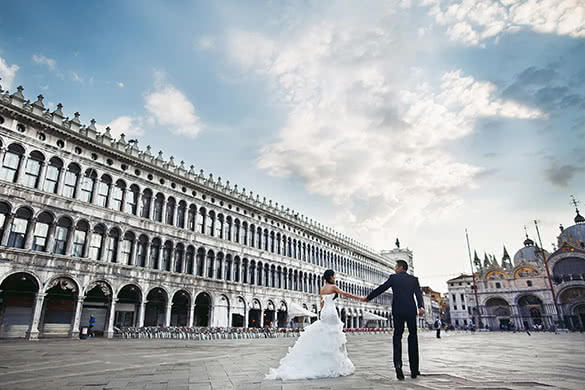 Casanova might not have been the marrying kind, but there's still something to be said about romance in Venice. You could even get married in a palace, like the Gritti Palace.
Another venue you want to see in Venice is the Ca'Sagredo Hotel. If you imagined a renaissance like a wedding banquet, then this place is your ultimate find. And it has won the Condé Nast Awards for best hotel for weddings and special events! If this place doesn't make you swoon, nothing will. Seriously.
If you can't afford to go to Venice, then check out the Vizcaya palace in Miami which looks like a slice of Venice itself.
Ruins in Minnesota, North Carolina, and the UK
Want to get married in an abandoned factory? Great, because you can. At the Mill City Museum in Minneapolis, you can get married in the ruins of an old mill. Truly a unique setting.
If you fancy ruins, then also check out the Barnsley Resort in Asheville – here you find a stately house, a lovely garden, and some incredible ruins. As the tale has it, Godfrey Barnsley married his Julia almost 200 years ago on Christmas Eve here.
Want something even more impressive? Have a look at Tutbury Castle in the UK. They even offer midnight weddings (ghosts possibly included), if you're looking for something dramatic.
Maui – Dreamlike Old World Elegance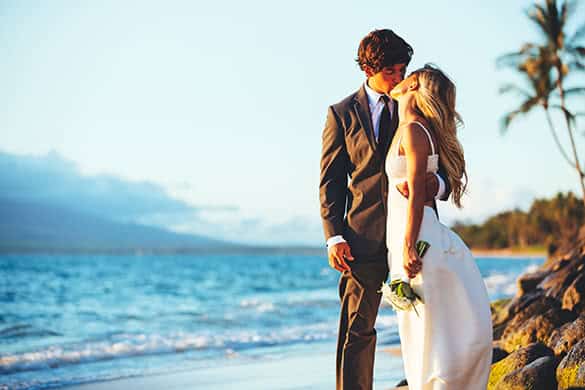 Haiku Mill in Maui is something out of a dream. An old sugar plantation filled with antiques and surrounded by lovely jasmine and gardenia blossoms, this place is unbelievable.
Quite the setting for a wedding. And unlike other Hawaiian wedding destinations, this is not set on a beach, but rather an enchanted forest. It's truly incredible.
Maui offers plenty of sandy beaches and rainforest to explore as well and it's a well-known honeymoon destination.
Washington & the UK – a Rainy Fairytale
Washington isn't all about the rain. It's about the magical forests too. And in one such forest is a treehouse called Treehouse Point. Where you can get married. It's quite astounding, really. If you ever dreamed of a woodland wedding, this could be the destination of your dreams.
Now, there's another place famous for rain and that's the UK. They also have an incredible treehouse to get married in over there (why not in Wellington boots? In case it rains…) in the Alnwick Garden.
Utah – Red Rock Beauty
Have you ever seen the impressive red rocks in the Utah desert? They deserve to be on your cool wedding locations list. Seriously. Entrada just outside St. George offers one wedding venue in the outdoors, or you could just pick a rock In the Zion National Park or Snow Canyon National Park) and get hitched in the desert!
For your honeymoon, check out Red Mountain Resort where you can chillax at the spa or join one of their many adventures. It doesn't get much more luxurious than that.