Are you looking for some cute ways to say I love you? Maybe you're trying to find something adorable to do for your guy to surprise him and make him smile? If so, here's the must-have list of 50 cute ways to say, "I love you" without actually saying it.
You might not know this, but guys like to be adored just as much as we do. They don't always openly express their need for cute attention, but they really appreciate it when we show them some love. If you want to say, "I love you" in a way that makes your man's day, then here are 50 cute ways to say I love you that are guaranteed to make him smile.
#1 Stick a Post-it on His Windshield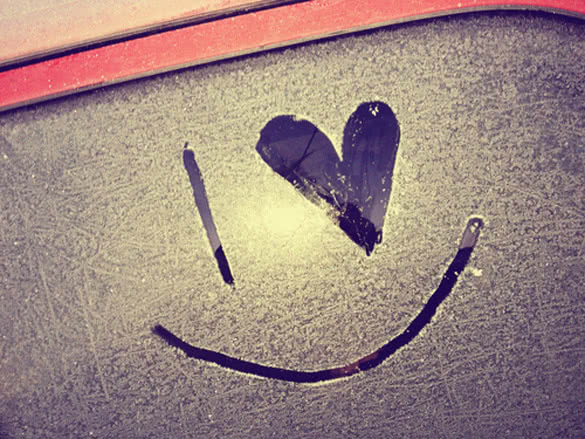 While he's in the shower, cut a heart shape into a post-it note, write "I love you" with a smiley face, and stick it to his car window or windshield. It's a great way to start his day.
#2 Pack His Lunch
Going out for lunch every day at the office can get pretty pricey. Instead of having your guy overpay for fast food that he doesn't have time to eat anyway, pack him a lunch bag.
#3 Leave a Kiss Print on the Mirror
Put on some red lipstick and pucker up! After he falls asleep, put your kiss print on the bathroom mirror and write "I love you" in lipstick so he'll see it first thing in the morning – definitely a way to make your guy smile.
#4 Bring Him a Flower
Guys like flowers, too, so have a single red rose waiting for him on the table when he gets home.
#5 Clean His Car
Guys can be pretty messy, so treat him to a surprise car wash (inside and out).
#6 Surprise him with His Favorite Dinner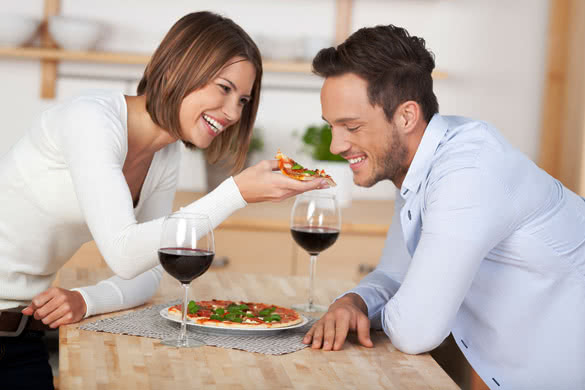 They say the way to a man's heart is through his stomach, so say, "I love you" with his favorite meal. If you can't cook, then order in for him.
#7 Show up Naked
Another way to say, "I love you," is to be waiting naked (or in cute lingerie) for him when he gets home from work. Make sure, of course, he doesn't have any of his buddies coming home with him.
#8 Flirt with Him in Public
An excellent way of saying, "I love you," is to flirt with him in public. Men love attention, and they really love it when they can show off their adoring lady, so make sure you flirt with him where everyone can see it.
#9 Give Him Praise
Feed his ego. They love that!
#10 Write Him a Poem
If you're a creative soul then write your guy a poem. Even if you're not creative, a simple Haiku works wonders for a cute, "I love you."
#11 Send Him a Random Text During the Day
Lovers always like to know you're thinking about them, so send him a random text during the day to say that you care.
#12 Leave a Card on His Pillow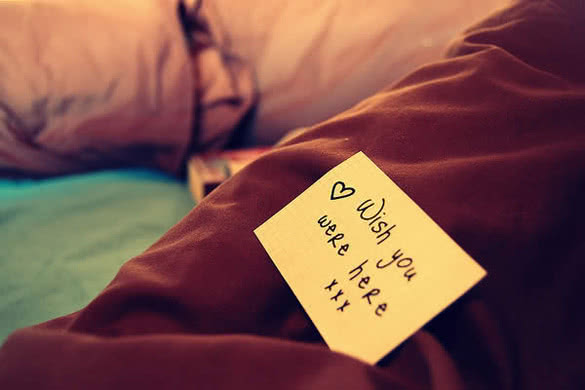 Leave a simple card (handmade or store bought) on his pillow after you make the bed.
#13 Put a Stuffed Animal on His Windshield
Does he have a favorite animal? If so, get him a small stuffed toy and attach it to his car windshield so he finds it when he's heading out.
#14 Leave a Love Note in His Briefcase
A little "I love you" post-it in his briefcase will make him smile for a moment during his insanely hectic workday.
#15 Write it on the Sidewalk
Get yourself some sidewalk chalk and write it outside for him and the whole neighborhood to see!
#16 Bake Him Cookies
Bake his favorite cookies (make them heart shaped if you can).
#17 Give him a Heart-shaped Balloon
Balloons are underrated and very cute. He'll appreciate this one!
#18 Make a Note Jar
Stick a bunch of little notes with random sayings in a mason jar. Let him pick one every day.
#19 Origami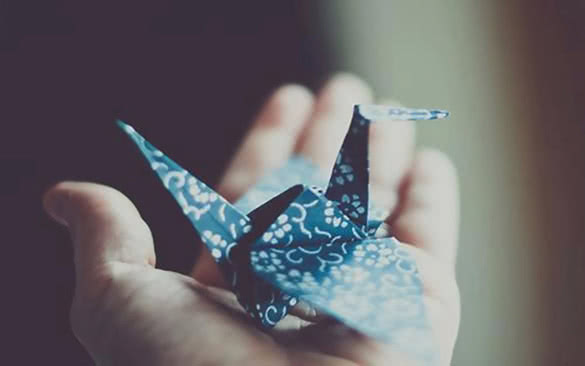 Make him an origami animal and leave it in his briefcase or on his dashboard.
#20 A Little Book of Poems
Buy him a little book of poems and write a personal love letter inside the cover.
#21 Put a Picture in His Briefcase
Make sure he has a photo of you and him happy together with a little, "I love you" post-it attached.
#22 Text Him a Sexy Picture of You
Text message a sexy picture of yourself to him sometimes randomly during the week. It'll be a nice surprise!
#23 Take Him on a Surprise Picnic
Don't get out of the house enough? A cute way to say, "I love you," is to take him on a picnic.
#24 Take Him Ice-skating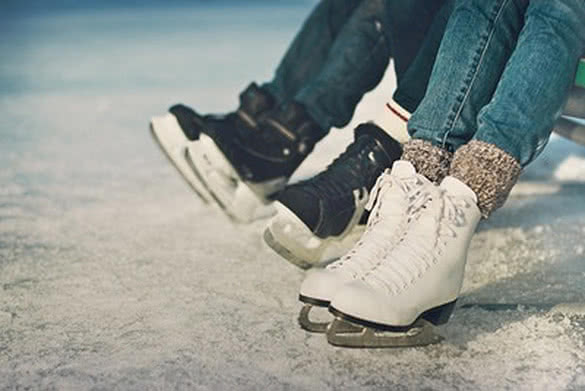 Holding hands and drinking hot chocolate…always a way to say those three little words.
#25 Share an Ice Cream
Buy one big banana split and share it with him. Nothing says, "I love you" like sharing your food.
#26 Camp Out in the Living Room
Move the coffee table and make a picnic with your favorite romantic film.
#27 Light Candles and Massage Him
Definitely a great way to say it after he's had a long, hard day.
#28 Make Him a Jar of His Favorite Candy
This is something cute for his office desk.
#29 Use a Different Language
Write a love note in a different language, and have him try to figure it out.
#30 Make a Mixed CD
Nothing says, "I love you," quite like a mixed music CD. It's personal, and it shows that you took the time and effort to make it.
#31 Breakfast in Bed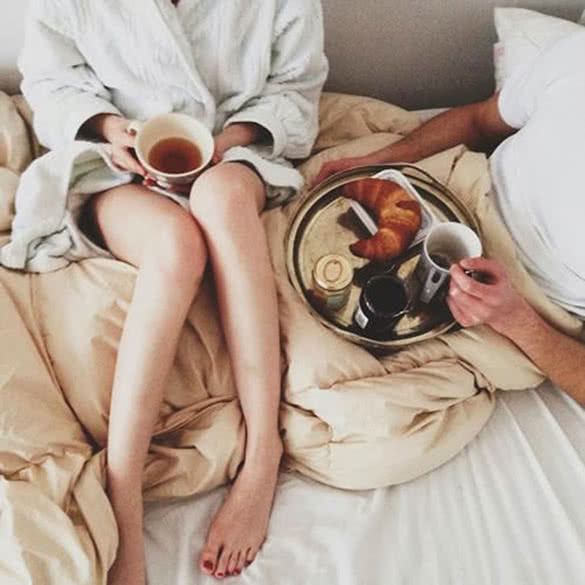 Always a winner.
#32 Challenge Him to His Favorite Game
Chess, Halo, Grand Theft Auto…give him the attention he craves.
#33 Rub His Feet
An underrated and cute way of showing your love.
#34 Blindfold Him and Spell Out Words on His Back
This is a cute game that turns sexy very quickly.
#35 Post a Video to his Facebook Page (an Inside Joke Between You Two)
If you share a favorite show make his day with a little private joke.
#36 Remember Something He Said… and Follow Up
Didn't he mention last week that he hasn't had tacos in a while? Go grab your guy some tacos.
#37 Bring Him Coffee
Coffee in bed, coffee at the office… coffee equals love.
#38 Have Lunch Delivered to Him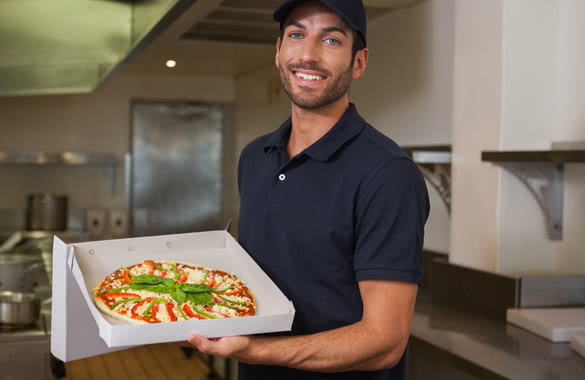 No time to pack a lunch? Have a pizza delivered to him.
#39 Leave a Card in the Mailbox
If your guy checks the mail, then this is the perfect cute surprise!
#40 Hold His Hand
Wherever you go, hold his hand.
#41 Make him a Man Basket
Beef jerkey, potato chips, and beer in a basket. Show him the love.
#42 Bake Him a Cake… With His Favorite Character
Does he love Game of Thrones? Decorate a cake with toy action figures for him…for no reason at all.
#43 Go on a Walk
Romantic and sweet.
#44 Give Him a Lollipop With Your Own Wrapper
Write, "I love you," over and over on a square of cloth or a white paper towel and wrap it over the lollipop (Don't remove the original wrapper!).
#45 Say it in the Snow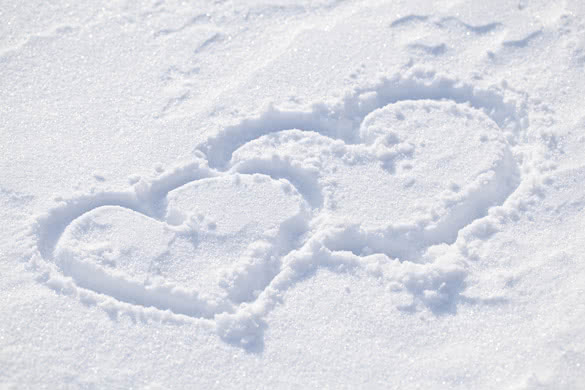 Carve a giant heart out of snow (or sand…or make it with leaves) so he sees it when he gets home.
#46 Say it with Breakfast (Word-shaped Food)
A bacon and egg smiley face is a cute way to say, "I love you."
#47 Dedicate a Song to Him on the Radio
A long forgotten tradition that will show him you love him.
#48 Read to Him in Bed
There's nothing sweeter than cuddling up together with a good book.
#49 Write Him a Letter in Calligraphy
Instead of just writing a letter, do it in calligraphy! It's both elegant and beautiful. Writing him a letter is a super cute way to say I love you.
#50 Mail Him Your Panties
A cute and frisky way to show him your love is to mail him a sexy (clean) pair of your panties with a little note that says, "Guess who's not wearing underwear?"
Do you have any other cute ways to say I love you to your guy? Share your thoughts in the comment section below!