Men love to have sex with the woman on top, and it's one of the best sex positions for a woman to reach orgasm through penetration, but being on top requires technique and stamina. Here's how to ride a guy (properly)...
Sure everyone knows that the woman on top sex position puts the woman in control of her own sexual pleasure, but it also gives you the responsibility for providing your man underneath with pleasure.
How will you know if you are hitting all the right spots? How fast should you go? Does he like it at this angle? Will it hurt him if you bend back a bit? And so the questions begin to flow…
Soon you're not thinking about your own pleasure anymore at all because the whole thing is stressful and tiring – you had no idea he had to work so hard!
Woman On Top Attitude
The first thing in learning how to ride a guy is amending your attitude. If you want to wow him with this position, then you have to get the mentality right.
Being on top is sexy because it wreaks of power – even though you will probably feel vulnerable, exposed and be lacking confidence in your technique.
The whole point though is to be in control and enjoy yourself. If your guy sees you basking in the glory of riding his Big Fella all over the bed, then that alone is going to send him over the edge, you won't even need technique!
Follow these tips to get yourself feeling sexy and in control…
1. Do you have the right attire? Remember, the main attraction of the woman on top sex position is that he gets to see you in all your glory.
This is definitely the position to satisfy any man who loves to look at breasts, so make sure your breasts are looking their best! You can go for sexy lingerie, bras that give you a lot of sumptuous cleavage, bras that are made of sheer material so that he can see your erect nipples poking through.
TIP: If you are feeling self-conscious of your midriff because we don't all have flat tummies, why not wear a sexy corset or a silky night-slip to cover up any flabby bits that distract you while you are writhing away on top?
2. Clever tricks to make you feel powerful, and drive him crazy… There's going to be a whole lot of manly chest in front of you to play with, so why not paint your nails bright red to match your siren red lips and tap into his secret sex fantasies?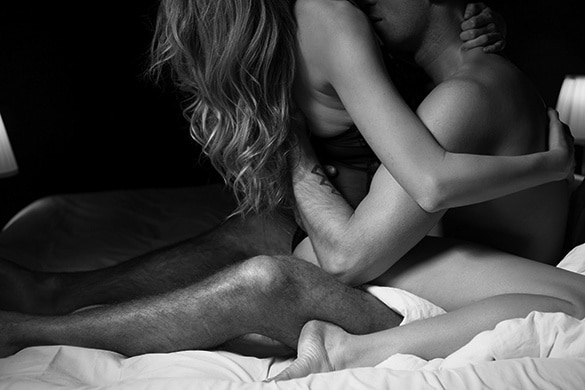 Every man has fantasized about having a sexy woman on top of him raking his chest in ecstasy with her pointy red nails – there's just something fetishistic about it. Give it a go, sometimes stepping into a bit of role-playing can give you that extra confidence you need.
You can even take it to the next level and leave on your heels! He will feel like you are his hot dominatrix lover or a sexy secretary. The imagination is a powerful aphrodisiac.
3. Don't be afraid to look him straight in the eye. Establishing this kind of connection in the woman on top sex position can be incredibly hot, and it gives you the opportunity to communicate with him through facial expressions, dirty talk, or even just a simple smile that reminds you that it's still just you and your man having great sex, with nothing to feel intimidated about. (note: eye contact is especially important if you want to connect with him on a deeper emotional level)
So now that you have gathered the confidence, you are ready to take action!
How to Have Sex in the Woman On Top Position
Don't worry it's not rocket science, just follow these simple steps so that you've got the basics, and then go with what feels good.
1. Make sure that you are both turned on. He should be hard and you should be wet.
2. Roll your guy over so that you can mount him. Once you're straddling with one leg on either side, you may want to tease him a bit before lowering yourself entirely onto his penis.
You can hover, brushing against the tip of his penis with your clit if it feels good for you, you can kiss his chest, stick your butt up in the air, even go down and give him a bit of a suck if he's not as hard as you'd like.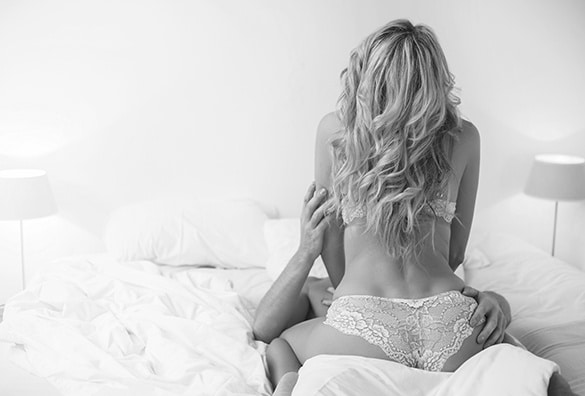 3. Then slowly use your hand to guide his hard penis into your vagina. Savor it. Move up and down until you have teased the head of his penis through the entrance of your vagina. Enjoy those sensations. Remember if you feel good, the chances are so does he!
4. Once he's in you might want to move up and down along the length of his shaft slowly and purposefully, tilting your hips slightly when you push down so that they rotate and you can feel him rubbing all the right places inside of you.
5. Don't rush into anything, keep the penetration steady, vary your movements so that he doesn't get too excited too quickly.
TIP: If you do the same thing for too long and he's really enjoying, he's gonna blow, so tease and make it last. Most importantly focus on building up your pleasure. It's not that difficult to get a guy off once you get going, so focus on getting yourself off first.
6. Try rotating your hips in circles to see how it feels. Try shallow penetration so that the head of his penis slips in and out and you can feel that wonderful ridge of his on the lips of your vagina.
Try long deep thrusts, using your PC muscles to grip his penis inside your vagina. Try bouncing up and down – but not too hard – it might snap!
7. Don't forget to get him involved too. He doesn't have to just lie there while you do all the work, you're going to start getting tired pretty quickly if you're not used to being on top, so get him to help you.
He can lift you up and down with his hands underneath your butt, or he can pull you down onto his penis with his hands gripping onto your hips. He can rock you back and forth… You can take the pressure off your legs too by using his thighs or chest to lean on.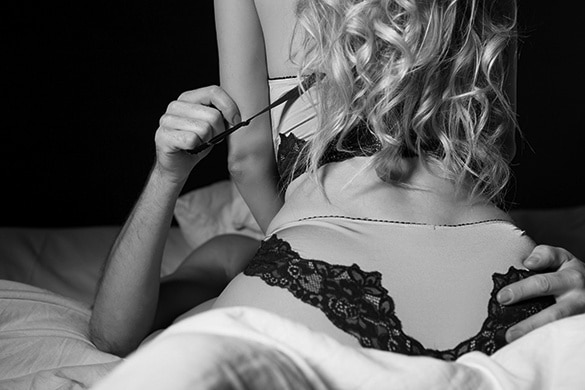 8. Don't be afraid of letting your breasts bounce either, that's the sort of thing that will turn him right on! Men are visual, the sight of you bouncing up and down on top of him is going to send his straight to heaven, trust me!
A few more tips and insights…
• Be careful not to get too carried away. If you stroke him in the opposite direction you could end up fracturing his penis! Just keep in mind that it's not designed to handle all of your weight by itself.
• Experiment by turning around so that he has a great view of your back and butt.
• If you need a rest, you can focus on fondling his balls, kissing his chest, or slipping off his penis and going down on him.
The Final Secrets to Riding Him Like a Queen
Don't forget not to overthink things. When you are too self-conscious and nervous during sex, a guy can feel it, you can't relax and you can't enjoy yourself. The secret about riding him is being selfish. Basically, this is the time you use him for your own pleasure — and that's precisely the part he'll enjoy most: seeing how much pleasure you can get from him being rock hard inside you. What he wants to see is that you are enjoying yourself, completely.
So smiling and moaning loud with a wide open mouth are things that will turn him on and make him feel sexy (because he feels he's the one making you feel this good). The Take his fingers and out them in your mouth… suck on his fingers seductively, put them deep in your mouth as if you are giving him the perfect, most erotic blowjob… or even bite on his fingers naughtily and moan loud while you ride him faster and faster.
The key is that you seem as if you can't even control yourself from the ecstatic pleasure you're getting from being on top of him. And if you want to take it a step further, arch your back, hold onto his legs while you ride him fast (but do mix up the tempo occasionally), and see if he enjoys choking you gently, take his hands and put them around your neck. This might really turn him on and could even instantly make him erupt like a volcano.
Of course — all of this is impossible to do if he's not rock-hard. That's a prerequisite to riding a guy correctly: he simply must be rock hard and turned on completely, if he's just 80% erect, that doesn't cut it and doesn't make this position (you being on top) enjoyable to him. That's why you shouldn't just start riding him immediately, instead, ease him into it by first TALKING TO HIS MIND! (read this classic guide if you're not completely confident about talking dirty).
Just use the power of your voice and talk dirty to drive him wild with desire. The truth is that a man's orgasm begins in his mind, not just between his legs. The more turned on you can get his psyche, the harder his penis will be and the more pleasurable an experience he'll enjoy when you are on top of him. Especially if you can seductively whisper some dirty words into his ear. Then you can ride him into oblivion!
HOW TO ORDER "JACK'S BLOWJOB LESSONS"?
A lot of readers asked us about this so we decided to share how.
Click this link here and when you scroll down to the bottom of the page click "ADD TO CART." Once you complete your order, you will gain INSTANT access and can start learning the art of blowjobs within minutes.
Don't forget your purchase is 100% RISK-FREE, backed up by a 60-day money-back guarantee. So you've got nothing to lose to give this a try and see how it works for you.