Personally I think the word "Hand job" sets women along the wrong path from the start. No wonder so many women are put off... it sounds like hard work! There's nothing more off-putting for a man than to have a woman tackle a hand job as if she is on a mission.
Masturbating your man is a hot, sexy privilege.  You should approach and handle his d*ck with awe and lust; for his benefit, and essentially for your own. Don't you want to make your man gasp and groan?  It's a total power-trip!  But there's a lot more to it than you may think…
Hand jobs are not actually ranked very high on the list of things men want during sex.  "It's just one step up from a private wank" said one guy, (charming!).  However, it's good to know what you're doing, because mutual masturbation can be fun and sexy; but not if you're so bad at it that you're distracting your partner and yourself!
So let's see what we can do about your awkward attempts… Many women are only "bad" at giving hand jobs because they lack the confidence and knowledge they need to know what feels good for a man.  I say the best way to learn is to ask. Every man is different, and after speaking to a variety of men on the topic I've come to realise that while it can be fun to try new techniques and surprise your man with newly discovered pleasures, it also makes sense to simply ask him what feels good.
The first thing we need to do is acquaint ourselves with the male genital organ… a.k.a. his throbbing member…
Common Misconceptions About the Penis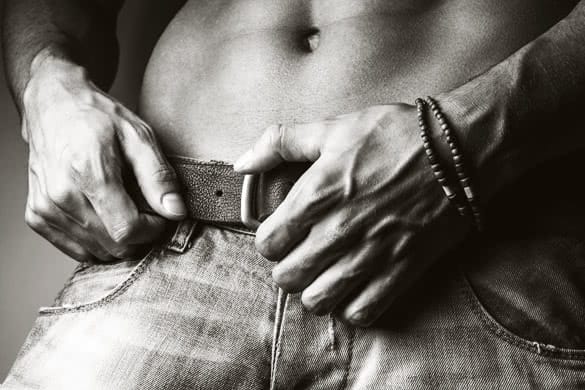 Just because he pounds you like a mad thing when you're having raw, unleashed, passionate sex, it does not mean his d*ck is a numb piece of flesh that needs hard, fast stimulation to get it going.  No, no, no.  Remember, he can only do that because your vagina is a warm, wet cave of delightful juicy lubrication!
A man's penis is a muscle, which is just as sensitive as your own genital area, in fact possibly even more so; gentle is the way to go.  I have spoken to many guys about this and they all agree, implicitly (with a look of warning in their eyes), that they prefer a gentle, sensual touch.
One guy I spoke to described a personal hand-job horror story to me, in his heavily French accent which added much humour to the poor guy's tale; "This one girl,"  he said with a pained expression on his face, "It was like she was trying to make a fire!  Terrible.  Twisting with two hands… ridiculous, painful… and the way she looks while she was was doin' it…" (He trails off into a troubled silence.  It takes him a few minutes to recover from the memory.)
Rule #1:  It is not sexy to have a vice-like grip.
Another guy I spoke to suggested to think about it as a soft massage rather than a deep tissue sports massage.  Too soft is better than too hard!
Foreplay Starts Long Before You Unzip His Pants
Men can be greedy and impatient, wanting instant gratification.  It can be up to you to prolong the pleasure and anticipation, so that when you do come to handling it, his d*ck is erect and sufficiently juicy.
Foreplay can start long before you get anywhere near giving your man his hand job.  Dirty talk is one way to make a guy's pants tight.  Secretive dirty talk in public places, with a bit of over-the-clothes contact can be fun!
Try standing close up against him when you're at the bar or waiting for a bus, and discretely rub the top of your thigh in between his legs.  You can even pretend you don't know you're doing it… let a hand caress his trousers, edging upwards, maybe give his bum a bit of a squeeze.  It's all about alerting his body and mind to what treats you have in store for him later!
Rule #2:  Don't forget that hand jobs are about mental stimulation, just as much as they are about physical pleasure.
Approaching It With The Right Attitude
There's just no point if you're not going to enjoy the experience with him.  Giving a man a hand job isn't just about getting him off, it's about enjoying everything about the experience, including all the naughty sexy implications that go with it!
Guys like the fact that a woman wants to invade his trousers and touch something that belongs to him.  You're doing something cheeky, something a bit naughty; so you may as well be a bit slutty about it, and add that little bit of extra excitement and fantasy to the mix.
One guy I spoke to said he specifically never asks a woman to touch him.  Number one, it spoils the fantasy of being invaded; and number two, if the girl initiates the act, it shows that she wants to do it, for her own pleasure as well as his – and that is sexy!
Rule #3:  When giving a hand job, be decisive.  Take the initiative and just go for it.  Take control and love every single minute!
One guy described his best hand job experience to me ;"She came into the front room carrying a full length mirror and wearing french knickers and high heels.  She placed the mirror behind her and knelt down in front of me…"
Er, wow!  Now that is the kind of confidence and initiative we are talking about.  The lucky guy got to see what was happening from two very erotic perspectives; birds-eye and behind, and well, you can imagine that the hand job lead to oral sex, and then probably full-on steamy sex in front of that full-length mirror.  Nice.  Hot, hot, hot!  Clever girl.
Hand Job Techniques To Drive Him Crazy
Now that you've got some creative ideas running through your head, I suppose you want to know exactly what it is that guys like you to do with their penis!
It's so difficult for us to imagine what it feels like for them, isn't it?  We don't have a penis after all, so it's all a bit alien.  Unfortunately there is no one technique that is guaranteed to get a guy off; because all men are beautifully different, but here are a few things to remember, and some tips to get you started.
Don't be afraid of it.  Yes it's big, and it's pumping away in your hand, and it holds the key to bringing your man to his knees… but it is only a part of the body, with nerves that respond to a variety of caresses.  Your job is to have some fun with it, and keep in mind that it's a sensitive organ that is attached to other pleasure spots nearby…
For instance, his inner thighs… don't forget to rub and stroke them too!
And his ass, which is perfect for some rough grabbing and squeezing to work up your own sexual appetite.
Don't forget his balls!  Balls like to be fondled, tickled, gently scratched and massaged.  They are very sensitive to touch and can add a whole new level of pleasure to a hand job.
Once his d*ck is erect you may want to focus your attention on the head; which is the most sensitive part, along with the frenulum just underneath.  If his penis is erect and already seeping you know he's ready, and you will have enough of his natural lubrication to start gently rubbing the head with your thumb and two fingers.  Some guys like you to add your own saliva for extra lubrication, and it can be quite sexy to see you lick your own fingers and then apply them to his d*ck!
You can then stimulate the shaft of his penis with three fingers by rubbing up and down… one guy described this as 'heavenly', so it must be good eh?
Some women like to create a ring with their thumb and forefinger and slip it over the head of the penis to stimulate the sensitive ridge area and the frenulum just underneath.
Don't use just one boring action.  You can vary the pace at which you rub; remember you are teasing him to the point of no return… If you do the same thing over and over again, not only are you both going to get a bit bored, but your arm darling, is going to ache!
When you think he's been pleasurably tortured for long enough, you can then place your full hand around his penis and build up a steady pace of up-and-down movement, speeding up according to his excitement, until he ejaculates.  Some men like you to slow down at the end when they are ejaculating, and carry on for a little while, very slowly, until it's all over.
As for his sperm, well that is one of personal preference. You can catch it all in your hand and then wipe it away with a tissue… One guy specifically said "Just don't put that sh*t on me!"  Or if your guy has any dirty fetishes he might enjoy seeing himself ejaculate all over your chest… or er, feet I have been told…
One thing that can definitely help you to further improve your hand job skills is reading Michael Webb's detailed hand job guide: Stroke by Stroke. Believe it or not, it's possible to give your man more pleasure with an awesome hand job than a blow job!