A maxi skirt would be a great addition to your summer wardrobe. If you're not sure how you should wear it, check out these outfit ideas and get inspired!
There is this one thing girls love about maxi skirts – their versatility! When it comes to maxi skirts, it's all in how you style them. They fit perfectly into a boho-chic kind of outfit, but they can also look punk-rockish, casual, but also elegant and very chic. Another thing girls love about them is the fact that they are incredibly flattering – maxi skirts can hide all of your lower body insecurities – imperfect legs or a bigger booty. Paired with heels, these skirts will elongate your body figure and make you look taller and slimmer. So, what are you waiting for? Learn how to wear them and go grab your maxi skirt!
Outfit Idea 1
This outfit is a perfect combination of nude shades and animal print with a pop of color. The floor-grazing skirt is really effective because of its length and color, so the rest of the outfit is pretty simple. The shirt is a basic top in a light shade of nude, the shoes are the super comfy animal printed flats, and the bag matches the rest of the outfit perfectly. Accessorize this look with a cute bracelet.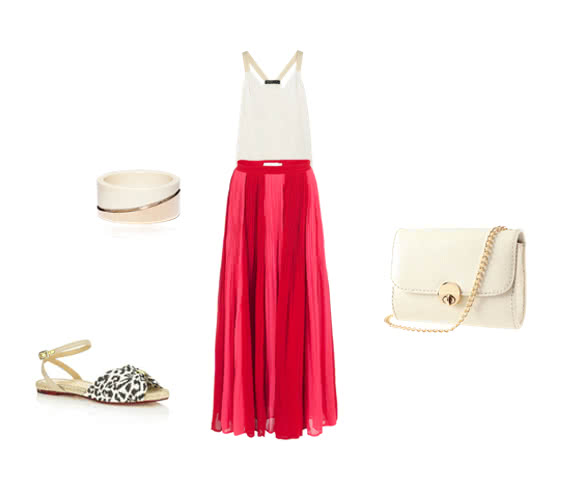 Aaiko Maxi Skirt Yanka (welikefashion.com)
Elizabeth and James Crosby Satin Top (net-a-porter.com)
Charlotte Olympia Marina Flats (harrods.com)
H&M Bag (hm.com)
Marni Bracelet (marni.com)
Outfit Idea 2
Here's how a simple combination of a printed white top and a long black skirt is brought to life with some orange and a few accessories. This skirt length is suitable for girls who still aren't ready to wear floor-grazing skirts. This unbelievably cute bag has the ability to brighten up every single outfit. Wear this combo with the perfectly matching and super comfortable wedges, and don't forget to accessorize with a pair of sparkly earrings and a cute watch.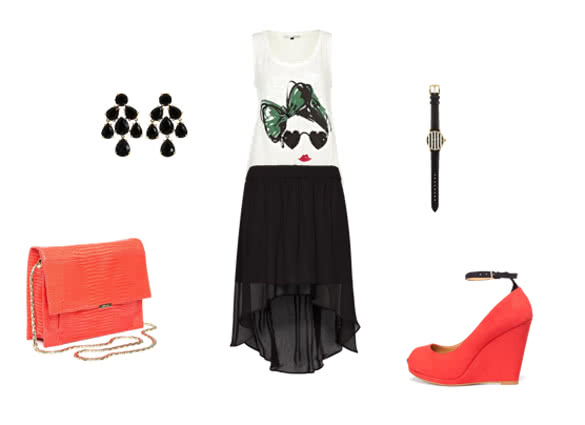 Skirt Corti (mango.com)
Cream Embellished Bow Girl Print Tank (riverisland.com)
Jason Wu Jourdan Cross-Body Bag (kirnazabete.com)
Lined Wedges by Zara (zara.com)
Kate Spade New York Sparkly Gems Chandelier Earrings (couture.zappos.com)
Kate Spade Ladies' Metro Striped Watch (lordandtaylor.com)
Outfit Idea 3
Nude and black go perfectly together, and here's an outfit that proves it! Pair a maxi skirt in a nude shade with a simple black tank top, and wear this combo with simple black wedges. This outfit would be kind of uninteresting if there weren't for the accessories – this gorgeous green bag, a statement gem necklace and the most important summer accessory – sunglasses.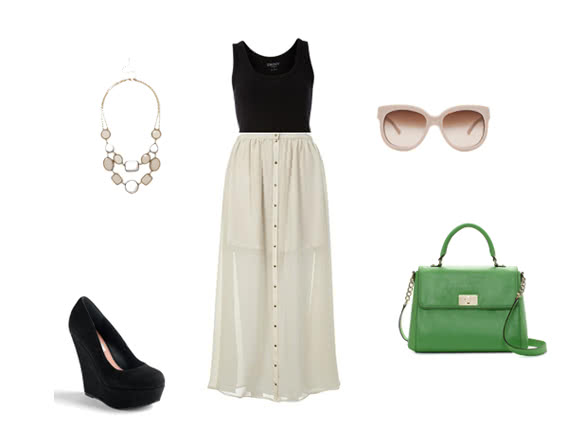 Joie Lotus Maxi Skirt (harrods.com)
DKNY Tank (houseoffraser.co.uk)
Steve Madden Pammyy Platform Wedges (lordandtaylor.com)
Irving Place Nadine Bag (katespade.com)
Mixed Gem Bib Necklace (maurices.com)
Stella McCartney Sunglasses in Hazelnut (forwardforward.com)
Cover photo: www.streetfsn.com
One thought on How to Wear a Maxi Skirt
I love this outfit idea no. 2 :D