Nail art of all kinds is having a major moment right now. What happens when you combine the best metallic nail polish with the hottest nail trends? Manicure magic.
Who doesn't love getting their nails done? Manicures aren't limited to long, gaudy nails or the classic but, let's face it, yawn inspiring French tips anymore. If you've been paying any attention, you know that nail art is getting its much deserved time in the spotlight, with nail porn of all kinds just ripe for the ogling, from galaxy nails to half-moons and stiletto tips, there's definitely something for everyone out there.
One look I love is metallic. This bold look is always being reimagined, and every time it comes back around, it is never less than super chic. I compiled my list of top 10 best metallic nail polish looks, and every single one is to die for – promise!
#1 Sleek Tips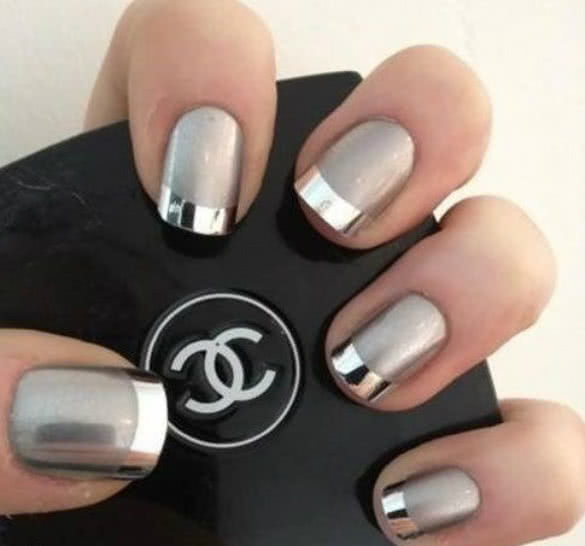 Okay, how absolutely gorgeous is this twist on classic tips? This mirror-on-matte look is super sexy and oh-so-simple to pull off. For a day date, try a nude or pastel on most of your nail, or go with charcoal or navy for a lady of the night look.
Get The Look:
#2 Chroma Tones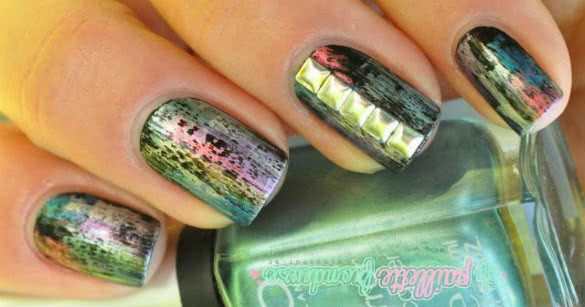 Mesmerizing! The only bad thing about all of the amazing nail art out there is I can never settle on a color or look. Chroma notes mean you don't have to. Definitely one of the best metallic nail polish looks to try out.
Get The Look:
Kiko Mirror Sky Blue
A England Excalibur Rose Bower and Dragon
#3 All Out Brilliant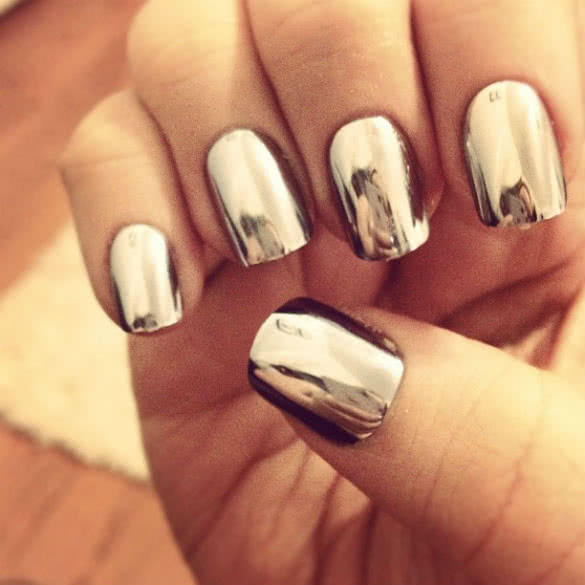 Warning: This look is only for the truly bold and confident. I love the sexy shine of full-on mirrored nails, but don't let your nails outshine your personality, ladies.
Get The Look:
#4 Magnetic Marbling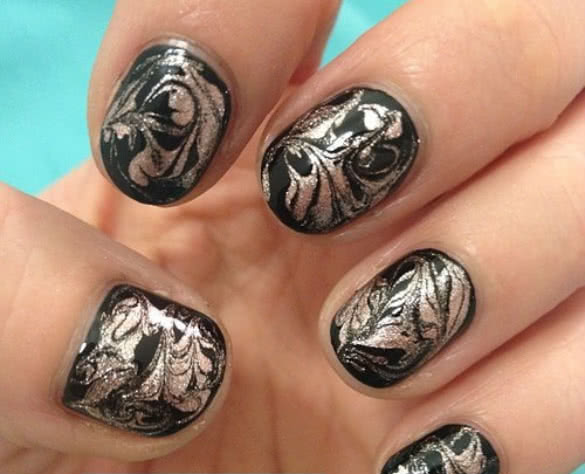 Marbling refuses to go out of style, and I couldn't be happier about it. Now if only I could get it to look right on my right hand…
Get The Look:
#5 Matte-allic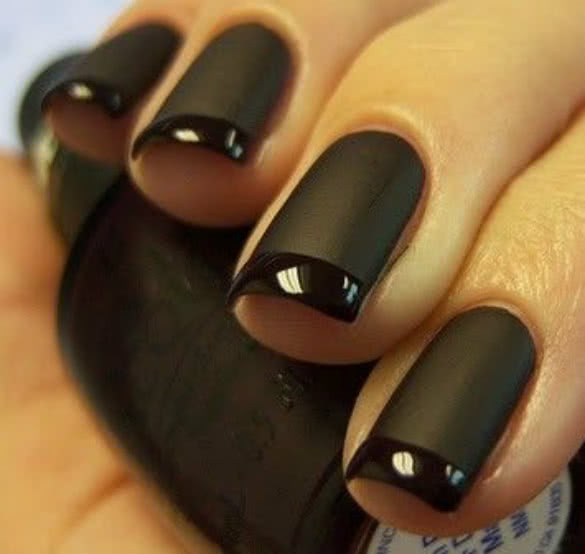 I absolutely adore the way that high-shine metallics look on a shy, subtle matte. If you want to try this look (and trust me, you want to try this look), go for a matte that matches your high-shine polish. You won't be sorry.
Get The Look:
Sephora by OPI What's A Tire Jack
#6 Mirrored Moons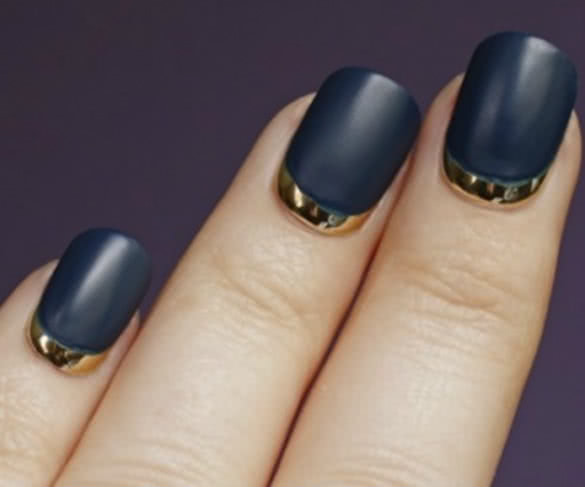 Nothing says prep school pretty quite like a half-moon manicure. Somehow the metallic accents made the entire look that much classier.
Get The Look:
Mentality Sailor
Minx Gold Lightning
#7 Shattered Glass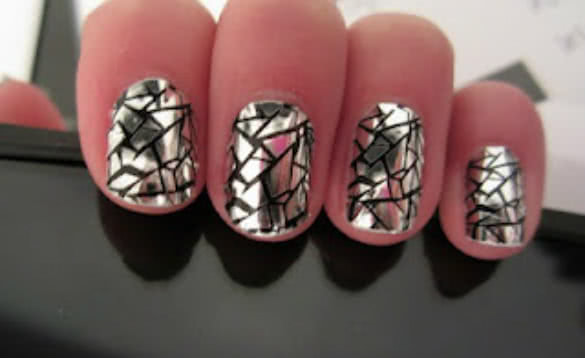 You'll definitely be a smash hit with the smashed mirror look. It's surprisingly simple to do, too! In my humble opinion, it's one of the best metallic nail polish looks out there, and you can bet you'll see a lot more of it when summer rolls around.
Get The Look:
#8 Just A Sliver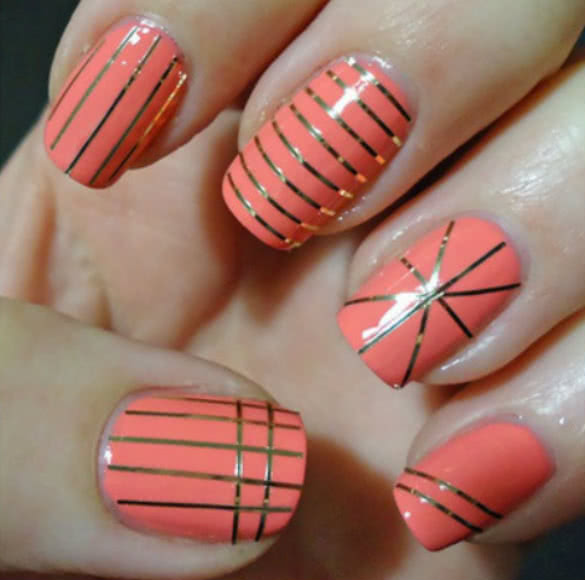 Hey, let's not forget about gold! Yes, silver is chic, but go golder – it's bolder. Pairing a sliver of gold on a neutral rose is a great way to dip your toes into the metallic nail look without going all the way.
Get The Look:
GURAIO acrylic gold nail striping tape
#9 Crystal Chunks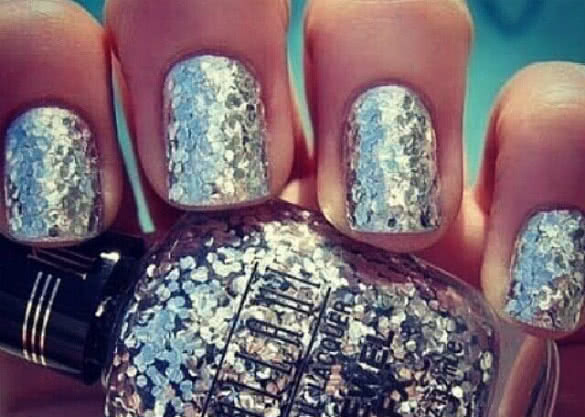 Why blend in when you can stand out and shine like the diamond you are? Some of the best metallic nail polish that you can find at the druggist right now are these mega-sparkle coats. Layer one coat on top of another in the same shade to get a dimensional look, or go
prismatic with lots of hues!
Get The Look:
#10 Deco Shine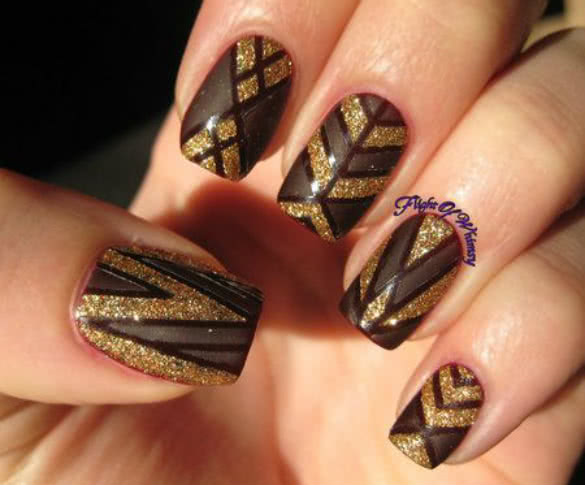 There's a reason flappers were so scandalous – the '20s vixens refused to play by the rules. Go for a Great Gatsby look with some simple, sexy geometry.
Get The Look:
GURAIO acrylic black nail striping tape
OK, now you have no excuse not to rock sexy nails all spring long and even into the sultry summer nights. Do you have a fabulous metallic nail polish look that I missed? If so, let me know in the comments or tweet us your mani @YouQueenMag. You can tweet them directly to me, too @FaintlyXMacabre, and I'll feature my favorites on a special Pinterest board just for you!
Cover photo: www.beautyhigh.com