Now that Halloween is around the corner, the celebs will start pulling out their best costume ideas. Check out these celebrity Halloween costumes we love for 2016.
Although I may be a bit biased, Halloween is probably the best holiday around. Not only do we get an excuse to eat massive amounts of candy and get away with it, but we're able to shed our skin for the night and spend a few hours being whoever we want to be.
When it comes to Halloween, the biggest question is: What should I be?
We're constantly getting outfit and makeup ideas from celebrities, so why should Halloween be any different? This Halloween, we're going for best dressed at the festivities and your safest bet could be taking some outfit inspiration from a few of our favorite celebrities.
Check out the celebrity Halloween costumes that you need to try Halloween 2016.
Khaleesi & Khal Drogo ("Game of Thrones")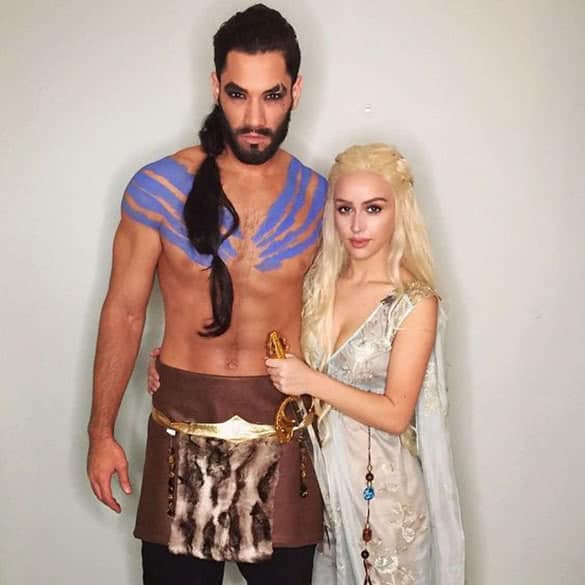 Our first set of celebrity Halloween costumes will be sure to make a statement at any party. Beauty vlogger, Carli Bybel, is quickly making a name for herself in the world of makeup and fashion, and she definitely proves it with this fabulous couples costume with her boyfriend, Brett Caprioni.
Probably pulling off one of the most creative and Instagram-worthy costumes of all time, the couple is giving us all the proper Game of Thrones vibes with their Khal Drogo and Khaleesi costume.
Want to know the quickest and easiest way to become Khaleesi? Find a vintage white/silver dress and invest in a blonde wig with tons of braids.
Carmen Sandiego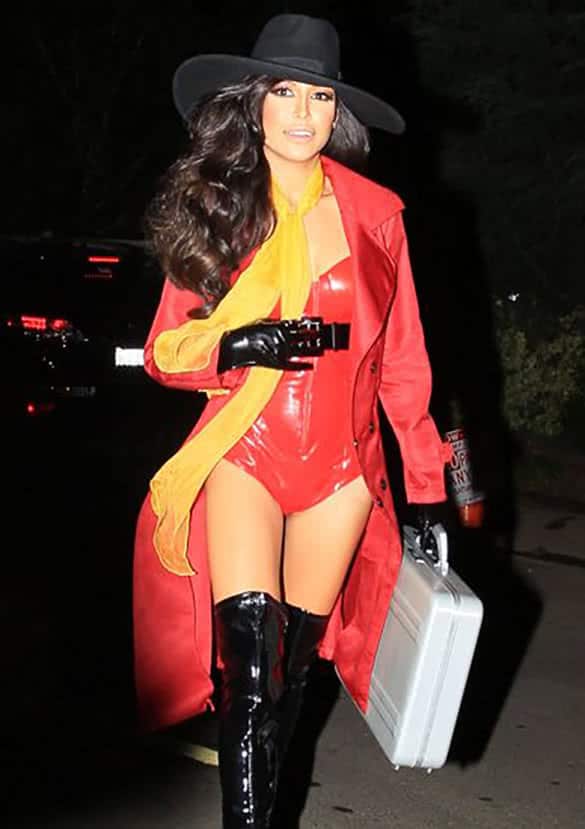 Where in the USA is Carmen Sandiego? Clearly, the answer is wherever Naya Riviera is! This Glee star pulled off this outfit phenomenally and it's easier to pull together than you'd probably think! One thing about dressing up for Halloween is that you're probably going to spend money on a costume you'll never wear again!
This costume allows you to reuse some of the pieces you'd need to create it. Depending on your style, you might find the red latex bodysuit finding its home at the back of your closet, but you can definitely recycle the other pieces of the costume.
A red trench, black over the knee boots, yellow scarf, and black fedora are all reusable clothing items which is why Carmen Sandiego is one of the best costume ideas.
Lucille Ball & Desi Arnaz ("I Love Lucy")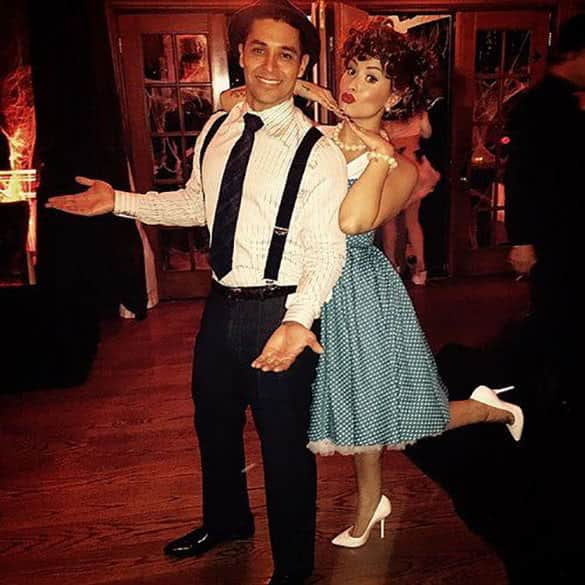 If you're ready to be one of the best couples of all time, you should follow in Demi Lovato and Wilmer Valderrama's footsteps. For this particular Halloween occasion, the couple decided to play on-screen and off-screen couple, Lucille Ball and Desi Arnaz.
While Desi's costume would be significantly easier for the male counterpart, a curly wig, red lipstick, pearl jewelry and white pumps can take you far for the I Love Lucy look. Make sure you don't forget the blue polka dot dress that Demi is so fabulously modeling!
Clark Kent/Superman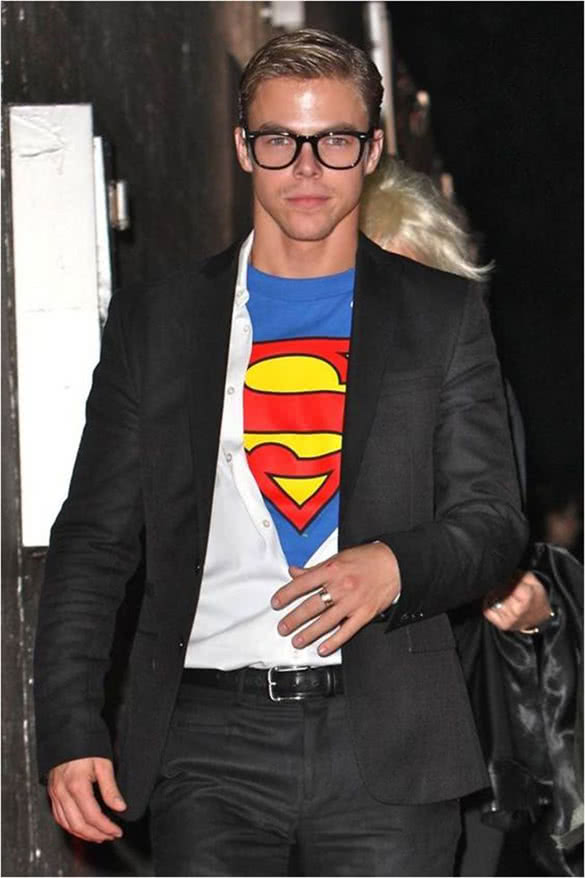 Is there a superhero hotter than Superman? This picture of Derek Hough is making it extra hard to dispute the idea. If you have a man in your life that can't decide on his Halloween costume, all he needs to invest in are a pair of black rimmed glasses and a Superman t-shirt.
He'll probably already have a black suit and white dress shirt somewhere in his closet. All he has left to do is slick his hair back slightly and soon he's doubling as a writer for the Daily Planet and one, if not the greatest, superheroes of all time.
Vivian Ward (Pretty Woman)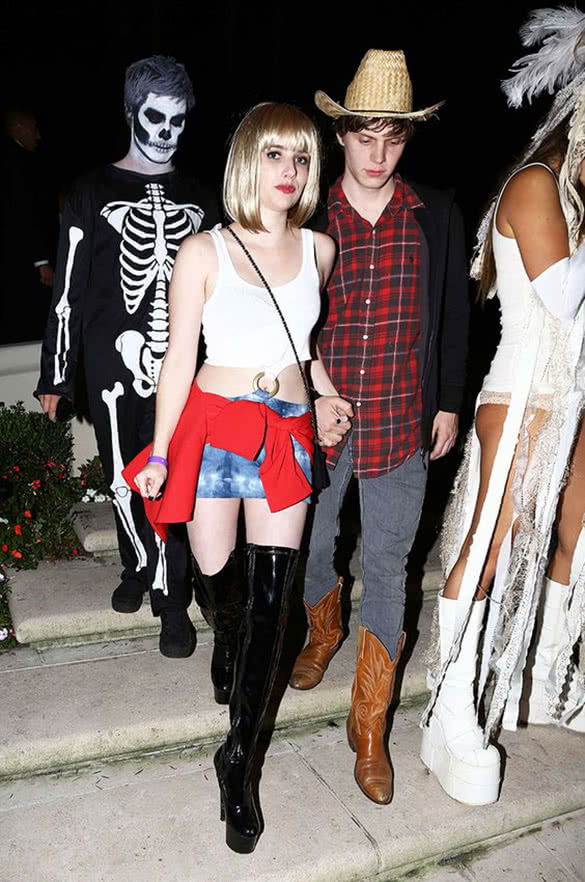 We're sure Julia Roberts was proud when her niece, actress Emma Roberts, dressed up as one of her most well-known characters of all time. Pretty Woman is definitely one of the more popular films during the 90s, and Emma Roberts certainly does it justice.
While you might be looking at her dress and wondering how the hell you could pull this off, all you'll need is a white tank top you don't care for, blue fabric, and a shower ring to connect the pieces. The outfit definitely isn't complete without the thigh high boots, red lipstick, and short blonde wig!
Sandra Dee (Grease)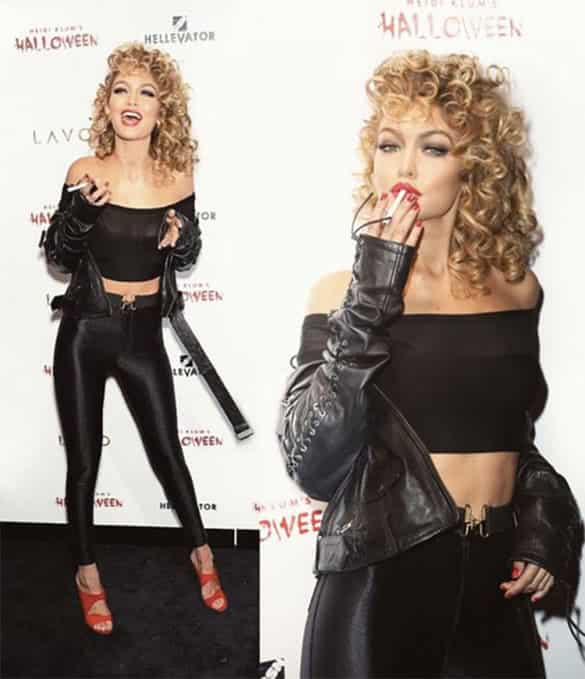 Even though those "Summer Nights" are gone, you can still bring back the "summer lovin'" by taking a page out of Gigi Hadid's costume vault. Last Halloween, Hadid made an appearance as Sandra Dee, post her good girl days.
This is definitely one of the easiest and worthwhile costumes to create because chances are you already have an outfit that could work OR you could reuse them if you need to buy anything!
For this costume, you'll need high-waisted leggings or trousers to be paired with an off the shoulder black top. Don't forget the leather jacket and sexy red pumps. To pull it together, wear your brightest red lipstick and if you don't have the blond locks, just make sure your hair is curled for the night!
Lara Croft ("Tomb Raider")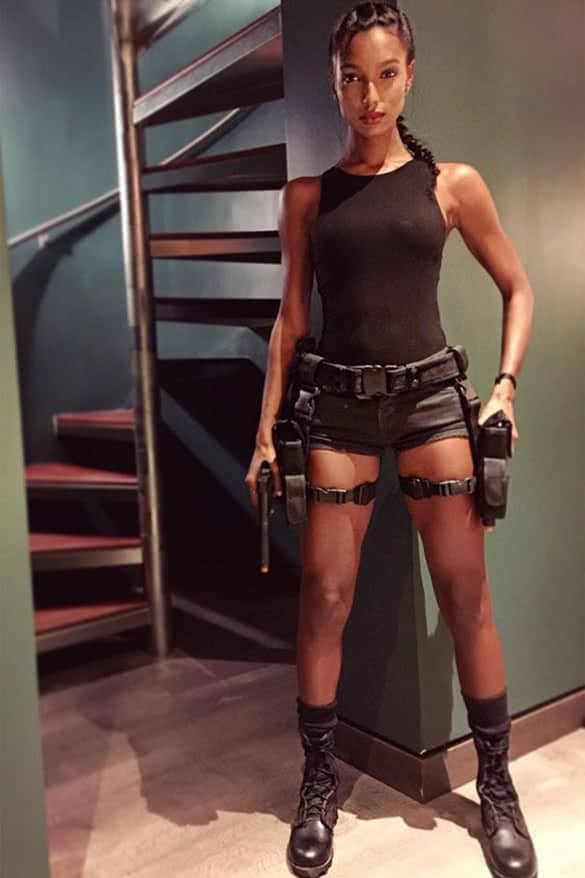 Model Jasmine Tookes is giving us all kinds of badass vibes. While most of us forget that the character originally came from a video game, Tookes is bringing Angelina Jolie's character to life from the 2001 film.
Another amazingly easy outfit to recreate, Tookes pairs a black shirt (or bodysuit) with black shorts and Doc Martens. All you might really need for this outfit is the artillery. The belt and holsters definitely make this costume worthy of making a reappearance Halloween 2016.
Little Red Riding Hood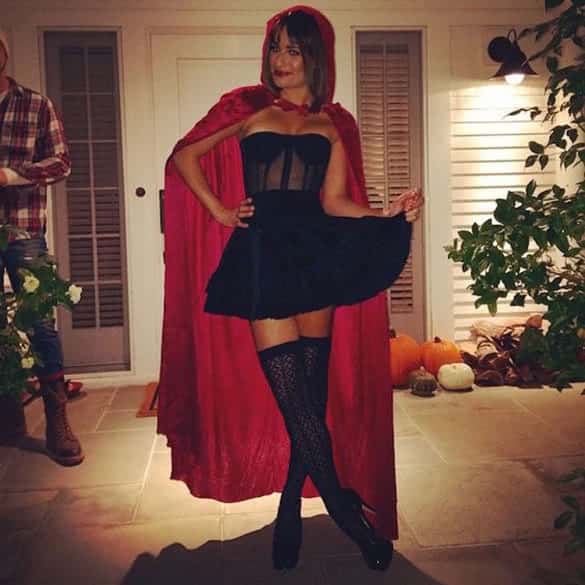 We're not afraid of the big bad wolf and neither is Lea Michele. The Glee and Scream Queens star rocked this Halloween outfit. Going for a sexier look for Halloween, Michele still keeps this costume classy and tasteful.
She pairs a black bustier with a mini skirt and thigh high tights. What clearly distinguishes her costume is the red cape. If you can't find the perfect one, you can always make it! Youtube star, Bethany Mota, has a cape-making tutorial on her channel, and we promise you, IT WORKS!
Mary Poppins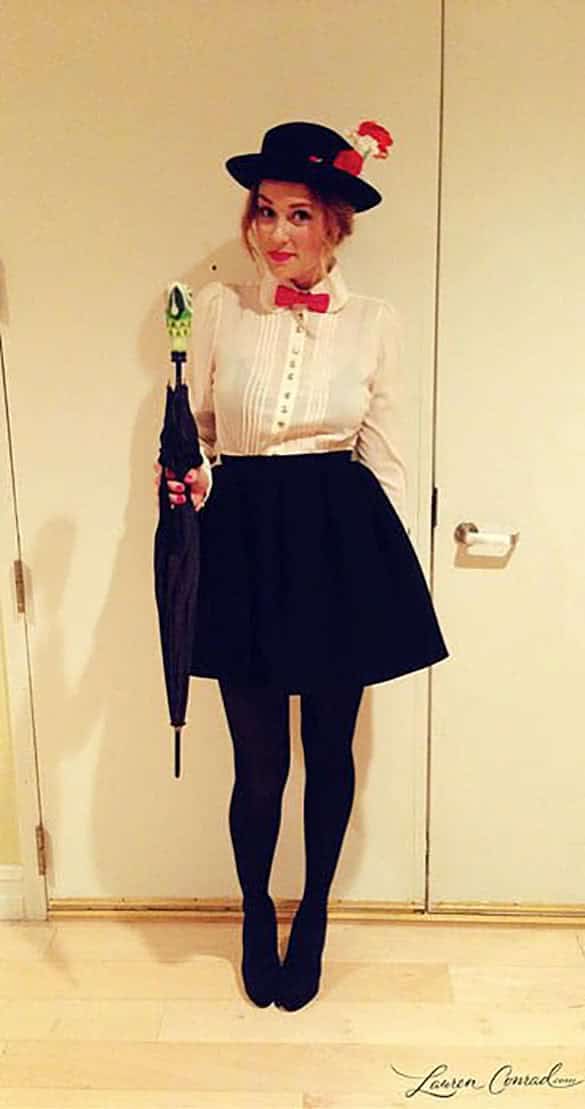 When it comes to celebrity Halloween costumes, Lauren Conrad is a pro with creating costumes with items you probably already have! This Mary Poppins outfit idea is nothing short of fabulous!
While you might find yourself going out to purchase the white blouse, bow tie, and bowl hat, you can make do with the rest of your outfit in your closet. Conrad pulls it together with a black tea skirt, tights, and pumps. Just make sure you don't forget the umbrella!
School Girl Britney Spears (…Baby One More Time)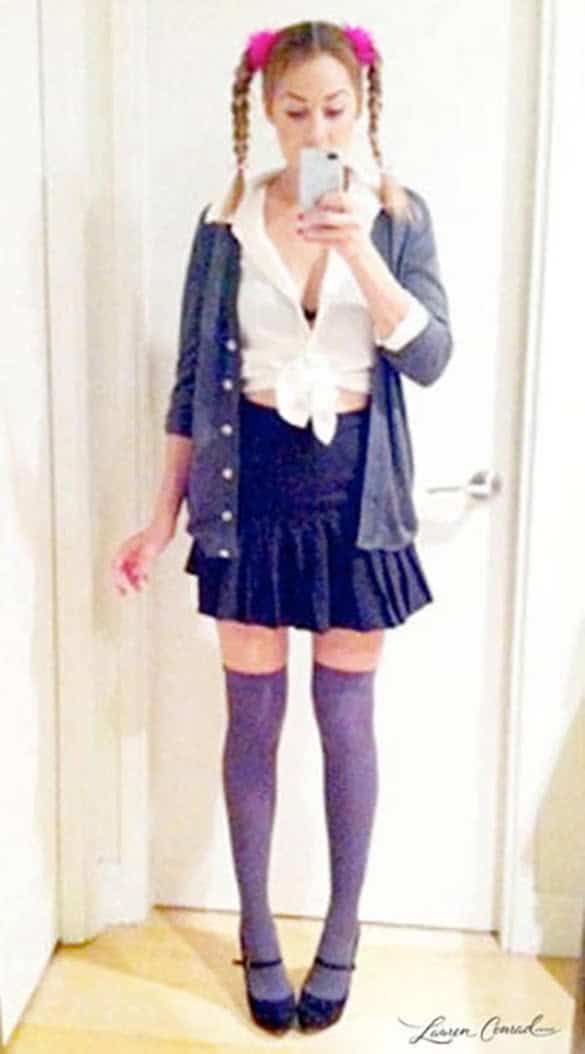 Oops…She did it again! Lauren Conrad is back at it again with the great outfit! This one Halloween occasion, she brought inspiration from another blonde, Britney Spears. Spears' look from the "…Baby One More Time" music video is iconic and Conrad certainly did it justice!
Another outfit that you can recreate and reuse, Conrad pairs a plain white blouse with a black mini skirt and gray cardigan. She finishes off the outfit with gray over the knee socks and Mary Jane shoes. The outfit isn't complete without the pig tails and pink scrunchies!
Now that we've given you some celebrity Halloween costumes for inspiration, make sure you go out and give all the party goers a treat! If you take any inspiration from this list, be sure to tag us in your Instagram pictures!
In the comments below, let us know what you're planning on being for Halloween!