It's getting hot outside! Don't let your adorable white sundresses and gorgeous gladiator sandals go out alone. Dress up your style with these 10 summer 2014 must-have accessories!
With summer right around the corner, your closet's probably packed to the brink with the latest summer fashion trends. But what about accessories? Dress up your style this summer with these top 10 accessory trends you HAVE to have!
#1 Cat-Eye Sunglasses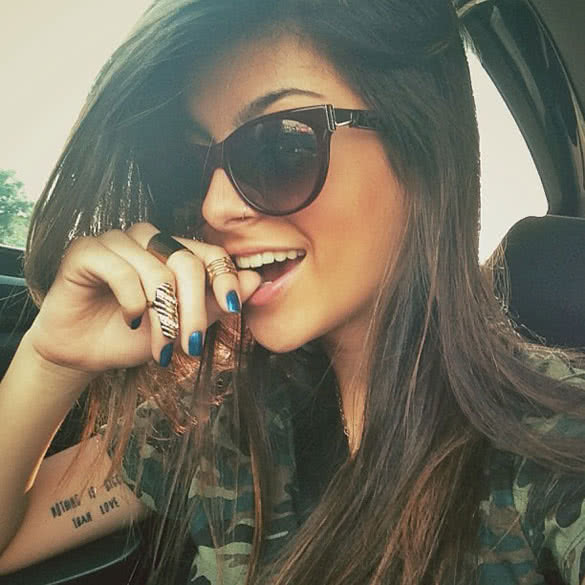 We love the cat-eye sunglasses. They are so unbelievably chic and high-style. They complete any outfit perfectly and we love how the extended sides fit our face amazingly. Stylish design meets swank attitude for this number 1 sunglasses trend for 2014!
#2 Mirrored Sunglasses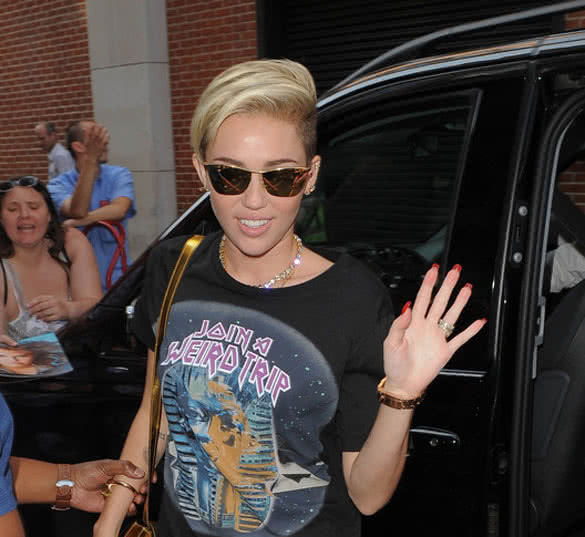 Ever since we saw high-fashion divas like Miley Cyrus sporting a pair of mirrored sunglasses, we just HAD to have them. These sunglasses are nothing short of awesome and certainly put other sunglasses to shame. I mean, we haven't seen another pair of shades that can reflect like a mirror while shielding our eyes, so why wouldn't these be the coolest shades on the block? Simply a must-have item!
#3 Turquoise Everything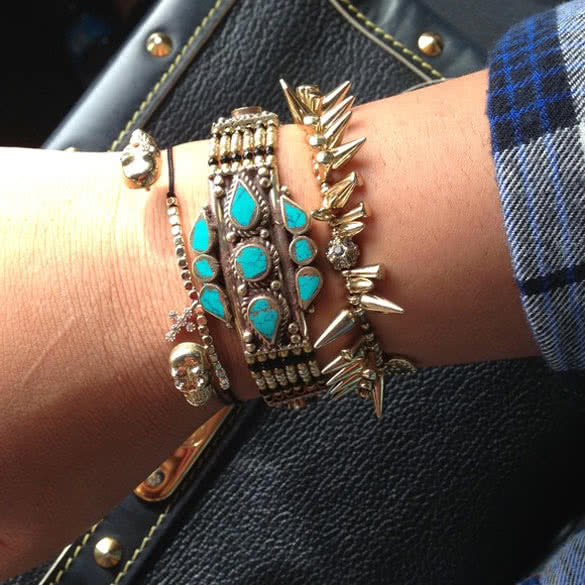 This year anything turquoise goes whether you prefer your turquoise in the form of gorgeous dangly earrings or you like the style shown here, with layers and layers of beautifully turquoise bracelets of all different shapes and sizes. Don't be afraid to wear it everywhere – all at once!
#4 Four-Finger-Rings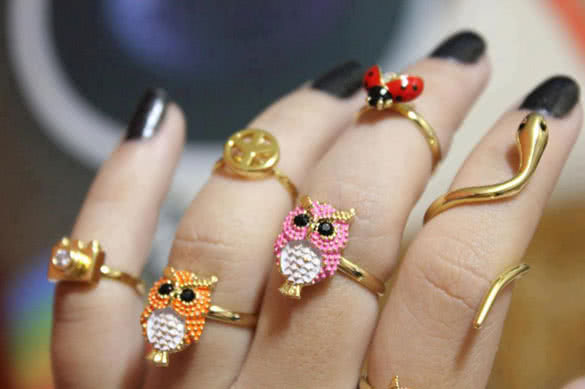 Why wear one ring when you can wear four? That's the mentality the fashion world has for summer 2014. This year it's all about wearing four rings at once whether you opt for four separate rings with different styles or one ring with four finger loops. You can really express your creativity with this style, so don't be afraid to go as bold, wild, or large as you want!
#5 Fringe Bags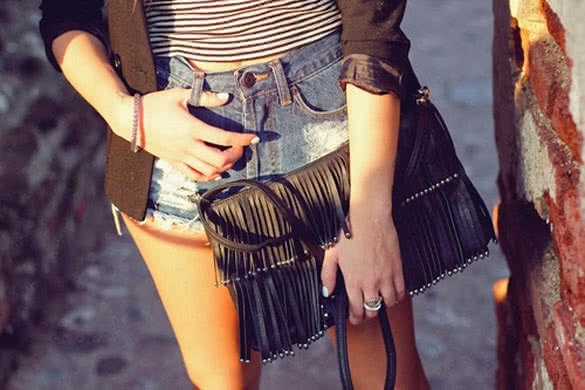 I have one word for you: fringe. If you don't have it, you're not in style. Fringe is one of the hottest trends for 2014 whether you decide to wear it on your shirt, dress, pants, or skirt. But one place you definitely need to be rocking the fringe is with your bag.
#6 Clutches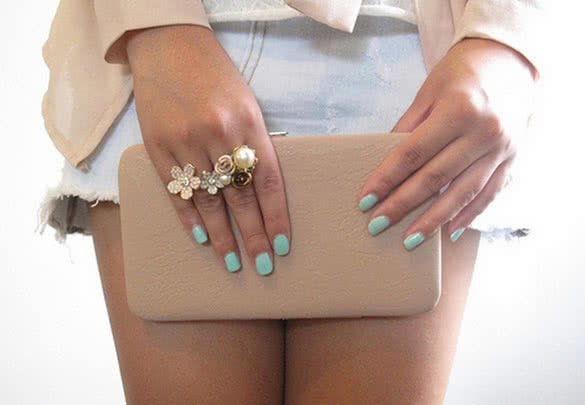 Clutches are incredibly popular – and we couldn't be any happier. They are gorgeously feminine, totally cute, and can easily go with any outfit from fancy to casual. Try a wild printed clutch like the one shown here or keep it simple with a pastel, one color piece. For extra style points, you could even double up on this year's trends and rock a fringed clutch!
#7 Primary Colors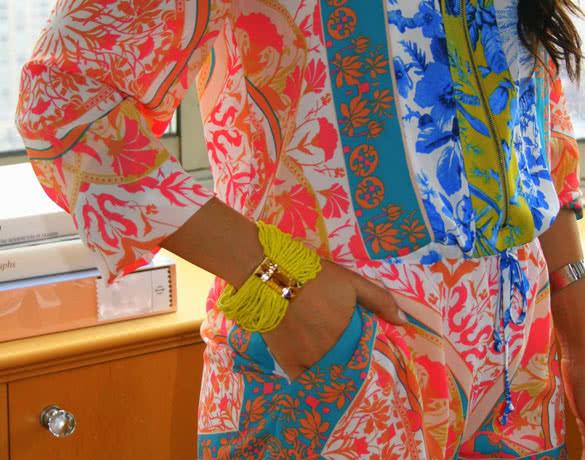 Remember when we learned about primary colors back in preschool? Who knew it would be one of the hottest accessory trends for 2014! Pick up some awesome bracelets or rings sporting the traditional red, blue, and yellow, or kick it up a notch and try a look like the one shown here. Perfect for those random chilly summer days when you need a light pair of tights to keep you warm.
#8 Oversized Pieces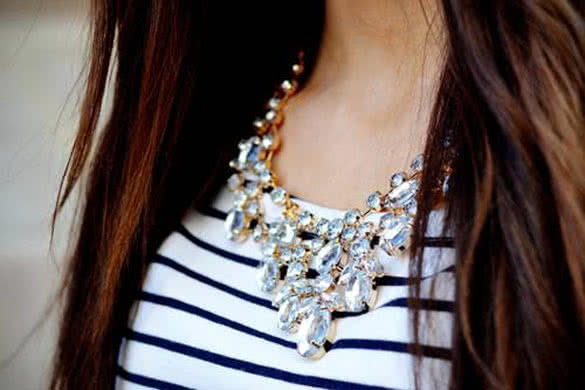 One motto to keep in mind this summer 2014: the bigger the better. Don't be afraid to stop traffic with your wild, oversized pieces, just like this brilliant and bold necklace piece!
#9 Beautifully Floral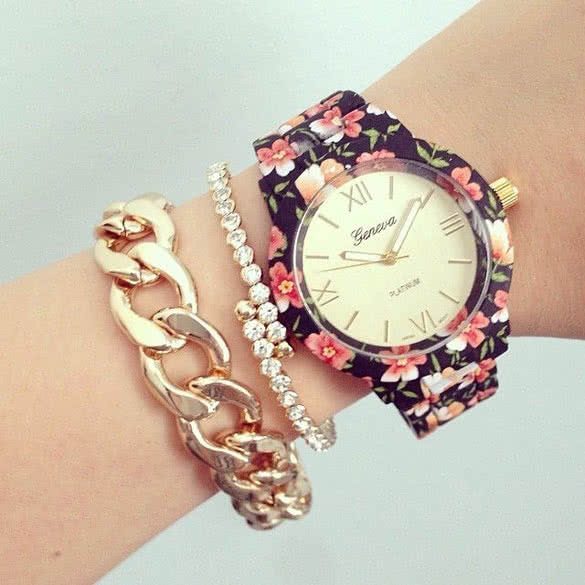 Nothing says girly and cute quite like a gorgeous floral accessory. Take this adorable floral watch for example. It's absolutely chic and fashion forward. When paired with one of your floral garments it's sure to be a hit.
#10 Perfectly Pastel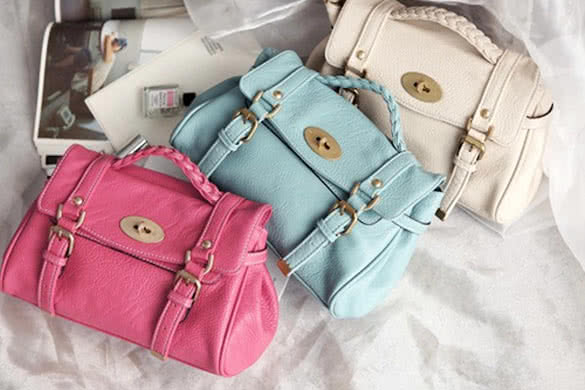 You've heard it before, you'll hear it again: pastels are insanely popular for 2014. The trend that swept the fashion world in 2013 continues to be in the top 10 trends, and there is really no end in sight. From pastel crop tops to pastel leggings, pastel heels to pastel purses, you simply can't go wrong with these bright and bold colors.
Accessory trends for summer 2014 can be described in three words: bold, beautiful, and totally unique. This year you can be free and daring with your accessories, from totally wild fringe bags to oversized jewelry pieces that are nothing short of attention grabbing. Don't forget to finish off your look with a pair of cat-eye or reflective sunglasses!
Also make sure to check out these awesome dresses for the summer and sexy swimwear when you hit the beach!
Cover photo: www.pinterest.com