Celebrate in style for any formal occasion with these 5 tips on how to incorporate red carpet glamor to your image.
The red carpet is full of celebrities looking their best. It may seem impossible to duplicate their looks, but actually it's not. Here's how you can get that same glamor.
1. Contour and Strobing
The first step to achieving a red carpet appearance is to create a softy sculpted face. Choose a foundation and concealer with a yellow undertone to warm up your complexion. For a special occasion, you will want bright makeup that gives you a healthy and natural glow.
If you wish you take a step further with your contouring then try applying a bronze contour stick or cream over your foundation. Run this down your cheekbones and a little bit up into your temples.
The key with cream contours is to blend, so make sure that the cream is buffed well into your makeup. This will offer more dimension to your face. Set all creams with a translucent setting powder to prevent your makeup from creasing and any excess shine. A translucent or a light setting powder will prevent your makeup from looking 'cakey' or flat as your evening runs on if you feel the need to reapply during the course of the night.
Although cream contours can offer definition to your features, try to allow the main focus to remain with your powder contouring. Powders are much lighter and more subtle so they will look more natural. With a contour brush, sweep some bronzer down your cheekbones, up into your temples, along your jawline and down either side of your nose (avoiding the bridge). This will offer a false shadow to your face and stop your makeup from looking flat. Focus on the points of your face where shadows would naturally fall and blend out.
Strobing or highlighting your face will provide the illusion of light hitting your skin. This is done very simply by picking a highlighter with a pearly sheen to it and applying it on top of your cheekbones, down the bridge of your nose and over your Cupid's bow with a small and tapered setting brush. Your face will now look healthy yet flawless.
2. Celeb Smokey Eyes
Celebrities love the sultry, smokey look for the red carpet. To get this, you will need to prep your lids with a good eye primer. This will stop your eyeshadow from creasing and will make your colors appear more vibrant.
Begin with a warm brown as your transition shade and run this along your crease with a fluffy eyeshadow brush to allow your lid color to fade smoothly up into your brows.
Try a glittery golden shadow for the half of your lids closest to your nose. Pack this on with a flat brush and blend out. For this next step, you may wish to take a card or tissue to hold in under your eyes to prevent any fallout from hitting your face.
You will want to intensify the eyes so opt for a dark, shimmery brown to smoke out the outer corners of your eyes. Hold your tissue right under your eye and blend the dark brown into your golden color and up into your crease. Sweep any leftover product along your entire crease to blend into your transition shade.
To truly intensify the eyes, pat a pencil brush into some matte black eyeshadow and create a V-shape cut crease at the outer corners of your eyes. This will wing out a little following the imaginary diagonal line from the corner of your eye to the end of your brow.
Create a point when the line reaches your crease and run the rest of the shadow along your crease line. To create a cut crease, all you have to do is intensify this black line. Finish off this V-shape by smoking out the black into your other shades with small, circular motions.
Now, with a flat brush, sweep the shimmery brown shade along the outer two thirds of your bottom lash line and the black along the first third only. Complete this with a pop of highlight to the arches of your brows and the inner tear ducts of your eyes.
To pull the whole look together, try applying liquid eyeliner with a dramatic cat eye flick running along the smoked out eyeshadow line you created earlier. Top this off with a couple of coats of mascara on your top and bottom lashes and apply some fluttery or spikey false lashes.
3. Ombré Red Lips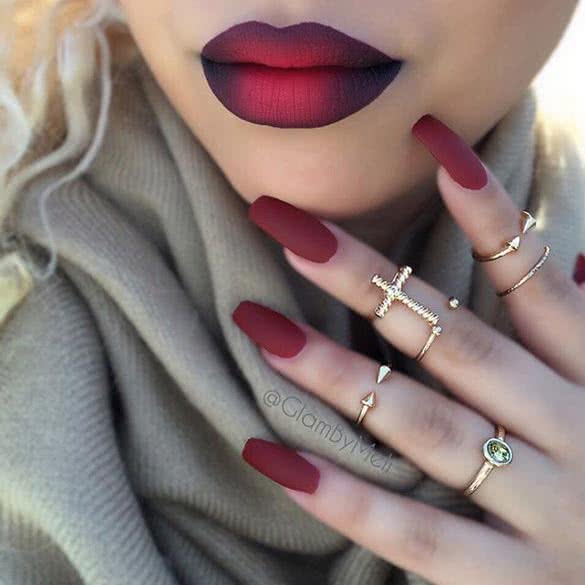 Instead of sporting the classic celebrity red lips, why not try a look that is daring and has become very popular in the last year. Ombré is the shading of one color to another and has been seen mainly through the transition of hair colors from a darker shade at the roots fading into a lighter shade at the ends. This technique is now also applied to the way people apply their lip products.
Begin with a deep maroon lip liner and trace this around your lip line. Drag the pencil in downward strokes from this line, focusing mostly at the edges of your mouth. The inner part of your lips should be left with no product. Now, take a matte red lipstick and dab this along your lips but do not smear it. Press your lips together to allow the products to mix. Your lips should now appear darker around the edges and fade into a strong red in the center.
4. Glittery Nail Art
Start by filing and buffing your nails into a nice even shape. Push back and remove the cuticles so that you will have an even and smooth canvas for your nail polish. Since it's a special occasion, try a polish with some glitter or sheen to it.
A deep and glittery blood red works perfectly with ombré red lips. Apply two coats of this shade to your nails and a clear top coat for added shine. To jazz them up a bit more, get creative by including some diamonds or grains of glitter on top of the wet polish and let them dry.
5. Voluminous Side Ponytail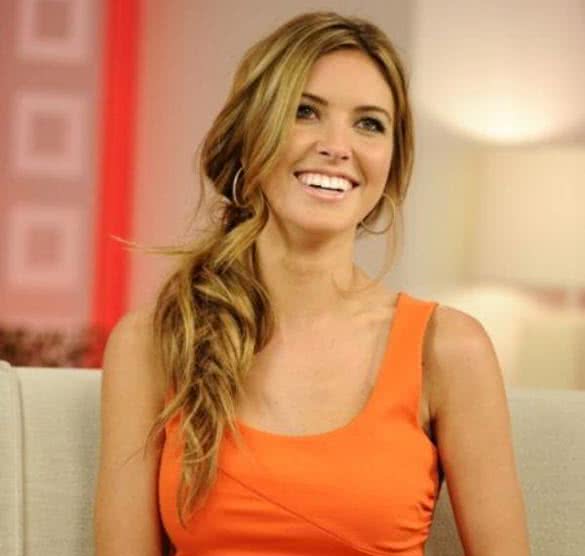 Since there is a lot of drama involved in the makeup and nails, try a simple and elegant side ponytail. Create volume by teasing the roots and set it by spraying the backcombed sections with hairspray.
Smooth over the front sections of your hair and lightly comb the hair back into place. Secure a side ponytail in place just below your ear and wrap a section of hair around the bobble to disguise it.
Clip this strand in place with a couple of bobby pins. Take a hair curler and curl the ponytail to add extra thickness to the rest of your hair as it falls over your shoulder. To allow it to look more natural, simply run your fingers through the curled sections to separate the curls and finish off with a spritz of hairspray.
Your sexy and sultry hair and makeup is now complete. Let us know how you found these ideas and feel free to comment below.