Dressing up for a summer cocktail party sounds simple – all you need to do is match a cute dress with a pair of high heels. But if you want to stand out, you have to be creative when choosing your cocktail dress. Here are three amazing dresses that will help you to become the center of attention!
Even though cocktail parties call for a more formal, polished outfit, you can still be creative, and avoid looking boring and monotonous.
If you don't feel like experimenting, wear the simplest combination of a cocktail dress and sky-high heels, but make sure you choose a statement dress that will pop out. Although black is always a good choice, avoid wearing your LBD – cocktail parties can be kind of stuffy, so why not brighten them up with a pop of color?
Wear either a dress in a strong summer color, or choose a printed one, pair it with killer heels, and a couple of statement accessories and you're set! Find inspiration in these three summer cocktail party outfit ideas.
Outfit Idea 1: Sexy and Elegant
When in doubt – choose a killer red dress! Red goes amazing with green, so pair it with a green clutch, and matching accessories in nude. and golden hues: a pair of golden strappy sandals and a matching necklace to embellish the simple neckline of the dress.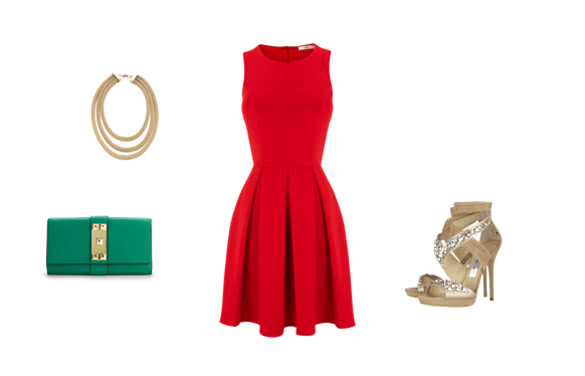 Scuba Skater Dress (oasis-stores.com)
Louise Clutch Jade (vincecamuto.com)
Jimmy Choo Kani Swarovski Crystal-embellished Satin and Suede Sandals (net-a-porter.com)
Made Her Think Triple Mesh Necklace (shopbop.com)
Outfit Idea 2: Color Blocking
You want to stand out in the crowd? Choose a yellow dress! Pair this amazing dress with pink sandals and neutral accessories – a black clutch that matches the shoes perfectly, and a silver necklace to create a bling-bling effect.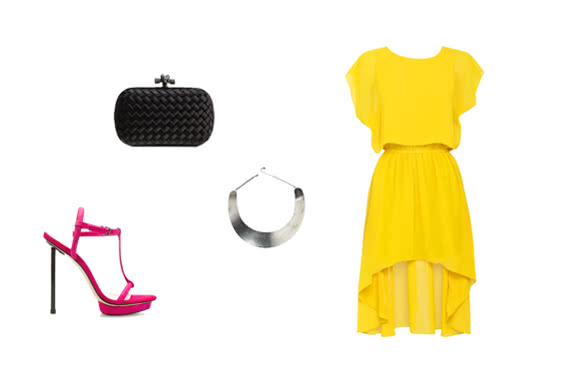 Fortune Blouson Mullet Dress (cottonon.com)
Sandal With Contrasting Straps in Pink (zara.com)
Bottega Veneta Knot Intrecciato Satin/Snakeskin Clutch (barneys.com)
Simple Round Metal Sheet Necklace
Outfit Idea 3: Floral Gorgeousness
This floral print dress is so amazing it won't make you go unnoticed. Pair it with simple black sky-high heels, and a cute pair of earrings. Accessorize either with a matching black clutch, or avoid looking too matchy-matchy by choosing a clutch in an unexpected color, such as turquoise or lime green.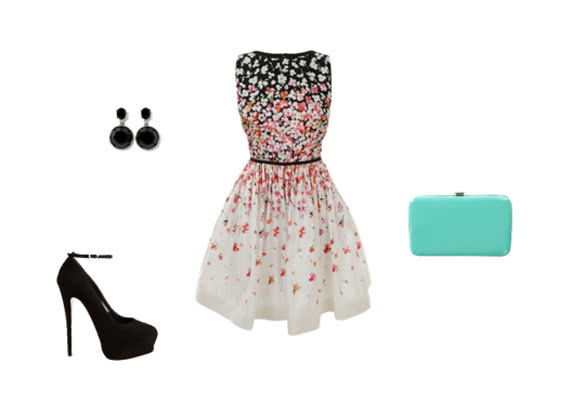 Red Valentino Donna Floral Print Dress (frockaholics.com)
Giuseppe Zanotti Double Platform Pumps
Jet Double Drop Earring (whitehouseblackmarket.com)
Mint Clutch (topshop.com)
What is your favorite cocktail party outfit? Share it in the comments!