Getting ready for a first date? No matter how old you are, this is definitely one of those moments in life, when you feel like a teenage girl. Wouldn't it be nice if you could just enjoy the feeling of excitement and pleasure of getting ready at leisure, without obsessing over what to wear?
Here are some great guy-approved outfit ideas that will save you from all that hassle, of going through your closet, in attempt to find an outfit which will send "the right message."
You've probably read a countless number of articles giving you tips on what to wear on the first date. Bearing that in mind we tried to do something a little bit different this time.
As we all know, when choosing date outfits our intentions are to make a good impression. Therefore, we asked guys, about what their ideas for a perfect first date outfit, are. Here's what they said:
1. Skinny Jeans, a Simple Top and Medium Heel Shoes
This one is fairly simple, you'd say. I couldn't agree more with this statement. But apparently, guys just love it. And it's easy to figure out why. There's something special about a woman wearing her favorite pair of jeans and radiating the incredible girl-next-door beauty.
Medium heel shoes are a great choice since they will give you the self-confidence you need, and they are comfortable to wear. The last thing you want is to have some shoes that pinch and distract you from your date.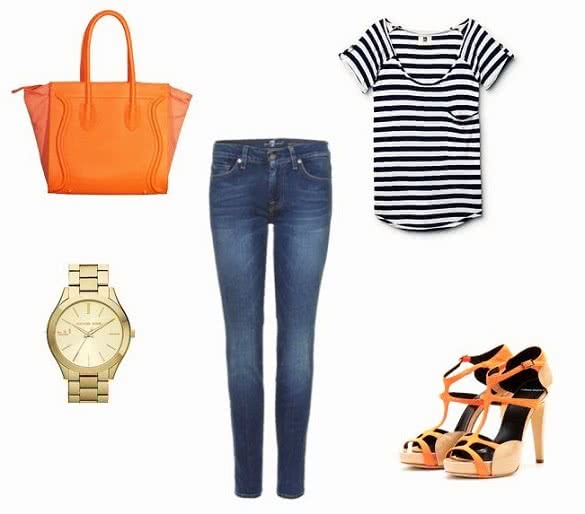 Jeans: Seven for All Mankind Gwenevere Super Skinny Jeans
Top: Quicksilver Bay Stripe Tee
Shoes: Pierre Hardy Neon and Patent Leather Platform Sandals
Bag: Niia Borsa Arancio Shopper with Zipper Closure
Watch: Michael Kors Slim Runway Bracelet
2. Guys Like Canvas Shoes and Dresses? Who Would Have Thought?
This is true ladies. Even though guys generally prefer high heels, they also like it when their dates combine a girly dress with some comfortable canvas shoes. This is a very good idea for active and athletic girls.
Choosing this outfit for your date will show him that you're aware of your qualities, and your inner beauty, and that you're not afraid of experimenting every once in a while.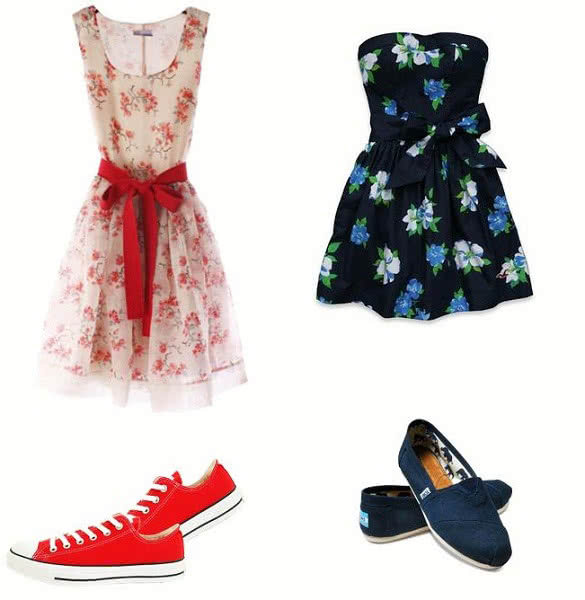 Combination on the left: Red Valentino Donna Dress and Chuck Taylor Converse All Star Sneakers
Combination on the right: Hollister Co Boneyard Beach Dress and TOMS Classic Canvas Navy Slip-On Women
3. Over the Knee Boots
God bless whoever invented over-the-knee boots! If you had a dime for every time you thought that, you know where you'd be now. You are definitely not a true heartbreaker if you don't own a pair.
Combine your incredible leather boots with whatever you like, jeans, skirts, dresses, leggings, you name it. Even if you decide not to wear them on the first date, mention that you have them somewhere stashed in your closet, and that will drive him crazy.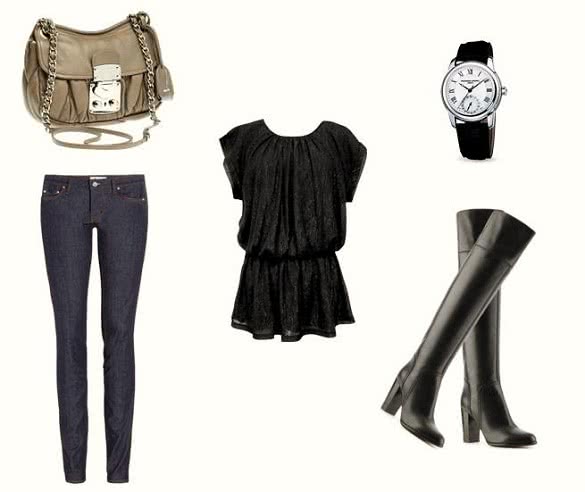 Shoes: Sergio Rossi Leather Over the Knee Boot – Black
Jeans: Acne Kex Low-rise Skinny Jeans
Top: Tinsel Chiffon Tunic Blouse Lined Holiday Top
Bag: Miu Miu Shoulder Bag
Watch: Frédérique Constant Classic Manufacture Automatic Watch
4. The Perfect Date Night: Dinner and a Movie
Gentlemen like elegance, and the famous «dinner and a movie» date is a great opportunity for you to express your feminine side, and show that you have class. Since you probably don't know the kind of restaurant he has in mind for your first date, it is advisable not to exaggerate when choosing your outfit.
Go for something subtle, delicate and romantic. Guys love classic outfits, such as, the little black dress, the polka dot dress, the red dress. High heels are inevitable for these occasions. Make sure that you choose garments which are made of nicer materials. Let's just hope, after all this effort, that you don't end up watching a teenage comedy, and eating burgers.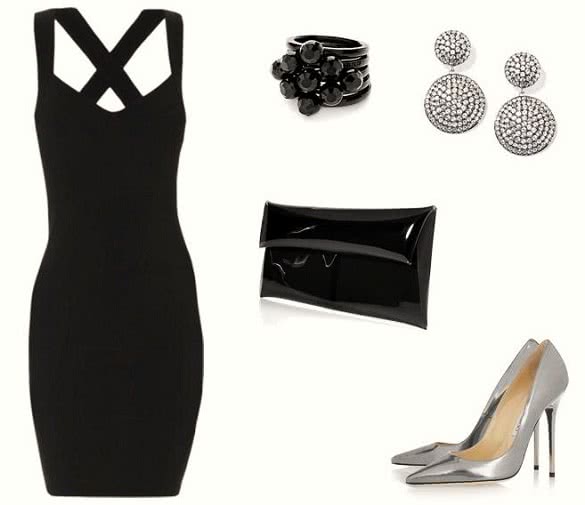 Dress: Black Cross-Back Ottoman Rib Dress
Shoes: Jimmy Choo Anouk metallic leather pumps
Clutch: JIL SANDER Black Plastic Envelop Clutch
Accessorise: Folli Follie Fireworks Ring and Loren White Zircon Sterling Silver "Door Knocker" Earrings
5. Shoes, Shoes, Shoes
Believe it or not, guys do notice the shoes you are wearing. They love high heels, and they love vibrant colors. The shoes must be eye-catching.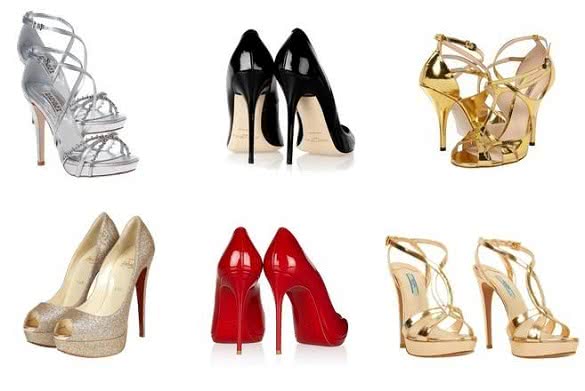 BADGLEY MISCHKA Gelsey Evening Sandal Silver Leather
Jimmy Choo Anouk patent-leather pumps
Bottega Veneta
Lady Peep 150 Glitter Peeptoe-Pumps
Christian Louboutin Filo 120 patent-leather pumps
PRADA Rose Gold Strappy Sandal
We asked the guys and that was what they told us. Apart from all the useful tips we got from them, there's one more that really stands out. Every single one of them said «If I like the girl I don't care what she is wearing».
So there you go girls. Dressing up is important, but having a radiant personality, and an incredible smile, are the best two things in the world. Wear them to your date and he will be knocked off his feet.