It seems like crop tops are here to stay. This is exactly why you might as well learn how to wear a crop top the right way and look great in it!
I'm sure you've noticed the 90s springing back in a big way as of late. The crop top being top of the 90s revival pile with an array of styles hitting the shelves, catwalks and celebs, frequently adorned by the likes of Rihanna, Katy Perry and Rita Ora to name just a few.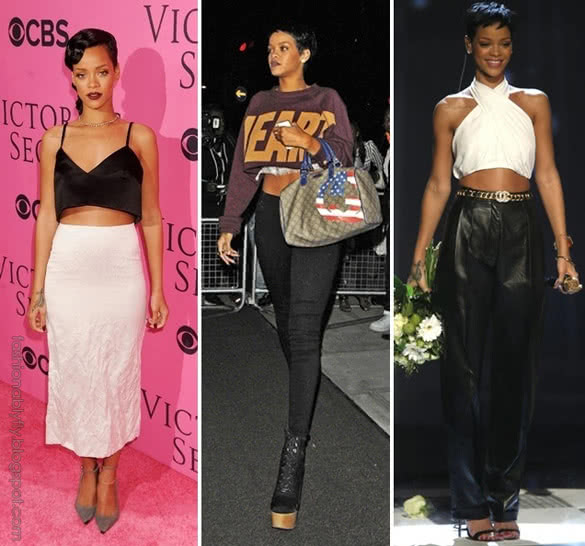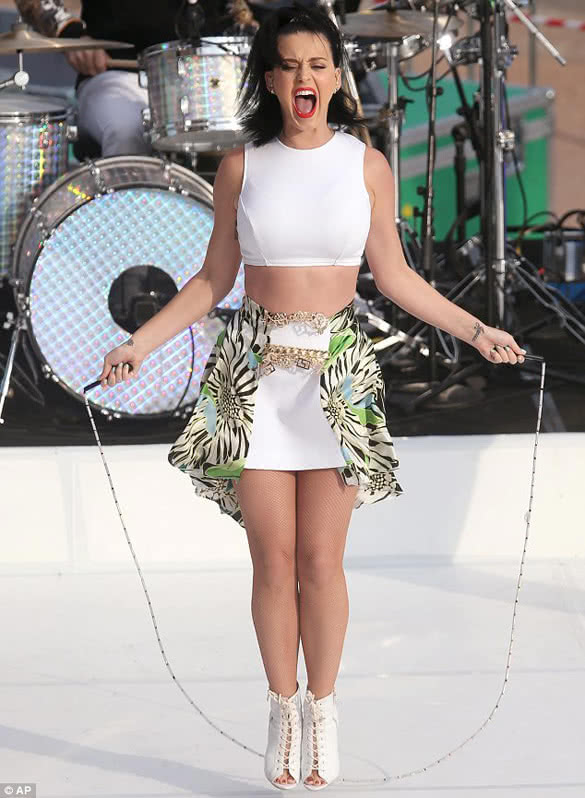 However, if the word crop top only brings back terrifying memories of hip-hop dancing and stomachs out, we're here to show you some great ways and teach you how to wear it today (no hip-hop or stomach flashing involved).
So we're guessing your memories look something like this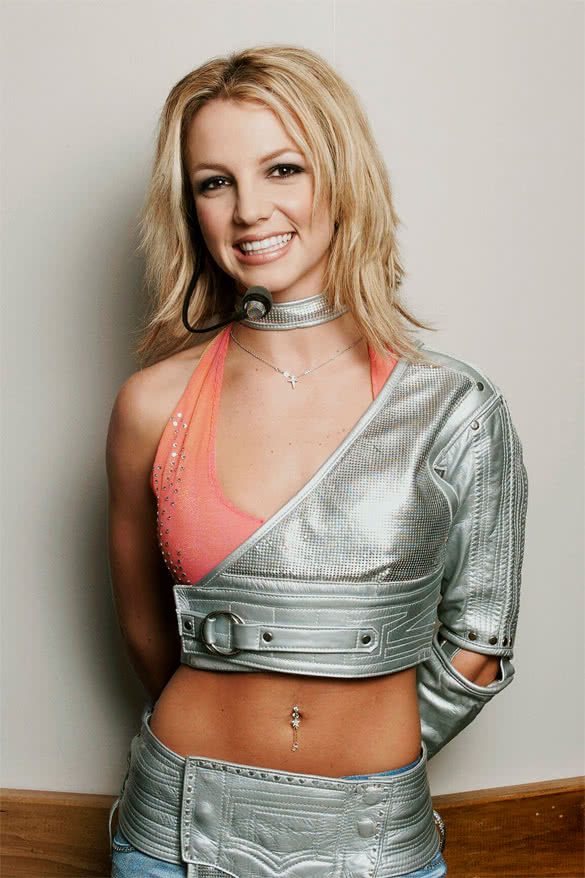 While they looked great then (let's face it, wasn't Britney every 90s girl's style guru?) and whilst the crop itself has stayed pretty much the same (feel free to dig your 13-year-old self's favorite out the loft) it has had a little update as to how to wear it.
Today, instead of pairing with those low-slung flares we couldn't get enough of back then… as our mothers told us they would, waist lines have risen, meaning the crop top needn't be only for those with Gwen-esque stomachs, but for all us muggles too, hurrah!
Basically, the only true rule you have to remember when sporting a crop top to avoid reverting entirely to your teenage self is to always wear it with a high-waisted item, be it skirt, trousers, or shorts.
The crop top is actually a really versatile piece to have in your wardrobe, and will always create a dynamic dimension to your outfit as well as a shapely silhouette. So, let's check out where and how to wear a crop top…
First Date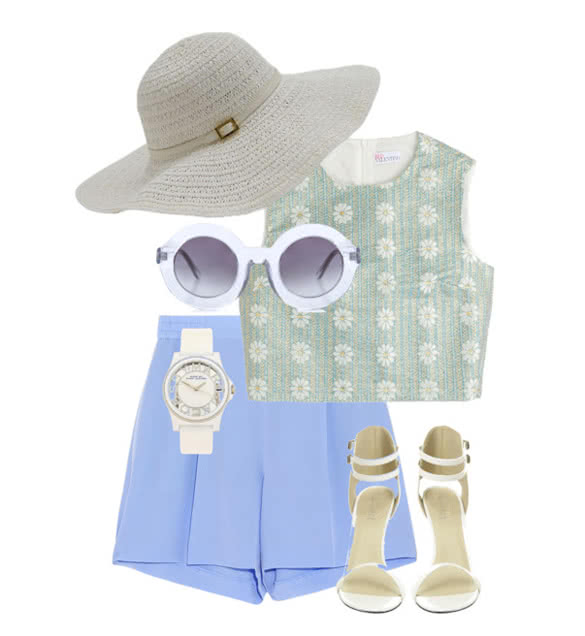 Kicking off with this super feminine spring fancy, this outfit says style, softness and fun, all the things you want to be exuding on a first date. We've kept all the hues as gentle muted tones in-keeping with the spring season, and used a combination of soft textures.
Who said blue and green should never be seen? These light blue shorts are smart as well as soft with enough movability for comfortable and casual day wear and work perfectly with this structured box-shape crop. Remember to pair a harsher fabric with a softer one for balance, and accessorize! Pretty chic huh?
Lunch date with the girls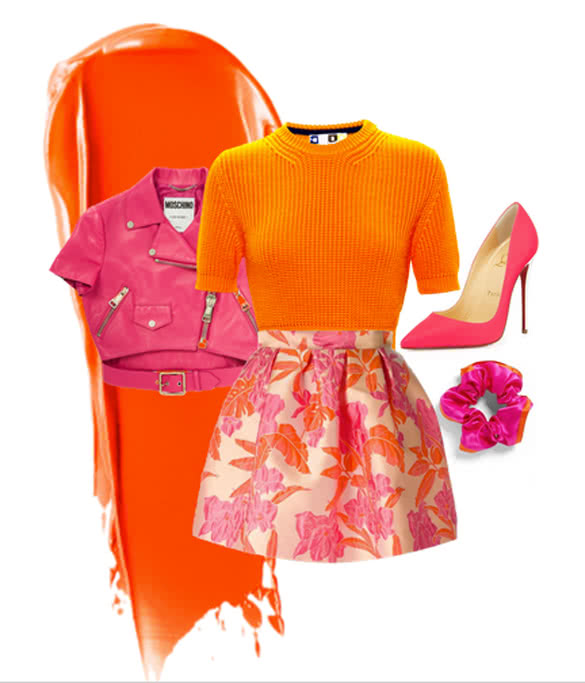 For a day when you're feeling a bit pink, here is an example of how to wear a crop top with a flared skirt, and how fabulous it looks! Made from a stiff fabric, this structured skirt needs something soft like this orange knitted crop to compliment it both in texture and color.
The flared shape and high waist of this skirt creates that hourglass silhouette that we don't want to hide with a regular length top.
A crop is exactly what is needed for highlighting the waist and accentuating the hips and chest, perfect for creating curves on slim frames. Don't ruin it and hide all that shape creating with a bulky jacket, go for a cropped version! This pink leather one is cute and fun and fab for spring.
Picnic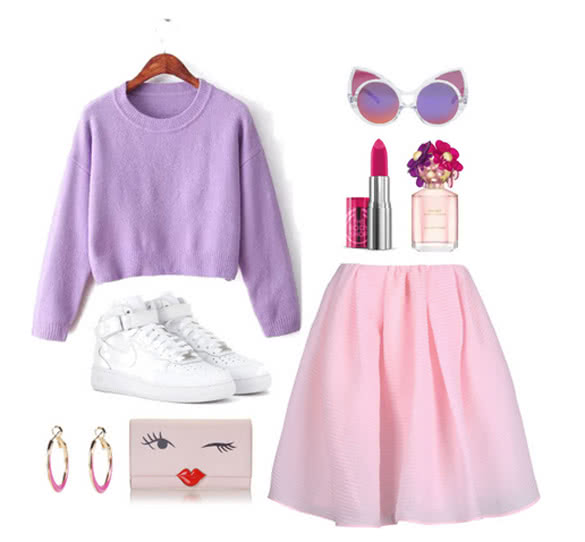 Because British spring isn't always so spring-like, a cropped jumper is a true style savior! While it will keep the chill off, it also won't ruin your look by smothering that pretty high-waisted skirt with unnecessary material. Accessorize with some quirky sunglasses for a cute fresh look, and don't forget to pack a blanket!
Casual drinks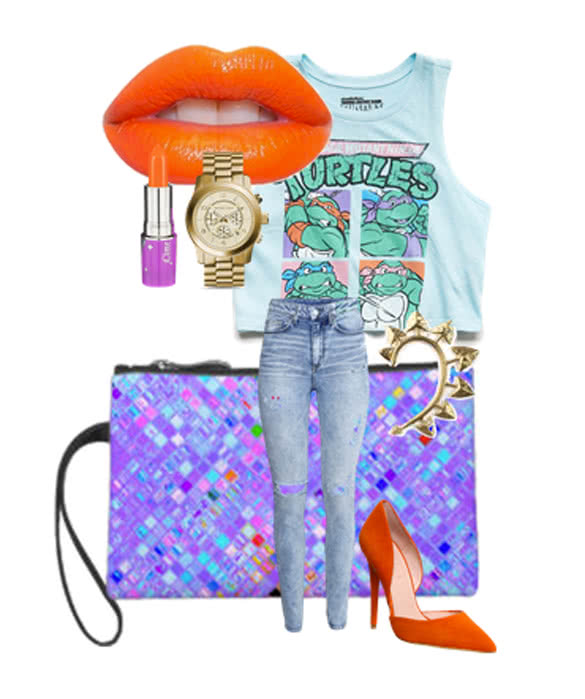 A printed crop gives your outfit that hint of retro and fun, and will make you look like that ultra-cool laid-back girl you always wanted to be at school. Pair it with a pair of high-waisted washed skinny jeans and flats for day or a color-pop heel for some drinks with the girls.
We chose a matching orange lip and a sparkly clutch to set the outfit off, proving that dressing up can be just as fabulous with a dressed down outfit, jazzed up by funky accessories.
Going for cocktails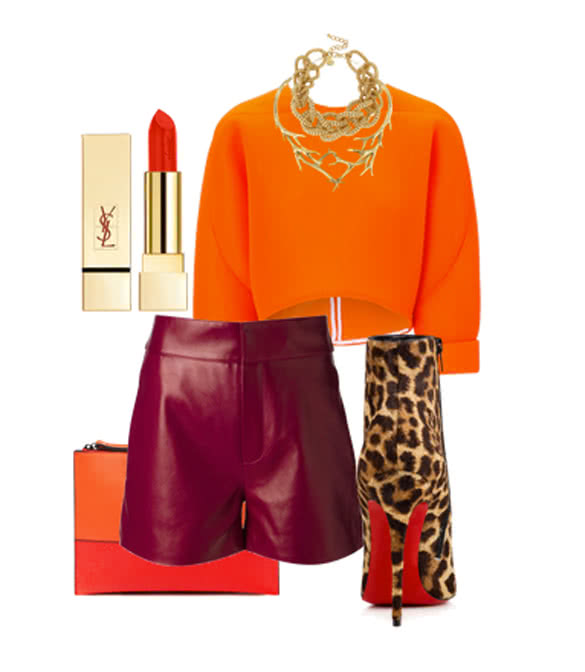 This outfit is fun, chic and a little feisty! Don't be shy to mix certain colors that are close on the color wheel; this aubergine and orange combo works really well together, and add some gold jewelry to really enhance the hues.
Again, we've paired a soft knit with the harsher leather fabric of the high-waisted shorts for a balance of textures, plus an added one in the form of this fabulous leopard print shoe boot. A color pop on the lip, and a clutch that brings the orange and red of the lipstick and the shoe sole together finishes off the look.
Day to night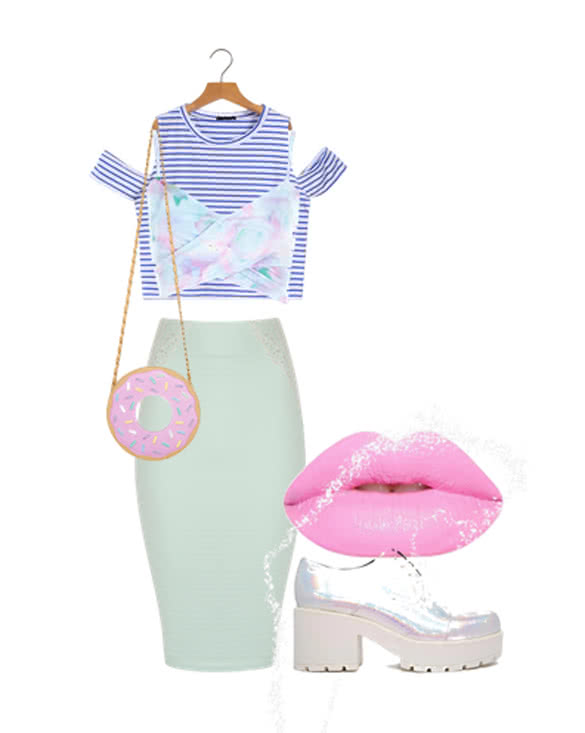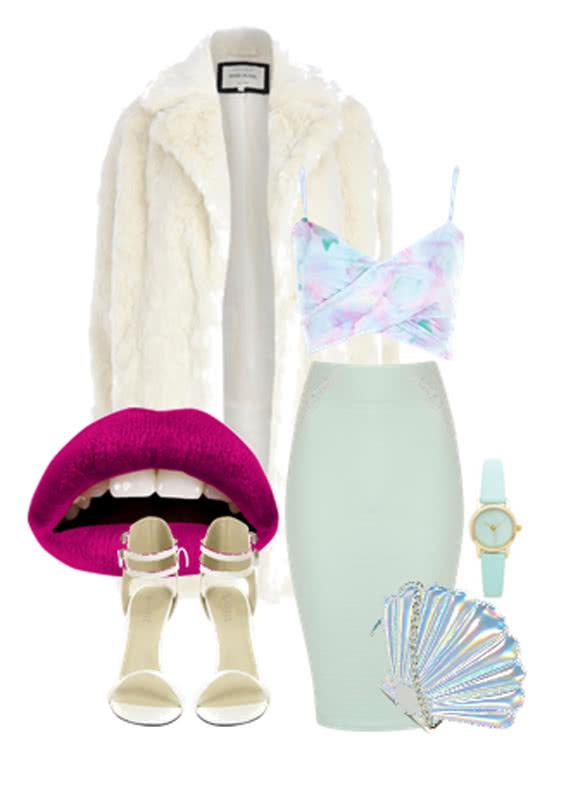 Whatever the item, it's always good to find a number of various ways to wear a piece, since it means you can have a capsule wardrobe of a few great pieces you love rather than constantly buying new things to wear as singular outfits.
Get mix and matching! You'll be amazed at what you discover you can do with pieces you had never imagined putting together before once you get trying things on and experimenting. Adding a layer or an accessory can completely transform an outfit, here we've used the same spaghetti strap crop over a cropped stripy tee for a cute daytime vibe, before working it solo for a classy evening look.
All it needs is a change up of accessories and a berry lip to take this look from sweet to chic!
Some catwalk/editorial/blogger/celeb inspiration
Editorial: Crop tops are gracing the pages of our fashion magazines every day, here are some examples of crop tops for high fashion: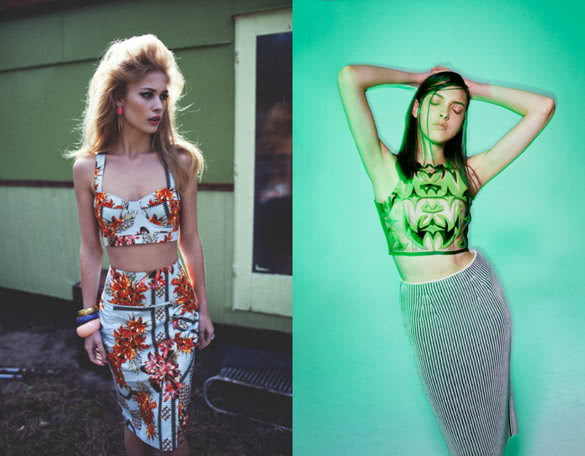 Catwalk: Crop tops have been seen on the catwalks over and over again. Loose, structured, sleeved, sleeveless, colored, monochrome… Designers have played around with the trend and featured the 90s classic as an important high fashion piece in their collections.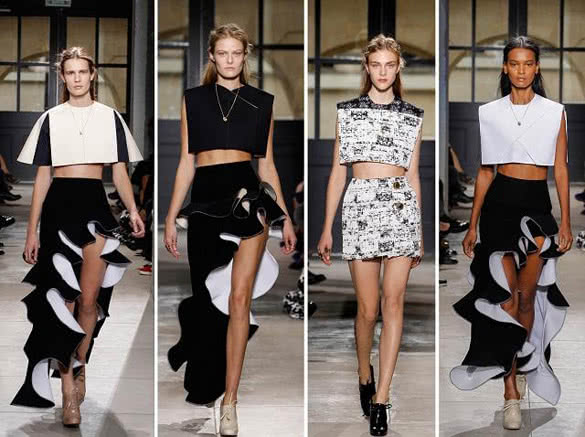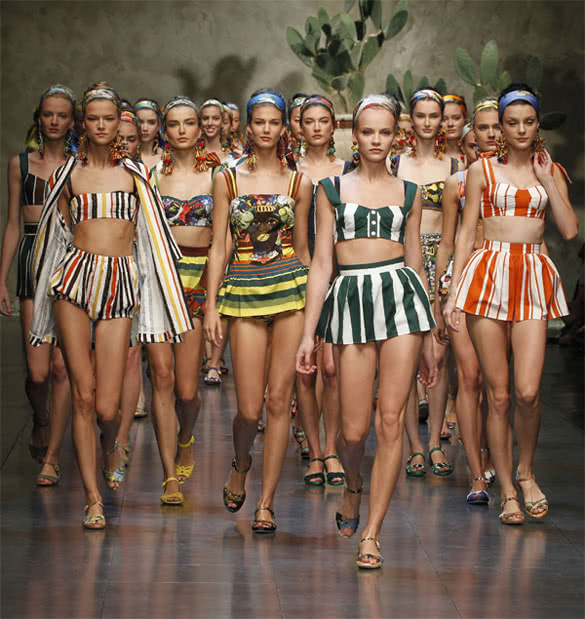 Celebrity: Celebs everywhere can be seen both performing and going about their daily business sporting a crop: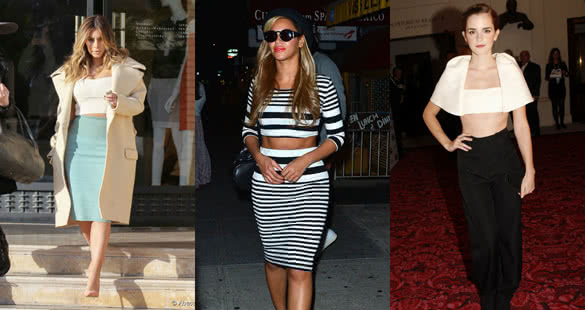 Bloggers and models: Crops are hot with all the bloggers and models right now, from high-neck to bralet. Check out some of their looks here: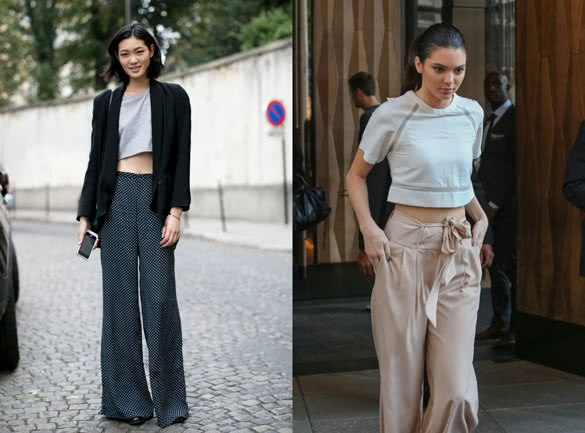 So, with all that inspiration in tow, go and get creative with crops and try out some outfits, the possibilities really are endless. If you're feeling really creative, you can even rejuvenate an old tee by just cutting the bottom off, it's vintage, darling!