Cocktail dresses have rich and amusing fashion history. From the 40's until today these dresses changed a lot, but one thing remained the same: they are worn on special occasions, and the key to their popularity is the emphasized femininity.
While choosing the right dress might be fun, giving it a whole look with the right choice and amount of accessories can be a nightmare. In order to make your special dress, and special occasion, even more fantastic, here are several ideas on how to wear the cocktail dress.
Somewhere between evening gowns and casual day dresses, you can find a place for a little cocktail dress. While length and color are optional, every cocktail dress deserves an elegant and sophisticated look, with a touch of personal style. Here are some magnificent outfits that might inspire you when you are planning what to wear to a prom night, friend's wedding or at a fancy restaurant.
Outfit No 1
This extravagant dress in fuschia deserves more than just a pair of black heels with a matching clutch. Add some gold to the outfit and go crazy with green color. This is an outfit for women with an attitude. It is playful and sexy, and every detail counts. Fuschia and green look great together, because they are creating a color blocking look, and gold gives this outfit a class. There is no way that you won't be a prom queen, or have everyone's eyes on you, with this outfit.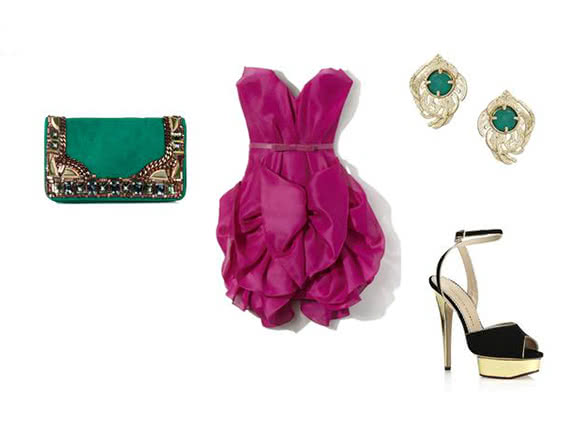 Strapless Silk Gazaar Dress (modaoperandi.com)
Hailey Feather Stud Earrings (kendrascott.com)
Matthew Williamson Clutch (net-a-porter.com)
Charlotte Olympia Irina Platform Sandal (harrods.com)
By the way, check out these 12 gorgeous clutches you can wear for prom.
Outfit No 2
Watch your simple peach color pleated dress transferring into killer outfit with a pair of hot red heels. Sequined jacket and small, but yet timeless pearls, work opposite the red details, giving the whole look a romantic twist. In my humble opinion, every woman should own a pair of red pumps and a matching clutch. They work as a quick fashion fix and are great for evening outfits.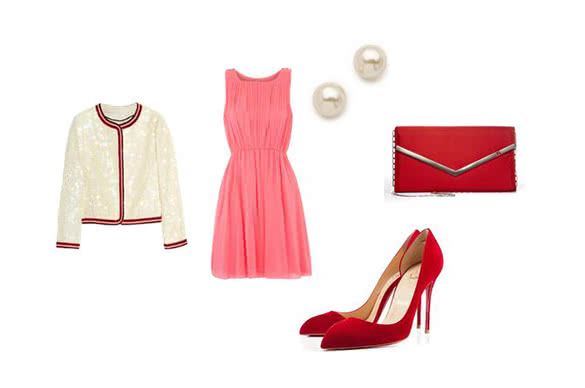 alice + olivia Dress (harveynichols.com)
Juliet & Company Oversized Pearl Studs (shopbop.com)
Christian Louboutin Shoes (christianlouboutin.com)
Pacific Heights Clutch (circleandsquaresf.com)
J.Crew Sequined Jacket (net-a-porter.com)
Since we're already talking about red heels,  make sure you know how to combine red shoes.
Outfit No 3
Emerald green is perfect color for evenings, because it agrees with all skin tones and hair colors. Women tend to avoid green because it is not sexy and attractive in a conventional way. But with the right choice of heels, and lots of sequins, you can wear this outfit at late afternoons and at nights, while looking like anything but ordinary. For a more dramatic look wear orange, or hot pink lipstick.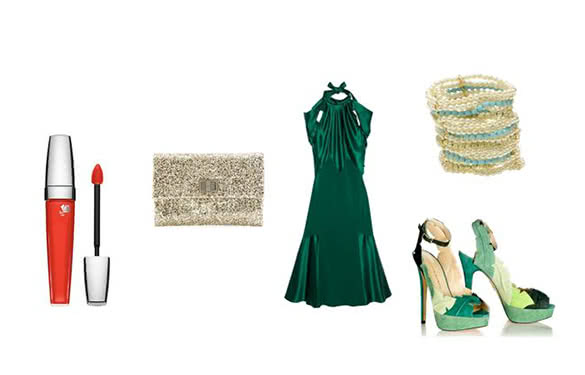 Lancôme 'La Laque Fever' Lip Shine (nordstrom.com)
Anya Hindmarch Clutch (mytheresa.com)
Prabal Gurung Dress (kirnazabete.com)
Malaika Cuff (amritasingh.com)
Charlotte Olympia Leaf Sandals (matchesfashion.com)
Outfit No 4
While the cut of this dress may be casual, that is the only thing that is not outstanding about this whole look. Perfect mix of pink, silver and gold creates this charming and graceful outfit, which will literally make you shine. Wearing a lot of sequins is a risky business, but if you are brave enough you might be ready for the night of your life. This is an outfit that gave an expression "shine like a star" even brighter meaning.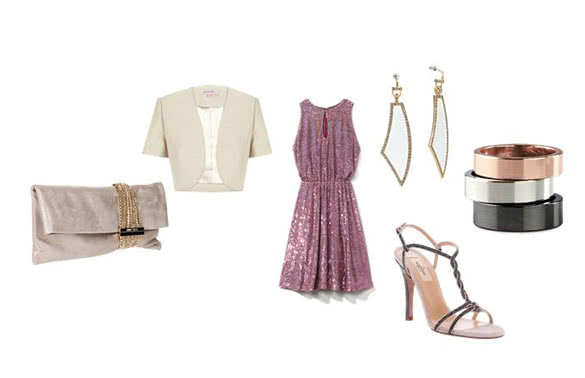 Valentino Sandals (farfetch.com)
Bracelets (hm.com)
Paige Novick Enamel Earrings (scoopnyc.com)
Erin Fetherston Dress (modaoperandi.com)
Jacques Vert Bolero Jacket (johnlewis.com)
Jimmy Choo Clutch (shopsavannahs.com)
Outfit No 5
Beige can be fun, even though most of us fail to see it. While beige is considered to be conservative, the best thing to do with a beige dress is to add it some bold colors. I choose red because almost every woman has some red pieces in her closet. Red cardigan, cocktail ring and earrings are just enough, while nude and sexy heels with a simple leather purse will do the trick.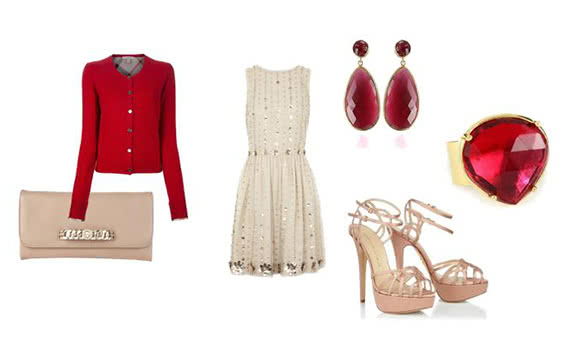 Burberry Cardigan (farfetch.com)
Red Marc by Marc Jacobs Nude Clutch (shopbop.com)
Valentino Dress (net-a-porter.com)
Coralia Leets Jewelry (marissacollections.com)
Charlotte Olympia Sandals (charlotteolympia.com)
Outfit No 6
If you are not too keen on colors, here is a way to make your old black dress into something new. Bolero in silver, and geometric earrings, are a great addition to the dress. However, with just a hint of blue, you get a completely different experience. Animal print and oversized collar necklace are trendy and chic pieces, while light blue is a color that is always in fashion. This outfit can be worn during daytime, if you replace the heels with a pair of grey, or even black, ballet flats.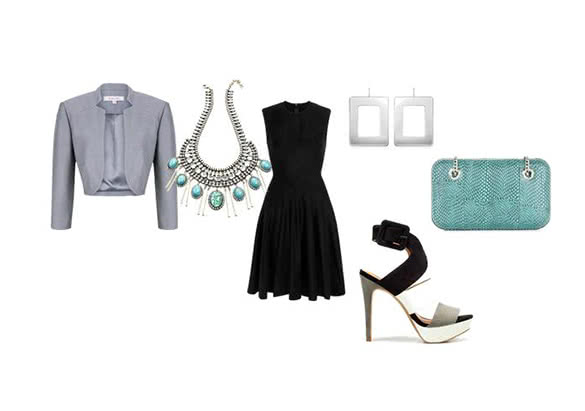 Chloe Clutch (net-a-porter.com)
Zara Sandals (zara.com)
Mita Marina Milano Earrings (forzieri.com)
Necklaces (dannijo.com)
Jacques Vert Shimmer Bolero (johnlewis.com)
Alaia Dress (boutique1.com)
Outfit No 7
Hot pink dress is a great summer choice. Wear it with turquoise and feel free to mix metals. The whole outfit is perfect for a party on a boat, or a night out with your best friends. When the weather is hot the best thing to do is wear something even hotter. An extra tip: pick up your hair and make a messy bun. With this outfit it will make you look even more free spirited, but still you will look classy, not trashy.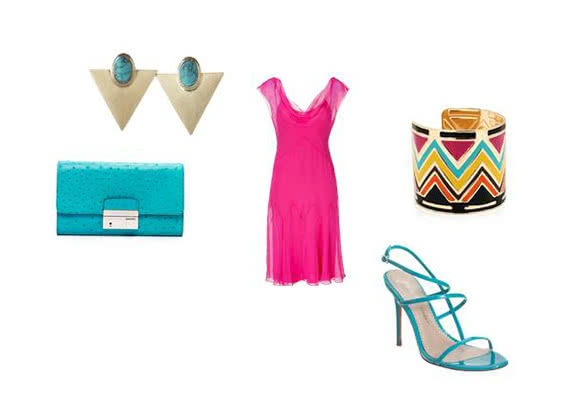 Michael Kors Clutch (neimanmarcus.com)
Sea Triangle Marble Stone Earrings (diva.net.au)
Dress Alberta Ferretti (stylebop.com)
Zigzag Cuff bBracelet (gojane.com)
Jean-Michel Cazabat Omayra (barneys.com)
Outfit No 8
You don't necessarily have to wear sky high heels to look elegant. Every cocktail dress can be worn with a right choice of flats. These flats have to look elegant enough for a special occasion, but you cannot go wrong with simple, neutral ballerinas. Let the accessories speak for themselves: set of bracelets, beautiful long earrings and a perfect shade of red on your lips will work perfectly with this gorgeous dress. It seems like modesty never looked better.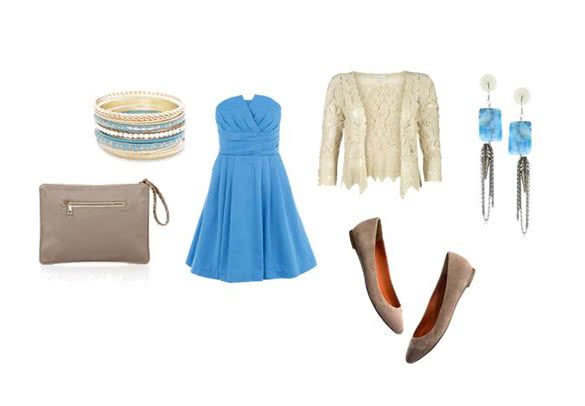 Clutch (windsorstore.com)
Marin Bangles Set (sendthetrend.com)
Ballet Flats (madewell.com)
Earrings (endless.com)
Bolero (bestseller.com)
Dress (warehouse.co.uk)
Outfit No 9
Add some rock chic to your cocktail night. Studs, zippers and python print with silver accessories will make this asymmetric dress look both sexy and dangerous. Although there aren't many colors, this outfit is made for energetic women who know what they want. So once you get to an event, you have every reason to act like you own the place. You already look like you do.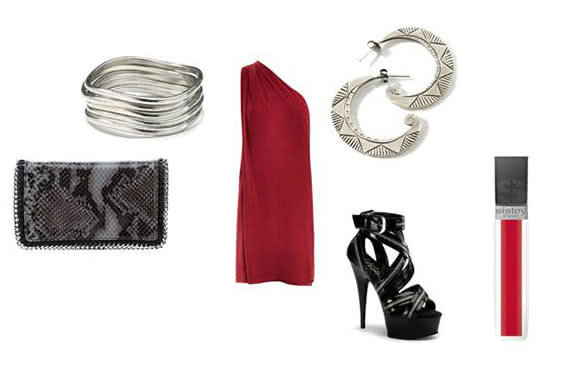 Diane Von Furstenberg Dress (matchesfashion.com)
Karen Tribe Silver Earrings (hsn.com)
Goth Shoes (wildfree.com)
Sisley Lipgloss (bloomingdales.com)
Aqua Multi Layered Silver Cuff (bloomingdales.com)
Stella McCartney clutch (net-a-porter.com)