Crawling out of bed to your 8AM class usually doesn't call for dressing like a business manager, but check out these cute college outfit ideas to get some extra inspiration.
If you're a college student, you're plagued with long nights and early mornings. Whether you spent the prior night studying for an exam or studying the bottom of a shot glass, that 8AM class you have the next morning will be a struggle.
Most students think that professors don't care what they wear, but let's be honest – THEY DO. If you were a professor who saw a student enter in their rumpled pajamas, you might not judge their work, but in the back of your mind, you're probably wondering why they couldn't put on actual clothing.
The advice, "Dress for the job you want," is a good start, but if you want to be a medical doctor, I'm sure you won't want to wear a white coat all day long just yet. While this advice may seem a bit extreme, the success in your college outfit is the happy medium between this advice and showing up in pajamas.
If you have a full day of classes ahead of you, your number one goal might be the comfort. Before you sit down for that lesson in economics or chemistry, we have one more lesson for you. Comfort is definitely something you can achieve without wearing your pajamas, and here's how you can fit your favorite jeans, leggings, and Uggs into your classroom attire.
1) Jeans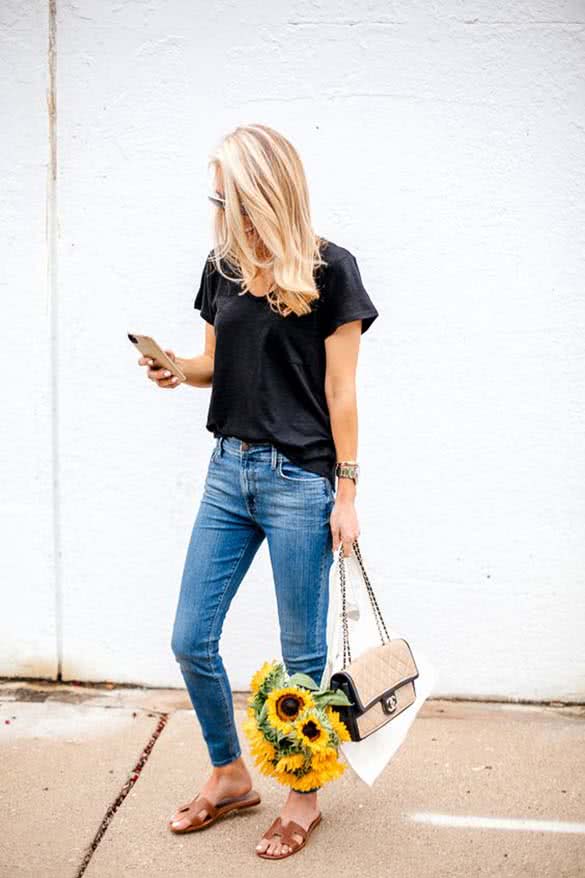 The one thing you'll probably find yourself wearing the most of in your undergraduate career is jeans. They're easy and if you find the right pair, they're comfortable.
For a quick outfit in the warmer summer or spring months, try pairing your jeans with a simple blouse. This cute college outfit features a black blouse with medium-wash denim, but the fashion world is your oyster when it comes to choosing a top. You can finish the outfit simply with a pair of sandals.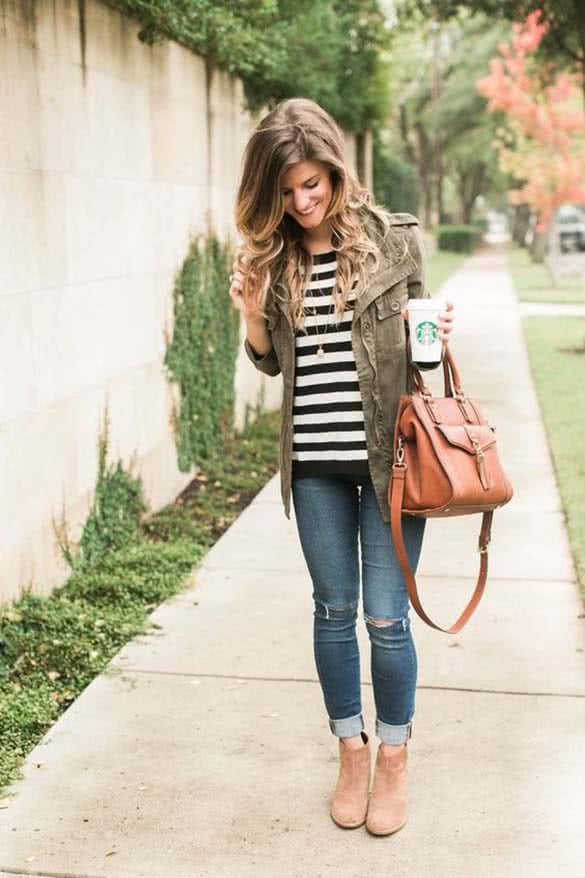 There are some days where we want to put a bit more effort into our outfit, and this fall look is a great way to accomplish that. In another college outfit featuring your favorite jeans, try pairing it with ankle boots and a simple top. This outfit shows a black and wide striped top with a utility jacket. Khaki will definitely be a trend this fall so make sure to stock up on this color.
2) Leggings
With the exception of sweatpants or your pajamas, leggings might be the most comfortable thing you can wear in the classroom. There is only one rule to wearing leggings in the classroom and that is cover your butt. You might've been working out all summer and studiously doing your squats, but we can promise you that your professor doesn't care and they don't want to see it.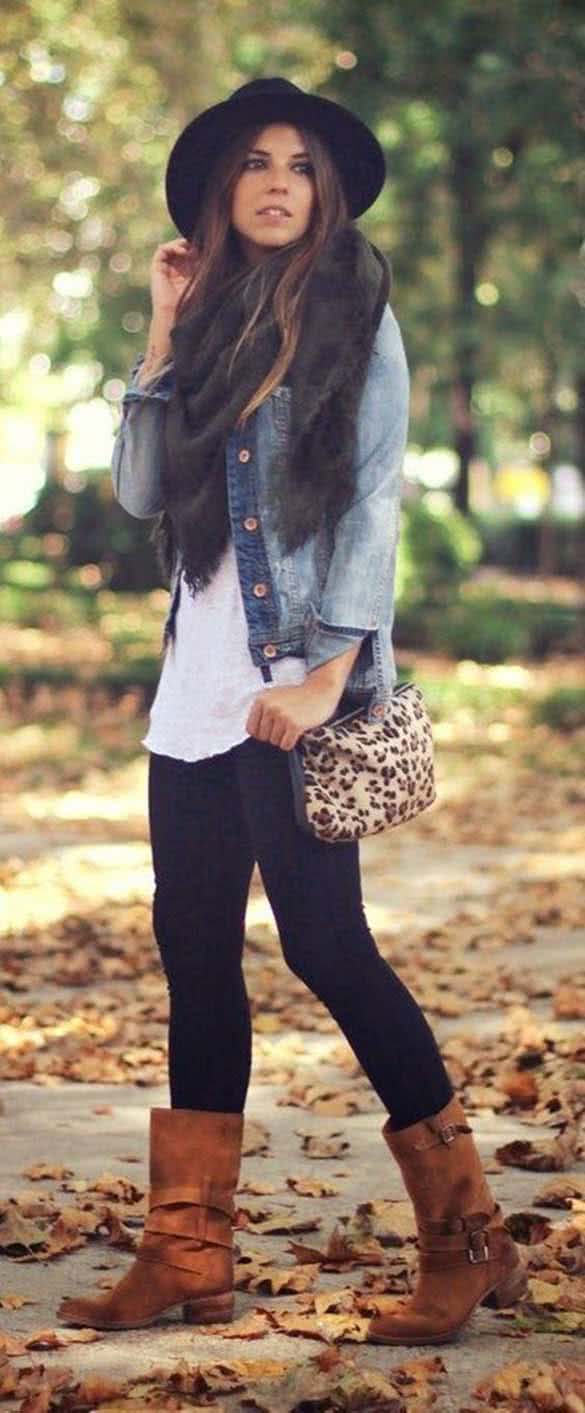 In this first trendy college outfit featuring leggings, she pairs her look with a simple long white t-shirt and a denim jacket. She keeps her style cool with combat boots and throws on a fedora and black scarf to pull the look together.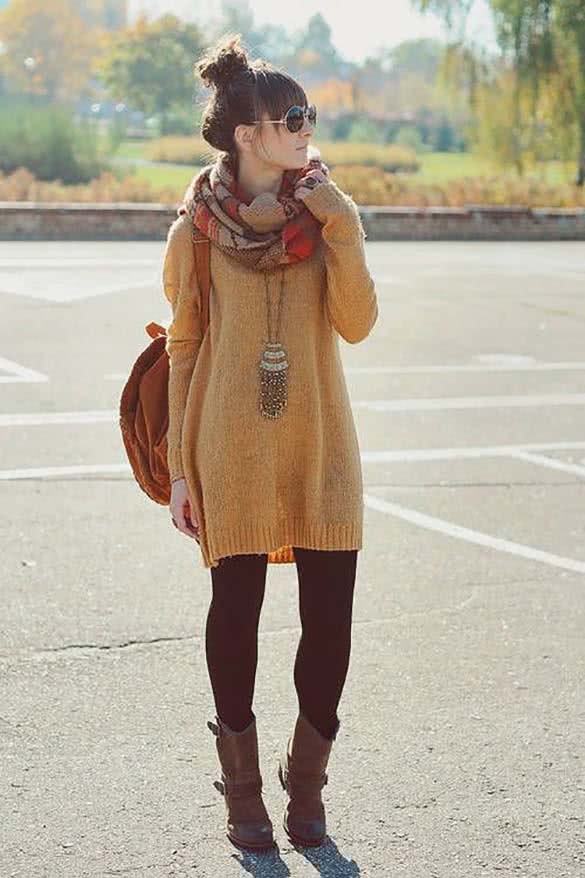 This second look is perfect for the fall or winter. Another way to pull off leggings in the classroom is with a sweater dress. In this look, we have a college outfit of black leggings with a mustard sweater dress and brown combat boots. The mustard dress, which is another great color for fall is styled with an infinity scarf and statement necklace.
3) Sweatshirt
Let's face it. Fewer things are more comfortable than a sweatshirt or sweater, but they can definitely work in the classroom, whether you're going for a more professional look or a casual one.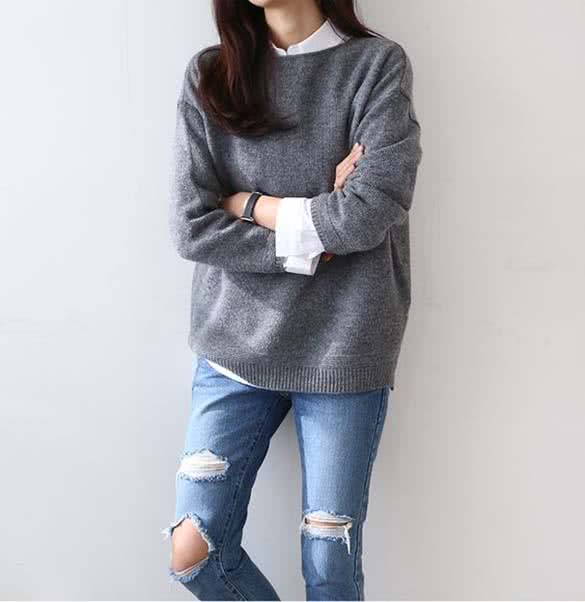 In this first look, we have a semi-professional outfit featuring a sweater. This college outfit includes a white collared blouse that is worn underneath a slightly oversized gray sweater. Although this creates the whole 'sweater vest' vibe, it is dressed down with distressed denim.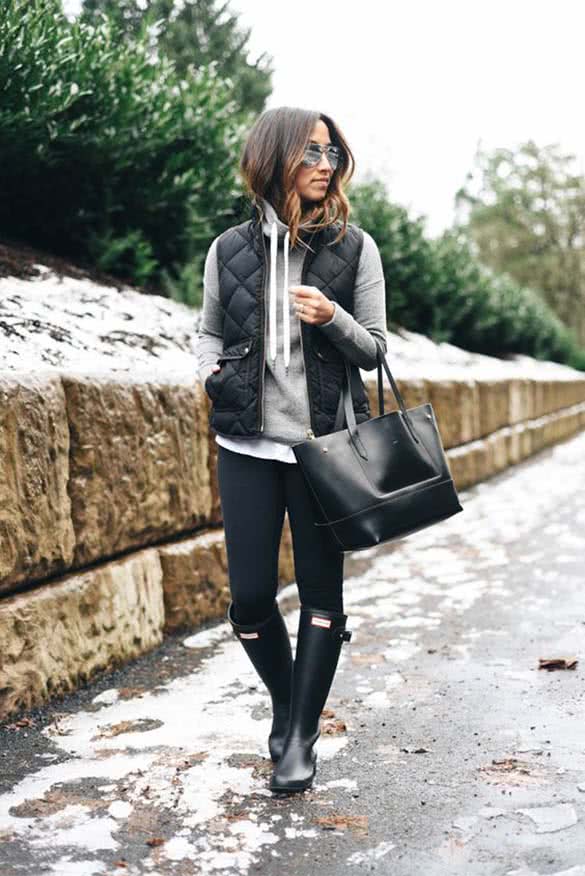 This second college outfit is perfect for those winter days where you have to trudge to campus in the snow. Also featuring our beloved leggings, this outfit includes black Hunter rain boots and a gray sweatshirt. A great way to 'dress up' a sweatshirt or make it look more put together is by wearing a quilted vest as seen in this outfit.
4) Sneakers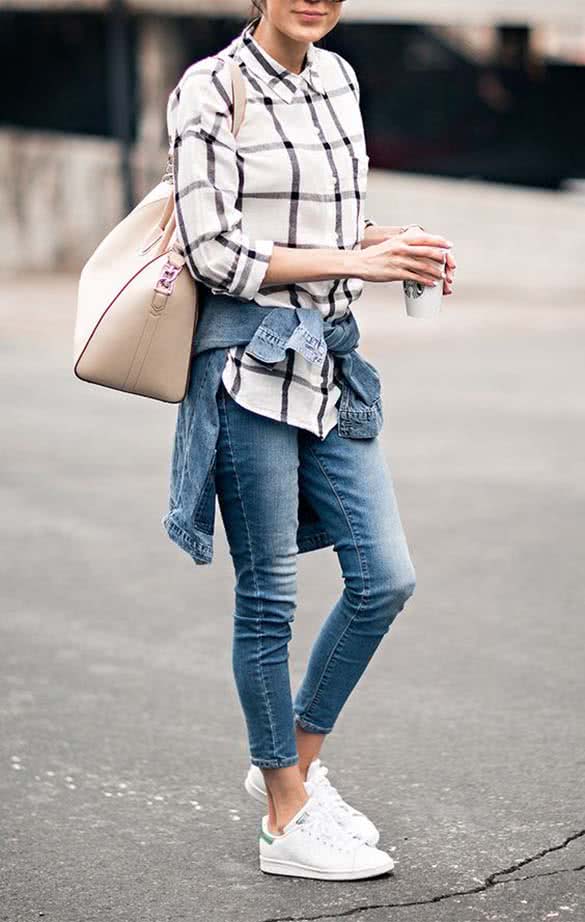 There are a lot of fashionistas who only wear sneakers to the gym because they're not sure how to make it work with their everyday outfit. It's all about the sneakers you own! Sure, most sneakers are meant for gym wear, but there's definitely a way to incorporate it into your regular campus look.
In our first sneakers look, we have a modified denim on denim look with capris and a black and white tartan blouse. This casual look is great by itself, but the simple white sneakers pull it together perfectly.
More suitable for the winter time, this fashionable college outfit also showcases how you can make your sneakers work in the classroom. Although it is hard to see what she wears underneath her large camel trench coat and gray wool scarf, her black pants can be worn with a plain black t-shirt and her white Adidas sneakers.
5) Boots

If there's one thing you'll find a way to wear in college, it will be your Ugg boots. Not only are they comfortable, but they're extremely easy to wear and they work with practically everything.
In our first campus ready college outfit, this look combines many of our other comfortable classroom favorites. This outfit features skinny medium-washed jeans alongside a maroon sweatshirt and navy jacket. This outfit is finished with a pair of Ugg boots and although this outfit is casual, it is still neat enough for the classroom.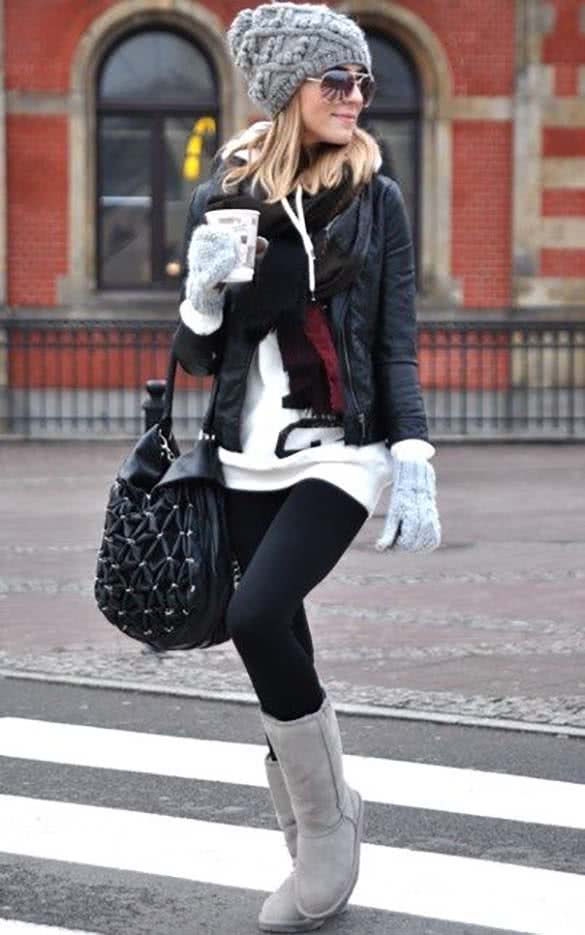 Our second Uggs look features another of our comfortable classroom favorites. These mid-calf grey Uggs are paired with black leggings, and following the rule of covering your butt, the cute college outfit is completed with a long white sweater and a black leather jacket.
While these college outfits are a good guideline to go by, let me share a secret with you. I've been there and are there going to be days where you cannot force anything but sweatpants onto your body? Sure. The point is not to make a habit of it because I promise you, professors do notice.
In the comments below, let us know what are your go-to outfits for classes!