Blazers are a part of the professional uniform, but you might consider ditching the regular blazers and trading them in for chic long blazers that are trendy at the moment.
Blazers have become a big part of most wardrobes. Not only is the style perfect for the workplace, but it can also help you add a nice, finishing touch on the most casual of outfits. Although regular blazers are easy to style, you might come into a few problems with longer blazers.
The length of a regular blazer helps it to be styled with almost anything. Although the longline blazer might seem the same, this additional length can be seen as awkward if paired with the wrong apparel. Most longline blazers land between the hips and the knees, and they're best styled with apparel of the same length or slightly longer.
If you're ready to try out this sleek and chic style of wearing long blazers, here are some outfits tips and tricks to create the best look.
Skinny jeans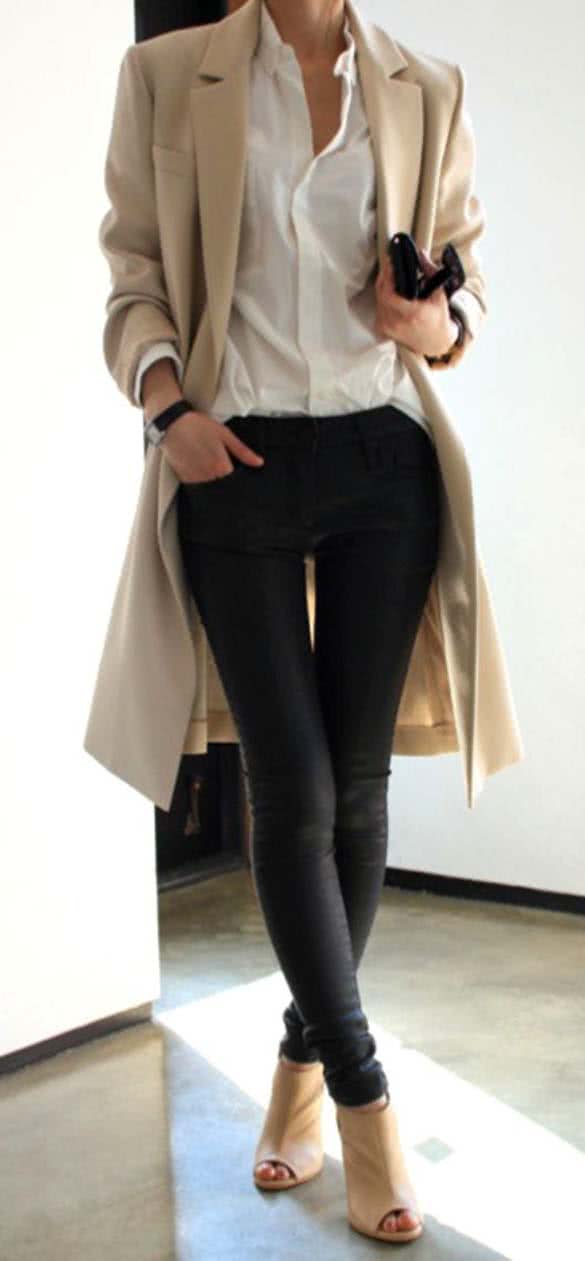 A great way to style long blazers is with skinny jeans. Sometimes the added length of the blazer can add bulk to the body. The best way to counter this is by showing just how narrow the body really is. Wearing skinny jeans is a great way to focus on the narrow of the legs which helps to eliminate most of the size you gain with the long blazer.
Boyfriend jeans

Although wearing skinny jeans is the best way to remove the bulk of the blazer from your body, boyfriend jeans can also help create a great look with long blazers. As seen in this look, the model creates an effortless casual look with her boyfriend jeans and black blazer. Although the jeans are loose-fitting, they have a narrow leg which continues to give the body a balanced look.
High-waisted jeans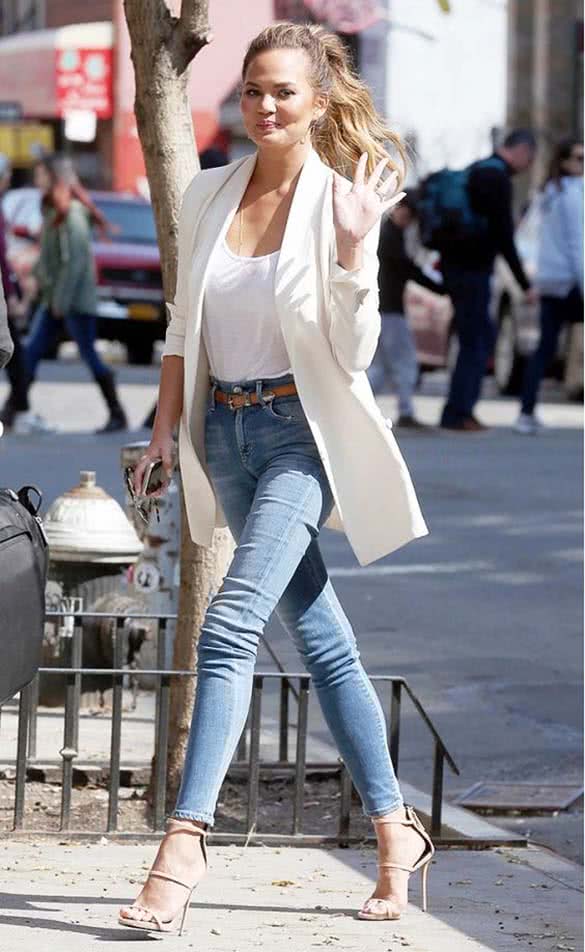 Who wouldn't take fashion advice from model Chrissy Teigen? In a fabulous look with a long blazer, she shows just why high-waisted jeans work with long blazers. Since the blazer falls lower than normal, it creates a nice leveled effect between the start of the waist and the hem of the blazer. She finishes off her outfit with a simple white t-shirt and nude strappy sandals.
Equal lengths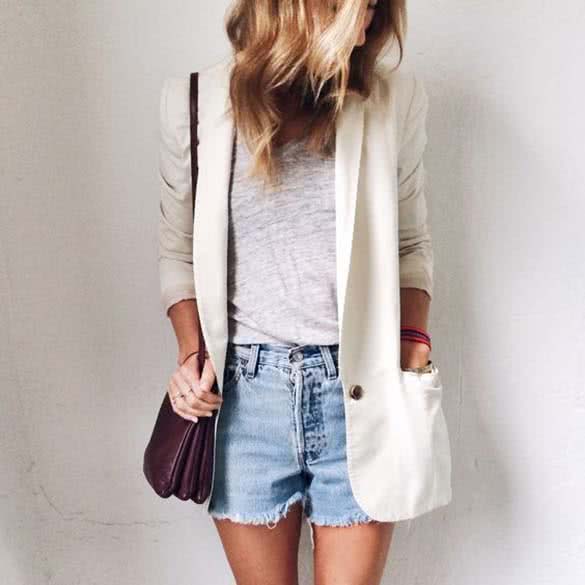 When it comes to long blazers, the length might give you a bit of a problem. Another rule of thumb when it comes to this specific type is that they work fabulously with items that are of the same length. In this first casual blazered look, we see a white blazer paired with a simple gray tee shirt and distressed denim shorts. Although from behind, it might seem as if she isn't wearing anything but a blazer, the style looks simple and deliberate.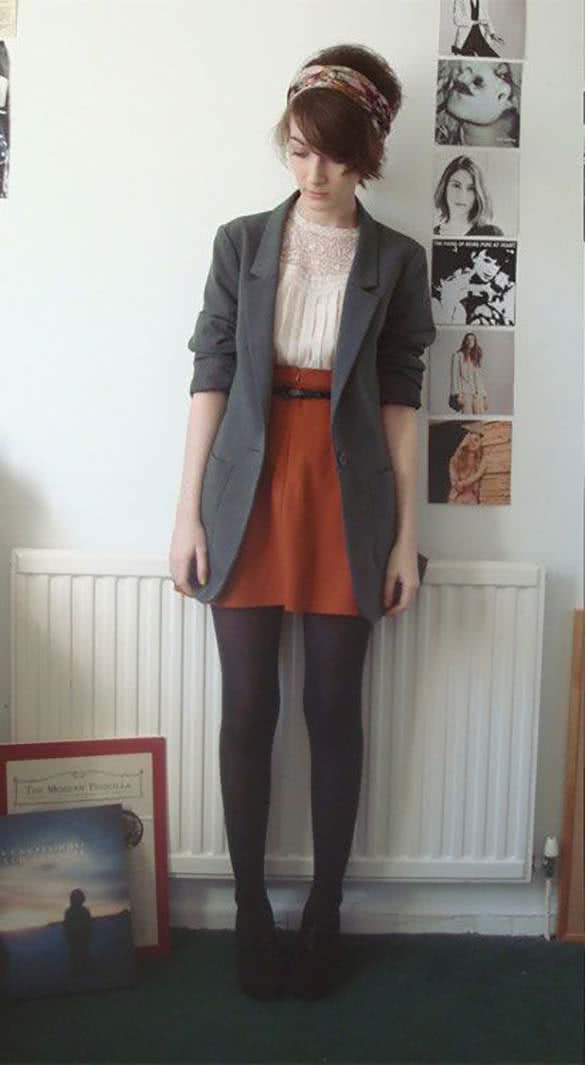 In this second look, we are able to see how this rule works with skirts. This outfit features a lace and pleated ivory top alongside a terracotta high-waisted skirt. The gray blazer in this outfit works exceptionally well in this case and creates that multilevel effect that is created with the high-waist and hem of the skirt and blazer.
Knee length
One of the easiest ways to style a long blazer is with an outfit that is already made for it. In this white 'suit' look, we see a long white blazer paired with a white knee-length pencil skirt. Wearing long blazers with clothes that fall below the knee often appears awkward unless they are pants, so aiming at knee length or above is ideal. This neutral outfit is completed with a black blouse and black and white handbag.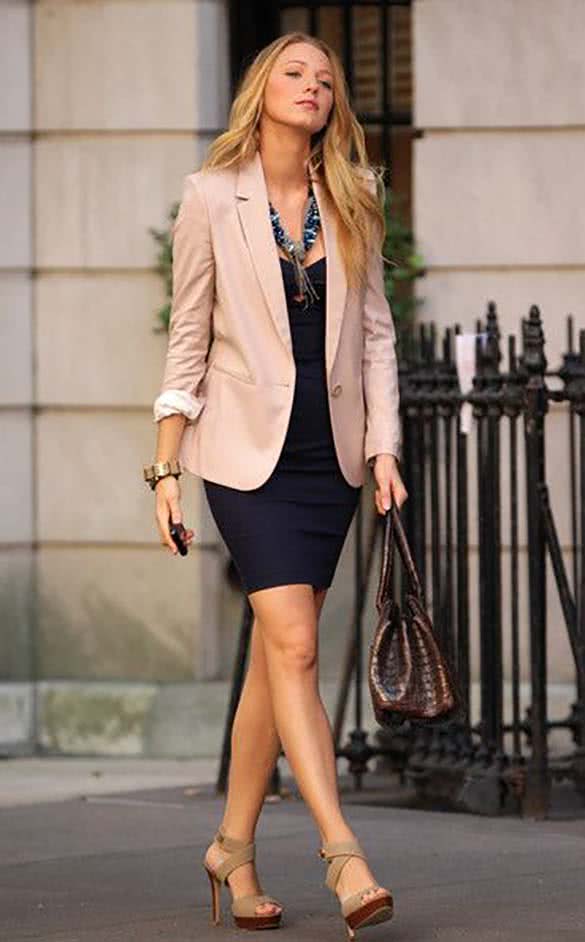 In one of her looks from Gossip Girl, we see Blake Lively as Serena Van der Woodsen. In this NYC ready outfit, her character pairs a knee-length navy dress with a blush blazer that falls slightly below her hips. She finishes her outfit with strappy tan pumps.

This last knee-length example is the perfect street look. This outfit features cuffed Bermuda shorts that are paired with a loose-fitting white t-shirt and long white blazer. This look is completed with simple black sandals and a black purse.
As a dress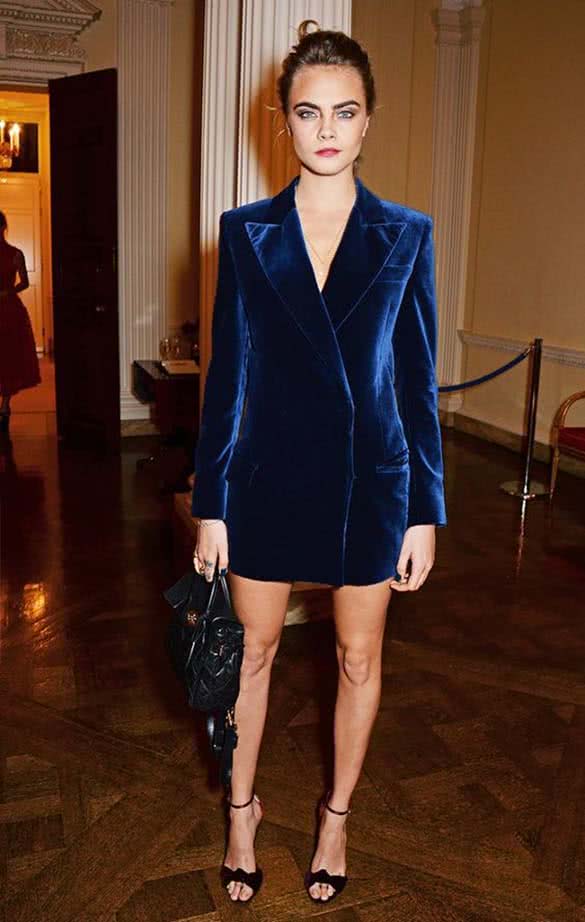 If you're not in the mood to figure out what to wear with your long blazer, you can take a page out of Cara Delevingne's book. This model turned actress ditched the idea of pairing her long blazer with anything and instead chose to wear the style as a dress. She showed off her long and toned legs in a blue velvet blazer dress that she paired with black sandals and handbag.
Now that you know how to style those long blazers you own or are hoping to buy, just remember this one important thing. It's all about the length! Most long blazers will work with clothes that land at your knee or above. If you're hoping to wear them with something longer, ditch the skirt or dress for a pair of jeans or trousers.
In the comments down below, let us know how you plan on styling your long blazers. Will you be taking tips from Chrissy Teigen with high-waisted shorts or will you be sporting the blazer dress like Cara? Let us know!