While her personal life may be messy, her wardrobe is anything but! Here's a look at amazing Olivia Pope style and tips on how to get it!
We were introduced to Olivia Pope in 2012 and we were given another inspiring bad-ass woman to look up to on TV and along with that came a killer wardrobe that conveys both power and femininity.
Being a crisis manager to Washington D.C.'s political elite is a tough gig but Olivia does the job with not just grace but style.
With a combination of classic coats – like trenches and cocoon – perfectly tailored suits, and silky blouses, she's built a wardrobe that could give anyone the confidence to take on the world.
Clothing plays a big part in the show, it's almost like another character. Olivia uses it as a way to convey how she's feeling, how she wants to be portrayed at that moment or it's simply used to help set the mood for a scene.
1) Olivia Pope Style – Accessories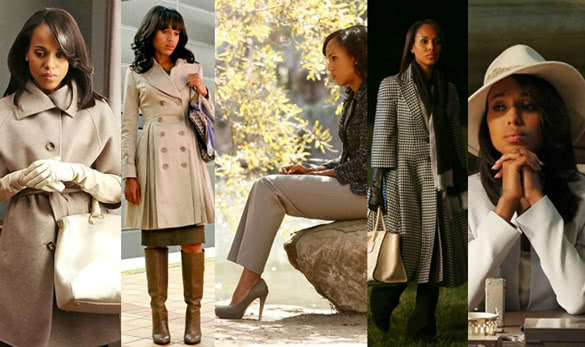 Olivia isn't one to shy away from interesting shapes and mixing textures but one area she does keep it pretty simple in is accessories.
She is very rarely dawning jewelry and, instead, she is letting the focus be on a few key pieces – purses, shoes, and gloves but let's not forget the occasional appearance of the white hat.
Totes and satchels are Olivia Pope's two favorite types of purses, ranging from Goyard to Ralph Lauren – but mainly Prada (girl loves her Prada).
Seen in her favorite color scheme of white, cream and black, these bags are big and look like they can carry all the things needed to handle a situation.
Other very important Olivia Pope style essentials are her killer pumps, usually worn with her well-tailored trousers.
The hem of the pants comes to just above the toe of the shoe and are similar colors – this blends the shoe into the pants a bit and gives Olivia the appearance of being taller.
Also, those gloves that she wears are stunning! I'm not sure many people could pull this off – I know I certainly can't – but Olivia does and she makes them look so good.
D.C. does get pretty chilly in the fall and winter so it makes perfect sense for anyone to throw on some gloves.
But, she takes it to the next level with leather ones that are very reminiscent of the 1950's and pairs them with her collection of coats with three-quarter length sleeves.
2) Olivia Pope Style – Pop of Color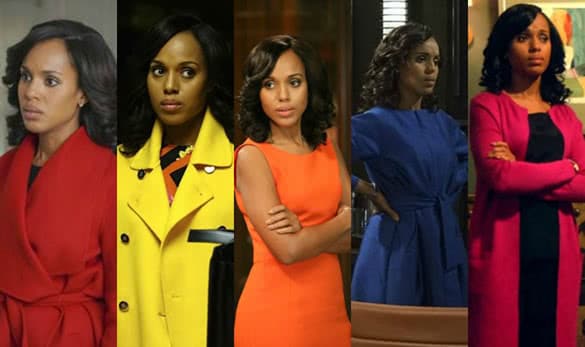 Throughout the majority of Scandal's 5 seasons, Olivia has primarily been clad in creams, taupe, black and white.
Then BAM – Color! Her closet of neutrals was thrown into Technicolor – beautiful blue, bright yellow, deep red, and much more – she's hitting every color in the rainbow.
I, for one, am so glad for the pop of color that's been introduced into her wardrobe.
It opens up so many possibilities for style choices and 100% proves that you don't only have to wear black or subdued colors to look and be in charge.
We get to see a completely new side to Olivia both in character and in wardrobe; the chic, feminine but powerful approach to fashion is still intact – it's just a little more in your face now.
3) Olivia Pope Style – Occasional Patterns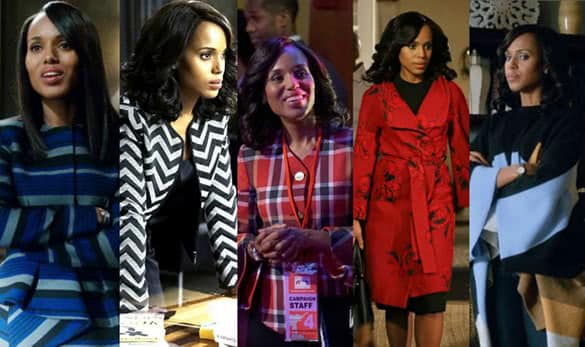 Patterns and prints have made their way into Olivia's wardrobe before but in subtle ways, like a fine stripe or plaid with varying shades of tan.
Now, we're getting those same things just in a much bolder way. Blue and black stripes and chevrons, bright colorful plaid and watercolor-like florals.
Not only is she mixing it up in the print department we're getting them with beautiful shapes like peplums, bell sleeves and even a poncho with a contrasting blue and yellow block pattern on it.
4) Olivia Pope Style – The Neutrals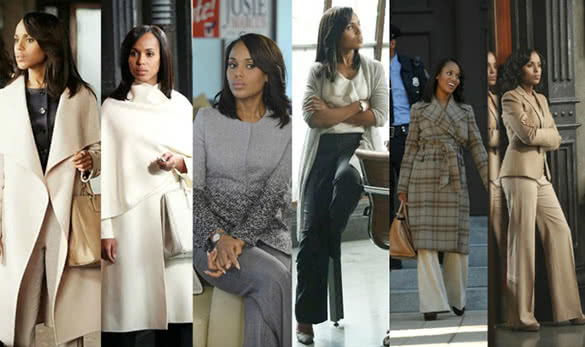 Suits in neutral colors are Olivia's bread and butter. This what we've come to know and love about this character's style – clean, professional and elegant.
And, while we've gotten to see some stunning coats with her venture into colors, the favorites and most memorable have been those in her beloved neutral tones.
Her coat collection has no rival – nice bright whites, soft creams, tans and the occasional appearance of blush.
With the amazing oversized collars and cape-like draping across the shoulders and hems that hit her just at or below the knee gives any of her looks a very classic and sophisticated feel.
A lot more skirts and dresses are being worn lately but when Scandal first started suits were "it" for Miss. Pope.
Whether it was a wide leg pant or cigarette trousers stopping just at the ankle, with matching structured blazers that are never without large buttons, pleat, or a belt, there is always something that gives the look a little extra oomph.
The outfit is finished off with a very feminine and delicate silk blouse, usually with some lace or a drape neck to add a little interest to an otherwise simple top but helps pull the look together.
5) Olivia Pope Style – Loungewear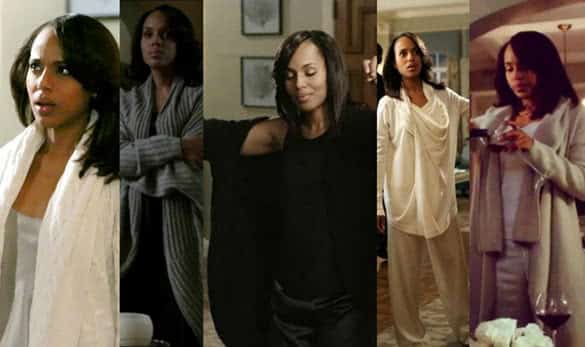 Olivia's lounge-at-home clothes are still stylish enough to wear out and take on the day but that wouldn't make sense for her. She had to deal with quite a bit while dressed down at home.
She wears these super cozy oversized cardigans, in all her favorite hues, they swallow her up but still look perfectly fitted to her – I honestly don't get how she does it.
Always paired with those fantastic cardigans are silk pants and camisoles that look so soft and comfortable, it's no wonder she has a stockpile of them.
6) Olivia Pope Style – Makeup and Hair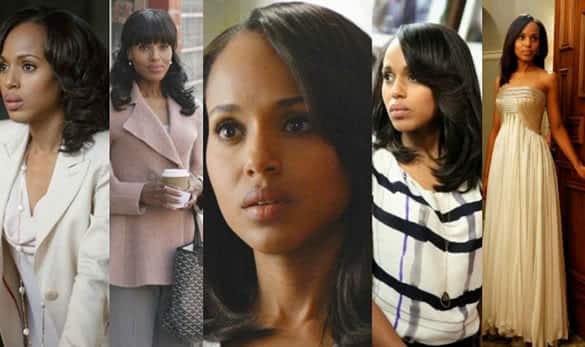 Hair and make-up are the final touches that make Olivia's look absolute perfection.
Her hair is usually worn down and has been styled in a several different ways: curls with loads of volume or straight with the front feathered back but still has a little bump in it to give some body and pin straight.
She doesn't wear her hair up very often but when she does it's pulled back into a sleek "do" with side swept bangs.
As for make-up, Olivia goes for something very minimal and natural looking.
Nude shadows, black liner, and mascara are all she uses on her eyes and for her lips, she wears Whole Lotta Honey by Clinique – a beautiful nude with a hint of pink.
Olivia is a no muss no fuss kind of gal when it comes to make-up. She needs something quick and easy because she doesn't have the time to touch up or reapply throughout her busy day of fixing the lives of others.
Effortless – the word that perfectly describes Olivia Pope; even though her wardrobe is meticulously picked out and everything is planned down to the tip toe of her Manolos, she still looks as if she just threw it all on and just went to work.
Now, most of us can't afford the brands that fill her closet but that doesn't mean it's impossible to emulate her style. The Limited has put out a Scandal collection that's amazing and every piece would be found in Miss.
Pope's possession, even outside of the collection they have an amazing selection of clothing that could help build your Olivia Pope inspired dream wardrobe – other stores like Asos and Ann Taylor have similar items but give you lots of different options.
She may have thrown out her white hat but Olivia Pope is still a gladiator. She's tough, confident but also flawed and vulnerable and that's what makes her such a great character.
You're drawn in by the clothes, but you stay drawn into the show because of the enthralling storyline and compelling characters ( the clothes are just an awesome bonus).
We can all find something to admire about this character and for some that may just be her expensive and extremely stylish wardrobe. So in the comments below let us know what Olivia Pope looks you'd like to snag for yourself!