Have you heard of Imelda Marcos, the former First Lady of Philippines famous for her legendary 3000 pairs of shoes? Well, if you can't really afford 3000 pairs, here are 9 you must have in your shoe closet!
The world would be a better place if every girl was born with Imelda Marcos' or our very own Carrie Bradshaw's shoe closet, but in reality, that is not the case for most of us mere mortals. The good news is that unless you are a high-flying Hollywood socialite attending dos every night of the week, this packed to the brim shoe closet is not required.
We have rounded up 9 styles of classic shoes that every girl must have in her closet. These styles will save you hours of staring-into-the-shoe-closet time. Remember that a pair of well constructed, good quality shoe is better than hoarding ten cheap ones. Your shoe can add that final bit of glam to pull your look together, so keep it simple and stylish!
1. Boots
Choose a pair of well polished, low fuss medium to high length boots. Make your choice between browns or blacks according to your color preference and wardrobe versatility.
Rain, hail or snow, boots are made to sustain erratic weather conditions so it is best ditch the stilettos and settle for flatter heels. Style boots with pencil skirts, well fitted trousers or your classic pair of jeans. And no, your UGG boots don't qualify. They are merely boot-like and very warm bathroom slippers.
2. Ballet flats
Ballet flats are like a cup of cappuccino, you can't function without these. They are easily the most versatile style and can be worn all year round. A slight variation from the ballet flats is the loafer which is more unisex. These flat shoes are best worn with relaxed clothing like shorts, cropped pants and knee length skirts. Think clothes with a show of well moisturized legs!
3. Black pumps
If you have a little black dress, then you must have a pair of versatile black pumps. A pair of black pumps will make any girl feel sexier! It's almost as if these shoes exude sex appeal and we say – higher the heels, better a girl feels! Wear these classy shoes to work or for a dinner date.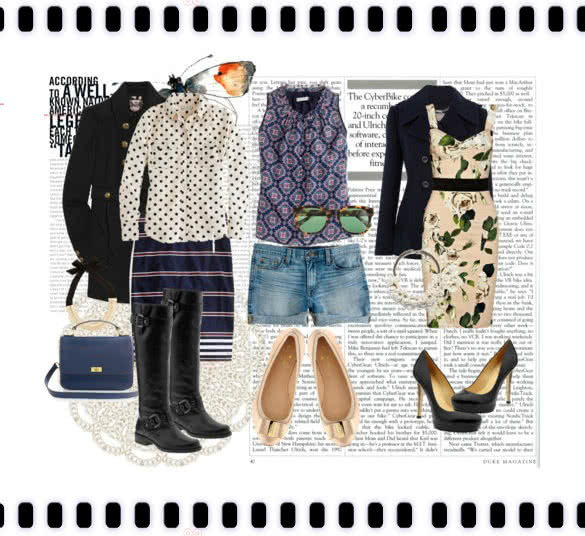 Look #1:
Juicy Couture Coat – theoutnet.com
Blythe blouse – jcrew.com
Factory printed pencil skirt – jcrew.com
Stuart Weitzman trooper – piperlime.gap.com
Eddie purse – jcrew.com
Lanvin gold metal neckpiece – ssense.com
Look #2:
Sera top – jcrew.com
Denim shorts – jcrew.com
A.R. Trap Sunglasses – jcrew.com
Kate Spade ballerinas – piperlime.gap.com
Look #3:
Planet navy pea coat – houseoffrazer.co.uk
Dolce and Gabbana Rose printed dress – net-a-porter.com
Zara maxi pearl necklace – zara.com
Kate Spade pumps – piperlime.gap.com
4. Wedges
Classified as summer essentials, wedges are an easy solution if you shudder at the thought of walking in high heels. Wedges are much stable and easier to walk in with the added height. Take your pick in summery prints or pretty bows to add a punch to your wardrobe. Pair these with maxi dresses, bohemian styles and playsuits.
5. Strappy metallic sandals
Jazz up your wardrobe with a pair of very feminine, strappy metallic sandals. The year 2013 is witnessing an explosion of metallic trends. Metallic layers in clothing are the new twist in the layering trend and shoes are not far behind.
A little diamante or a cluster of rhinestones will take your look a step ahead for those special occasions. Whatever the trends says, strappy metallic sandals are full of oomph will never go out of fashion! Wear them at your bestie's big wedding.
6. Flat leather sandals
A more serious alternative to the super- casual flip flops, flat leather sandals are your summer staples. Light, airy and easy to wear these are a blessing for the feet and for the lazy ones. Slip on your sandals for a casual stroll in the mall or a day out sunbathing on the beach (can't get these wet though!) A little birdy told us that embellished ones with tiny bead detailing will be flying off the shelves this season.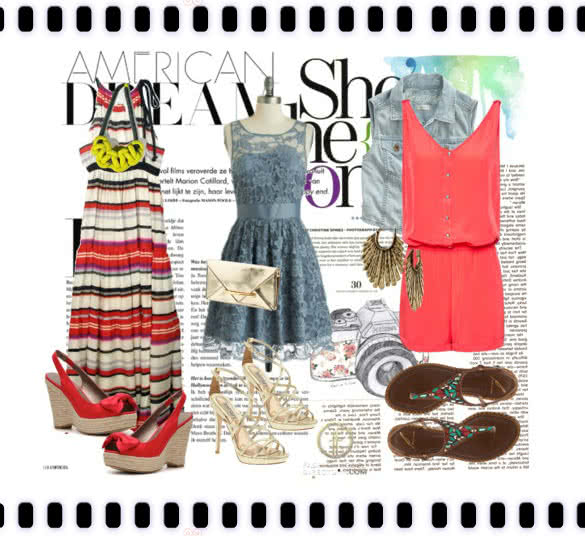 Look #4:
Crosby by Derek Lam – shoplesnouvelles.com
Moda Spana holly wedge – dsw.com
Grace Hamilton Neogigi – boticca.com
Look #5:
Z Spoke Zac Posen Marlene clutch – piperlime.gap.com
Badgley Mischka Adonis II – piperlime.gap.com
Diamond in the Ruffles Dress – modcloth.com
Look #6:
MADEWELL Longroad Denim Vest – madewell.com
Mango button down jumpsuit – mango.com
B BRIAN ATWOOD Flat Sandal – jildorshoes.com
Lucky Brand Hammered Earring – piperlime.gap.com
7. Nude peep toes
Watch heads turn in your nude peep toe shoes. The idea is to pick the right shade of nude – pick one closest to your skin color and instantly lengthen your torso. Pick your shoes wisely, show more than the first two toes and you have committed a peep toe faux pas. Peep toe shoes look best with a fresh pedicure in eye popping colors!
8. Booties
Booties are ankle length boots best suited for the transitional seasons – spring and fall. Wear your ankle booties with chic cropped trousers. Let a bit of skin peep for a sensual, mysterious appeal. Pick a pair in luxurious suede with little or no detailing.
9. Sneakers
Sneakers will never let you down. Whether it is hitting the gym or walking the dog, a girl cannot do without a pair of these bad boys. Comfort should come before the style when buying sneakers.
If you are big on running, lighter ones will help you move with ease and run faster. Look for cushioning and support in the walking ones. Punchy neon highlights will instantly attract attention.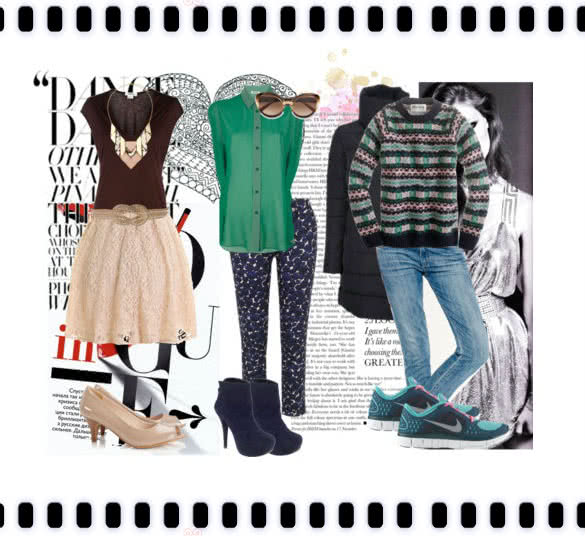 A pair each of these nine must have shoes will arm you to strut out in style. Before you head out to redo your shoe closet, here is a fun fact – in Australia, flip-flops are called thongs! Yes you read it right. So the next time an Aussie compliments your thongs don't look confused, they really mean the footwear and not the underwear!
Look #7:
Helmut Lang twist back top – farfetch.com
Geometric section collar – dorothyperkins.com
LOVE Nude Short Lace Skirt – inlovewithfashion.com
Nude Peep Toe Court Shoe – wallisfashion.com
Studded chain belt – rarelondon.com
Look #8:
Anne scallop blouse – seasonsclothing.co.uk
Kate Spade sunglasses – piperlime.gap.com
Baum und Pferdgarten Neta Blue Trousers – coggles.com
Stuart Weitzman Cleanly – piperlime.gap.com
Look #9:
Gerboise' Down-coat – alducadaosta.com
JCrew sweater – jcrew.com
JCrew jenny jeans – jcrew.com
Nike free run – nike.com